Mint Chocolate Chip Cookies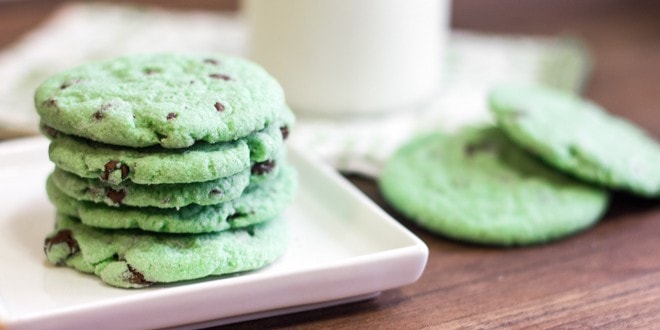 There are certain flavour combinations that work so well together that it seems like they were meant to be combined. One of those pairs is chocolate and mint. I love absolutely anything that has mint and chocolate together. It is easily one of my favourite kinds of ice cream and mint hot chocolate is wonderful as well. Mint Aero chocolate bars, York Peppermint Patties, Andes Chocolates are all some of my favourite sweet treats!!
These cookies bring together that wonderful flavour combination and are perfect alongside a nice cold glass of milk.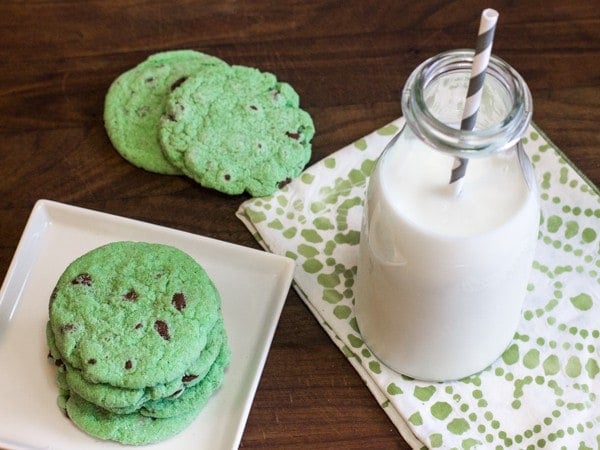 For colouring the dough, I used to always use standard colouring liquid and as many drops as I needed to get the desired colour. I recently discovered Wilton Icing Colours and I love using this to add colour to cookies. I first started using that to add colour to cake icing but I have found that it is awesome for cookies, providing a great deep colour and it does not seem to thin out the cookie dough at all.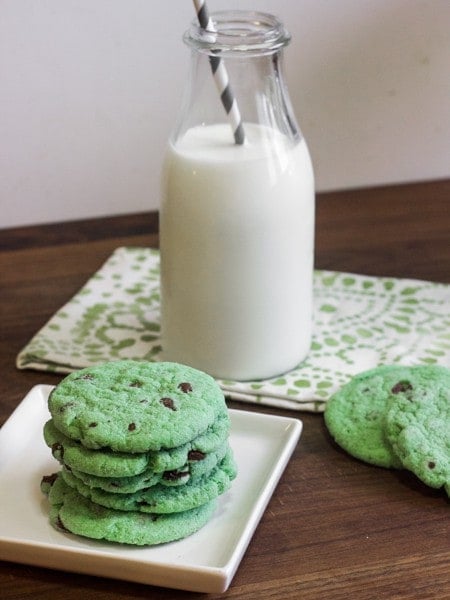 These cookies are very simple to make. I bake almost all my cookies on parchment paper. Using that, or silicone baking sheets are amazing because it ensures that the cookies do not stick to the baking sheet.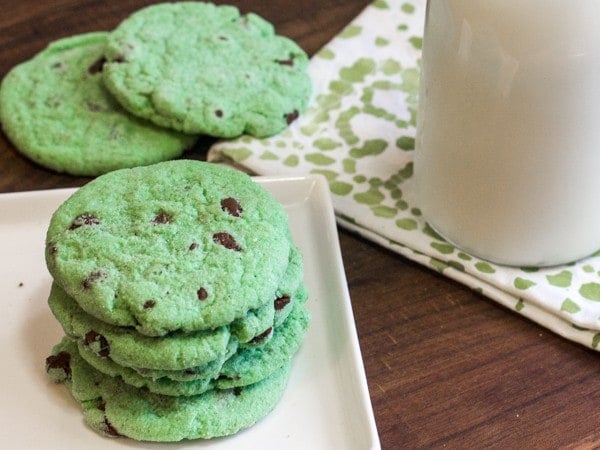 Mint Chocolate Chip Cookies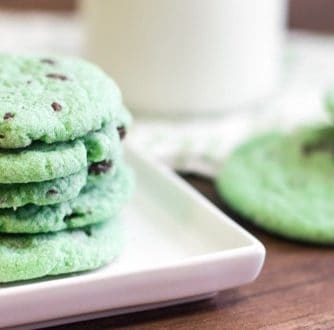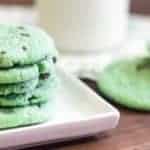 Print
Chewy on the inside with a crispy sugary coating, this cookie recipe is amazing and the perfect flavour combination of chocolate and mint.
Servings: 24 cookies
Ingredients
1 cup butter , softened
3/4 cup sugar
1 egg
3/4 tsp peppermint extract
2 cups flour
1/2 tsp baking powder
1/4 tsp salt
1 cup semi sweet chocolate chips
green food colouring
1/4 cup sugar
Instructions
With an electric mixer, cream the butter and 3/4 cup sugar until light and fluffy. Beat in the egg and peppermint extract. Mix in the flour, baking powder and salt.

Add green food colouring and mix until all the colouring is incorporated into the dough. Make sure you add enough food colouring so that it is a nice colour of green.

Mix in the chocolate chips.

Roll the dough into 1 inch balls and place the balls 2 inches apart on a cookie sheet lined with parchment paper.

Flatten with a glass dipped in the 1/4 cup sugar. Bake in a 375F oven for 8 minutes. Cool on a wire rack.