Celebrate St. Patrick's Day with this copycat recipe for the creamy and minty Shamrock Shake! Tastes just like McDonald's version.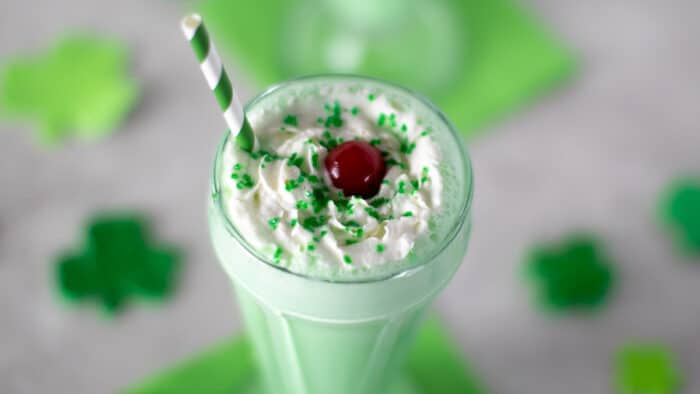 Every single year I find myself heading into McDonald's during the first couple weeks of March. The Shamrock Shake is one of my favourite beverages of all time. Even though this thick and creamy milkshake is available for way too short a time, it is a great way to celebrate St. Patrick's Day.
It is very easy to make this mint green milkshake at home and this copycat recipe uses simple ingredients you probably already have in your kitchen.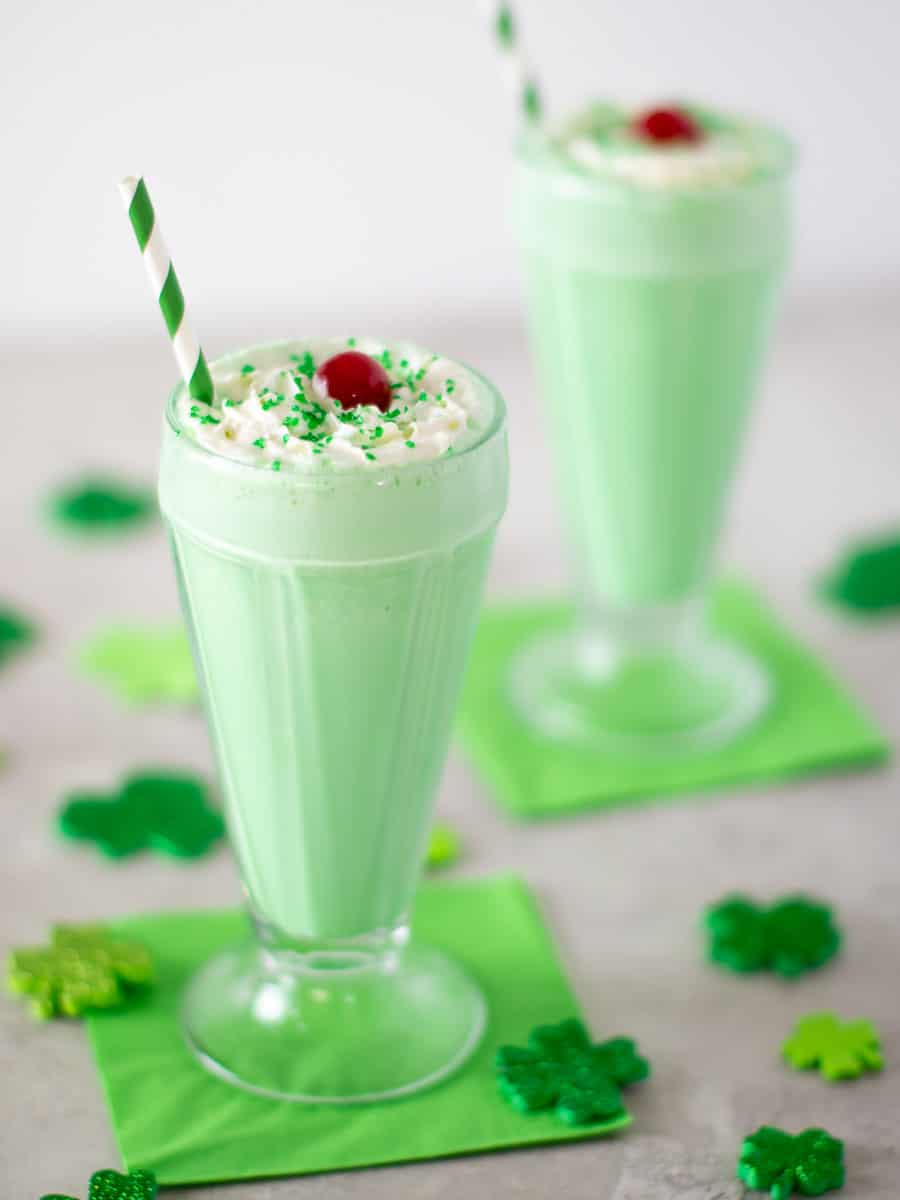 Other St. Patrick's Day Recipes!
While this Shamrock Shake is a great way to celebrate March 17th, here are some other delicious recipes perfect for St. Patrick's Day.
Ingredients You Will Need
Vanilla ice cream
Milk or light cream
Mint Extract
Green food colouring
Whipped cream
Green sanding sugar
Maraschino cherry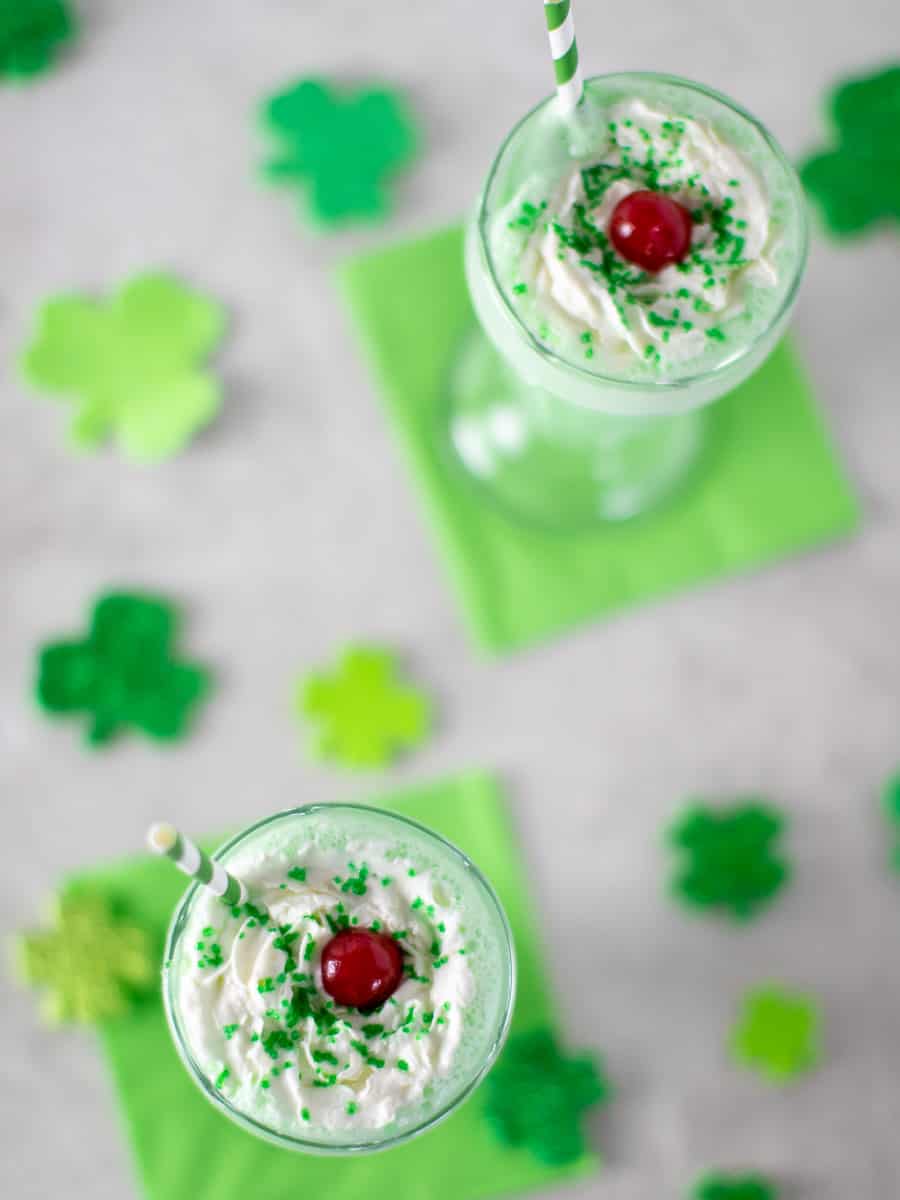 How To Make A Milkshake?
It is very easy to prepare a cold refreshing milkshake. Most of my milkshakes use the same foundation of two ingredients: vanilla ice cream and milk. A good milkshake is one that is thick and creamy. So, it is important to use 3.25% milk and not skimp on the ice cream. Cheap ice cream can make the shake seem more icy than creamy. Also using skim or 1% milk will cause the milkshake to be too thin.
Add the ice cream and milk to a blender jar. Turn the blender on low at first, and then slowly increase the speed to medium/high. Depending on how cold and thick the ice cream is, you may find that the blender struggles to blend it together into a 'shake' consistency. If that is the case, add some more milk, a little at a time, until the milkshake blends while still staying thick. Once blended, you have a basic vanilla milkshake that can be enhanced by adding different flavours.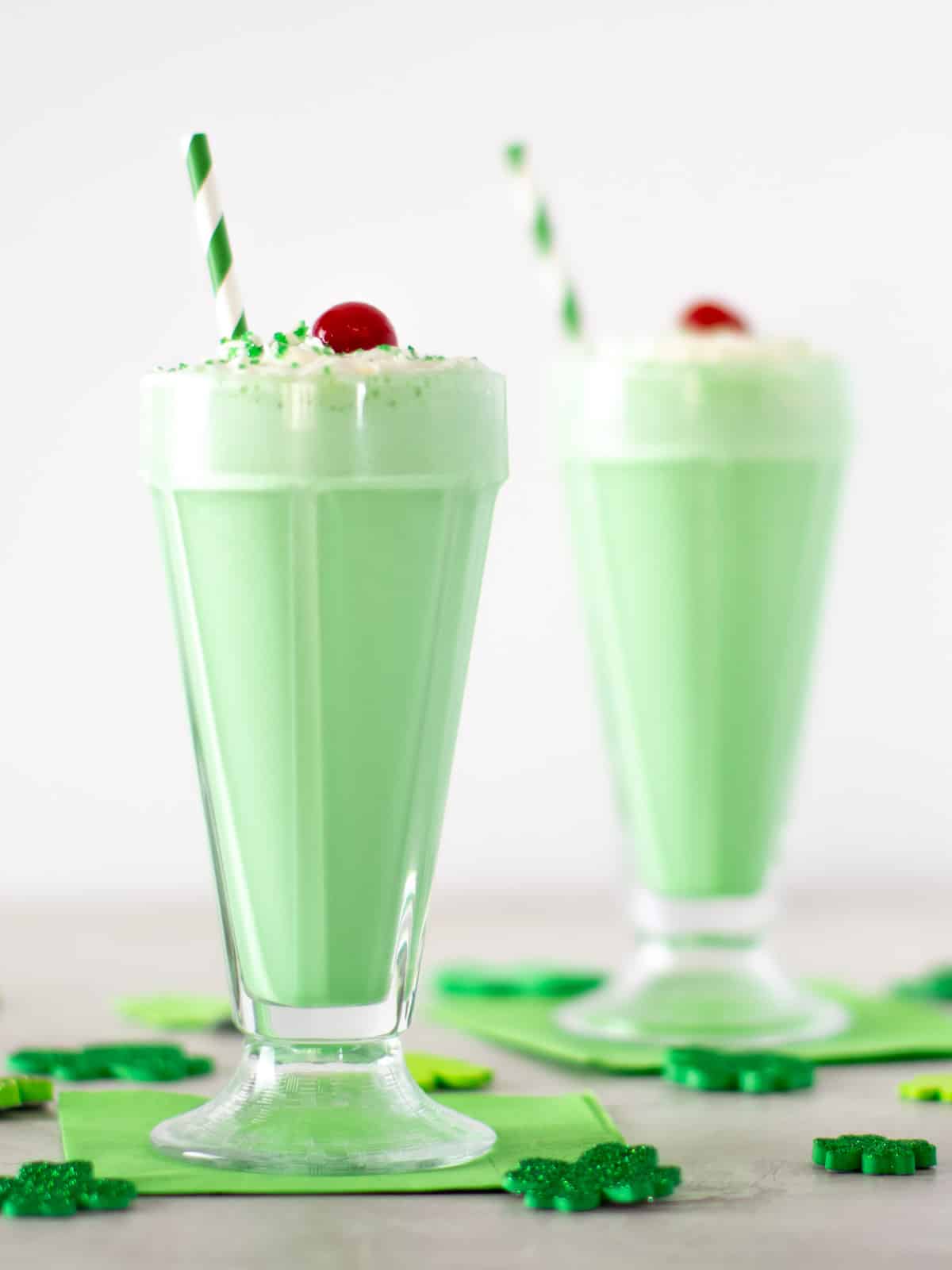 How To Make A Shamrock Shake
Turning this into a Shamrock Shake is done by adding mint extract and green food colouring. I use 1/2 teaspoon of pure mint extract and I find that it is the perfect amount of minty flavour. Also, while the shake is blending, add some drops of green food colouring until it reaches the green tint you are looking for.
Pour the milkshake into a tall glass. Top with whipped cream, green sanding sugar and a maraschino cherry.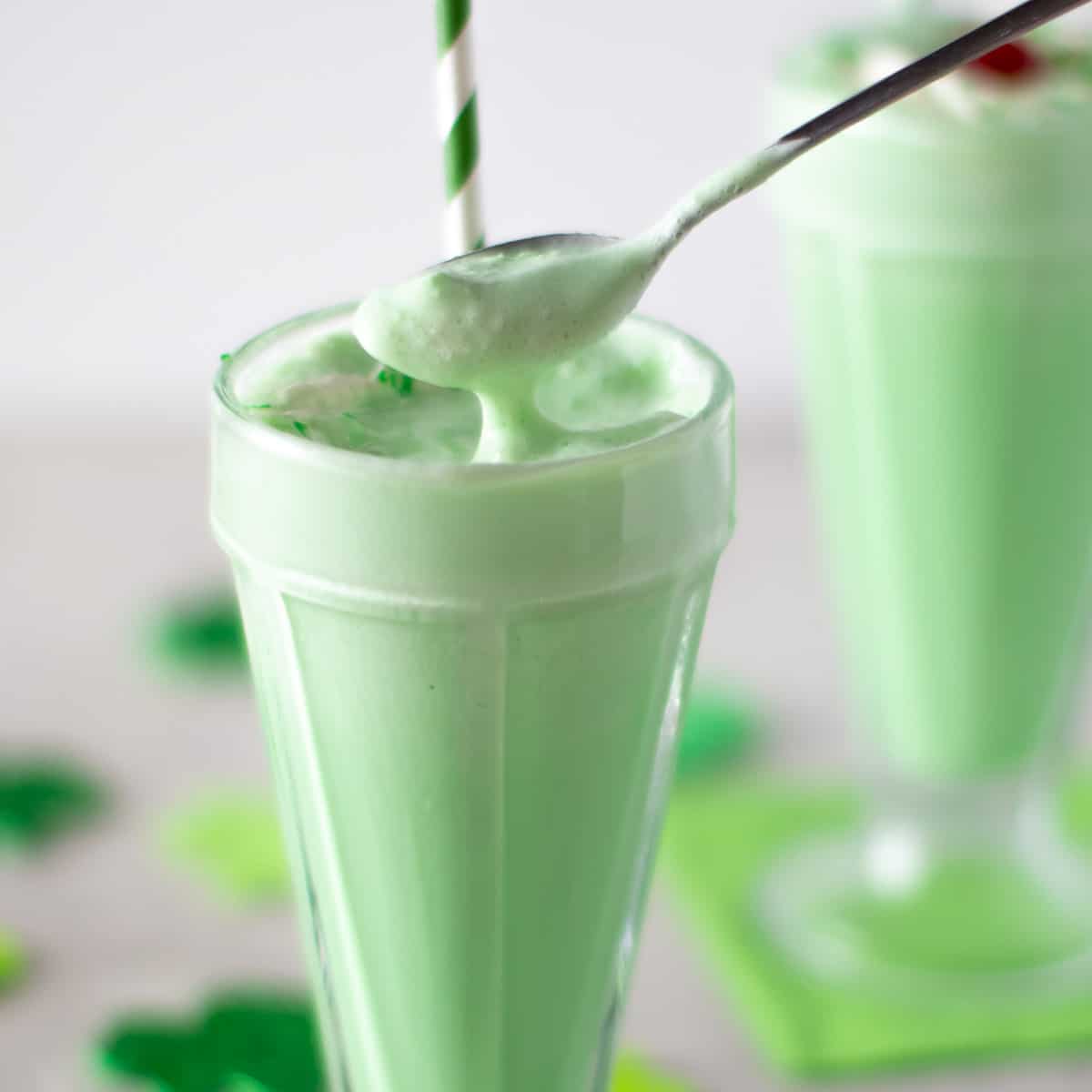 Some Other Great Cold Drinks!
With a serious love for milkshakes, frappes, and basically any cold creamy beverage, I have made many different recipes. Here are some of my favourites!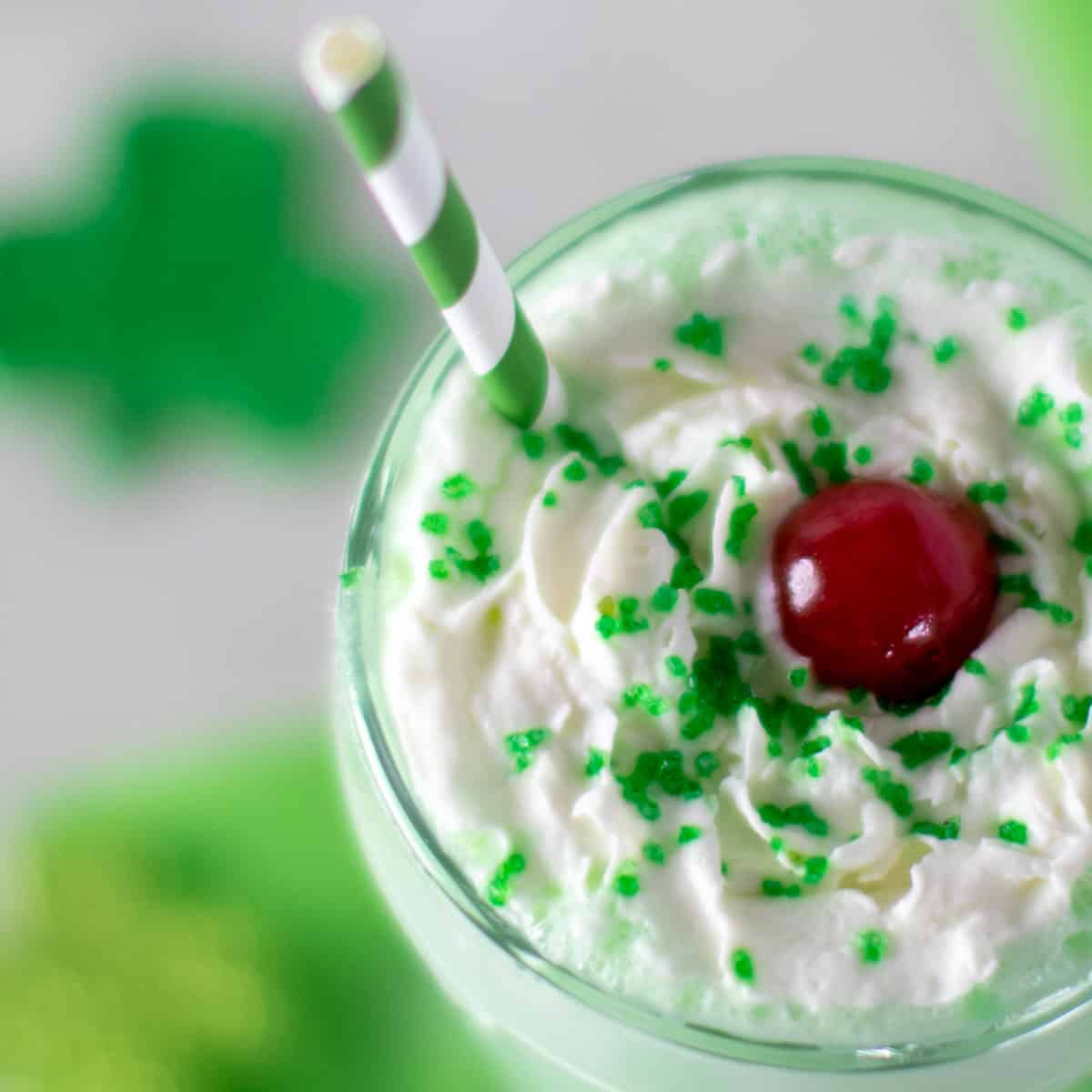 Shamrock Shake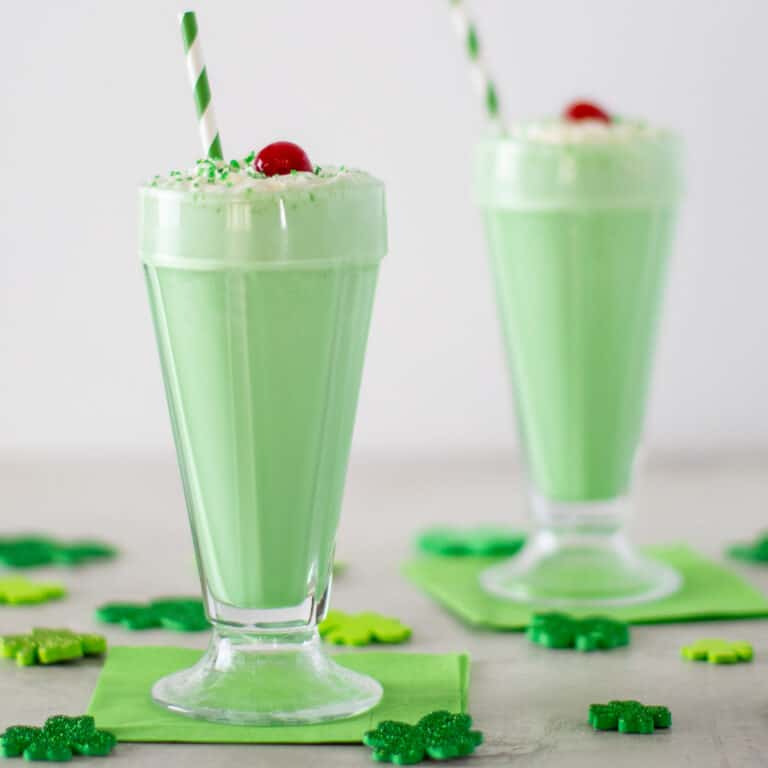 Print
This mint milkshake is the best copycat recipe for McDonald's Shamrock Shake. Easy to make with vanilla ice cream, milk, mint extract and food colouring.
Servings: 1
Ingredients
2 cups vanilla ice cream
2/3 cup milk or light cream
1/2 tsp mint extract
12 drops green food colouring
3 tbsp whipped cream
1/2 tsp green sanding sugar
1 maraschino cherries
Instructions
Add ice cream, milk, mint extract and food colouring to a blender.

Start the blender on low and increase the speed to medium/high . Blend until smooth and creamy. If the milkshake seems to thick and is struggling to blend, add a little more milk.

Pour into a glass. Top with whipped cream, green sanding sugar and cherry.

Serve immediately.
Nutrition
Per serving:
Calories: 702kcalCarbohydrates: 76gProtein: 15gFat: 37gSaturated Fat: 23gCholesterol: 143mgSodium: 283mgFiber: 2gSugar: 70g
This recipe was originally posted in March 2020.