This Guinness beer bread 'no yeast' recipe can be made in under an hour and tastes amazing with the wonderful taste of the classic Irish stout.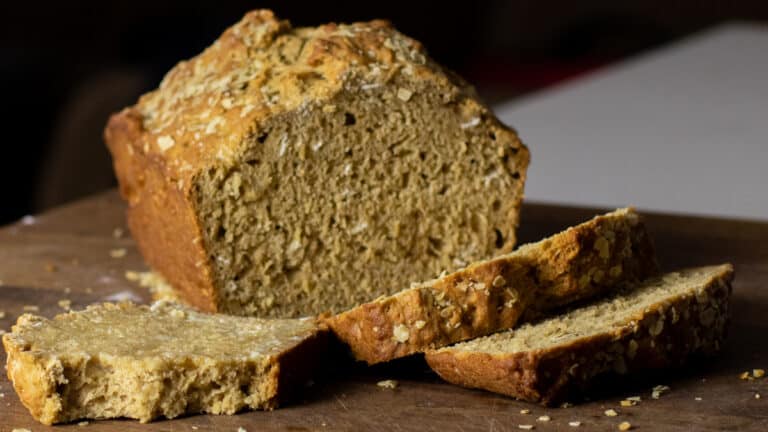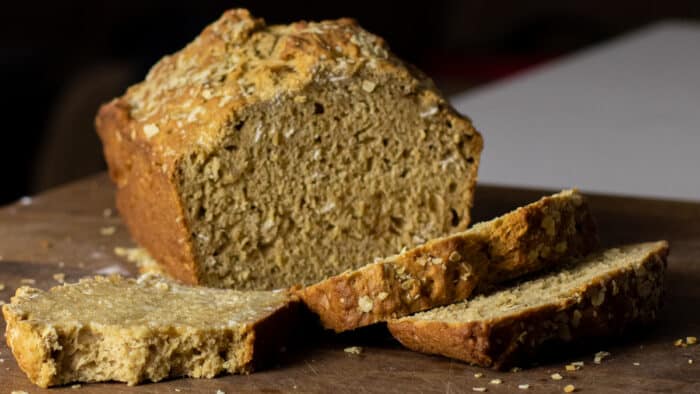 I am really excited to shared this beer bread with you. If you have never tasted beer bread, you don't know what you are missing. It is sweet, buttery, moist and chewy. Every time I have this Guinness bread I am utterly amazed at how delicious it is.
It is just incredible.
Now this bread is not with just any beer. This bread is made with Guinness. The classic Irish stout has a wonderful flavour and with every bite of this bread you can taste the Guinness. It is amazing because the taste of Guinness is present but not overpowering.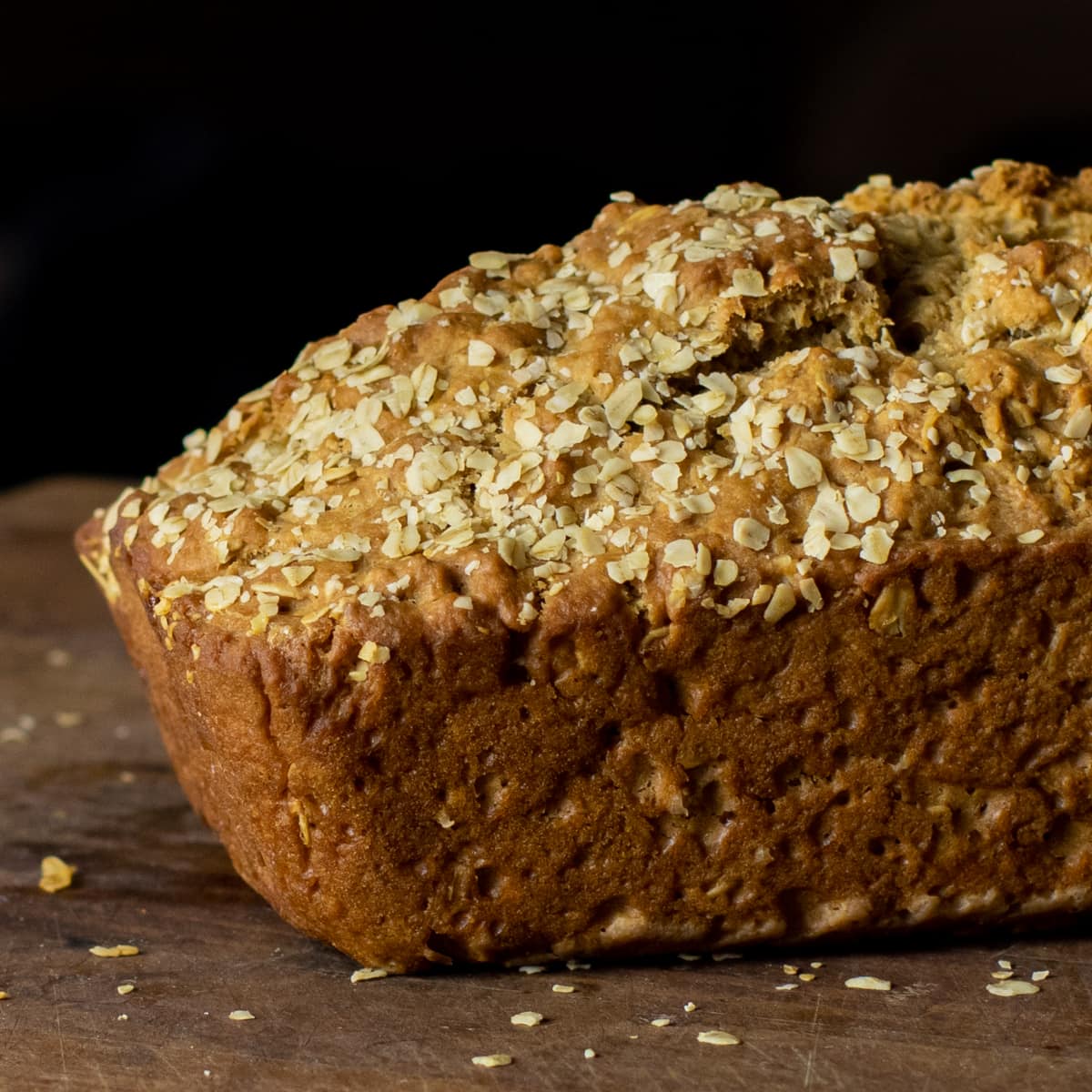 No Yeast Bread!
Not only do I love the flavour of this bread, but I also love how easy it is to make. There is no yeast in this bread, so there is no kneading required. There is also no need to let it rest and rise.
This bread uses baking powder, and that along with the carbonation of the Guinness, it gets all the lift it needs. You can get this bread in the oven within 10 minutes. It is that easy to make.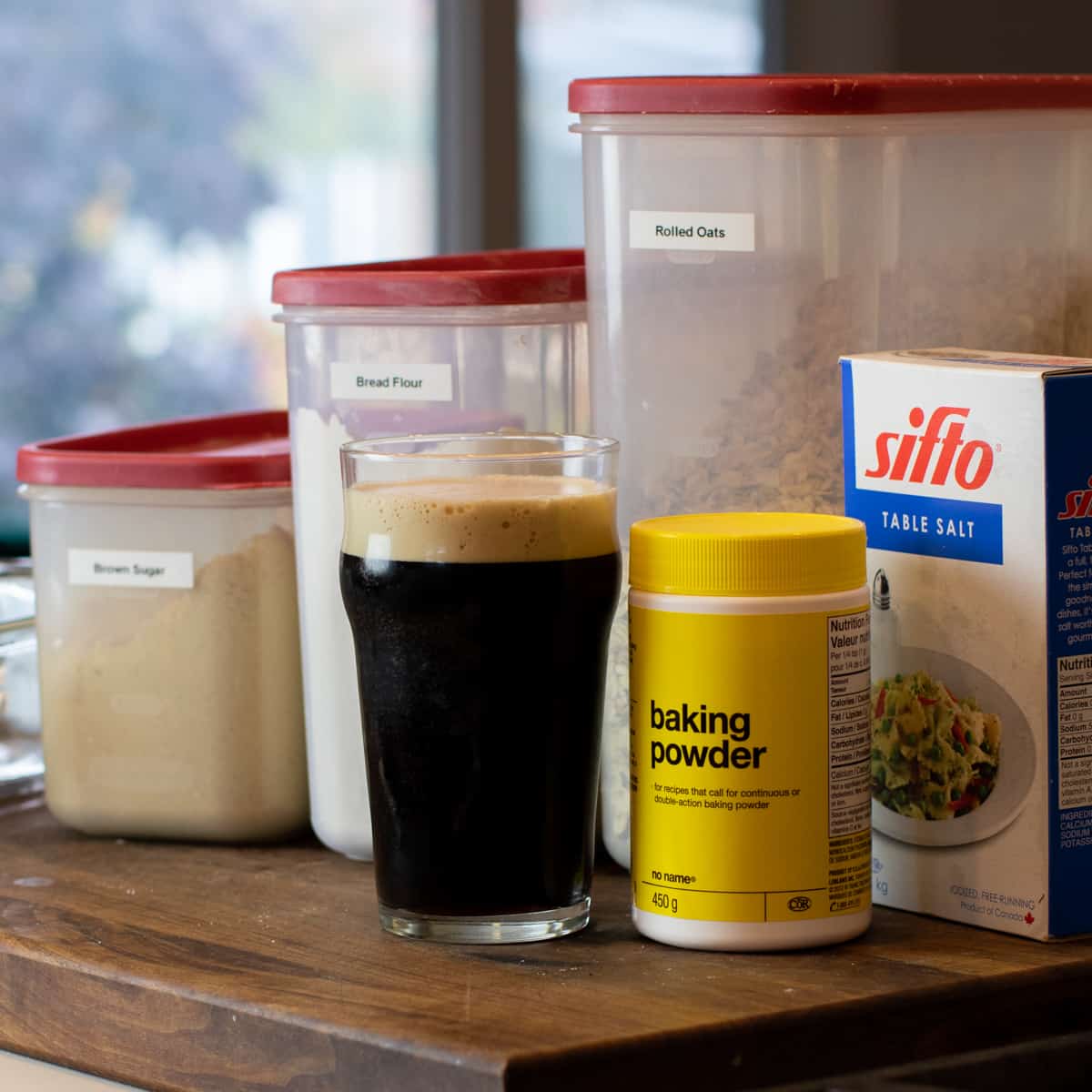 Ingredients You Will Need?
Guinness bread uses a lot of basic pantry ingredients that you likely already have in your kitchen!
Flour – you can use all-purpose or bread flour.
Brown Sugar
Oats – both rolled oats or quick oats will work just fine.
Baking Powder – this is the rising agent for the bread since there is no yeast used.
Salt
Guinness – If you cannot get Guinness, any stout beer will work great.
Butter – the butter is used for greasing the loaf pan and brushing on top of the batter before baking.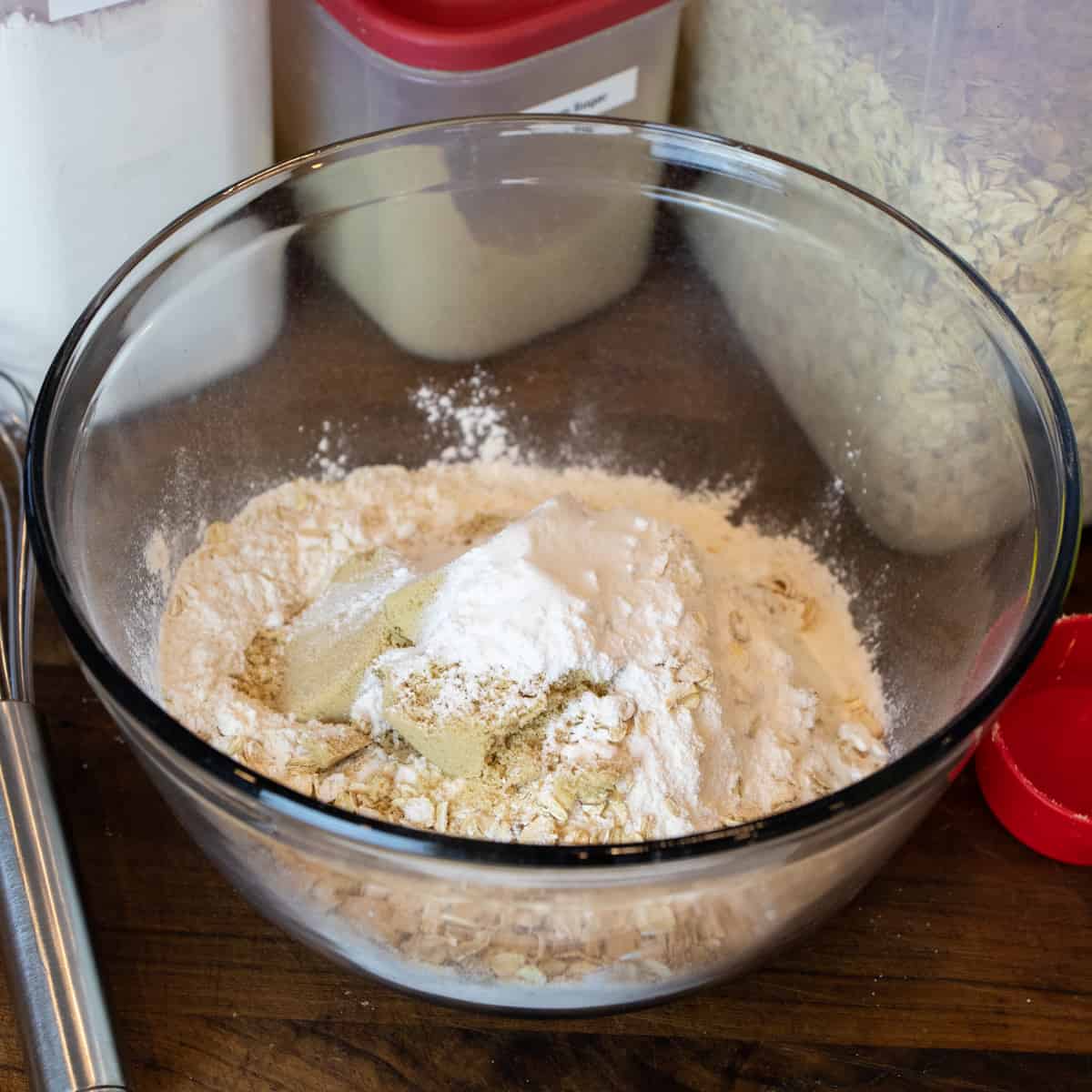 Sift Together Dry Ingredients
In a large mixing bowl, add the flour, brown sugar, oats, salt and baking powder. Use a whisk or fork to sift them all together. Mixing the dry ingredients first, ensures that the salt and baking powder is well mixed into the flour.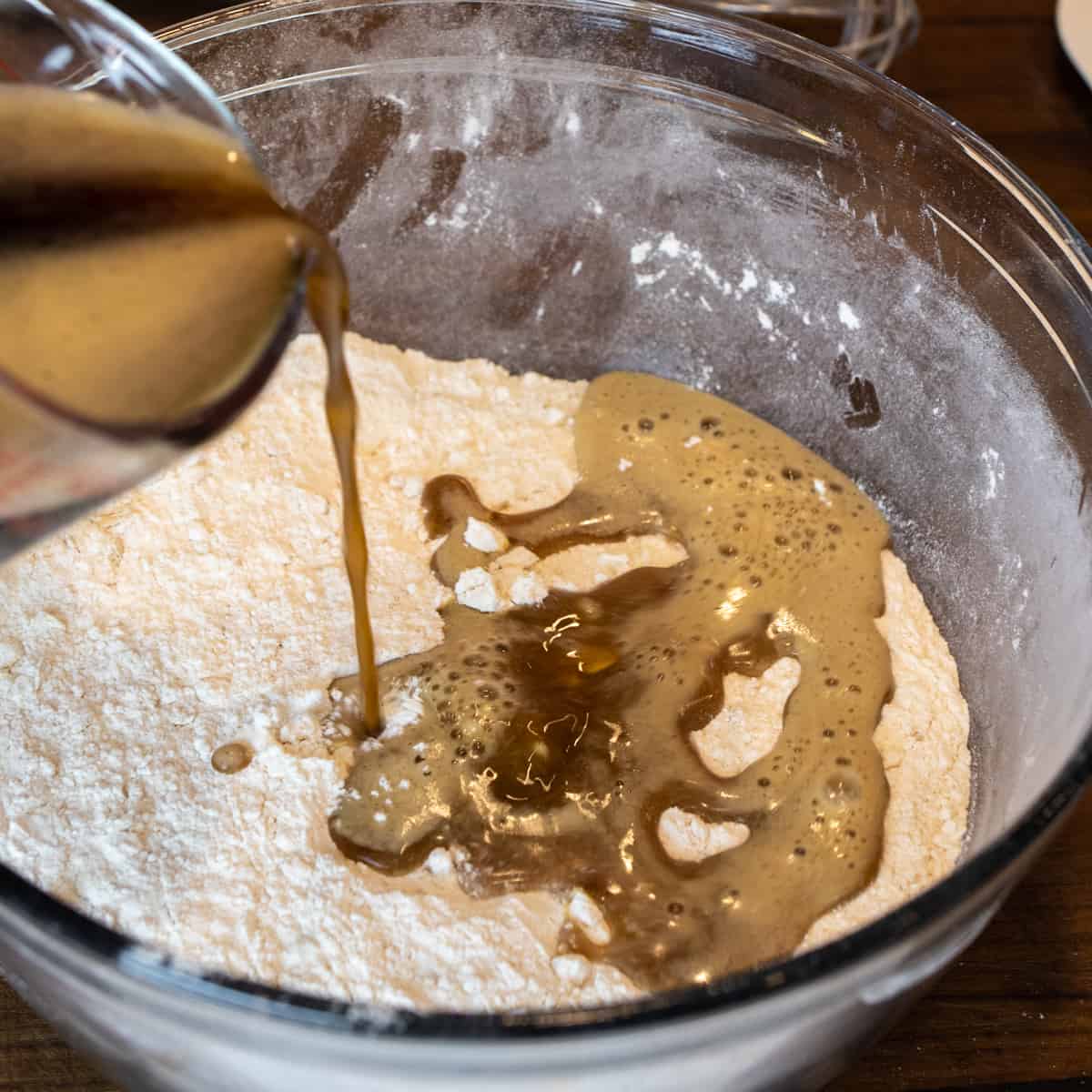 Pour In The Guinness
Measure out the Guinness beer (or other stout) and pour it into the mixing bowl with the dry ingredients. Use a wooden spoon or rubber spatula to gently mix in the beer.
Expert Tip: Do not open the can or bottle of Guinness beer until you are ready to add it to the batter. This ensures that the beer is still fizzy and carbonated, which will help with the rising or the bread during baking.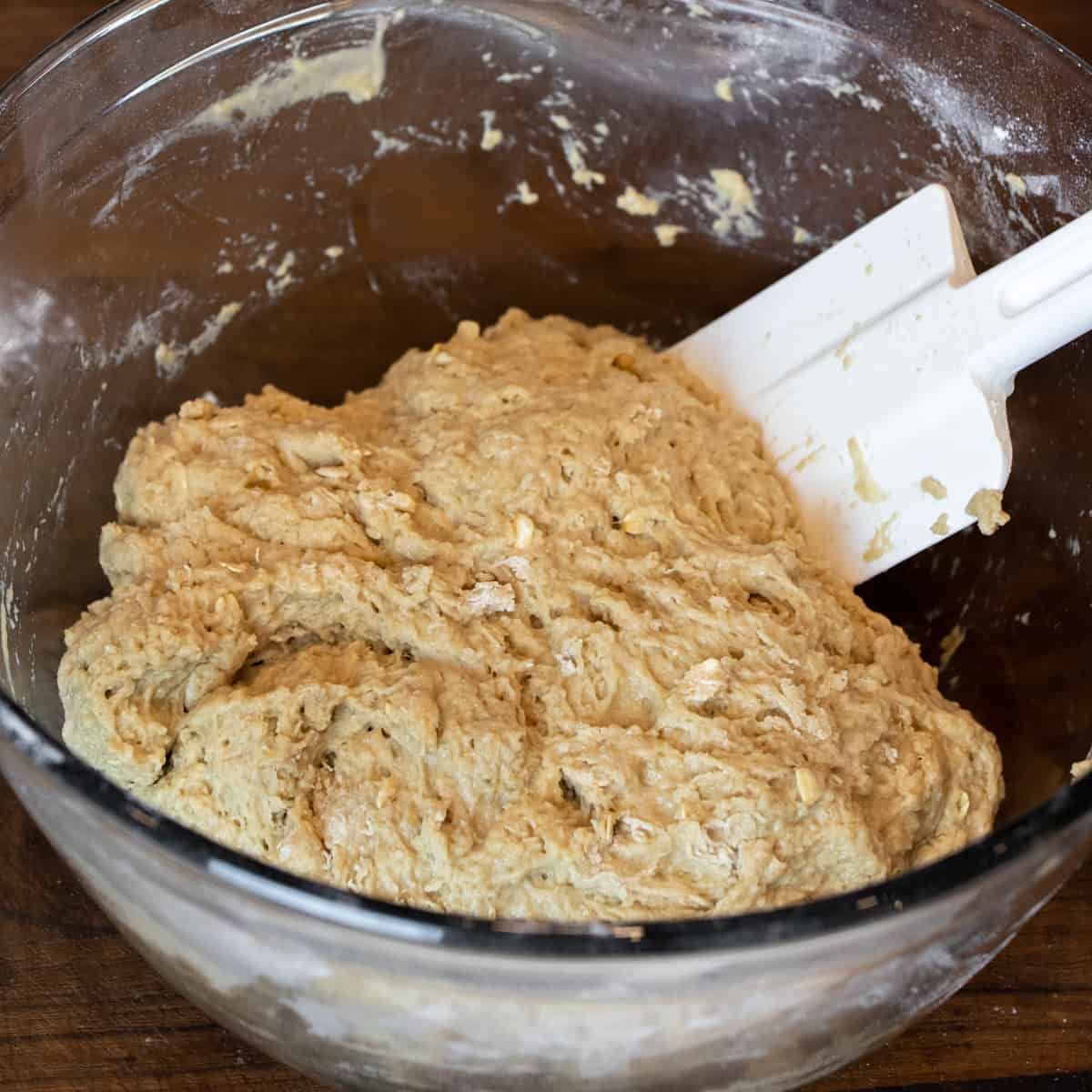 Mix The Batter Gently
As you mix the batter together, make sure to use a folding and turning rotation to gently mix it all together. You want it just to get to the point that there are no more pockets of flour and the batter has a consistent wet texture throughout.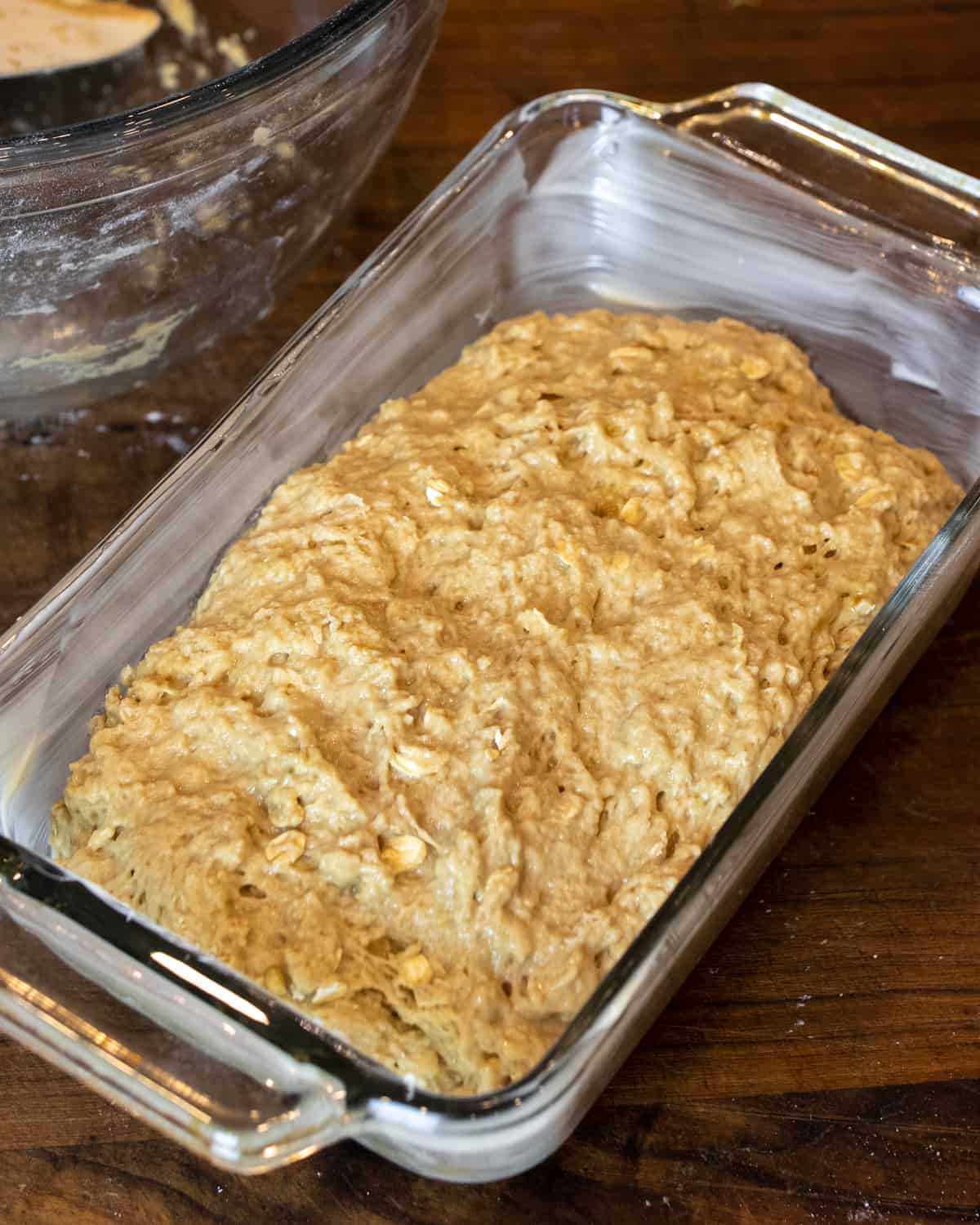 Dump the batter into a loaf pan that has been greased with butter. Use a spatula or wooden spoon to spread the batter evenly in the dish.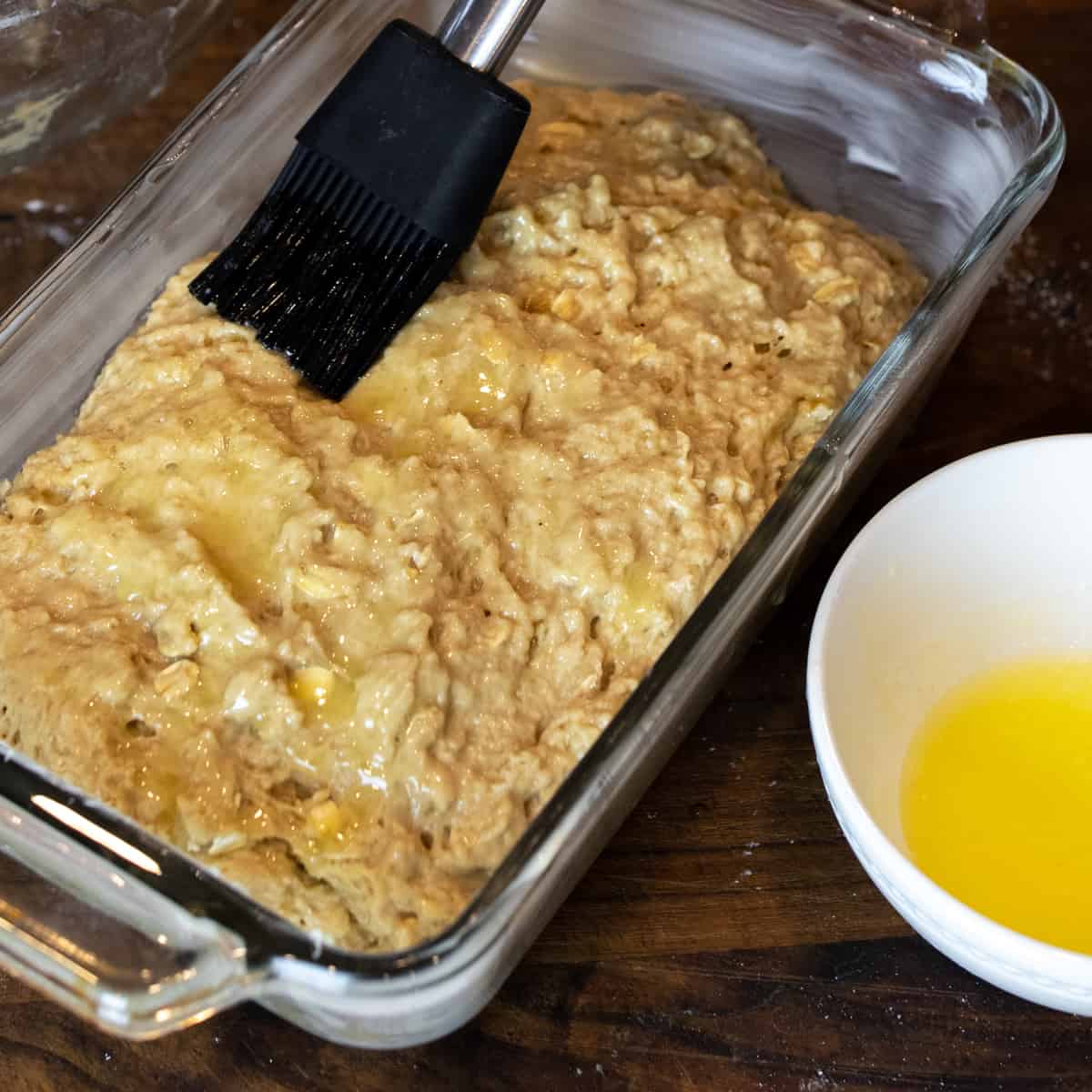 Take the melted butter and brush it all over the top of the batter. This will give the top of the bread a nice golden colour during baking.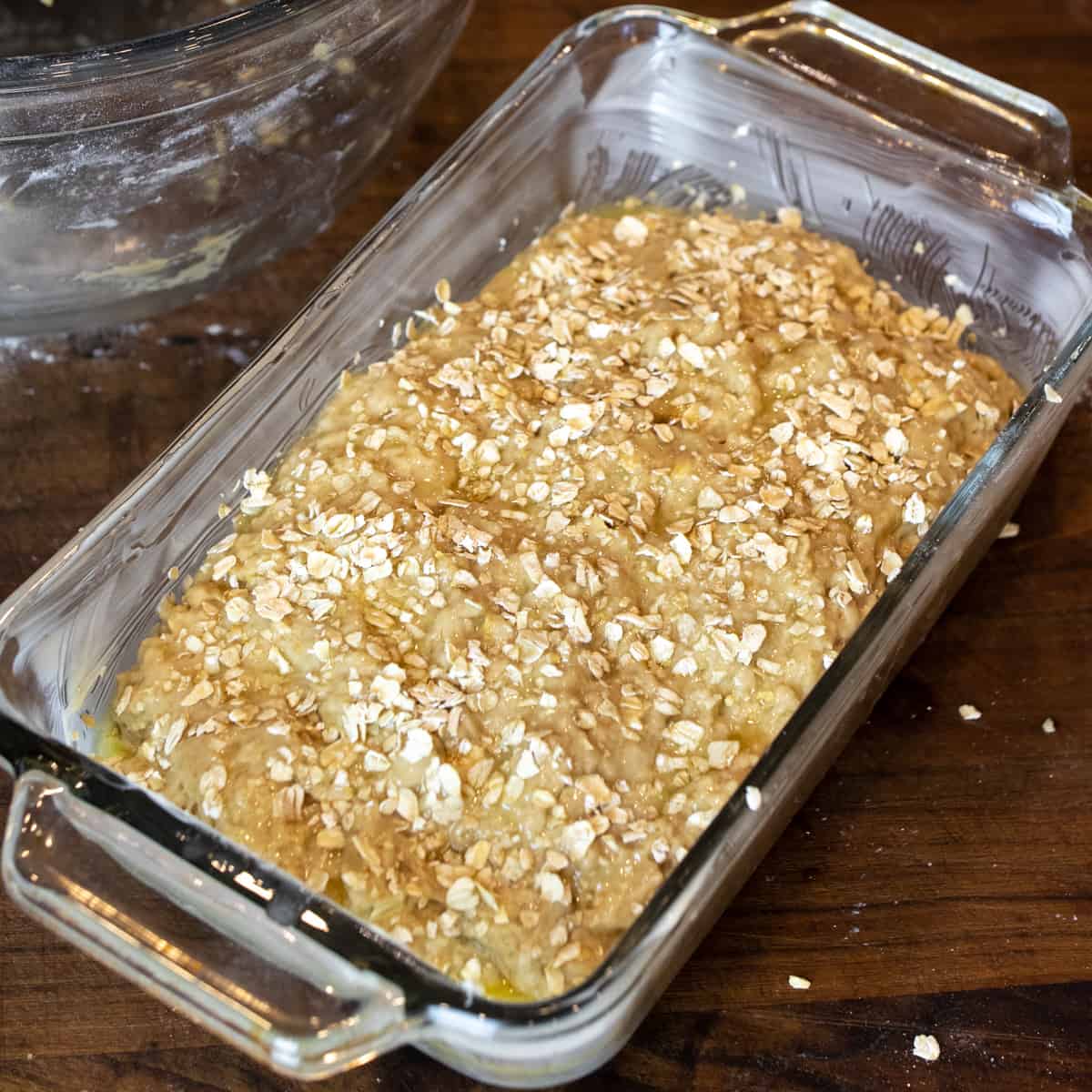 Sprinkle the one tablespoon of oats all over the batter. While both rolled and quick oat work for this recipe, I often use rolled oats for the batter and quick oats for the topping.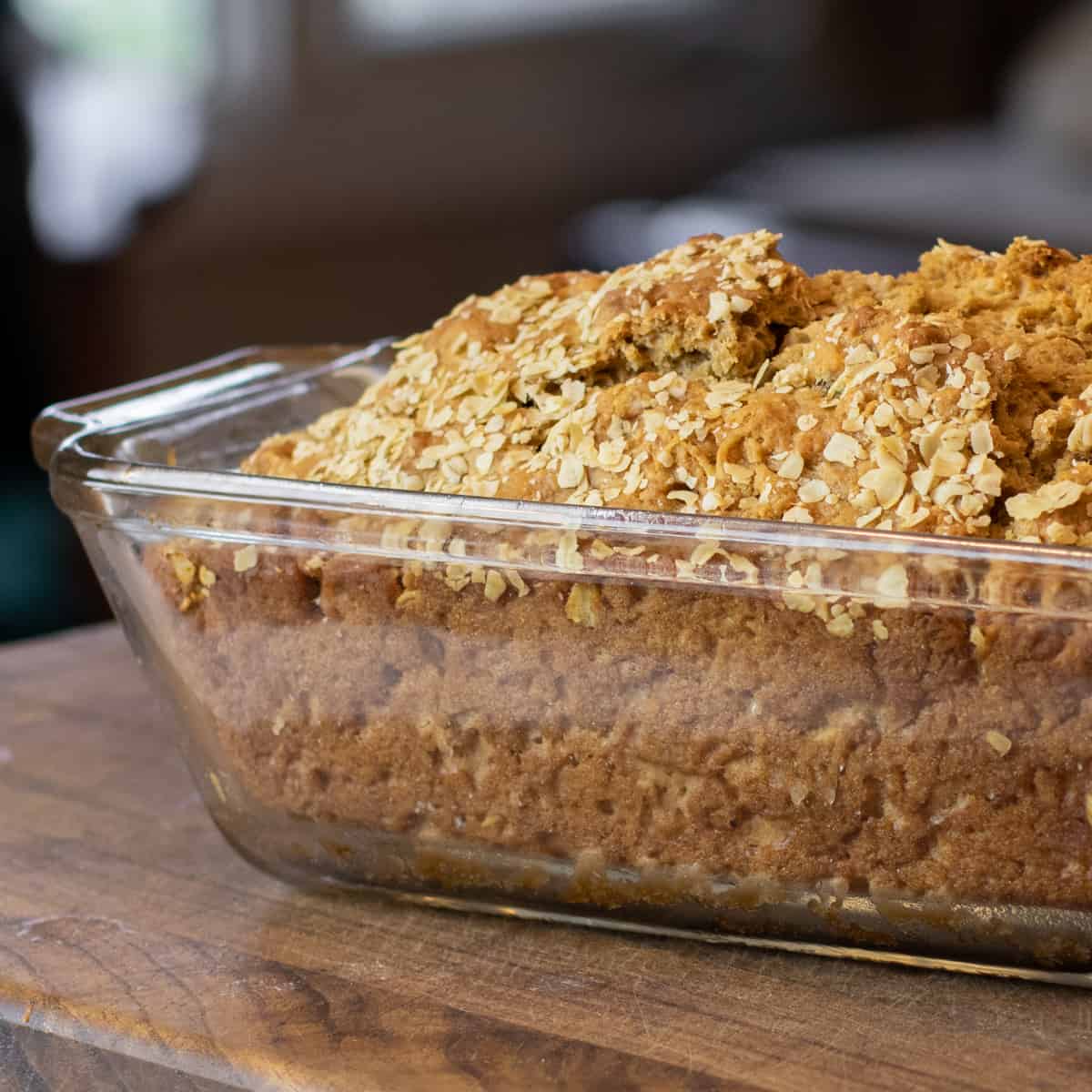 How Long To Bake Beer Bread
Preheat the oven to 350F. Put the loaf pan in the oven and bake for 50-60 minutes. It is done, once a toothpick or knife stuck in the centre comes out clean. After the bread has been in the oven for 45 minutes, I usually check to see if it is done. Then check every 5 minutes or so.
Once the bread is finished baking, take it out of the oven and place on a wire rack to cool.
Expert Tip: Don't worry if your beer bread cracks and splits on the top. I have made this bread many times over the years and sometimes is splits and other times it doesn't. The bread tastes the same either way and it is delicious!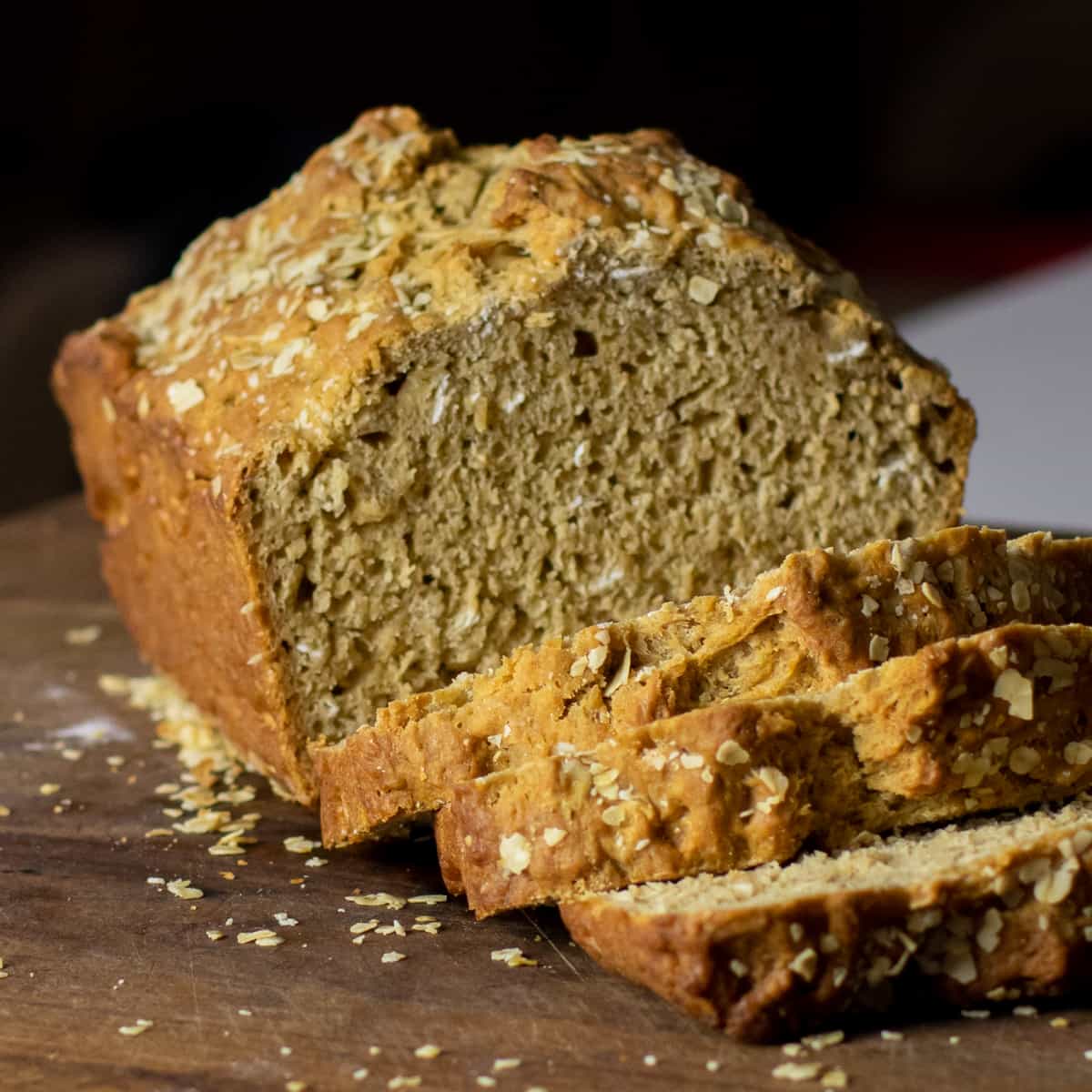 So, if you have never had beer bread before, I encourage you to give it a try. It doesn't have to be Guinness either. You could try various beers to get different flavours. Once you try, this bread will be in your regular rotation of 'to-make' foods!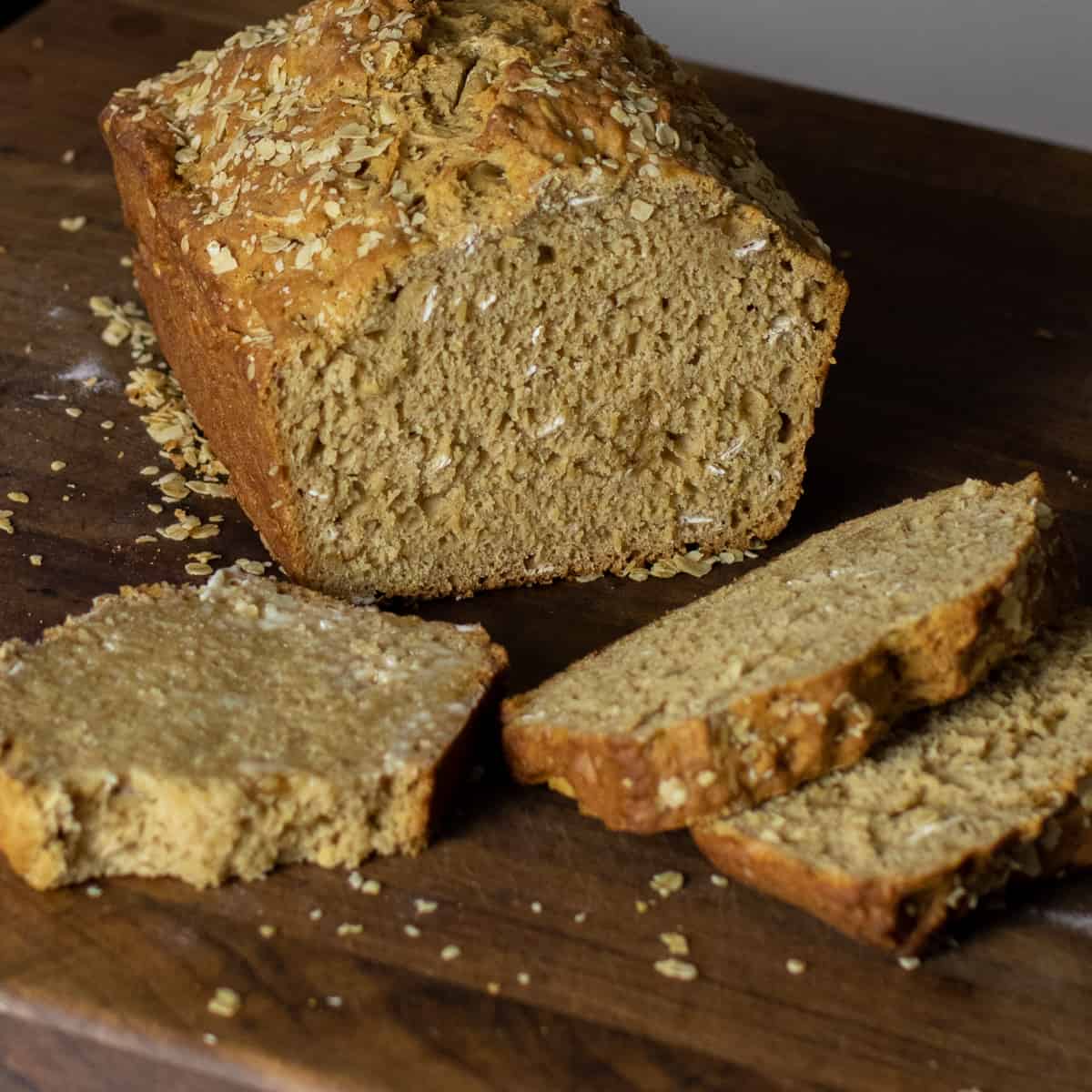 Great Recipes To Have with Guinness Bread!
While beer beer is great simply on its own
Guinness Beer Bread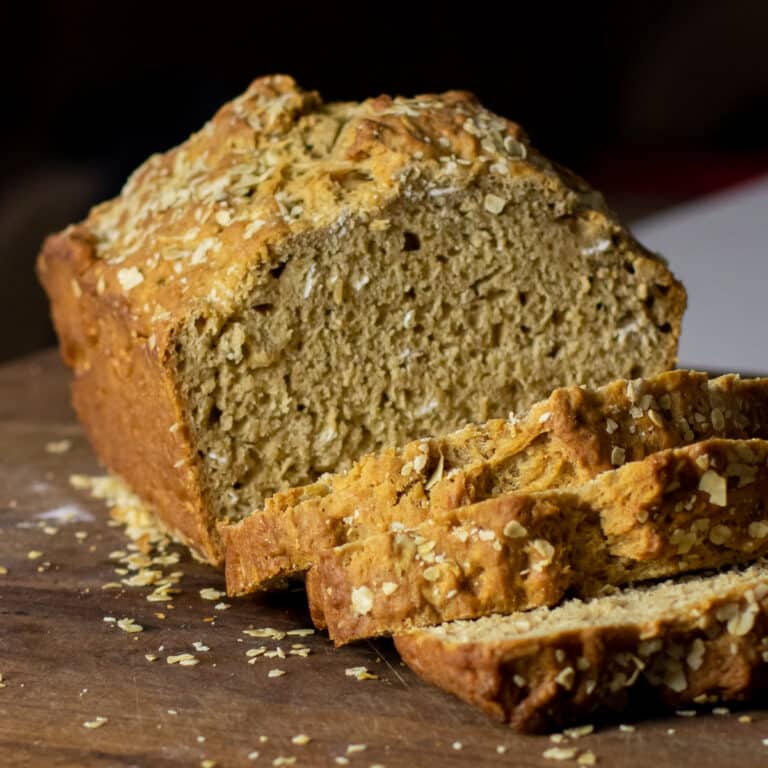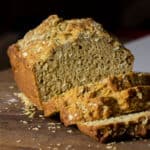 Print
This Guinness beer bread 'no yeast' recipe can be made in under an hour and tastes amazing with the wonderful taste of the classic Irish stout.
Servings: 10 slices
Ingredients
1 tbsp butter
3 cups flour
1/2 tsp salt
4 tsp baking powder
1/3 cup rolled or quick oats
2/3 cup dark brown sugar
12 oz Guinness , (1 1/2 cups)
1 tbsp melted butter
1 tbsp rolled or quick oats
Instructions
Preheat oven at 350F

Grease a loaf pan with the 1 tbsp butter.

Whisk together the flour, baking powder, salt, 1/3 cup oats and brown sugar.

Slowly mix in the Guinness into the dry ingredients using a wooden spoon or an electric mixer on the low setting. Do not over mix the batter, but make sure that it is not too lumpy.

Pour the batter in the greased loaf pan.

Brush the melted butter on top of the batter and sprinkle the 1 tbsp of oats on top.

Bake the bread for 50-60 minutes. The bread is done when a toothpick inserted, comes out clean. Check at 45 minutes just in case the bread is done early.

Place on a cooling rack until at room temperature and then slice.
Nutrition
Per serving:
Calories: 238kcalCarbohydrates: 47gProtein: 4gFat: 3gSaturated Fat: 2gCholesterol: 6mgSodium: 141mgFiber: 1gSugar: 14g