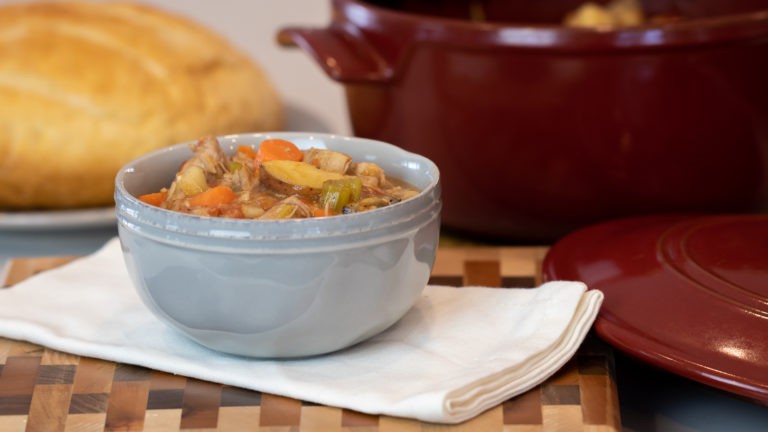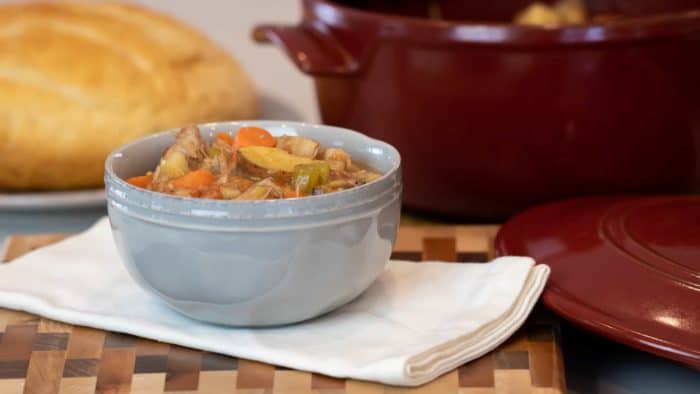 Once winter comes around I love to cook any kind of comfort food and there is not much that screams comfort more than a big bowl of hearty stew. I love having a dutch oven full of stew slowly baking in the oven. The meat is so tender and the vegetables are packed with flavour. I also love the broth, or should I say gravy in the stew, since it is nice and thick. So good!
Usually, I make beef stew, but every once in a while I make it with pork. There was a couple of pork tenderloins in the fridge, and since it was super chilly outside. I decided that a traditional classic stew, made with cubed pork tenderloin and lots of vegetables, would be perfect for dinner.
This stew did not disappoint!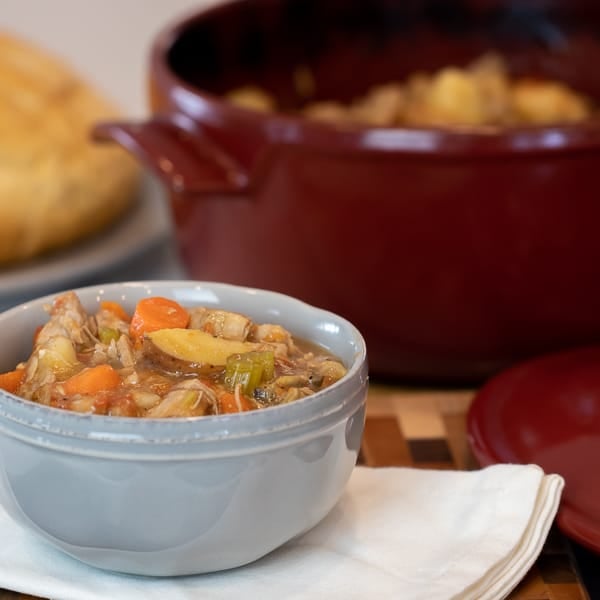 A quick look on my website and you will discover I seriously love stews. Stews can be cooked a number of ways including the oven, slow cooker and pressure cooker. I have recipes for all methods using all sorts of different kinds of meat, including beef, pork, chicken and even venison.
Oven Recipes
Slow Cooker Recipes
Pressure Cooker Recipes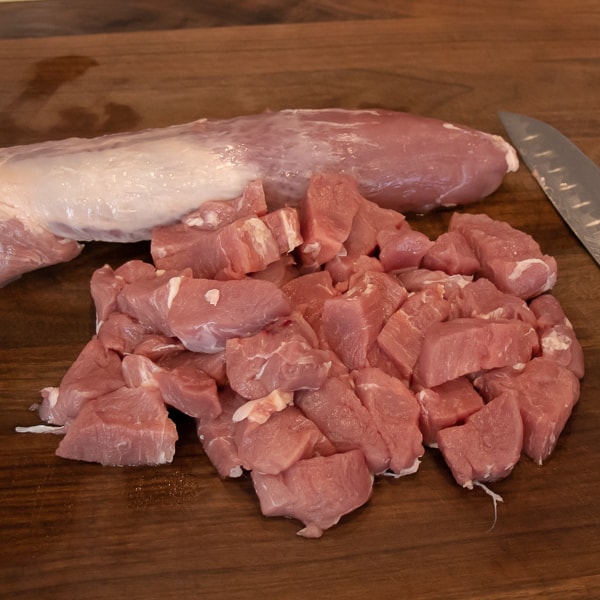 For this stew I use two pork tenderloins. Before you cut them up, trim them of any excess fat. Also, use a sharp knife and trim away the shiny membrane.
Then, cut the pork tenderloin into cubes about 1 inch in size. Don't worry too much if the sizes are not exactly the same.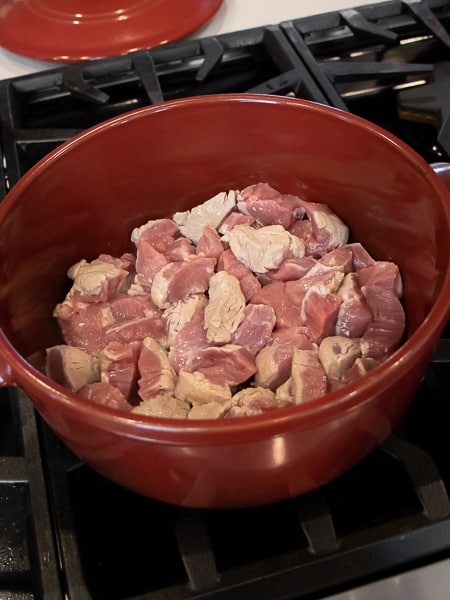 Heat the 3 tbsp of oil in a dutch oven over medium high heat. Then add the cubed pork to brown the meat. Let it sizzle and brown, stirring occasionally to make sure that the pork is browned on all sides.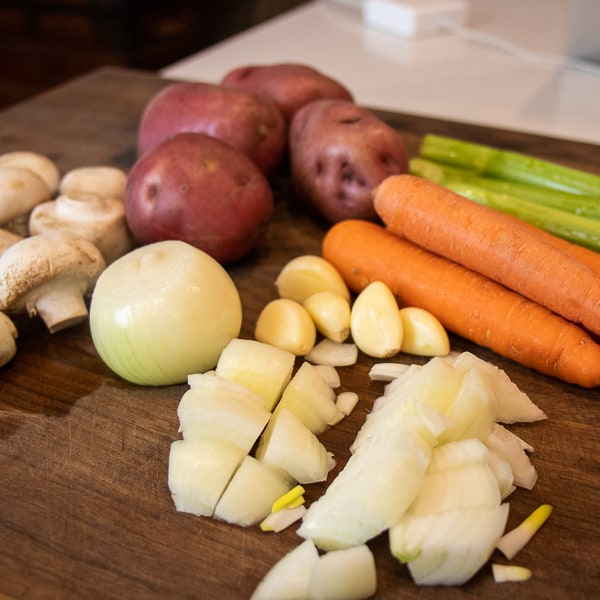 While the pork is in the dutch oven, dice the onion and mince the garlic.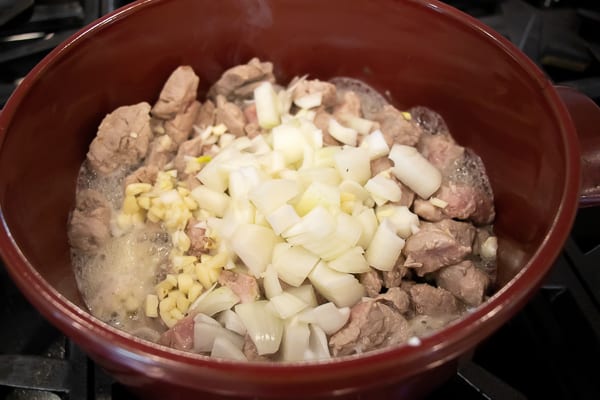 Stir in the onion and garlic and let it all cook together for about 5 minutes.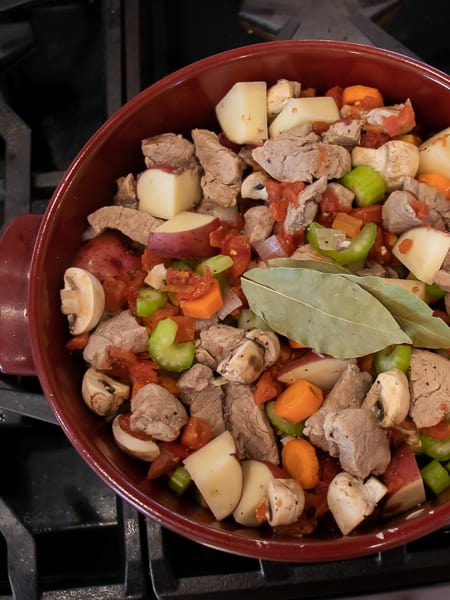 Mix in the cut up potatoes, carrots, celery and mushrooms. Also, add in the can of diced tomatoes, ginger ale, broth, salt, pepper and bay leaves.
Cover the dutch oven with the lid and place in the oven for 3 hours.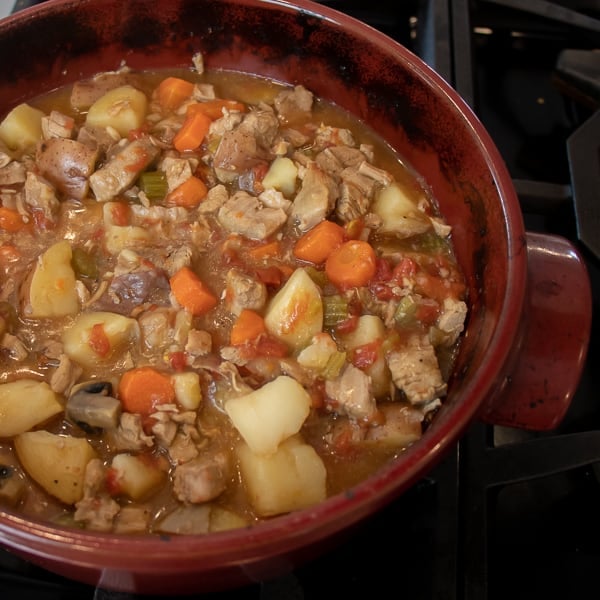 When finished, it is time to thicken the broth so that it is a nice gravy. To do that, make a slurry by whisking together the corn starch and water. Stir the slurry in with the stew. It should thicken almost immediately, but if not, you can place it back in the oven for a few minutes. Then take it out and stir – should be the perfect consistency for stew.
This stew is the perfect comfort food for a cold winter day. Ladle some of this in a large bowl and you have a complete hearty dinner!
This goes perfect with fresh bread. Here are a couple bread recipes that are awesome with this stew.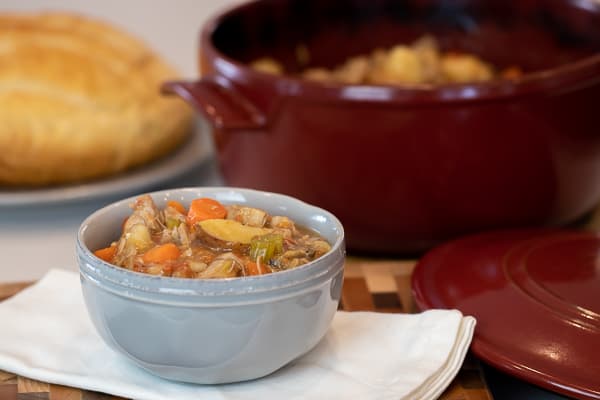 Classic Pork Stew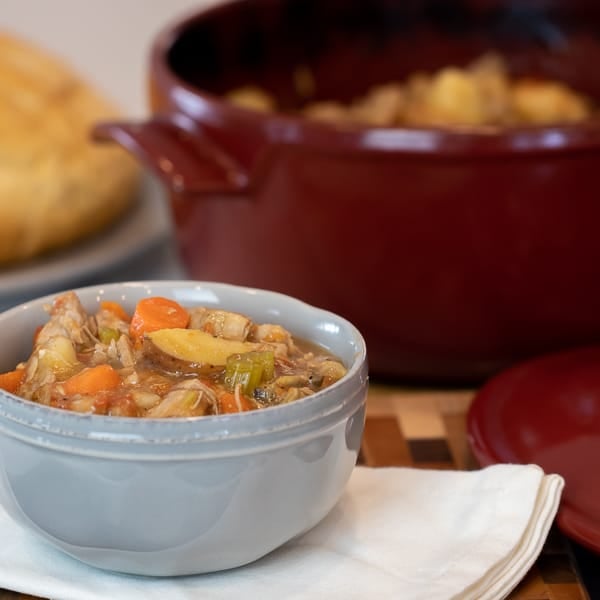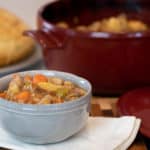 Print
Delicious recipe and instructions for how to make pork stew in a dutch oven with pork tenderloin, potatoes, carrots, onions, mushrooms, celery and more.
Servings: 10
Ingredients
3 tbsp oil
2 pork tenderloins , cut into 1 inch cubes
2 medium onions , peeled and diced
4 garlic cloves , minced
5 medium red potatoes , cut into chunks
5 medium carrots , peeled and cut into chunks
3 celery stalks , diced
8 mushrooms , quartered
1 can (28oz) diced tomatoes
2 bay leaves
1 tsp salt
1/2 tsp black pepper
1 can ginger ale , or apple juice
1 cup chicken broth , or water
2 tbsp corn starch
3 tbsp water
Instructions
Preheat oven to 350F

Heat oil in a dutch oven over medium high heat. Brown the pork in the dutch oven, turning and stir so that they brown on all sides.

Stir in the onions and minced garlic and cook for another 5 minutes.

Add the potatoes, carrots, mushrooms, celery, diced tomatoes, salt, pepper, bay leaves, ginger ale and broth. Stir to mix everything.

Cover dutch oven with lid and place in the oven to bake for 3 hours.

Take dutch oven out of the oven. In a separate bowl whisk together the corn starch and water to make a slurry. Stir the slurry in the stew to thicken.

Serve.
Nutrition
Per serving:
Calories: 598kcalCarbohydrates: 29gProtein: 78gFat: 17gSaturated Fat: 5gCholesterol: 236mgSodium: 554mgFiber: 3gSugar: 8g