Moroccan Pork Stew with Chick Peas and Dried Cherries
I have come to love Moroccan cuisine. Tagine is the most common dish and it is slow cooked meat with lots of spices. Typically, not near as spicy as an Indian curry tagine has a blend of sweeter and earthier spices. This is often served with lamb, goat, chicken or beef, and is also commonly served on top of couscous. Here are two of my couscous recipes that are perfect for this tagine dish.
Couscous with Apricots and Pistachios
Couscous with Cranberries and Almonds
This tagine stew recipe is made with pork which is not commonly served in Moroccan dishes due to religious reasons, but the flavours coming from the spices of Moroccan cooking work very well with pork. This recipe can easily be substituted with many different types of meat.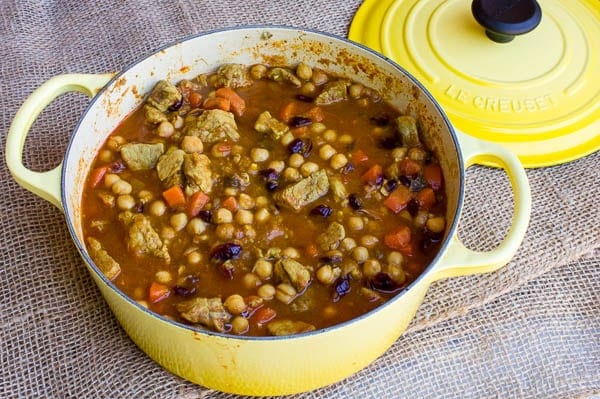 Moroccan Pork Stew with Chick Peas and Dried Cherries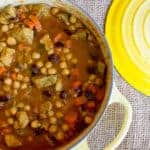 Print
Ingredients
3 tbsp oil
2 pork tenderloins , cut into chunks
1 tsp cumin
1 tsp coriander
1 tsp turmeric
1 tsp paprika
1 tsp salt
1/2 tsp cinnamon
1/2 tsp ground ginger
2 onion , diced
3 garlic cloves , minced
3 carrots , diced
2 cans chick peas , drained
1 1/2 cups water
1 1/2 cups dried cherries
zest of one lemon
Instructions
Mix the spices together and toss with the cubed pork.

Add oil to skillet or tagine cooker and heat on medium high to brown. Saute the spice rubbed pork until they are lightly browned on all sides.

Slow cooker option - Transfer pork and remaining ingredients, except for the black olives, to a slow cooker and set to high. Cook for 3-4 hours

Electric tagine cooker option - Add If using an electric tagine cooker, add remaining ingredients. Set to simmer and cook for 3-4 hours.

Oven or standard tagine pot option - Transfer pork and remaining ingredients to an oven safe dutch oven, to a tagine pot. Cook for about 3 hours at 325F.

Serve with couscous or rice.