Couscous with Cranberries and Almonds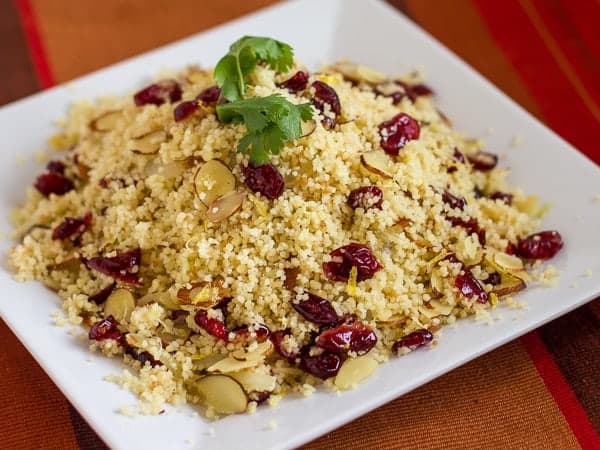 If you were to go to Algeria or Morocco, you would quickly discover that couscous in a major part of North African cuisine. Wonderfully light and fluffy, couscous can be used pretty much interchangeably with rice in most recipes. For people not following a gluten free diet, couscous is a great alternative to rice.
The preparation and cooking of couscous could not simpler, as once it is mixed with boiling water, all it requires is to be covered, removed from the heat and allowed to rest for 5 minutes. This allows the couscous to absorb the water, and after 5 minutes, quickly fluff the couscous with a fork and it is ready to serve. It is that simple.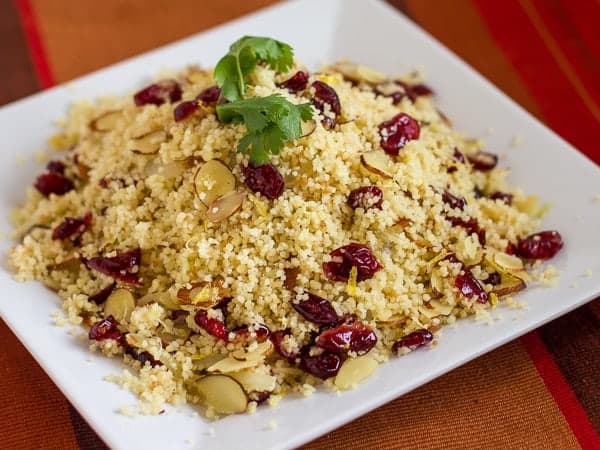 This recipe adds a sweetness with dried cranberries and a nutty crunch with the almonds. The lemon zest also gives the couscous a wonderful fresh zing. Serve it with tagine for a wonderful Moroccan meal!
Here are a few great tagine recipes: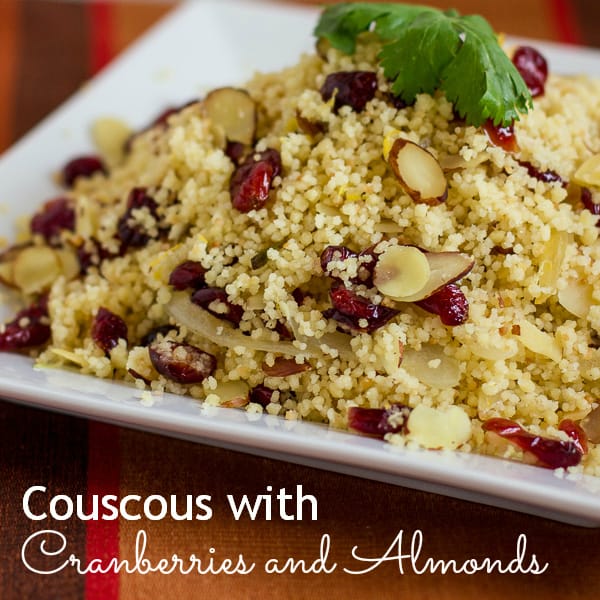 If you are looking for some other recipes with nuts, check out these!
Couscous with Cranberries and Almonds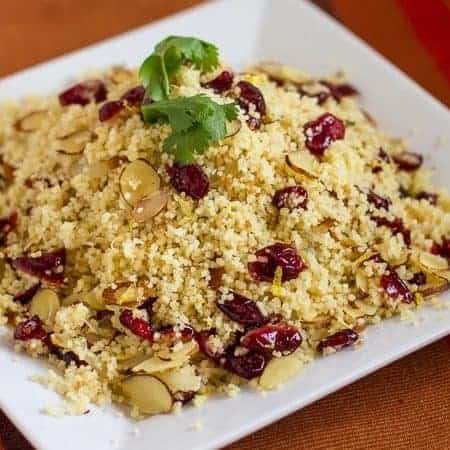 Print
Delicious light and fluffy couscous with the sweetness of cranberries and the nutty crunch of almonds. The hint of lemon gives this side a wonderful fresh flavour.
Servings: 8
Ingredients
2 tbsp oil
1 onion , thinly sliced
1 cup sliced almonds
1 cup dried cranberries
2 cups dry couscous
2 1/4 cups chicken broth or water
1 tbsp lemon zest
Instructions
In a large skillet or saucepan, heat oil on medium heat. Add sliced onions and cook, stirring often, until they are transparent and begin to brown.

Stir in the sliced almonds and continue to cook for a few minutes. The almonds will toast and start to brown as well.

Add the couscous cranberries. This will toast the couscous which add to the flavour and prevents it from being clumpy in when done. Stir almost constantly for a few minutes so that the couscous grains do not burn on the bottom of the pan.

Add the broth/water and lemon zest. Since the couscous is hot, the broth will start to boil immediately. Give is a quick stir and put the cover on the pan.

Remove from the heat and let stand for 5 minutes. After the 5 minutes, fluff the couscous with a fork.
Nutrition
Per serving:
Calories: 352kcalCarbohydrates: 52gProtein: 10gFat: 13gSaturated Fat: 1gSodium: 247mgFiber: 6gSugar: 11g