Using a slow cooker to make chicken tagine is so easy. The blend of spices makes this stewed dish delicious and it is perfect served with couscous.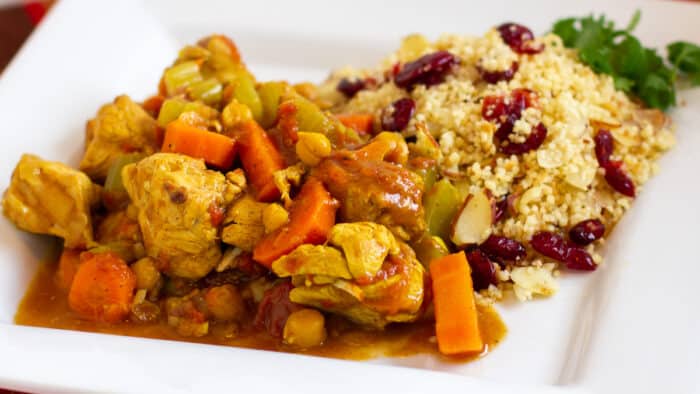 I am not sure where I was when I first tried tagine, but I do know that I loved it. This Moroccan dish is like a stew with a blend of many spices that gives it an awesome flavour. This slow cooker chicken tagine is an easy to prepare recipe and is the perfect comfort food meal.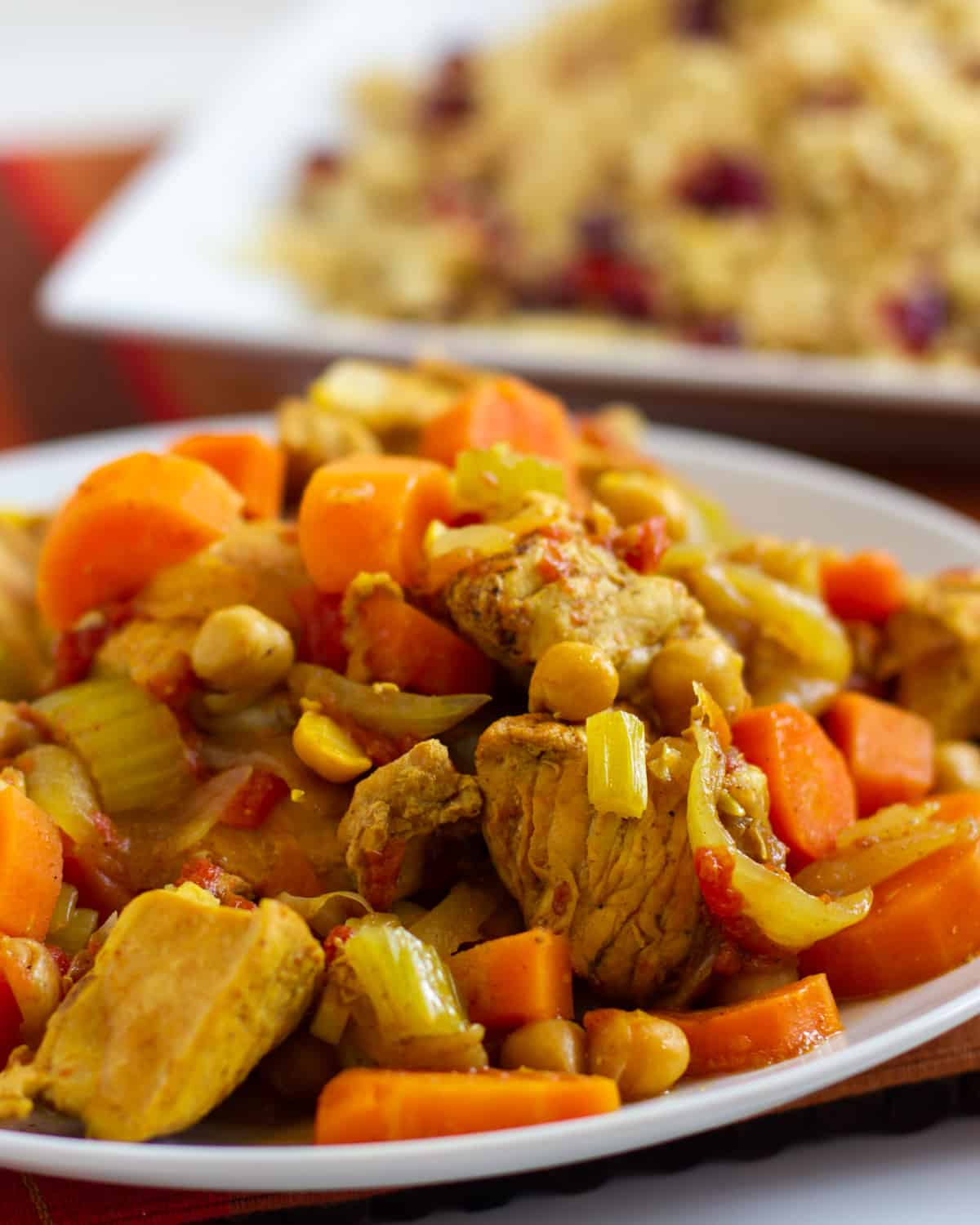 What is Tagine?
Tagine, is a staple of North African cuisine, and like Indian curry, there are a number of different variations. There are likely as many versions of this dish as there are people preparing it! Tagine can be made with pretty well any type of meat, like chicken, pork or fish.
Usually tagine has a different mix of vegetables and even fruits like raisins or apricots. The spice blend, called ras el hanout, has some similarities to Indian curries, but is usually not as spicy and also has more of some sweeter spices like cinnamon, cloves, and others.
Along with this slow cooker chicken tagine, I have made some other similar dishes including Chicken and Black Olive Tagine and Moroccan Pork Stew with Dried Cherries.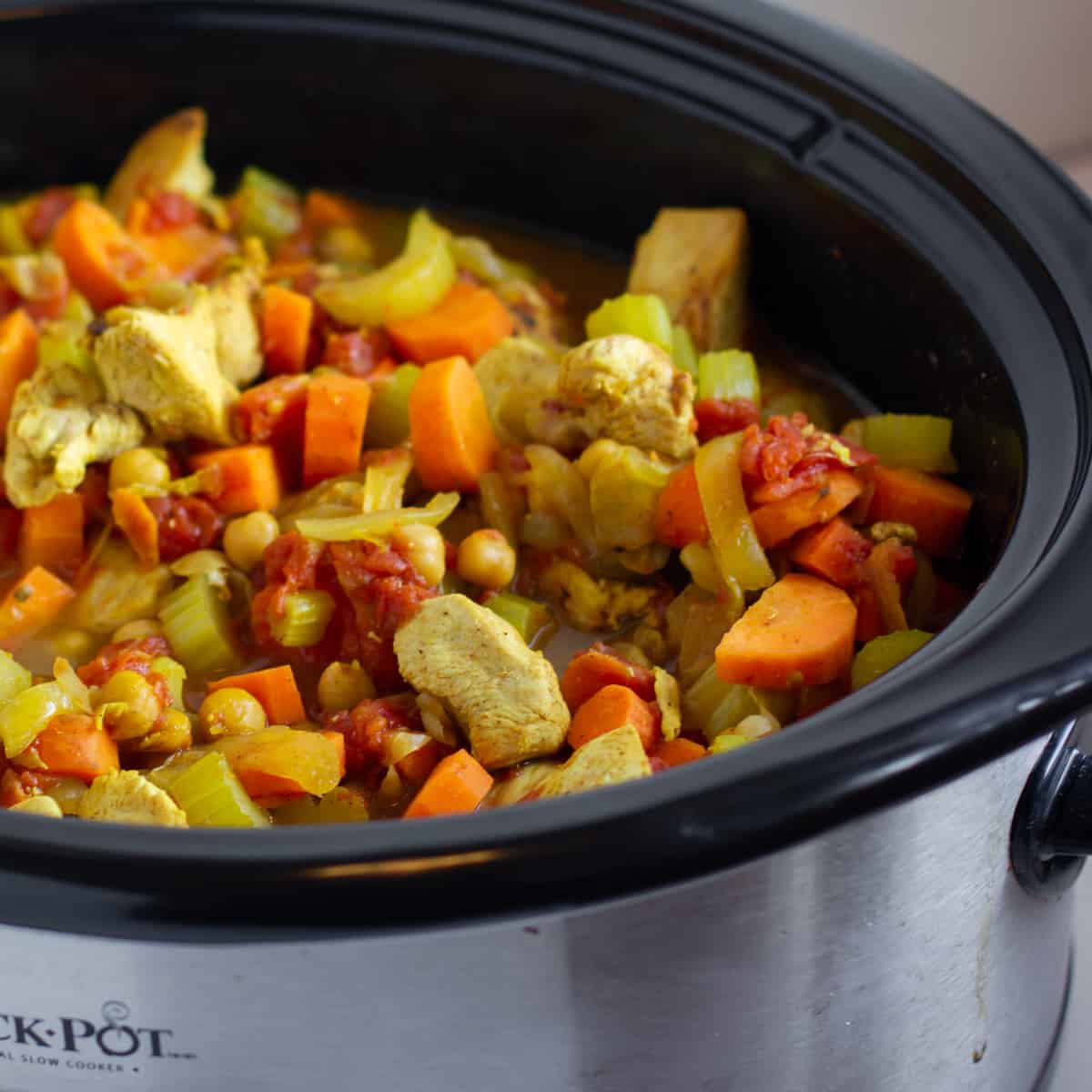 Ingredients You Will Need
chicken breasts – boneless and skinless chicken is the easiest to work with.
oil
onions
garlic cloves
carrots
celery
can of chicken peas
can of diced tomatoes
spices
lemon zest
Expert Tip! This recipe is easy to adapt. Feel free to switch up the meat or vegetables. Add in some dried fruit, olives or something else.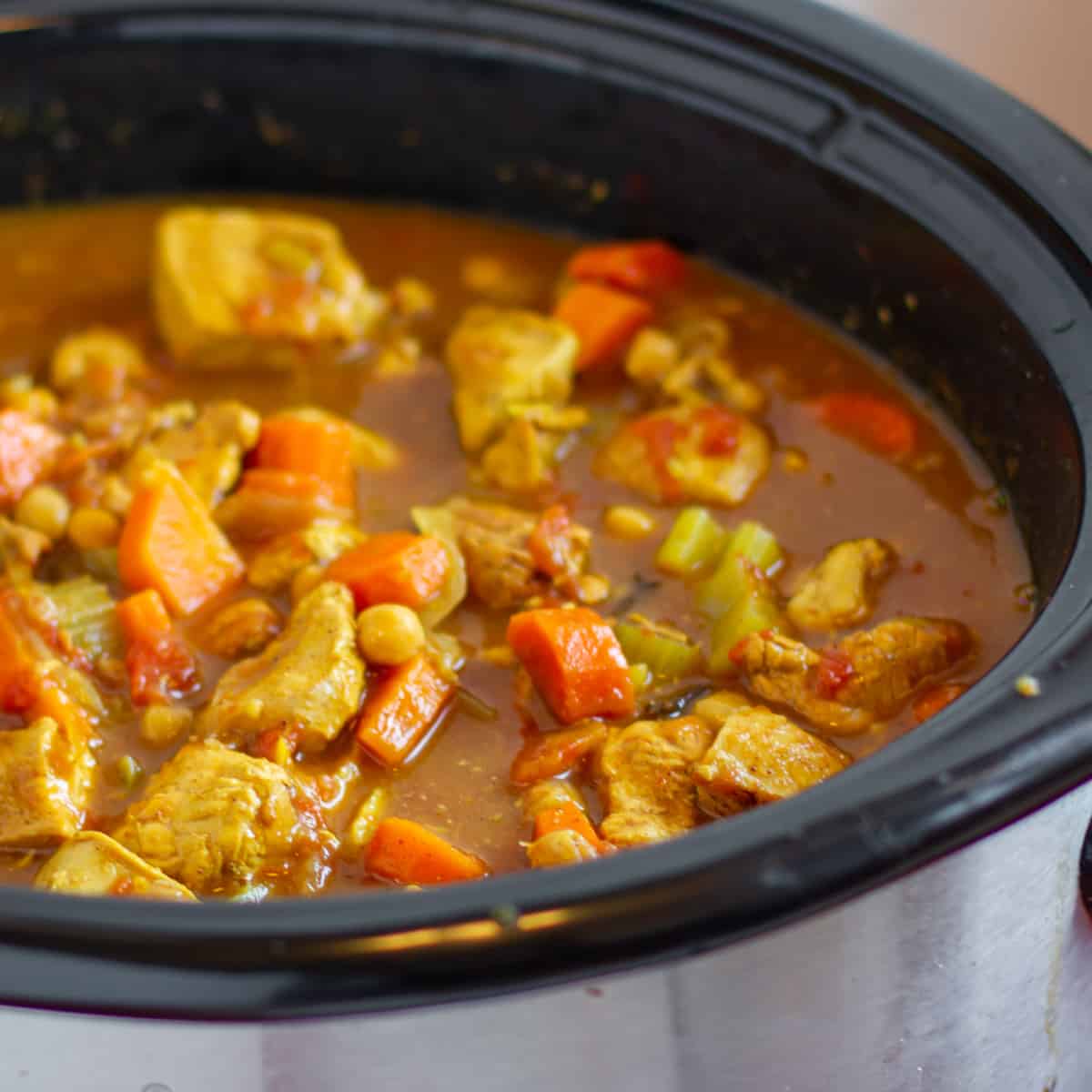 How to Cook Tagine in a Slow Cooker
The crock pot is a great way to make tagine as it requires low and slow cooking.
Before everything is added to the slow cooker, I like to sear the meat and sauté the vegetables first. This will brown them a little bit which gives the finished tagine a richer flavour.
Expert Tip! It is not necessary to fully cook either the meat or vegetables. They will get cooked through while they are simmering in the slow cooker.
Once the chicken has been browned and the vegetables sautéed, dump them in the slow cooker. Add the remaining ingredients and stir it well to ensure that the spices are well mixed with the remaining ingredients.
Put the lid on the slow cooker and set it to cook low. Cook for 6 hours. After it is finished cooking, the chicken should fall apart easily and the carrots as well as other vegetables should be very soft and tender.
Expert Tip! Make sure to not keep lifting the lid off the slow cooker to check the dish. Removing the lid will slow down the cooking process as the heat will escape.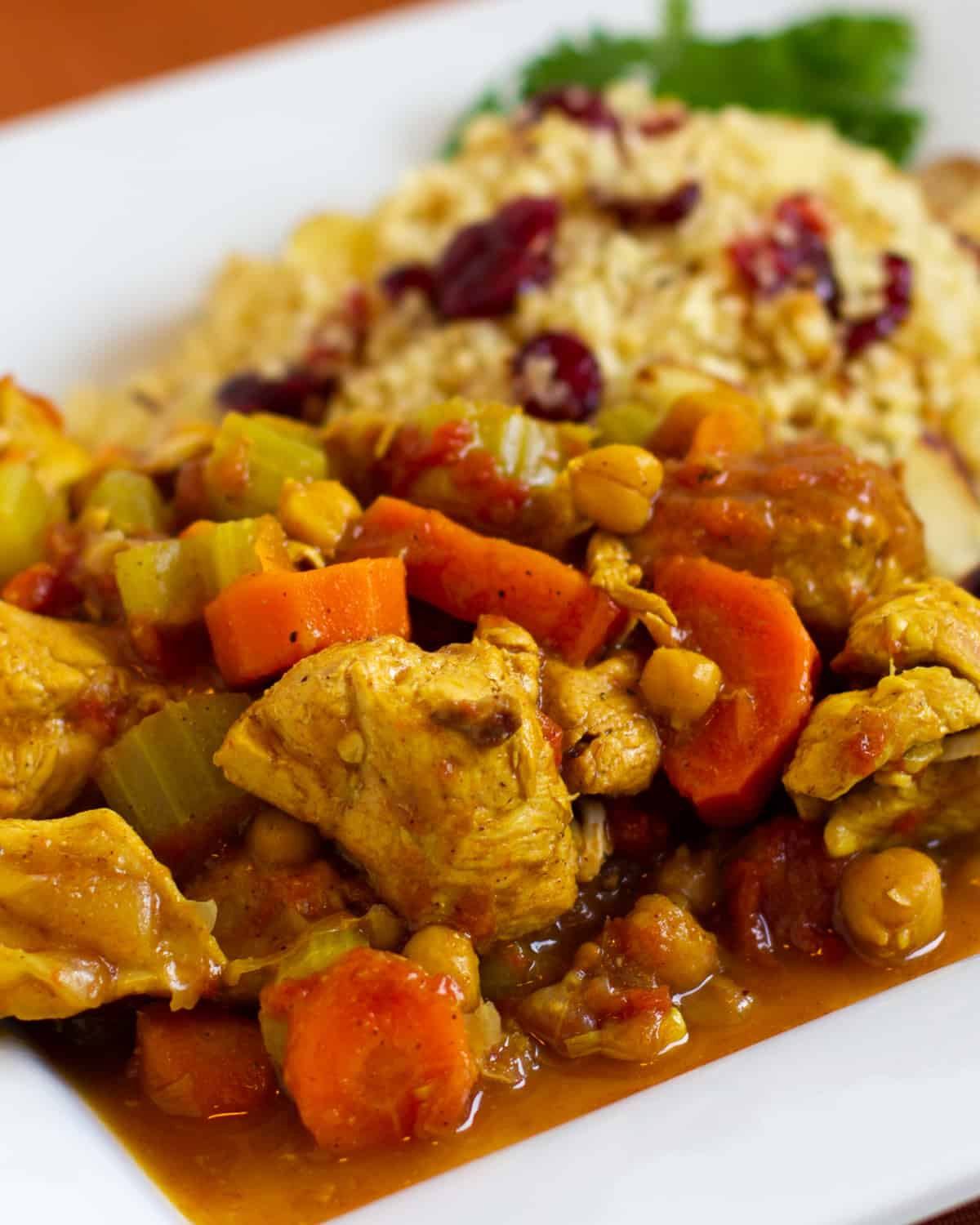 Tagine Is Best Served With Couscous
Typically, tagine is served with couscous. Here are a couple of great couscous recipes!
Both of these recipes provide a wonderful fruity sweetness and a nutty crunch that compliments the slow cooker chicken tagine very well.
Expert Tip! While tagine is commonly served with couscous, feel free to serve it with a side of rice or a loaf of crusty bread.
Crock Pot Chicken Tagine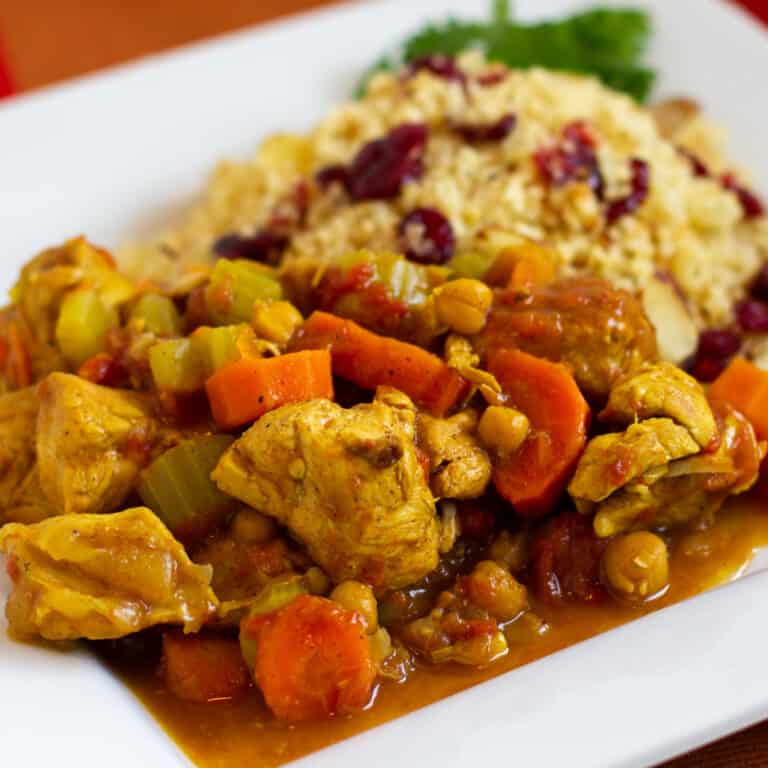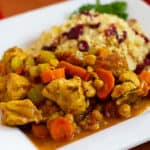 Print
Simple instructions for how to cook chicken tagine in a slow cooker.
Servings: 8
Ingredients
4 chicken breasts , boneless and skinless, cut in 1 inch cubes
4 tbsp oil
2 onion , peeled and thinly sliced
5 garlic cloves , minced
4 carrots , peeled and diced
4 celery stalks , sliced
1 can chick peas , (19 oz) can, drained
1 can diced tomatoes , (28 oz) can
2 tsp cumin
2 tsp coriander
1 tsp ground ginger
1 tsp cinnamon
1 tsp turmeric
1/2 tsp ground cloves
1/2 tsp ground cardamom
1/2 tsp cayenne pepper or dried chili flakes
1 tsp salt
1 tsp lemon zest
1 cup water
Instructions
In a skillet, heat 2 tbsp of oil on medium high heat. Add the cubed chicken and allow the chicken to get a nice sear on each side, flipping every minute or so. This is not to cook the chicken right through, because it will continue to cook in the crock pot. Once the chicken is seared on each side scoop it out of the skillet and into the slow cooker.

Add the remaining 2 tbsp of oil to the skillet, along with the onion, garlic, carrots and celery. Cook for about 5-7 minutes. This will brown the onions and other veggies adding a depth of flavor to the tagine. Scoop the mixture into the slow cooker.

Add the remaining ingredients to the slow cooker and mix it so that the spices are well incorporated.

Set the slow cooker to low, and cook for 6 hours. The chicken should be cooked through and the carrots and celery should be tender.

Serve with coucous.
Nutrition
Per serving:
Calories: 286kcalCarbohydrates: 30gProtein: 20gFat: 11gSaturated Fat: 1gCholesterol: 36mgSodium: 528mgFiber: 8gSugar: 8g