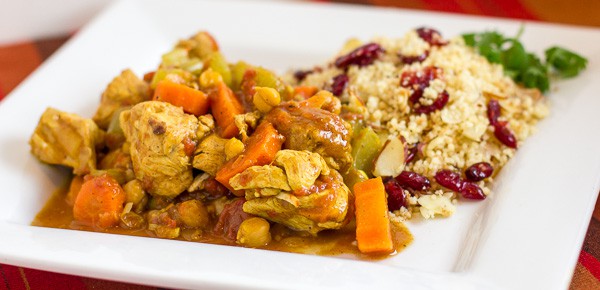 I am not sure where I was when I first tried tagine, but I do know that I loved it. This Moroccan dish is not as popular in North America as it is in Europe. But it seems like it is starting to catch on here as there are more and more recipes of it online and demos of how to prepare tagine on television. Also, I have noticed the dish more frequently on restaurant menus. This is a good thing because tagine is a wonderful dish and not all that difficult to make.
Tagine, is a staple of North African cuisine, and like Indian curry, there are a number of different variations. There are likely as many versions of this dish as there are people preparing it! Tagine can be made with pretty well any type of meat, like chicken, pork or fish. Usually tagine has a different mix of vegetables and even fruits like raisins or apricots. The spice blend, called ras el hanout, has some similarities to Indian curries, but is usually not as hot and also has more of some sweeter spices like cinnamon, cloves, and others.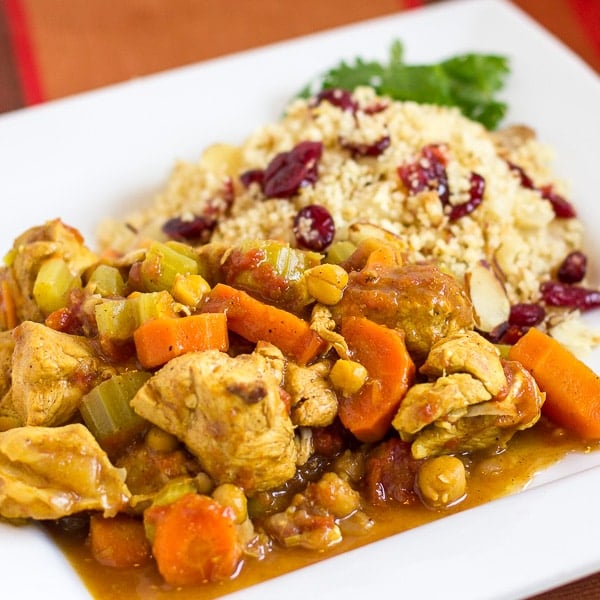 The crock pot is a great way to make tagine as it requires low and slow cooking. I seared the meat and veggies on a skillet first before adding them to the slow cooker. This browning, added a depth of flavor to the finished dish. Typically, tagine is served with couscous. Here is the recipe for Couscous with Cranberries and Almonds. The cranberries provide a wonderful fruity sweetness and the almonds give a nutty crunch that compliments the tagine very well.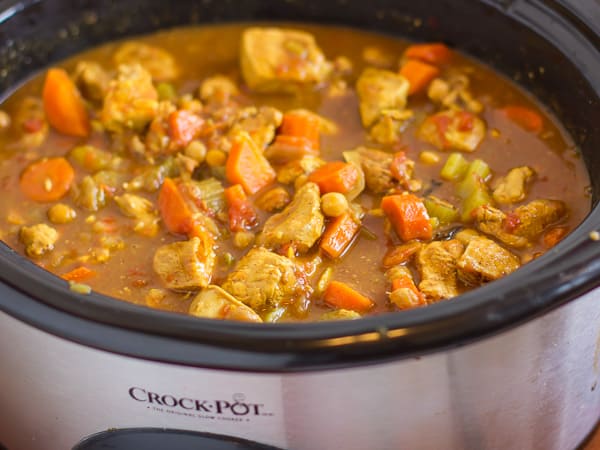 Crock Pot Chicken Tagine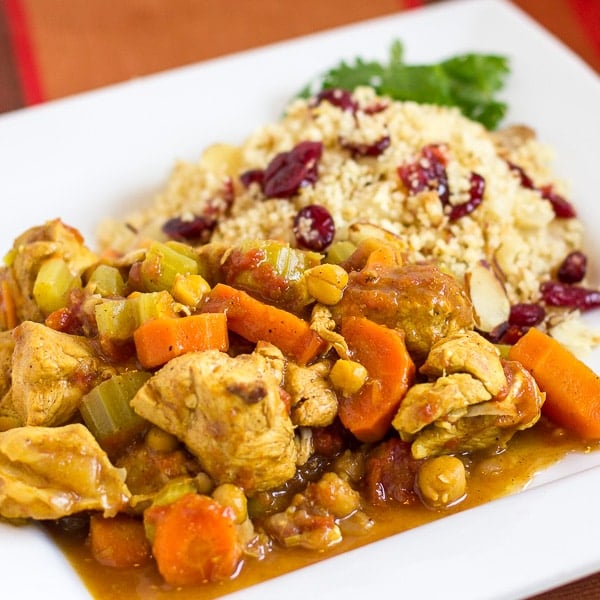 Print
Servings: 4 -6
Ingredients
4 boneless , skinless chicken breasts, cut in 1 inch cubes
4 tbsp oil
2 onion , thinly sliced
5 garlic cloves , minced
4 carrots , peeled and diced
4 celery stalks , sliced
1 (19 oz) can chick peas, drained
1 (28 oz) can diced tomatoes
2 tsp cumin
2 tsp coriander
1 tsp ground ginger
1 tsp cinnamon
1 tsp turmeric
1/2 tsp ground cloves
1/2 tsp ground cardamom
1/2 tsp cayenne pepper or dried chili flakes
1 tsp salt
zest of 1 lemon
Instructions
In a skillet, heat 2 tbsp of oil on medium high heat. Add the cubed chicken and allow the chicken to get a nice sear on each side, flipping every minute or so. This is not to cook the chicken right through, because it will continue to cook in the crock pot. Once the chicken is seared on each side scoop it out of the skillet and into the slow cooker.

Add the remaining 2 tbsp of oil to the skillet, along with the onion, garlic, carrots and celery. Cook for about 5-7 minutes. This will brown the onions and other veggies adding a depth of flavor to the tagine. Scoop the mixture into the slow cooker.

Add the remaining ingredients to the slow cooker and mix it so that the spices are well incorporated.

Set the slow cooker to low and cook for 4-6 hours. The chicken should be cooked through and the carrots and celery should be tender.

Serve with coucous.