Chicken and Black Olive Tagine
This Moroccan dish features tender chicken with stewed vegetables in a delicious seasoned sauce. Best served on a bed of couscous.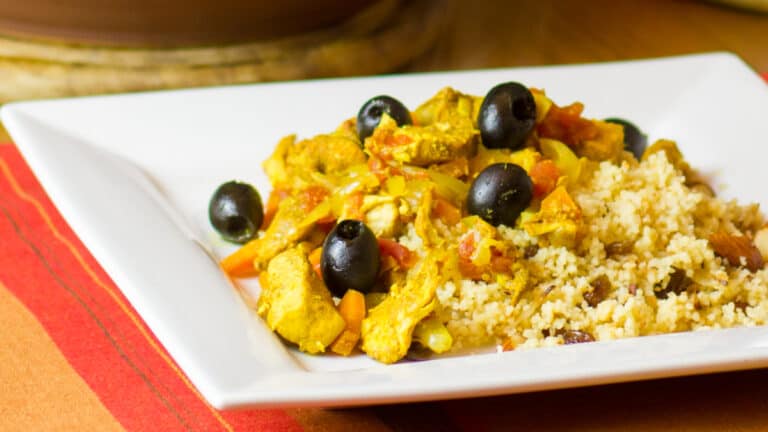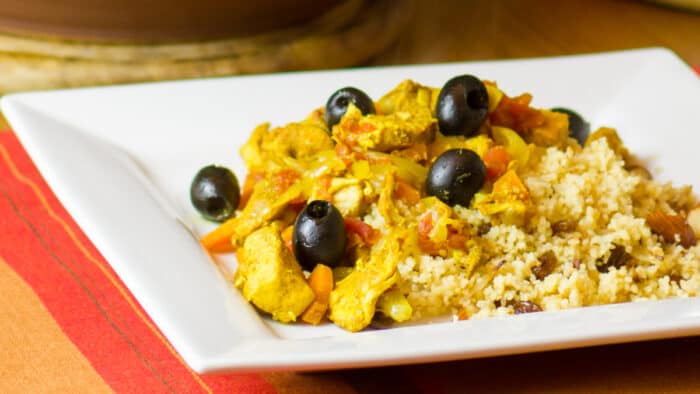 I make tagine fairly frequently and I am not sure that I have ever made it the same way twice. Sure there are lots of similarities between each tagine I make, but there is often one or two different ingredients. Sometimes it is dried fruit or nuts. For this chicken and black olive tagine, it is the olives and wow were they are great addition!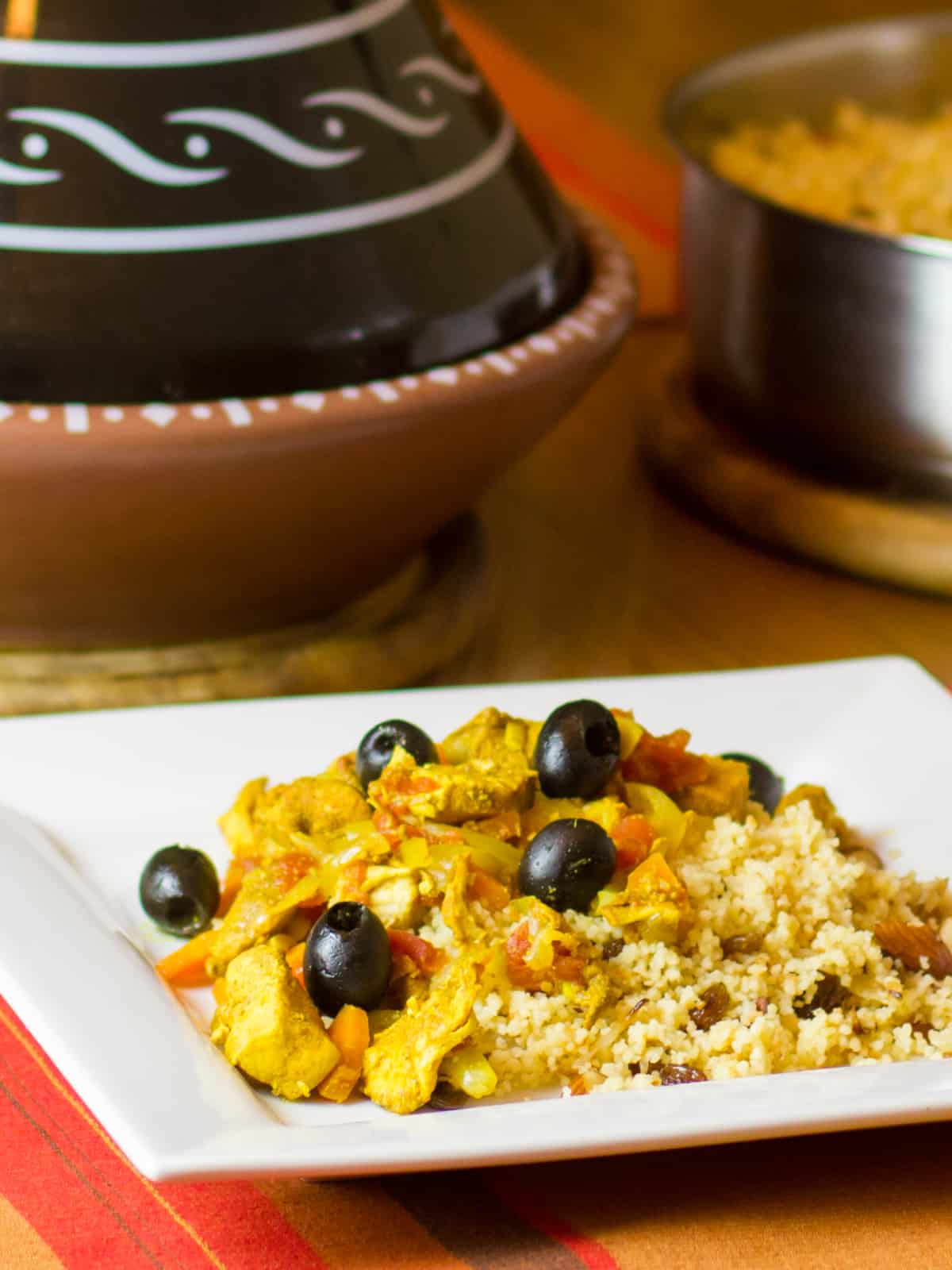 I have come to love tagine. This dish, which is a staple of Moroccan cuisine, is slow cooked meat with lots of spices. Typically, not near as spicy as an Indian curry tagine has a blend of sweeter and earthier spices. This is great with lamb, chicken or beef, it is also commonly served on top of couscous.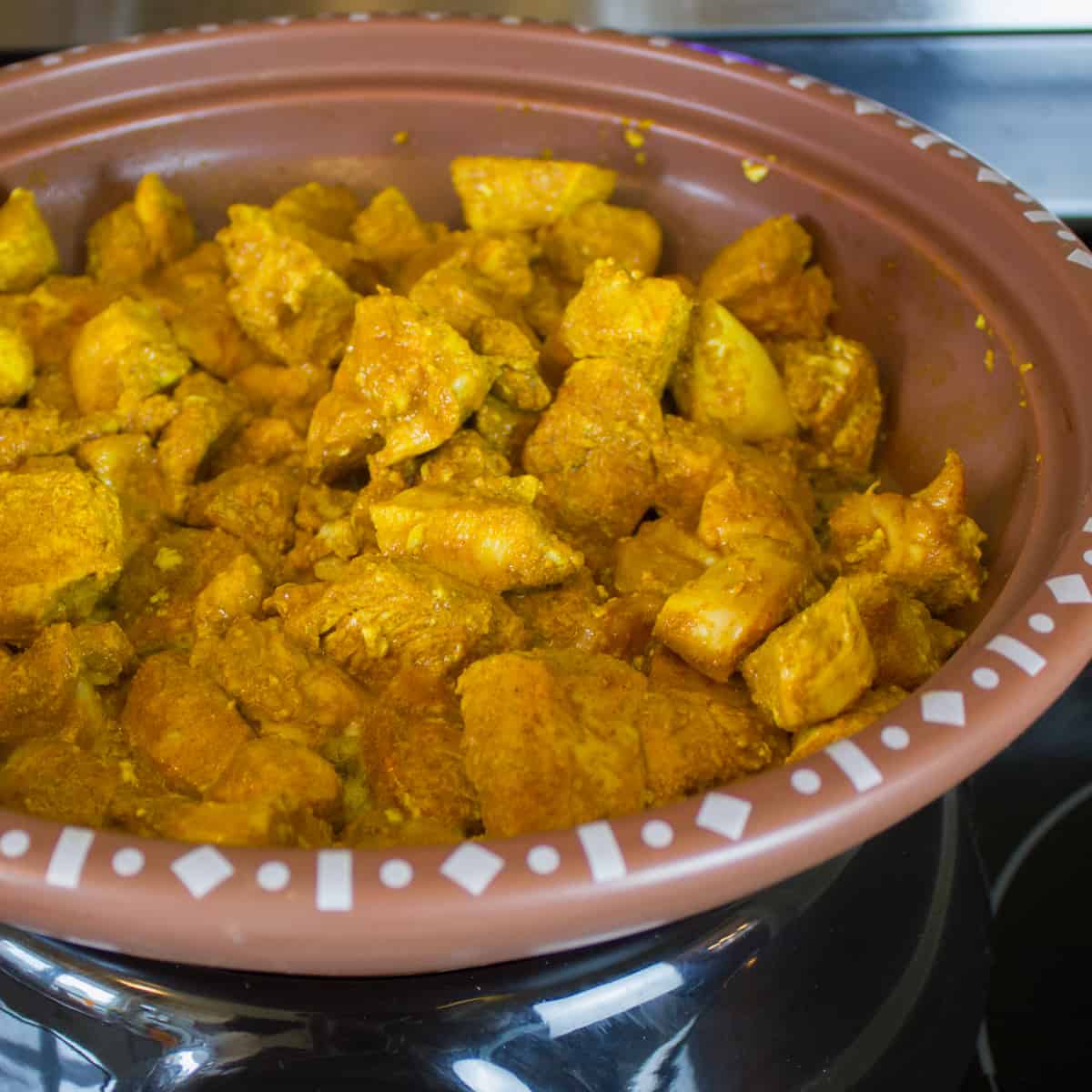 How to Make Tagine
Traditionally, tagine is made in a tagine pot. This has a shallow round base with a cone shaped top. This top is designed to cause the condensation to drip back into the base keeping the food moist and not drying out.
While there are tagine pots available to purchase, many people will not have a specific pot in their house for one dish. In this situation a crock pot can be used. Slow cookers work great for tagine.
In either case, the first step of making tagine is to brown the meat. Toss the meat in the spice mixture and brown in the oil in a skillet or the tagine base.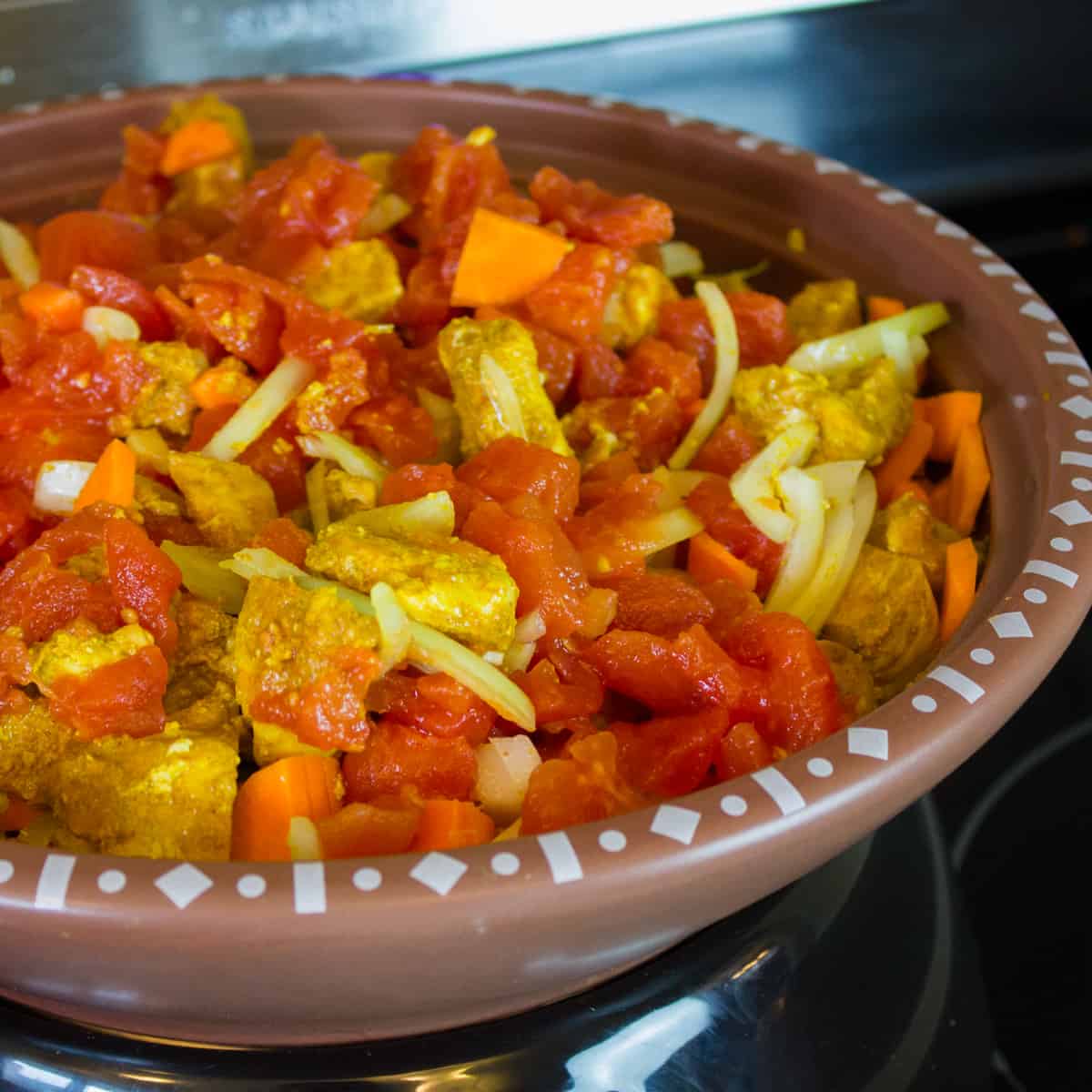 Once the chicken is mostly cooked through, add the onions garlic, carrots, tomatoes, and lime zest. Cook for another 5-7 minutes. Then, if you are using a slow cooker transfer all the tagine into the slow cooker pot. Close the lid and cook on high for 4-6 hours.
If you are using a traditional tagine, cover with the lid and place in a 350F preheated oven and bake for 90-120 minutes.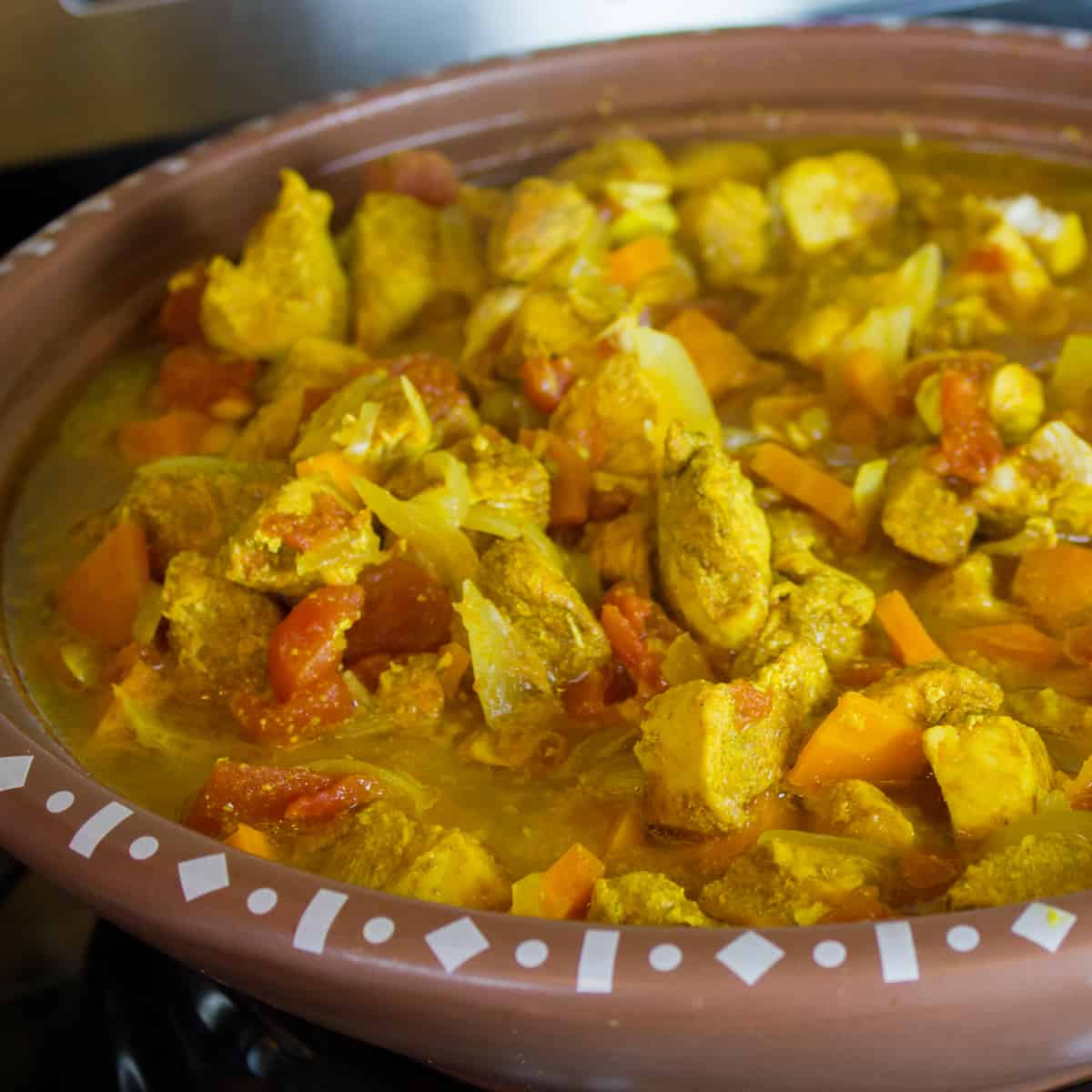 With about 15 minutes left in the cooking time, stir in the black olives. Cover with the lid and finish cooking the tagine.
Tagine Goes Great with Couscous
Here are two of my couscous recipes that are perfect for this tagine dish.
Couscous with Apricots and Pistachios
Couscous with Cranberries and Almonds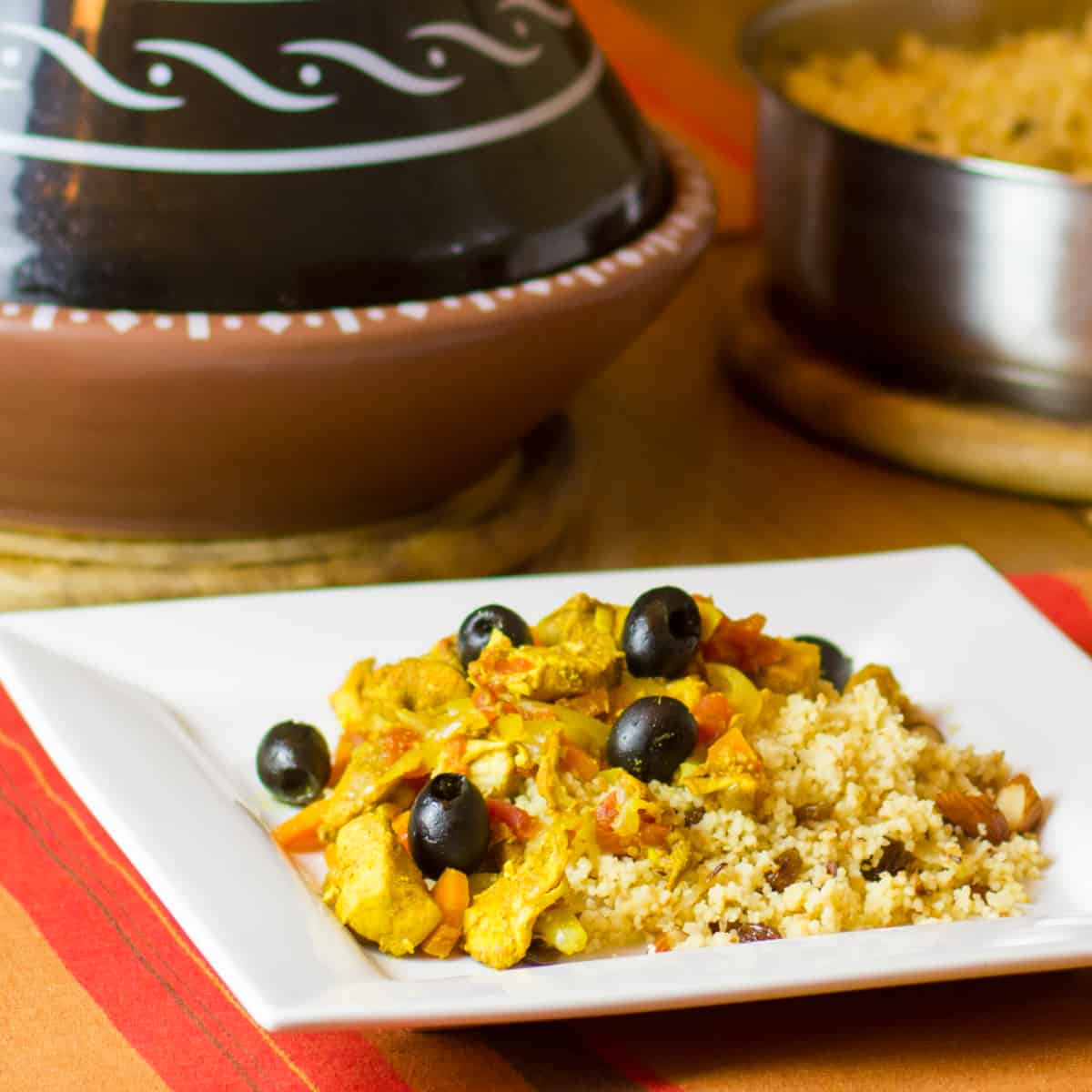 Other Moroccan Recipes
Chicken Tagine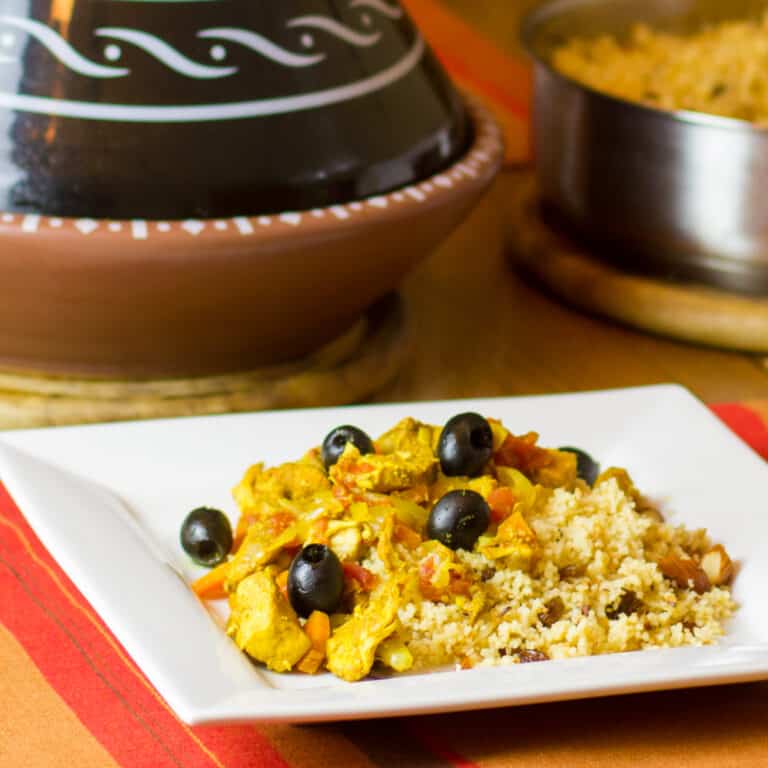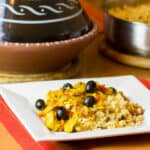 Print
This crock pot version of a classic Moroccan dish, served on a bed of couscous, is simple to make and wonderful comfort food.
Servings: 6
Ingredients
3 tbsp oil
2 pounds boneless skinless chicken breast , cubed
1 tsp ground cumin
1 tsp ground coriander
1 tsp ground turmeric
1 tsp paprika
1 tsp salt
1/2 tsp ground cinnamon
1/2 tsp ground ginger
2 onion , diced
3 cloves garlic , minced
3 carrots , diced
3 medium tomatoes , diced
1 tsp lime zest
1 cup black olives , pitted
Instructions
Mix the spices together and toss with the cubed chicken.

Add oil to a skillet or tagine base. Heat on medium high to brown. Saute the spice rubbed chicken until they are lightly browned on all sides.

Add the onion, garlic, carrots, tomatoes and lime zest. Cook for about 5-7 minutes. This will brown the onions and other veggies adding a depth of flavor to the tagine.

Scoop the mixture into the slow cooker.

Set the slow cooker to low and cook for 4-6 hours. The chicken should be cooked through and the carrots and celery should be tender.

With about 15 minutes remaining in the cooking time, stir in the black olives.

Serve with couscous.
Notes
Standard tagine pot option If you are using a traditional tagine pot, then instead of scooping the the the tagine into a slow cooker, simply place the tagine lid on the base that it was all cooked in. Then put in a 375F oven and cook for 90 minutes.
Nutrition
Per serving:
Calories: 313kcalCarbohydrates: 11gProtein: 34gFat: 15gSaturated Fat: 2gCholesterol: 97mgSodium: 941mgFiber: 3gSugar: 5g