Couscous with Apricots and Pistachios
A perfect side dish, couscous is great alongside tagine, curry or stew. The apricots and pistachios give this a fruity and nutty flavour!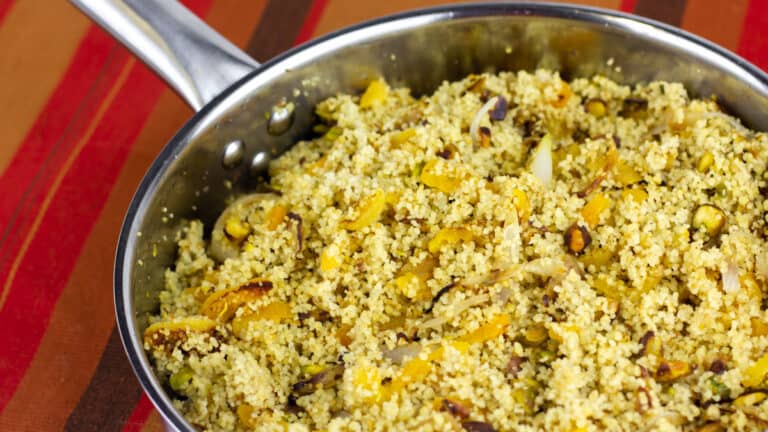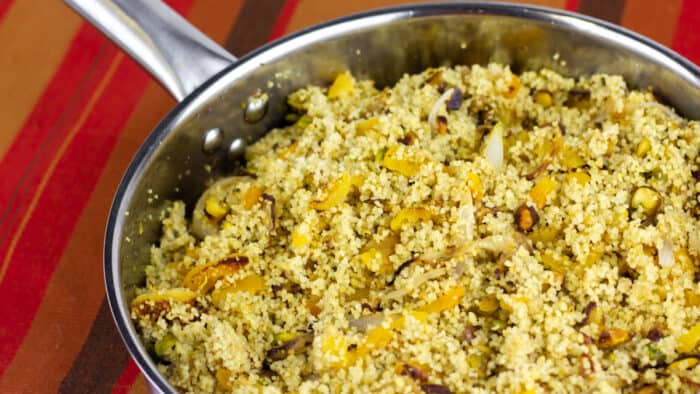 Tagine is the traditional dish of Morocco and it is a slow cooked stew of meat and vegetables and spiced with ras el hanout. Couscous is often served along with tagine in the same way that basmati is often served with Indian curry. This couscous with apricots and pistachios recipe is fruity and crunchy, but also light and fluffy. Perfect alongside a bowl of tagine.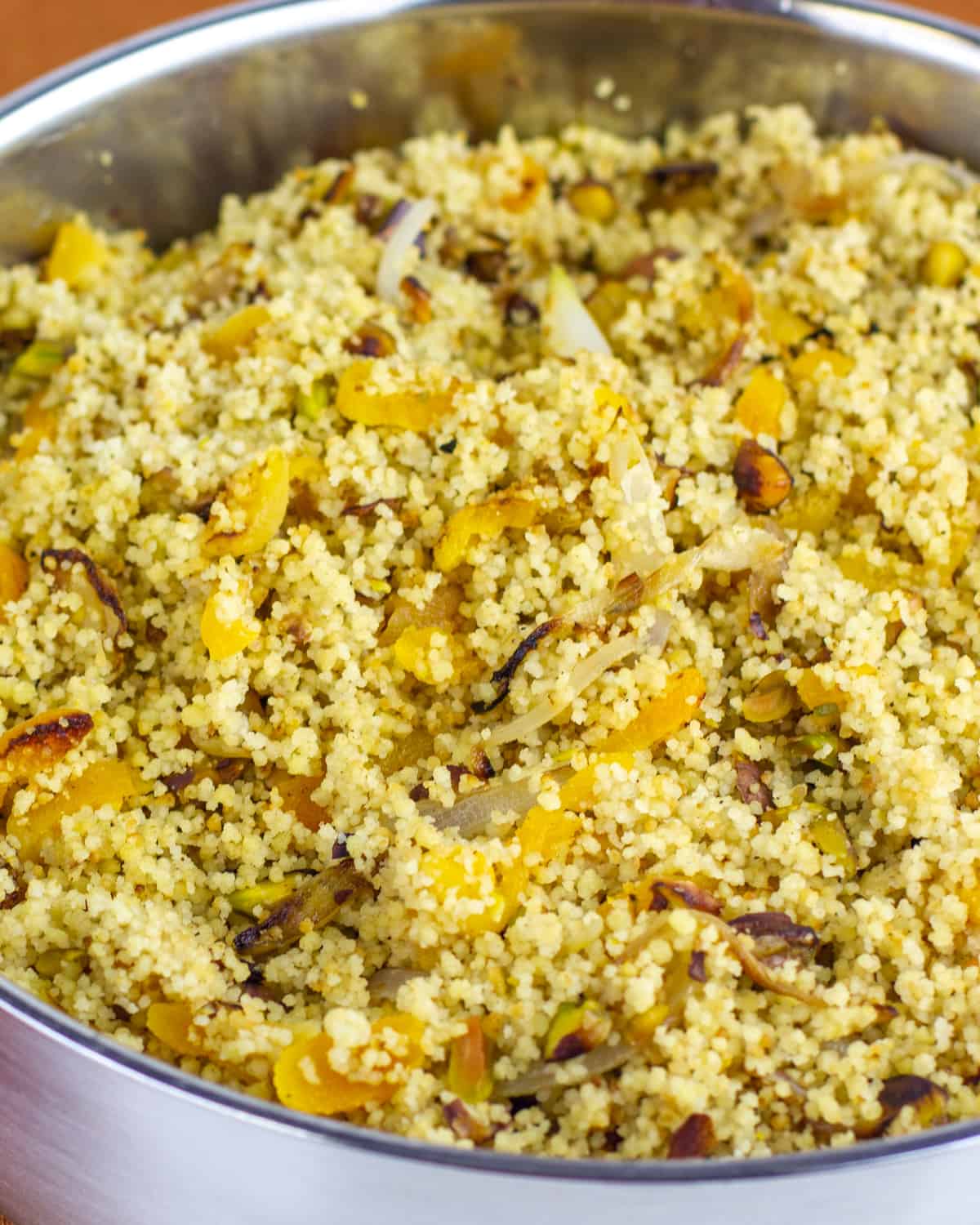 Ingredients You Will Need
couscous
onion
dried apricots
shelled pistachios
oil
lemon zest
salt
chicken broth or water
How to Make Couscous
Making couscous is very easy. The first step is to sauté the onion in the oil, over medium heat, until they are soft and semi transparent. The stir in the pistachios and cook for a few more minutes.
Add in the chopped dried apricots and couscous and mix. Let the couscous toast for a couple minutes prior to adding the broth. Stir constantly while the couscous toasts in the saucepan.
Finally, pour in the chicken broth and lemon zest. Give everything a good stir, cover with the lid and remove from the heat. Leave it for about 5 minutes and don't remove the lid. After the 5 minutes, use a fork to separate and fluff the couscous.
Expert Tip! Because the saucepan is hot and the couscous and other ingredients have been sautéing, the broth will almost immediately start to boil once it is added.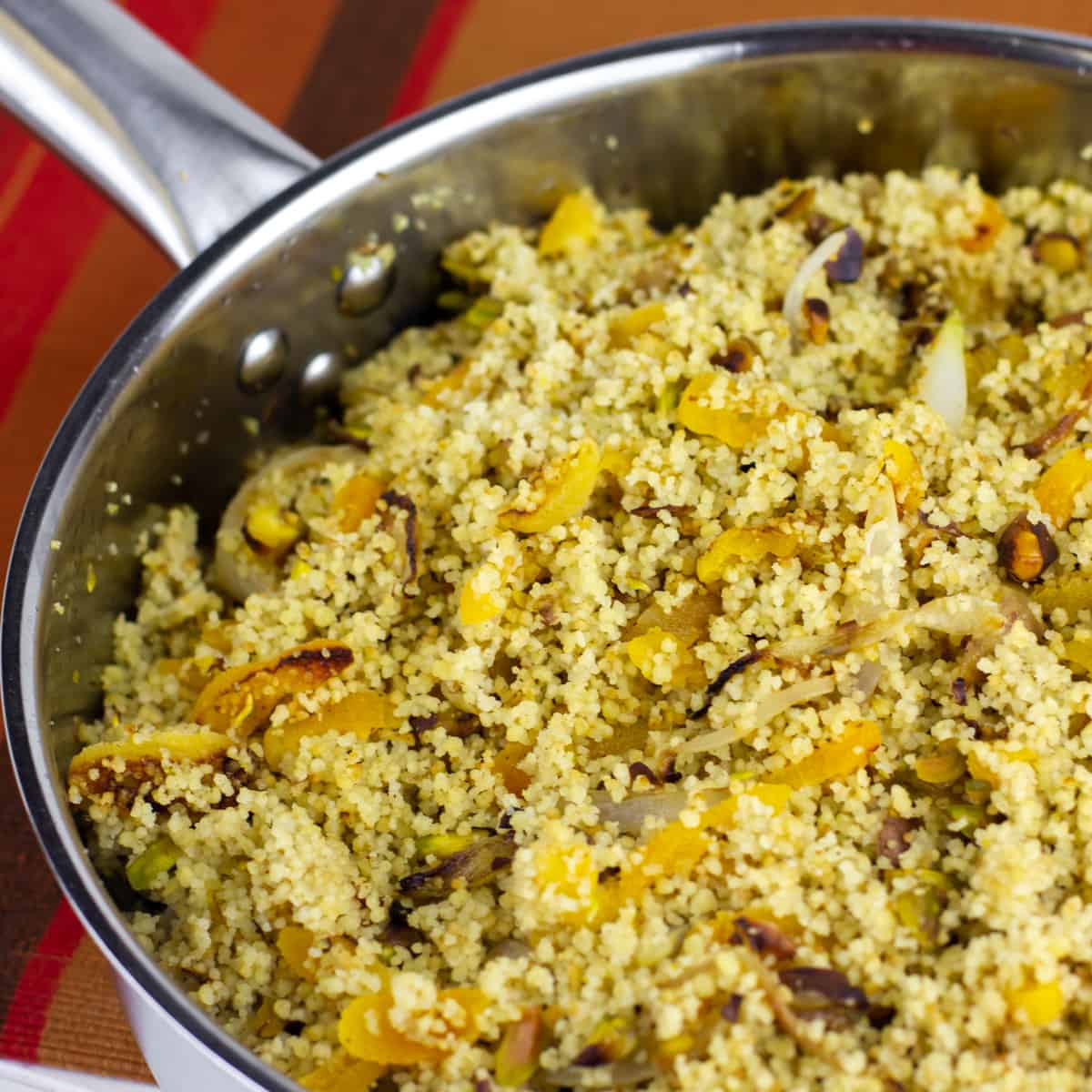 Tagine Recipes That Are Great With Couscous
Here are a few great tagine recipes that go well with couscous with apricots and pistachios:
Couscous with Apricots and Pistachios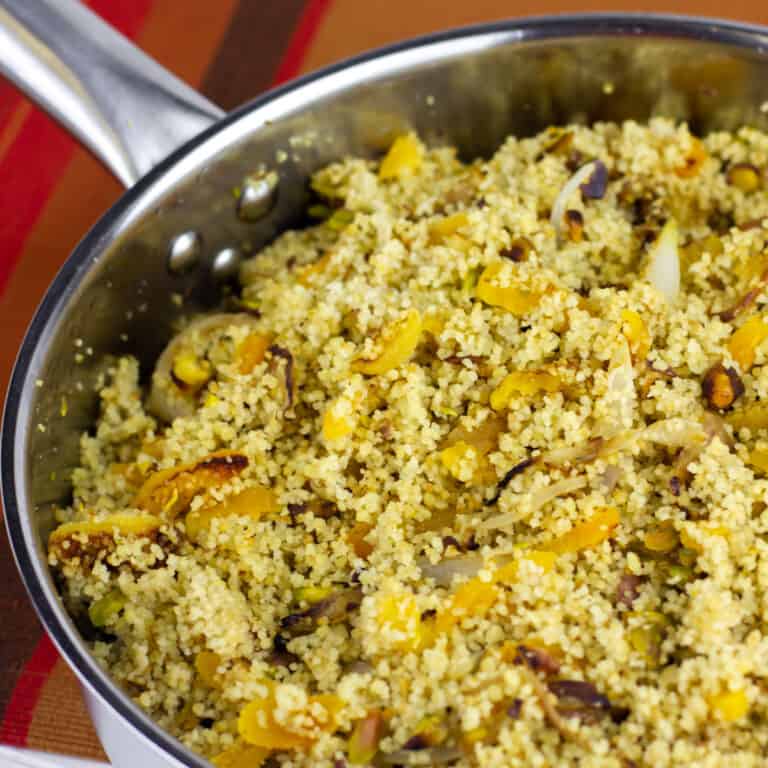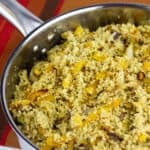 Print
Delicious light and fluffy couscous with the sweetness of apricots and the nutty crunch of pistachios. The hint of lemon gives this side dish a wonderful fresh flavour.
Servings: 8
Ingredients
2 tbsp oil
1 onion , thinly sliced
1 cup pistachios , roughly chopped
1 cup dried apricots , diced
2 cups dry couscous
2 1/4 cups chicken broth or water
1 tbsp lemon zest
Instructions
In a large skillet or saucepan, heat oil on medium heat. Add sliced onions and cook, stirring often, until they are transparent and begin to brown.

Stir in the chopped pistachios and continue to cook for a few minutes.

Add the couscous and dried apricots. This will toast the couscous which add to the flavor and prevents it from being clumpy in when done. Stir almost constantly for a few minutes so that the couscous grains do not burn on the bottom of the pan.

Add the broth/water and lemon zest. Since the couscous is hot, the broth will start to boil immediately. Give is a quick stir and put the cover on the pan.

Remove from the heat and let stand for 5 minutes. After the 5 minutes, fluff the couscous with a fork.
Nutrition
Per serving:
Calories: 328kcalCarbohydrates: 50gProtein: 10gFat: 11gSaturated Fat: 1gSodium: 249mgFiber: 5gSugar: 10g