Endive with Ricotta, Raspberries, Pecans and Maple Syrup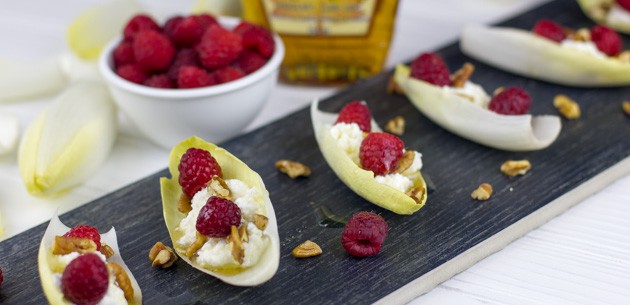 We go through a lot of cheese in our home. From cheddar, ricotta, pecorino romano, to mozzarella there is always something being made in the kitchen that tastes better with a little cheese. I regularly buy Tre Stelle cheese and was thrilled when I was contacted by Tre Stelle about featuring their product on my website. Tre Stelle has many different cheeses and I often buy their ricotta, marscarpone, bocconcini and slices. They have always had great products and I wasn't sure which cheese to feature. In the end I decided on the Tre Stelle cheese I buy all the time, ricotta. Their ricotta is great and perfect for baking in pasta, like lasagna or having in a cold dish like the appetizer here. I wanted to feature ricotta and highlight the mild creamy flavor of this cheese. What better way to do that than on the leaf of a Belgian endive!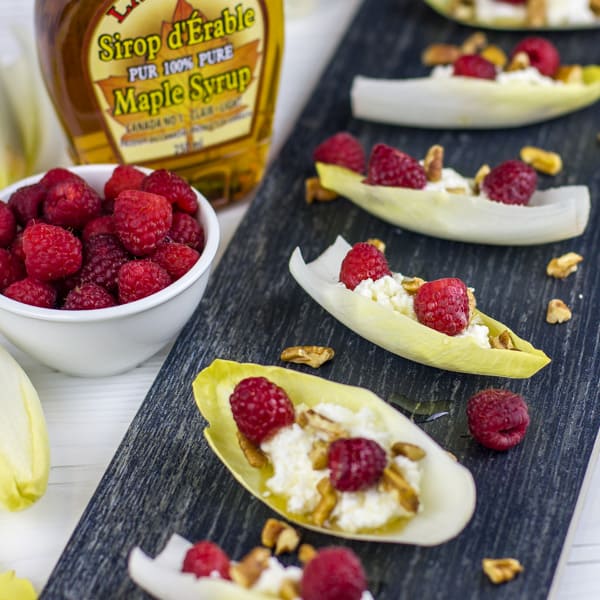 Many times we think of crackers or baguette slices when making appetizers, but endive leaves make the perfect canape snack. They are light, fresh, obviously healthy and go perfect with ricotta cheese. I added some fresh raspberries for something tart and fruity. The deep red really made these pop on the plate. Toasted almonds are sprinkled on top for some crunchy texture. Finally, maple syrup is drizzled over top to give sweetness and to bring all the flavors together.
Tre Stelle was kind enough to send me this great cheese board and a collection of cheese knives. Along with that, they sent me some gift cards to buy the cheese I featured today. I look forward to using this nice cheese board. If you have never tried Tre Stelle cheese, you can get them at most local supermarkets. There are many different kinds of cheese in their line and I find the quality excellent!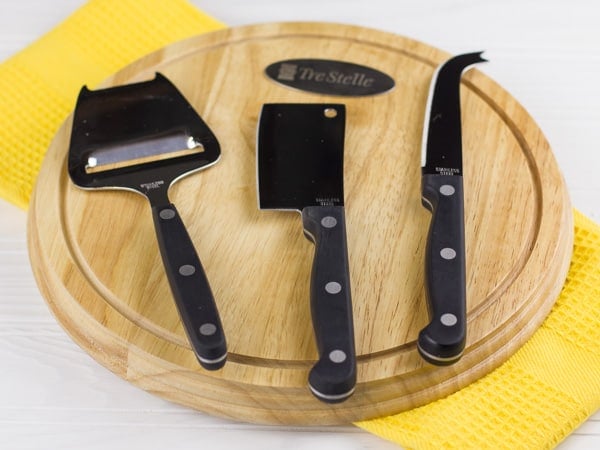 Here are a few of the cheeses in their line. They also sell some great cheese slices, like cheddar, swiss and more that are excellent on sandwiches.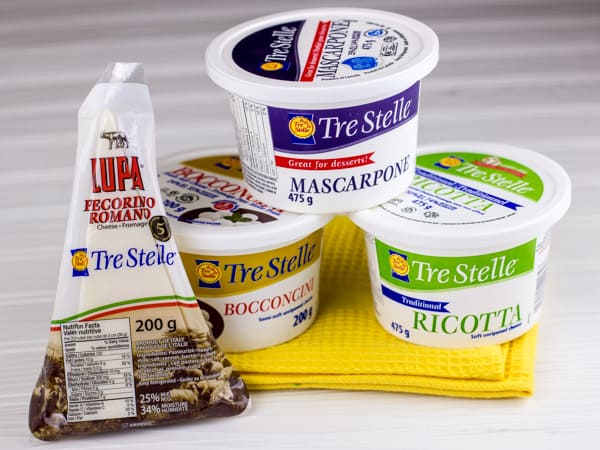 Endive with Ricotta Raspberry Pecans and Maple Syrup

Print
Servings: 4
Ingredients
2 heads of belgian endive
1 cup ricotta cheese
1 pint fresh raspberries
1/2 cup toasted pecan pieces
1/4 cup pure maple syrup
Instructions
Cut the base of the endive. Gently remove each endive leaf. Rinse them under cold water and pat them dry. Rinse fresh raspberries and drain.

Lay the endive leaves on a platter. Spoon about one teaspoon of ricotta cheese onto each endive leaf. Place 2 or 3 raspberries and some of the pecan pieces on each endive leaf.

Drizzle maple syrup on top.

Serve immediately, or make ahead and keep in the fridge for up to two hours before serving.
Notes
If you are going to make these ahead, do not drizzle with maple syrup until just before serving.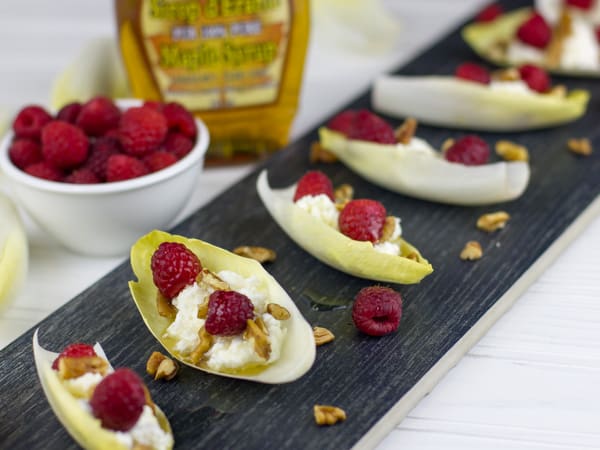 Disclaimer: Tre Stelle provided me with the cheese board and gift cards to purchase some of their product. They did not pay me for this review and the views expressed above are my honest reactions after trying Tre Stelle cheese.