The holidays are a great time for special appetizers and here is one that I tried over Christmas. Made with the 2013 Canadian Cheese Grand Prix Grand Champion, the mousse is made with Quality Cheese Ricotta.
While, any ricotta can work fine, I loved how creamy it was. I also love seafood so the crab meat was a welcome addition. Great with crackers, this mousse would also be tasty with toasted baguette slices.
I made this mousse in a ramekin mold, but afterwards I thought that my terrine mold would work as well.
Recipe Source: Dairy Farmers of Canada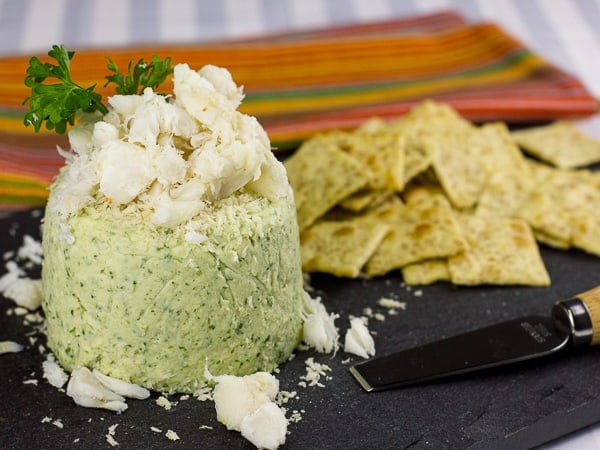 Crab Ricotta Mousse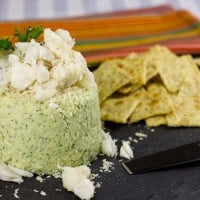 Print
A creamy crab cheese dip recipe that is great served with crackers or toasted baguettes. The crabmeat can be substituted with shrimp as well.
Servings: 8
Ingredients
2 tbsp (30 mL) lime juice
1 envelope unflavoured gelatin
2 stalks of celery , coarsely chopped
1/4 cup (60 mL) fresh parsley leaves
2 tbsp (30 mL) fresh cilantro leaves
1 green onion , coarsely chopped
1 tsp (5 mL) lime zest
8 oz (225 g) crabmeat, drained, divided
1/4 tsp (1 mL) smoked paprika, mild or spicy or
1/2 tsp (2 mL)
10 oz (300 g) Quality Cheese Ricotta
Salt and freshly ground pepper
1/4 cup (60 mL) panko breadcrumbs
Cilantro
Instructions
Pour lime juice into a small bowl and sprinkle with gelatin. Let stand 5 minutes to soften, then add 2 tbsp (30 ml) boiling water to dissolve gelatin.

Place celery, parsley, cilantro, green onion and lime zest in a food processor. Process until finely chopped.

Add half the crabmeat, the paprika and Ricotta. Process until well combined, add gelatin and season with salt and pepper.

To mould the mousse, use a muffin pan or individual moulds (ramekins). Line inside of moulds with plastic wrap or parchment paper to make unmoulding easier.

Pour mousse into moulds. Cover loosely and refrigerate until set, about 2 hours.

To unmould muffin pan, invert over a baking sheet, remove plastic wrap and place on plates. To unmould ramekins, invert each over plates and remove plastic wrap.

Garnish with remaining crab, panko breadcrumbs and cilantro.