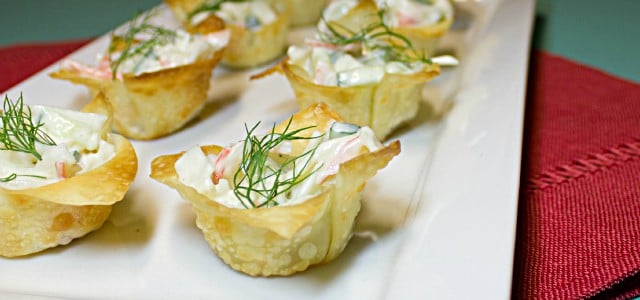 Yesterday I mentioned that the day's dinner was 3 different types of wonton cups. Today's snack is another great appetizer and a perfect canapé for parties. These crab salad wonton cups are so good!
The crab salad filling is a snap to make as the wonton cups and crab salad can be made ahead. The cups stay fresh and crisp for 2-3 days and the salad can be kept in the fridge until needed. Just before the party, quickly scoop the crab salad into each cup and serve cold.
Other Great Wonton Cup Recipes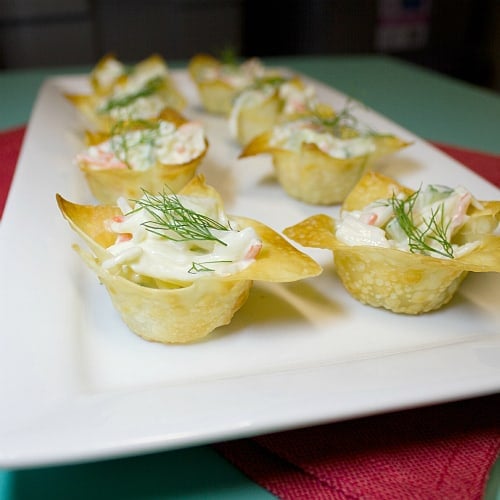 Crab Salad Wonton Cups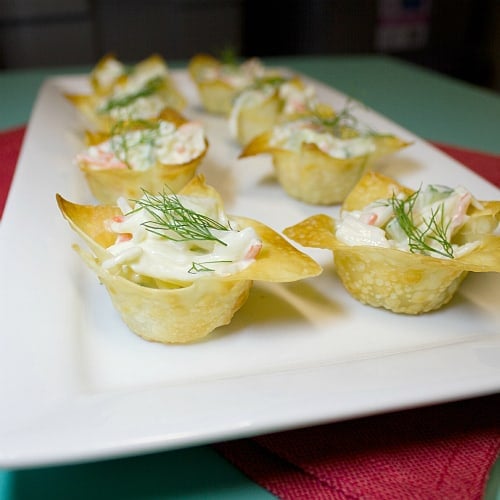 Print
These crab salad wonton cups are the perfect party canape. This recipe is easy to make, fresh and light with crab, cucumber and green onions.
Servings: 24 cups
Ingredients
24 wonton wrappers
3 tbsp oil
1 1/2 cups crab meat , finely diced
1 cup cucumber , finely diced
2 green onions , thinly sliced
1 cup Miracle Whip or other whipped dressing
Instructions
Brush one side of a wonton wrapper with 3 tbsp oil and press, brushed side down, into a mini muffin tray forming a cup. Do this for all 24 wonton wrappers. Bake in a 350F oven for 10-12 minutes. The wrappers will crisp up and start to brown. Let cool completely.

Mix remaining ingredients together in a large bowl. Spoon some of the crab salad mixture in each wonton cup.

Serve cold.