Sesame Chicken Wonton Cups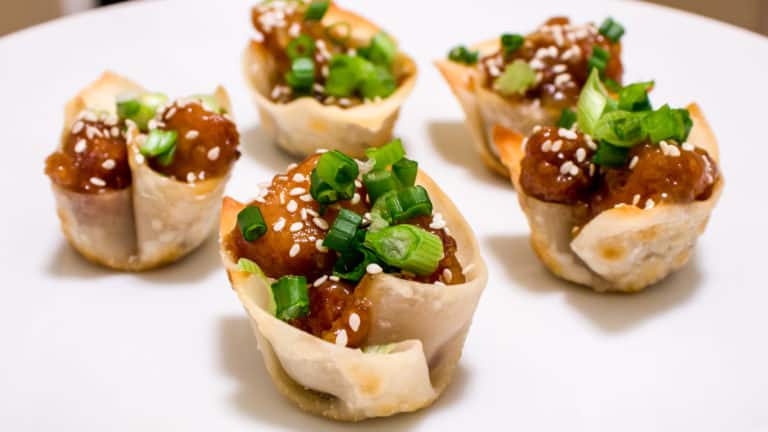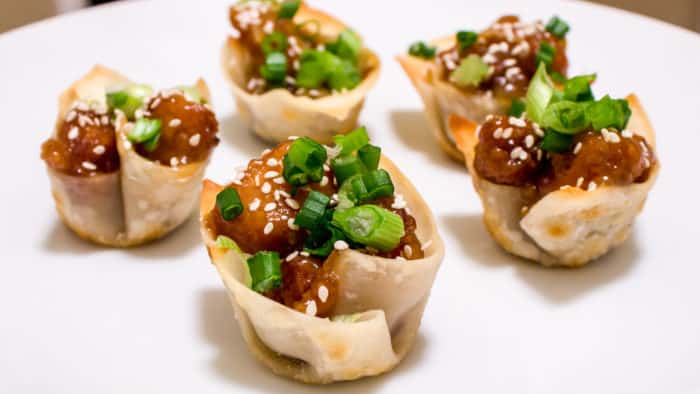 This has been the oddest winter I can remember. It seems like the weather has no clue if it should be cold or mild. Yesterday was cold, today is mild and tomorrow is supposed to be freezing with warm weather at the end of the week! I cannot keep track. It is a challenge knowing how to dress the kids for school! But, I should not be complaining. I do not like cold weather and this has been a mild one so far, so I suppose I should be grateful.
We live in a community where there are many immigrants from China. I have spent time teaching English as a Second Language in the community I live. It is an enriching time even being the teacher! I have developed many friendships and learned a great deal about Chinese culture.
I love any opportunity to learn about other people and places. One thing I firmly believe is, even though people may be from different cultures and they may speak different languages, people are more similar than they are different.
The students would chuckle because my love of food would often bring me to ask questions about popular dishes from the communities they are from. They never mined talking about it and I learned so much!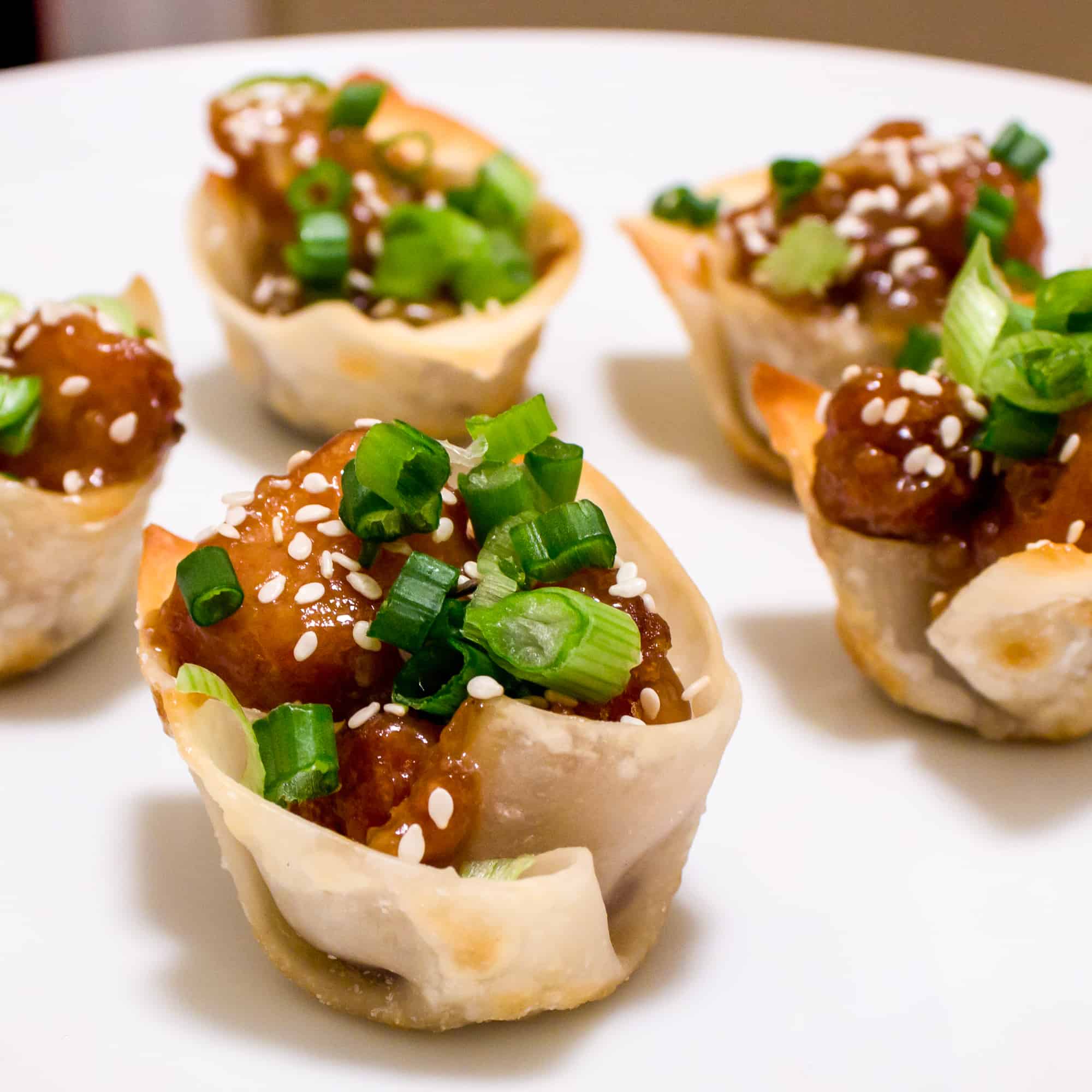 I absolutely love Chinese food. When I say that, some people may wonder what I mean because there is Americanized Chinese food, consisting of chicken balls and lemon chicken, or there is true authentic Chinese, with dim sum and noodle dishes. I answer yes to all of the above. I enjoy all of it. One dish that I particularly like is called sesame chicken. Some of my friends from China say it is not true Chinese food. Instead they say that it has been Americanized by the adding of so much sugar. I guess we like sweet things here in North America. It doesn't matter to me if it is a true Chinese dish or not, it tastes incredibly yummy to me!
So, when I was considering what 12 appetizers I would do for the 12 Days of Super Bowl Snacks and I planned on using wonton cups, I thought that an Asian flavoured starter would work great.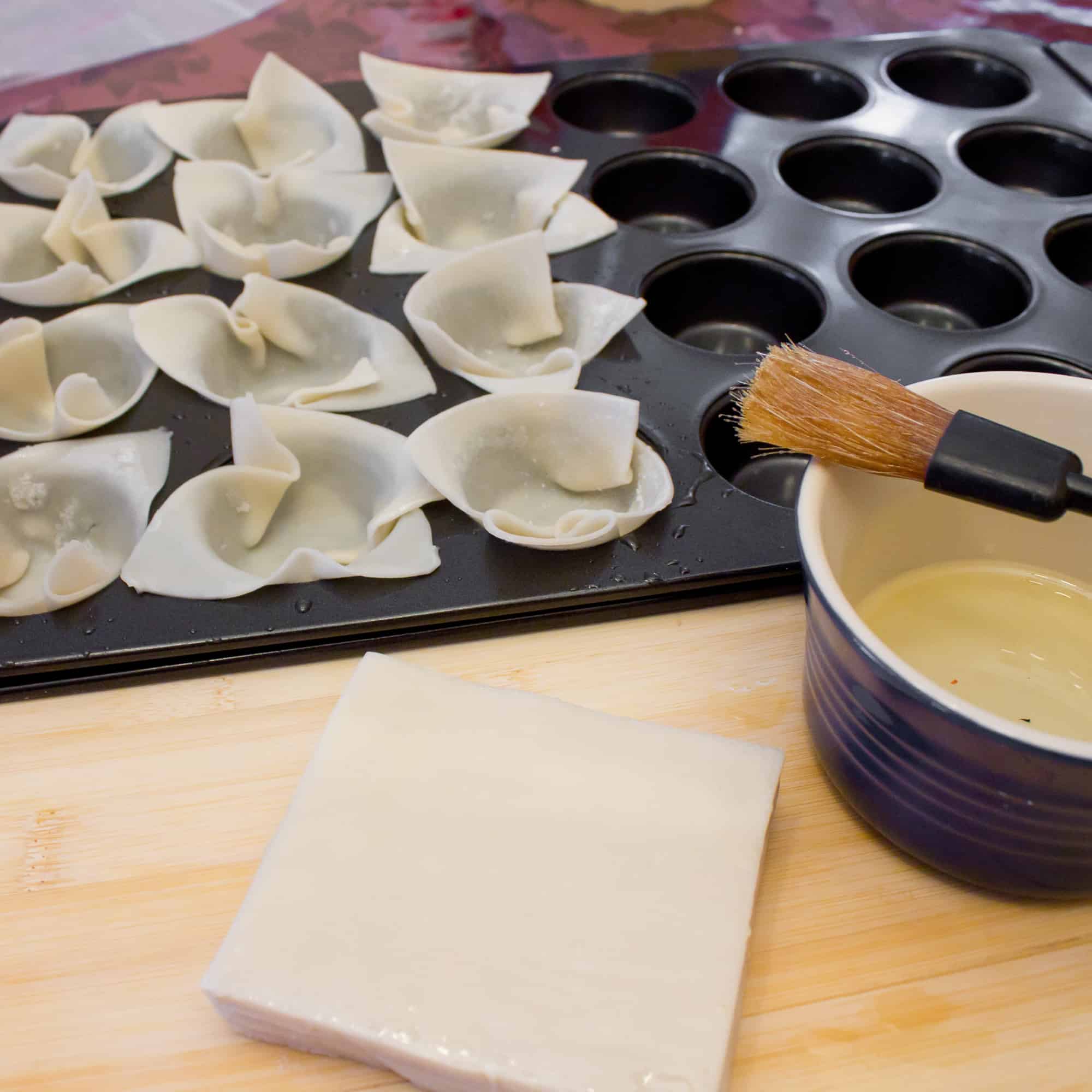 These sesame chicken wonton cups have the true flavour of the restaurant dish but in the form of a cup. Who wouldn't want that!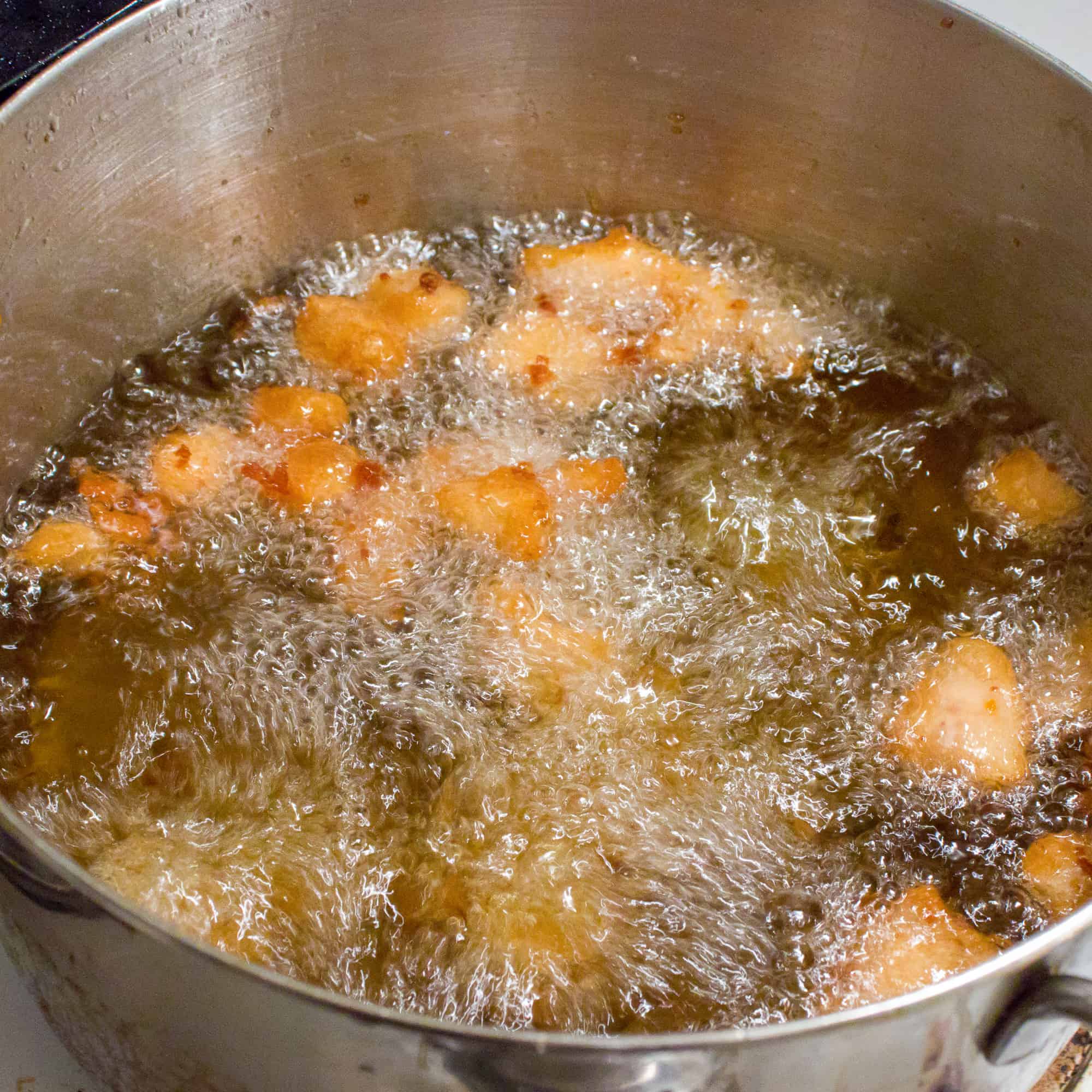 These wonton cups are easy to make, can be made ahead and stored in an airtight container up to three days in advance.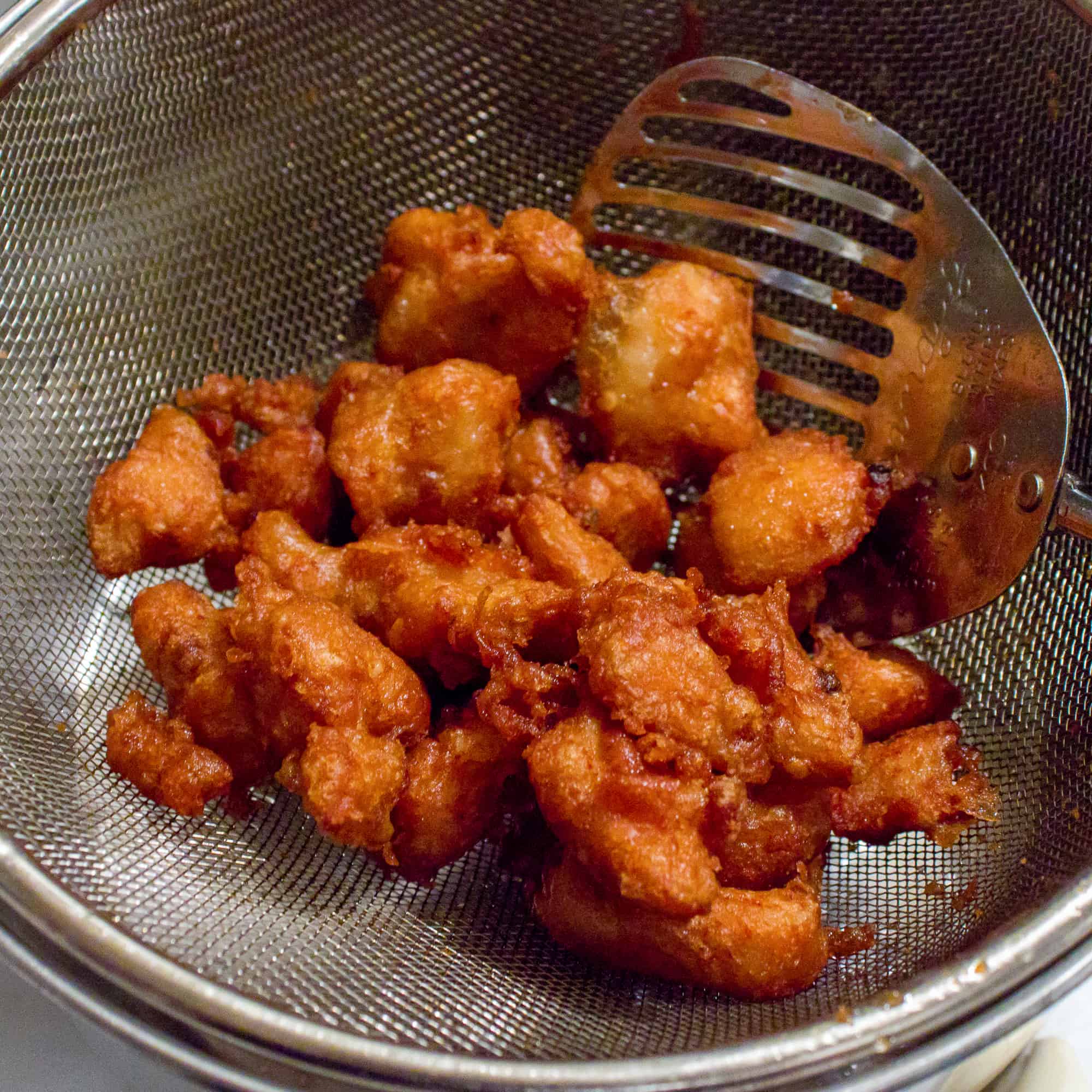 Drop the marinated chicken into the hot oil, one piece at a time, or else they will clump together. Let the fried chicken pieces drain for a minute before tossing in the sesame sauce.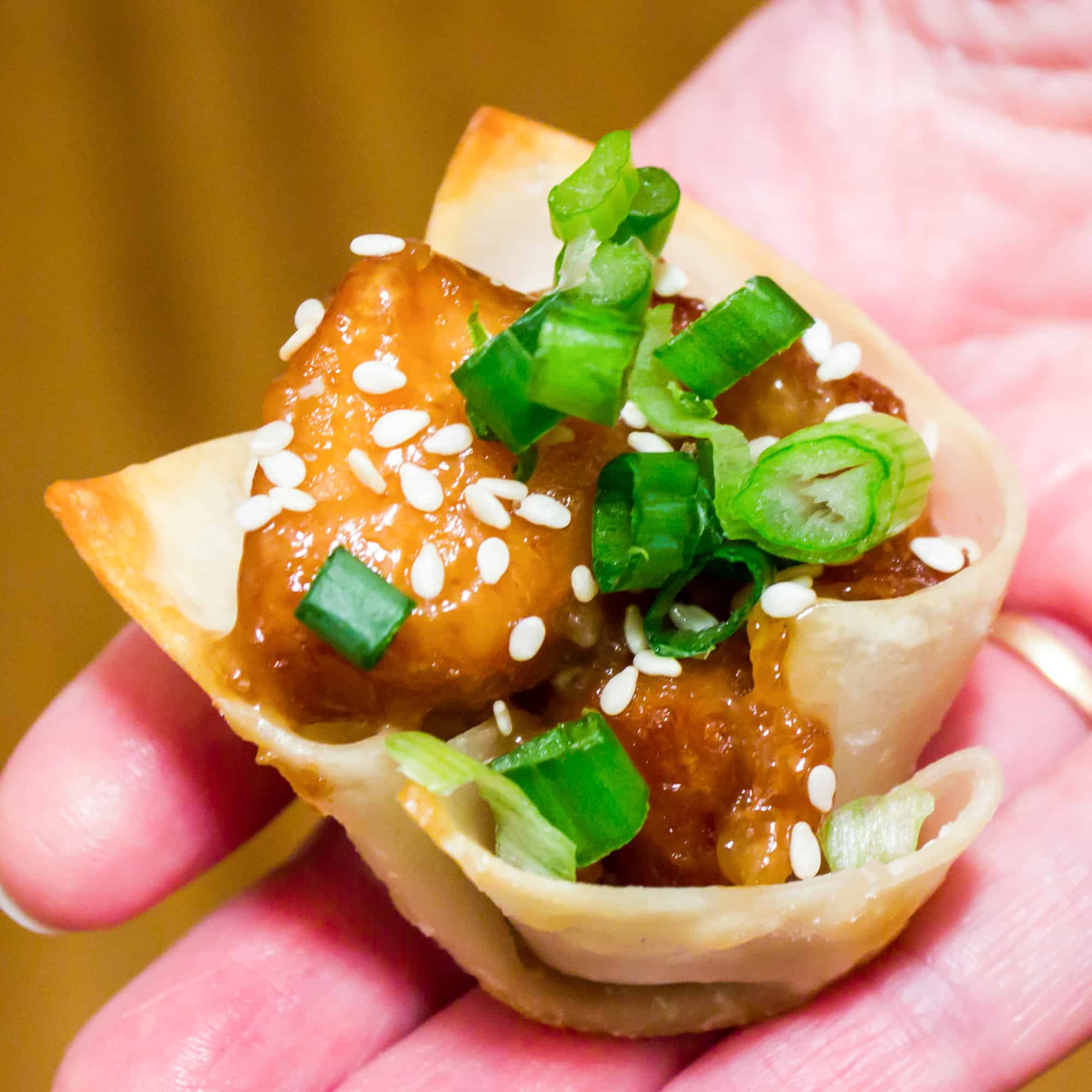 Sesame Chicken Wonton Cups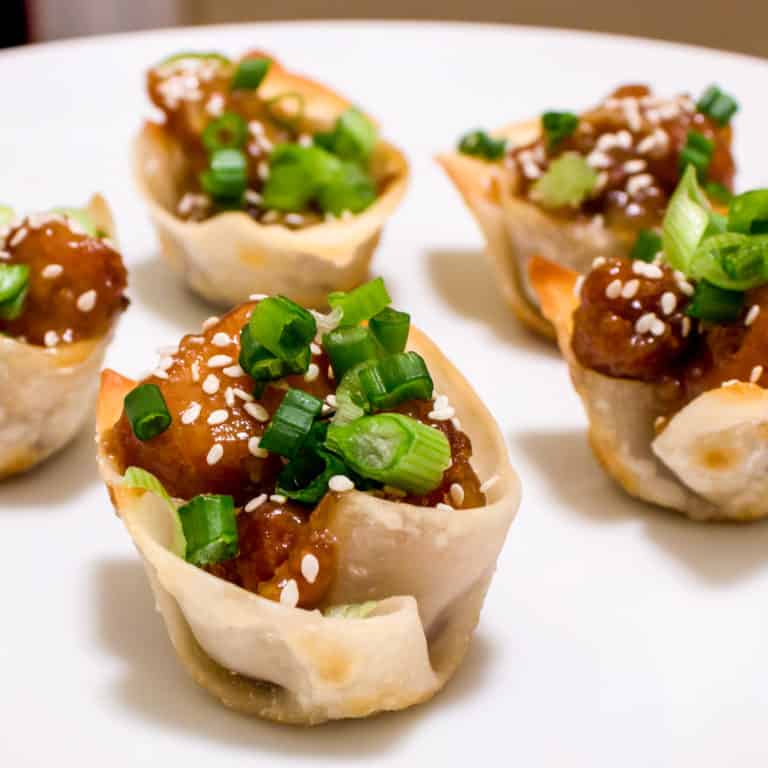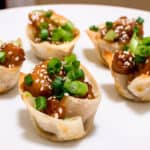 Print
These little wonton cups bring the flavour of famous restaurant style sesame chicken into a little bite size appetizer. Great for parties or holidays!
Servings: 24 wonton cups
Ingredients
24 wonton wrappers
3 tbsp oil
3 boneless skinless chicken breasts
2 tbsp sesame oil
1/3 cup soy sauce
1/3 cup flour
1/3 cup corn starch
1/3 cup water
1 tsp backing powder
1/4 tsp baking soda
1 tsp salt
1 tsp crushed chilies
3 tbsp sesame oil
2 cups water
2 tsp grated ginger
2 cloves garlic
3 tbsp rice vinegar
1/2 cup sugar
1 tbsp sriracha sauce
3 tbsp light soy sauce
1/4 cup corn starch
1/3 cup green onions sliced
2 tbsp sesame seeds
Instructions
Brush one side of a wonton wrapper with oil and press, brushed side down, into a mini muffin tray forming a cup. Do this for all 24 wonton wrappers. Bake in a 350F oven for 10-12 minutes. The wrappers will crisp up and start to brown. Let cool completely.

Cut the chicken into very small pieces, about 1/2 inch squares.

Make the marinade by mixing the 2 tbsp sesame oil, 1/3 cup soy sauce, 1/3 cup flour, 1/3 cup corn starch, 1/3 cup water, 1 tsp backing powder, 1/4 tsp baking soda, 1 tsp salt, 1 tsp crushed chilies together. Mix the chicken pieces with the marinade and leave for 30 minutes.

Make the sesame sauce by mixing the 3 tbsp sesame oil, 2 cups water, 2 tsp grated ginger, 2 cloves garlic, 3 tbsp rice vinegar, 1/2 cup sugar, 1 tbsp sriracha sauce in a saucepan. Bring to a boil and let it cook at a low rolling boil for 7-10 minutes. Mix together the soy sauce and corn starch in a separate cup until the corn starch dissolves. Slowly pour that into the saucepan stirring constantly. Lower the heat so that the sauce is at a low simmer. The sauce will thicken quite quickly. Watch that the sauce does not start to burn at the bottom of the pan.

Heat oil to 375F. Drop the chicken pieces, coated in some of the marinade, in the hot oil. Try to drop them one piece at a time so that the chicken does not stick together. Fry until they are golden brown, approx 3 or 4 minutes. Drain.

Toss the fried chicken with the sesame sauce.

While the chicken is still hot, scoop a few pieces of the sesame chicken into each wonton cup. Sprinkle with some sesame seeds and green onions.
Recipe adapted from Tyler Florence's Sesame Chicken on the Food Network