Ground Chicken, Black Bean and Corn Tostadas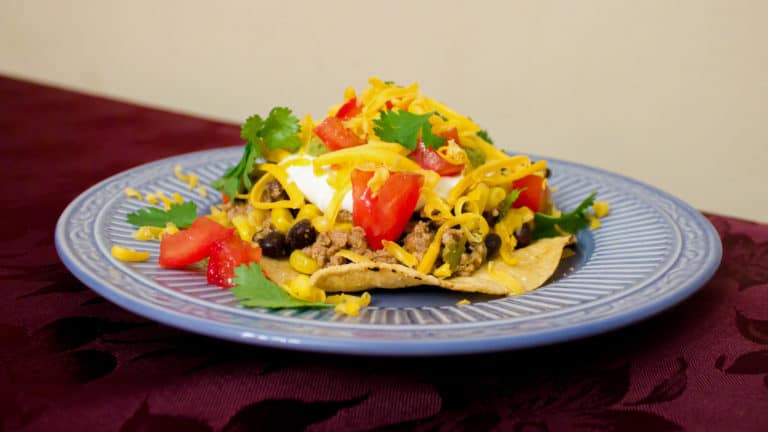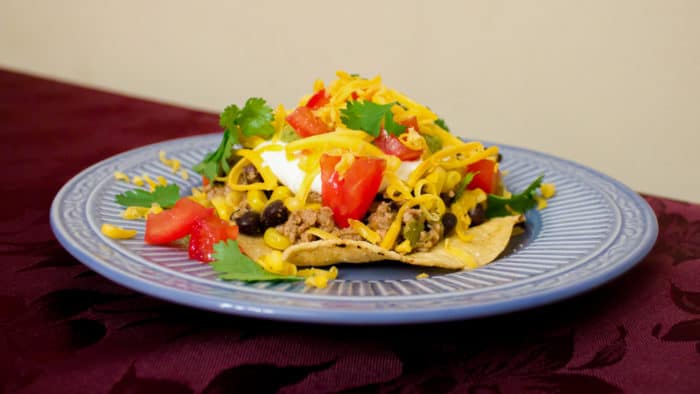 Today, when I woke up, I discovered that the mild winter has vanished. It must have gone away with 2011. Today is cold. The Weather Network says that it will be around -15C in Toronto. For readers south of the border, that is 5F. Hopefully this cold snap will not last too long.
The kids are home all this week and go back to school next Monday. This year the kid's holiday time is great. It is awesome that they have a week off after all the festivities so they can enjoy the gifts received at Christmas. Some years they have a week off leading up to Christmas and they pace the floor waiting for the 25th.
With the cold weather, I was craving something from a more tropical region than Canada. I decided to go with Mexican as you can really never go wrong choosing Mexican. My family absolutely loves Mexican food! It makes an appearance on our dining room table quite frequently. Usually we have tacos or nachos, but today I wanted something different on the table and something different to share with you.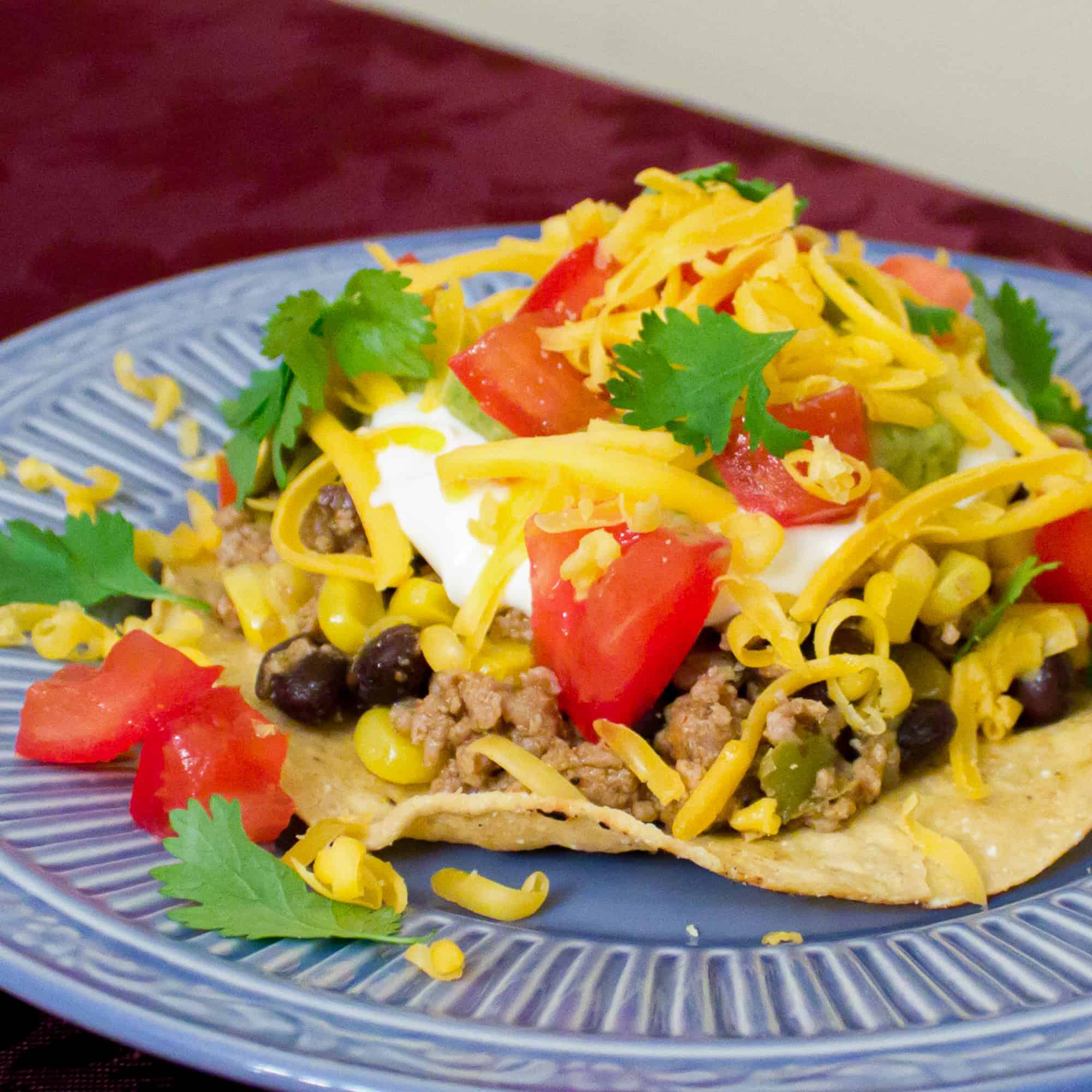 Tostadas are a flat round crispy corn shell. Think of a hard taco shell but not shaped like a 'U'. Our local grocery store sells bags of tostadas and I will often pick them up to have as a change of pace from tacos or fajitas. Also, instead of the standard ground beef mix with taco seasoning, I went with the healthier option of ground chicken. Many times I feel that ground chicken is a poor substitute for ground beef because it tastes nothing like beef. This time however, because ot the seasoning and other ingredients, it tasted amazing! All the kids loved it and had many helpings of it. The addition of the black beans and corn in the meat mixture was a huge hit.
In the recipe, I included guacamole as an optional topping. If you want to try to make your own guacamole, try my recipe found here. This was one of the first posts I ever made. As I looked back on it I realize I need to update the picture with something a bit more professional! LOL. Oh those days when I was a food blogging newbie! haha
Ground Chicken Black Bean and Corn Tostada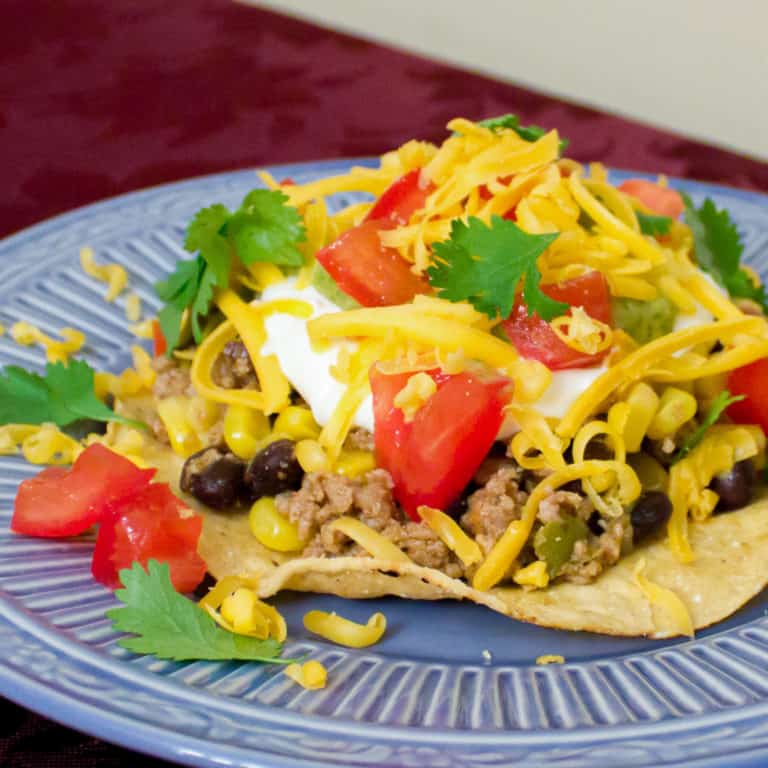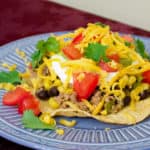 Print
A fresh take on a Mexican classic. This healthy option uses ground chicken, black beans and corn in the meat mixture instead of ground beef. Top it with cheese, tomatoes, sour cream and guacamole and you have a winner!
Servings: 6
Ingredients
2 tbsp oil
1 cubanelle pepper , minced
1/2 onion , minced
2 garlic cloves , minced
1 1/2 pounds ground chicken
1 can black beans , drained
1 cup corn (frozen or canned)
1/2 tsp salt
1/2 tsp cumin
1/2 tsp coriander
1/2 tsp paprika
1/4 tsp black pepper
1/4 tsp cayenne
1/4 tsp cinnamon
1/8 tsp ground cloves
2 tomatoes , chopped
1 cup grated cheddar
1/2 cup sour cream
guacamole (optional)
fresh cilantro for garnish
Instructions
Heat the oil in a large skillet. Add the cubanelle pepper, onion, garlic and ground chicken. Cook until the chicken is fully cooked. Make sure than you use a wooden spoon or spatula to crumble the ground chicken into small pieces.

Stir in the spice mixture, black beans and corn. Cook for another 10 minutes.

Spoon some of the chicken mixture onto a tostada shell. Top it with tomatoes, cheese, sour cream and guacamole.