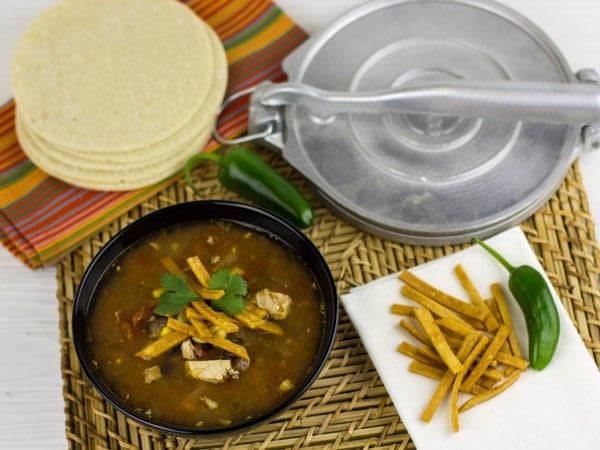 For some reason, I have been in a soup kind of mood this week. That is ok by me because I love soup. And the recipe I get to share with you today is amazing. I am not sure when I first heard or tasted tortilla soup, but I have made it many times in our home.
We love Mexican flavors and enjoy appetizers, main dishes, salads and pretty much anything that has that distinctive Mexican taste. So it comes as no surprise that we would love this tortilla soup.
I like my soup to be hearty so there are lots of ingredients in this soup. Each bowl is a meal! Every bite is packed with corn, black beans, chicken, jalapeno peppers and more. Do not worry about the jalapeno peppers if you are averse to spicy food. The peppers give the soup a nice flavor but do not add much heat at all.
I used cut up chicken meat in this soup because we had some leftover rotisserie chicken. You could also use steak or browned ground beef or pork. There are many options!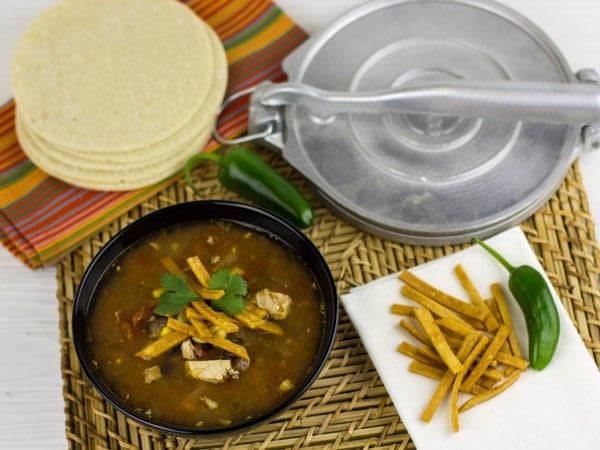 I love the taste of tortilla soup but the best part is easily the tortilla sticks. These are made from fresh corn tortillas that you slice into thin strips and then fry in oil.
Oh yeah!!!
Crispy, crunchy and totally addictive, you need to make sure that you prepare extra as you will be snacking on them before, during and after you eat the soup. Notice in the picture that there is a small pile of them. That is just for snacking and there is a big plate of them on the counter away from where the picture was taken.
I buy my fresh corn tortillas at a little store run by a family from El Salvador. They sell many different kinds and I like the ones that are a little thicker than normal as they fry up crunchier.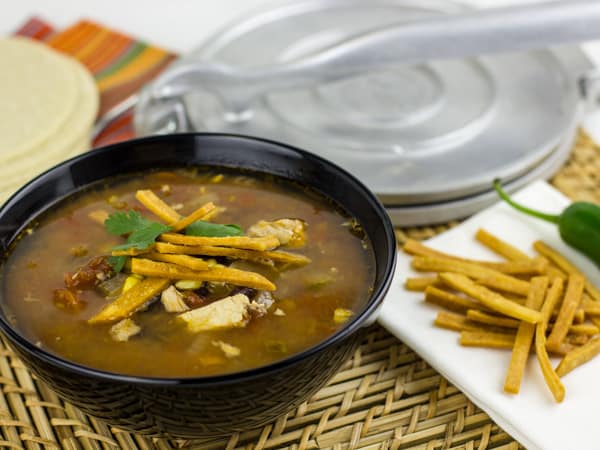 Chicken Tortilla Soup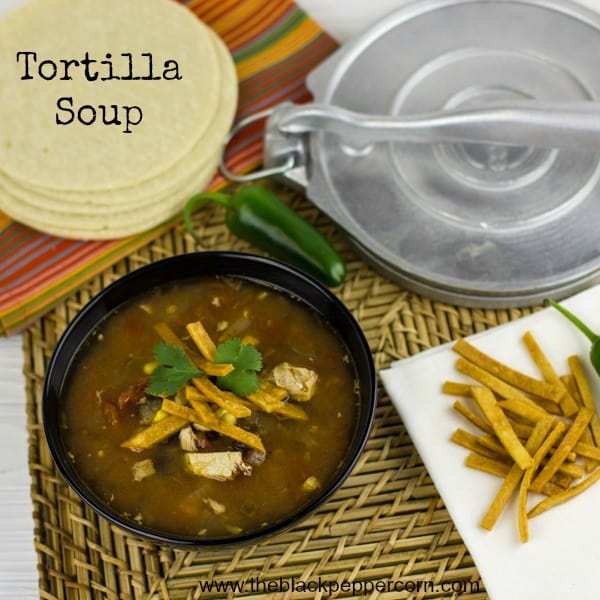 Print
Make tortilla soup with this easy recipe and get wonderful Mexican flavors. Chicken, corn, black beans, tomatoes, jalapeno peppers, corn tortillas or gorditas.
Servings: 8 servings
Ingredients
1 tbsp oil
1 onion , diced
2 jalapeno peppers , seeded and minced
3 garlic cloves , minced
1 (28oz) can diced tomatoes
1 can corn , drained
1 can black beans , drained
8 cups chicken broth
1 tsp salt
1/2 tsp ground cumin
1/2 tsp ground coriander
1/2 tsp paprika
1/2 tsp ground black pepper
1/4 tsp ground cayenne pepper
2 cups cooked chicken breast , cubed
1/2 cup fresh cilantro , chopped
8 fresh corn tortillas
oil for frying tortillas
salt (optional for tortillas)
Instructions
Heat oil in a large soup pot on medium heat. Add the onion, jalapeno peppers and garlic. Stir and cook until transparent, about 4-5 minutes.

Stir in the canned tomatoes, corn, black beans and chicken broth. Bring to a boil.

Stir in the spices and lower heat to a simmer. Cook for 30 minutes. Stir in the cooked chicken breast with about 10 minutes left of cooking.

Turn off the heat and stir in the fresh chopped cilantro.

Garnish with crunchy tortilla sticks (instructions to make tortilla sticks in Notes below)
Notes
How to make tortilla sticks: Cut the fresh corn tortillas in half and then slice them into 1/4 - 1/2 inch strips. Heat oil in a frypan on medium-high heat. Place a handful of tortilla strips to the oil and gently stir to make sure they do not stick to each other or the bottom of the pan. Cook until lightly browned. Scoop onto a paper towel to drain. Cook the remaining tortilla sticks the same way.