White Chili with Chicken, White Beans and Corn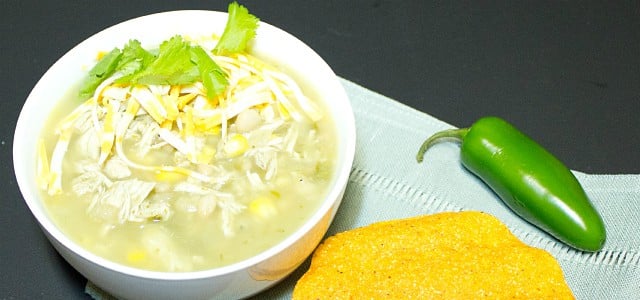 I love chili. A hearty bowl of chili is the perfect meal on a cold wet day. It is the perfect meal after a day of long hard manual labour. Who am I kidding?!?! Chili is perfect almost anytime. Chili has to be chunky with lots of meat, beans tomatoes and spice!
Along with a bowl of chili I need to have cheese, sour cream and tortilla chips. If you put that on the table in front of me I will give you a huge smile. Our house chili at least once a month and everyone in our family loves it. I have a few variations to my chili recipe but it never strays to far from the standard.
ground beef or cubed steak
black beans or kidney beans
corn or not
more spicy or more sweet
Today I have decided to try a completely different type of chili. This chili is called white chili. There are recipes for this chili all over the net and they all are fairly similar. Instead of beef, chicken is the meat of choice in white chili. Red kidney beans are substituted for a white bean (white kidney, northern, navy). Some white chili has corn, some has cream, some has cheese stirred in. There are no tomatoes in white chili, but instead has a chicken based broth.
It seems that there is no consensus regarding the origin of white chili – at least I couldn't find it. Regardless of where it came from, it is really tasty and a great alternative to standard beef and tomato chili.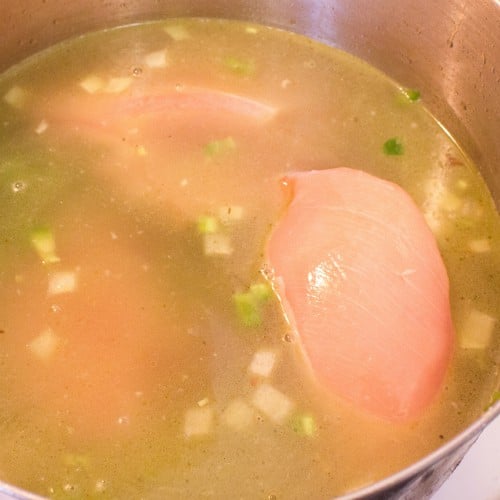 Cooking the chicken with all the other ingredients creates a rich and delicious broth for this soup. Using chicken breasts with the bone in helps deepen the flavour of the stock.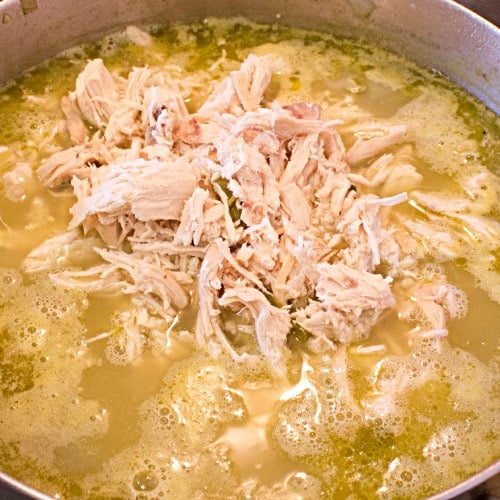 Shredded chicken is better than diced as it is tender and the flavour in the chili is soaked in the shredded meat.

White Chicken Chili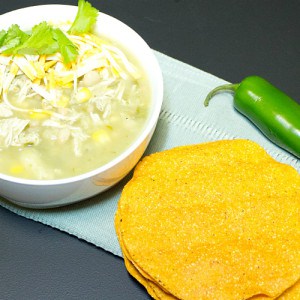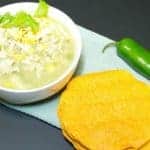 Print
White chili with chicken breast, white kidney beans, corn, cilantro and jalapeno peppers. A mild Mexican flavor is in the chili and it goes great with tortillas
Servings: 8
Ingredients
2 tbsp oil
1 onion diced
1 green pepper diced
2 jalapeno peppers seeded and diced
3 garlic cloves minced
5 cups water
3 skinless bone-in chicken breasts
1 tsp salt
1 1/2 tsp cumin
1/2 tsp black pepper
2 cans white kidney beans
1 cup frozen corn
1 1/2 tbsp masa harina or corn meal
1/2 cup fresh cilantro minced
Instructions
In a large soup pot, heat the oil, onion, pepper, jalapeno and garlic. Stir often and cook until tender, about 5 minutes.

Add the water and chicken and bring to a boil. Keep the soup cooking at a low rolling boil for 20-25 minutes. This will develop a wonderful chicken broth. Remove the chicken and let cool.

Add the salt, cumin, pepper, beans and corn to the soup. Let it cook at a low boil for 45 minutes.

Once the chicken is cool, shred the meat off the bone and toss back into the soup.

Stir in the masa harina or corn meal until it dissolves. Stir the mixture into the soup along with the cilantro and cook for another 10 minutes.

Serve hot with grated cheese and tostada shells or tortilla chips.