Turkey Chili with Black Beans and Corn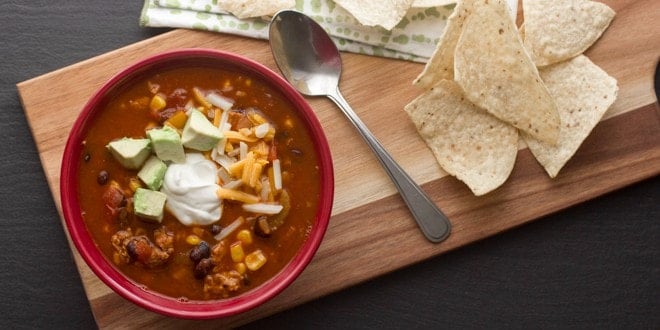 Since Super Bowl happens during the winter, I love to have some good ol' comfort food on the menu. Of those items, probably my favourite is a big pot of chili. The great thing about chili, is that you can keep it simmering on the stove or in a slow cooker on low, and people can go over for a bowl anytime they are hungry! Plus you can make it ahead so that you can enjoy the big game!
When I make chili, it is almost always a new experience. No pot is ever the same. I use all sorts of different types of meat – from ground beef, chicken, turkey and even steak or smoked brisket. I love lots of bean in my chili and I will go down to the pantry and use whatever is there, from kidney, pinto or black beans as well as other legumes like black eyes peas, lentils and more. I also enjoy adding corn sometimes as well. There are times I will pour in a bottle of beer which gives the chili an awesome flavour.
This chili recipe uses ground turkey, which helps the chili be healthy as well as hearty! On top of the turkey, I used black beans and corn and then topped it with grated cheddar, avocados and sour cream!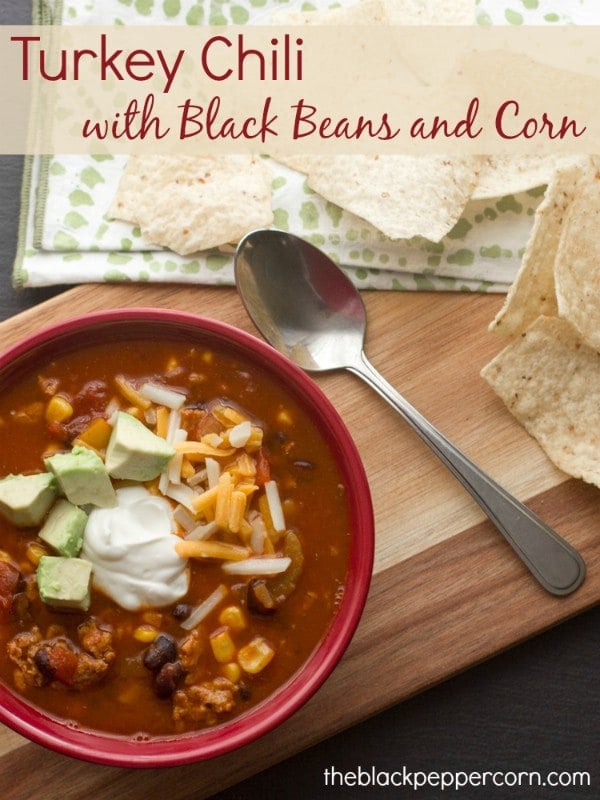 Turkey Chili with Black Beans and Corn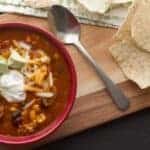 Print
Ingredients
2 tbsp oil
1 pound ground turkey
1 onion , diced,
1 orange pepper , diced
2 celery stalks , sliced
3 garlic cloves , minced
1 (28oz) can diced tomatoes
2 cups chicken broth
2 cans black beans , rinsed and drained
1 can corn , drained
2 tbsp chili powder
1 tbsp white sugar
1 tsp salt
1/2 tsp ground cumin
1/4 tsp cinnamon
1/4 tsp cayenne pepper
Instructions
Heat oil in a pot or dutch oven on medium heat. Add ground turkey and continue to cook, stirring often, until browned.

Add diced onion, orange pepper, celery and garlic. Cook until the vegetables are tender, about 5-8 minutes.

Add remaining ingredients and bring to a boil. Once the chili comes to a boil, reduce heat to low.

Let the sauce simmer for about an hour or two. The broth should reduce and thicken.

Serve with tortilla chips or buns. Top with cheddar cheese, sour cream or avocados.