Smoked Pork, Black Bean and Corn Chili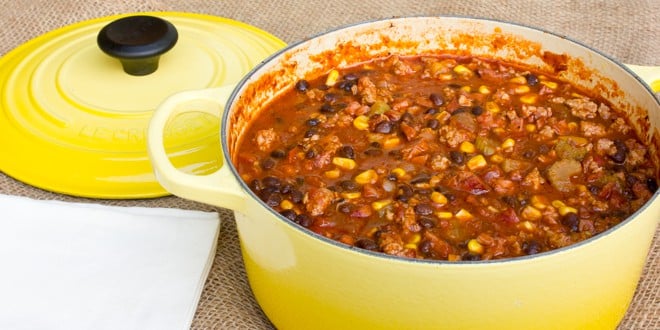 As the weather cools and the temperature drops, my frequency of making soups, stews and chill increases. There is nothing better to beat those cold fall days than a nice big bowl of steaming hot chili. Since I make it regularly, I find that each batch of chili is a new creation. I grab whatever cans of beans are stacked on the pantry shelves and use almost any meat I have on hand. Kidney beans, chick peas, pinto beans, black beans all work well. While I usually use ground beef, other meats work great as well including chopped steak, ground chicken or turkey and pork.
For this recipe, I used a combination of ground pork and smoked pork. I smoke pork tenderloin in my Bradley Smoker all the time and freeze whatever we do not eat right away. Smoked pork tenderloin is an awesome way to add a nice smokey flavour to any dish. Just chop the meat into small chunks and stir it in soup, baked beans, pasta dishes, jambalaya and more! Using the smoked tenderloin in this chili gives it the taste that it was cooked 'old school' out on a hot fire. Instructions for how to smoke pork tenderloin can be found here.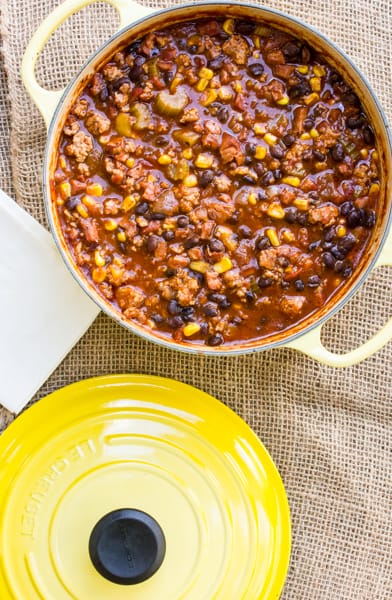 Now, if using smoked pork tenderloin is not possible, other meat will work fine. Chopped ham, andouille, sausage or just more ground pork are all excellent options. While the black beans and corn work very well together, other beans can be substituted as well.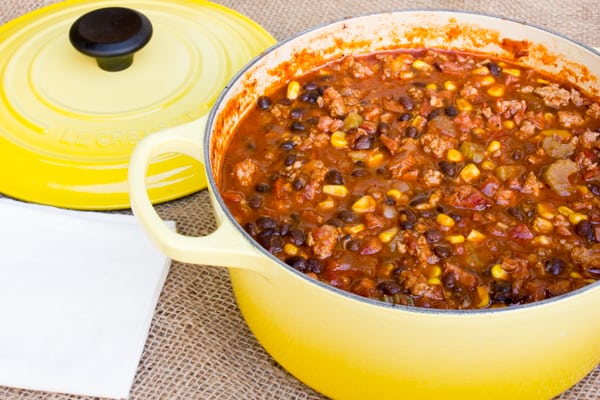 Smoked Pork, Black Bean and Corn Chili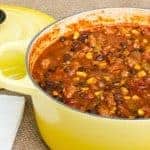 Print
Servings: 4 -6
Ingredients
1 tbsp oil
1 1/2 cup diced onion
1 1/2 cup diced celery
1 1/2 cup diced yellow pepper
2 garlic cloves , minced
1 1/2 pounds ground pork
1 smoked pork tenderloin , about 1 1/2 pounds, cut into small pieces
1 28 oz can diced tomatoes
2 15 oz cans black beans , rinsed and drained
1 can corn , rinsed and drained
1 cup water
1 5.5 oz can tomato paste
3 tbsp chill powder
2 tbsp sugar
1 tsp salt
1/2 tsp cayenne pepper (if you prefer a spicier chill, add more cayenne)
Instructions
Heat oil, on medium heat, in a dutch oven or large pot. Add ground pork and fry until fully cooked. Use a wooden spoon or spatula to break the ground pork into crumbled small chunks of meat during cooking.

Add onion, celery, pepper, garlic and smoked pork to the dutch oven and fry, stirring often, until the vegetables are tender.

Stir in the remaining ingredients and bring to a boil.

Lower heat, stir and cover with lid.

Let the chill simmer for 90 minutes.

Serve hot.