Smoked Pork Tenderloin with Harissa and Tangerine Glaze
This pork tenderloin is packed with flavour. The citrusy flavour from the tangerine goes so well alongside the harissa seasoning.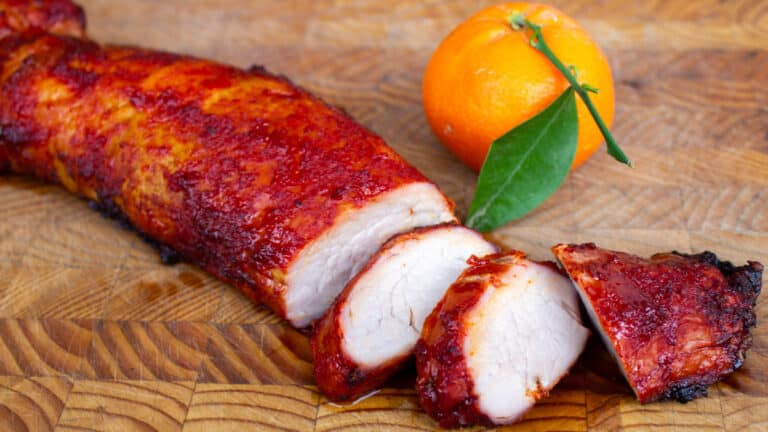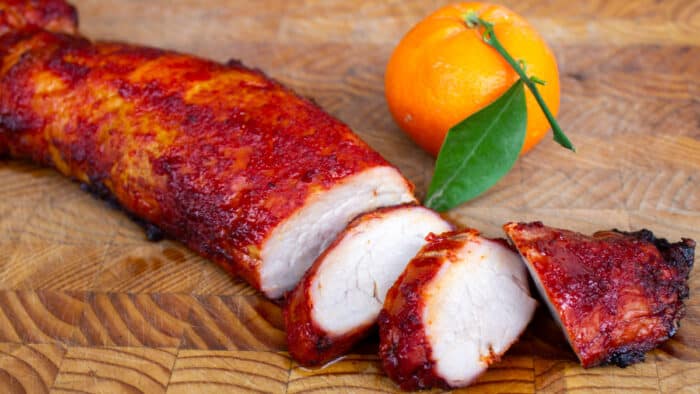 I absolutely love pork tenderloin and cook it all the time. It is a reasonably priced cut of meat and is very lean. Pork tenderloin is excellent cooked whole or cut into cubes and thrown in stews, pasta dishes and so much more.
Pork tenderloin is also an excellent cut of pork to smoke and I have put a number of different recipes on the site including a detailed post for How to Smoke Pork Tenderloin in a Smoker.
I have used many different rubs, pastes and glazes to coat the pork tenderloin while it is smoked. This provides such a variety of flavours.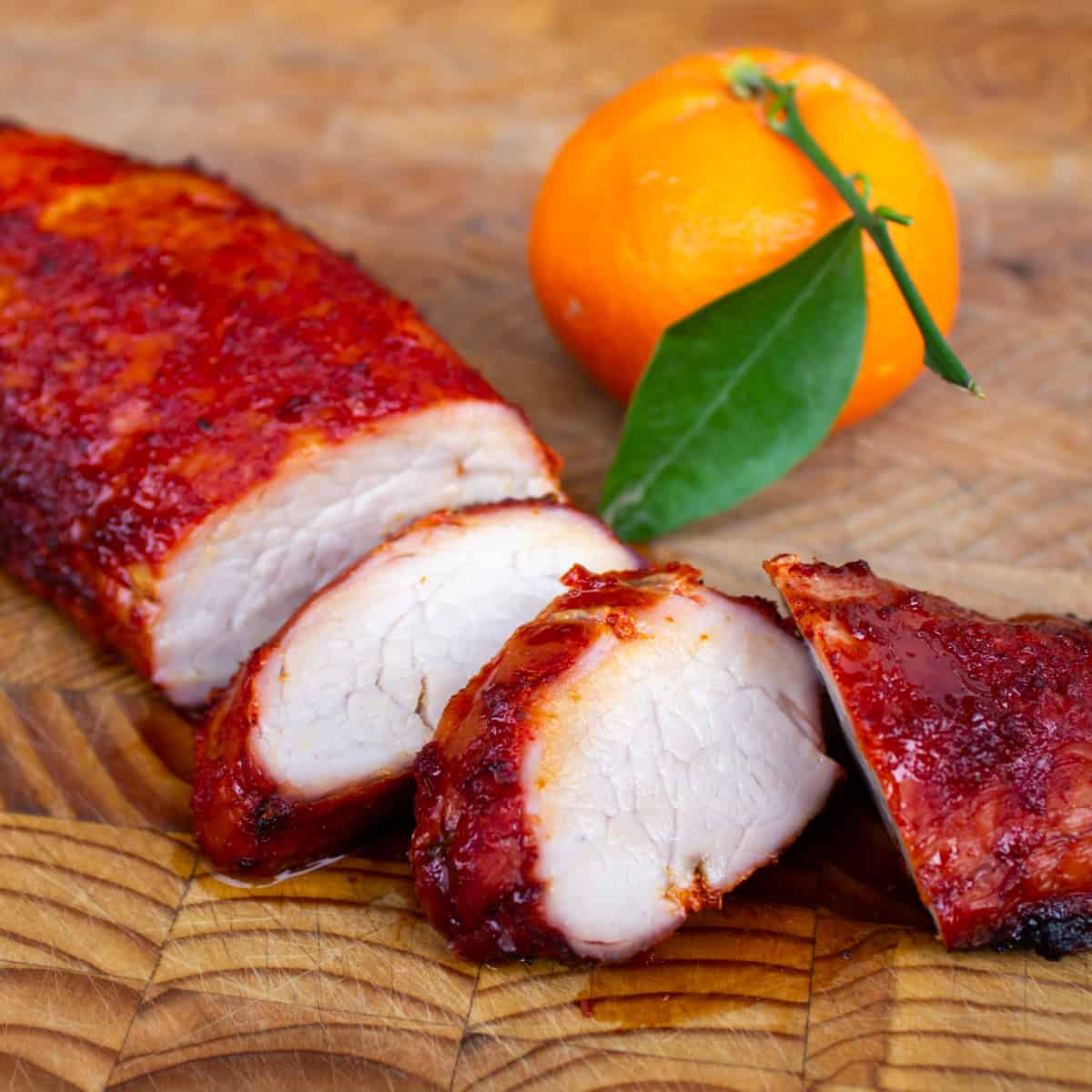 Ingredient Notes
For this pork tenderloin I rubbed the meat with a paste I made from a mixture of harissa, brown sugar, garlic powder and salt. It is the harissa that gives the meat a deep bold flavour and the brown sugar provides a nice sweetness.
Harissa has become more popular lately. It is a chili paste that is part of Tunisian cuisine and is found in the regions of North Africa and the Middle East. Along with ground up chili peppers, there is also a blend of other spices like cumin, coriander, caraway and more.
Harissa is excellent mixed into so many different things. Use it in dips, hummus, rice dishes, rubbed all over fish or other meat. Once you start using it, you will discover how great it is!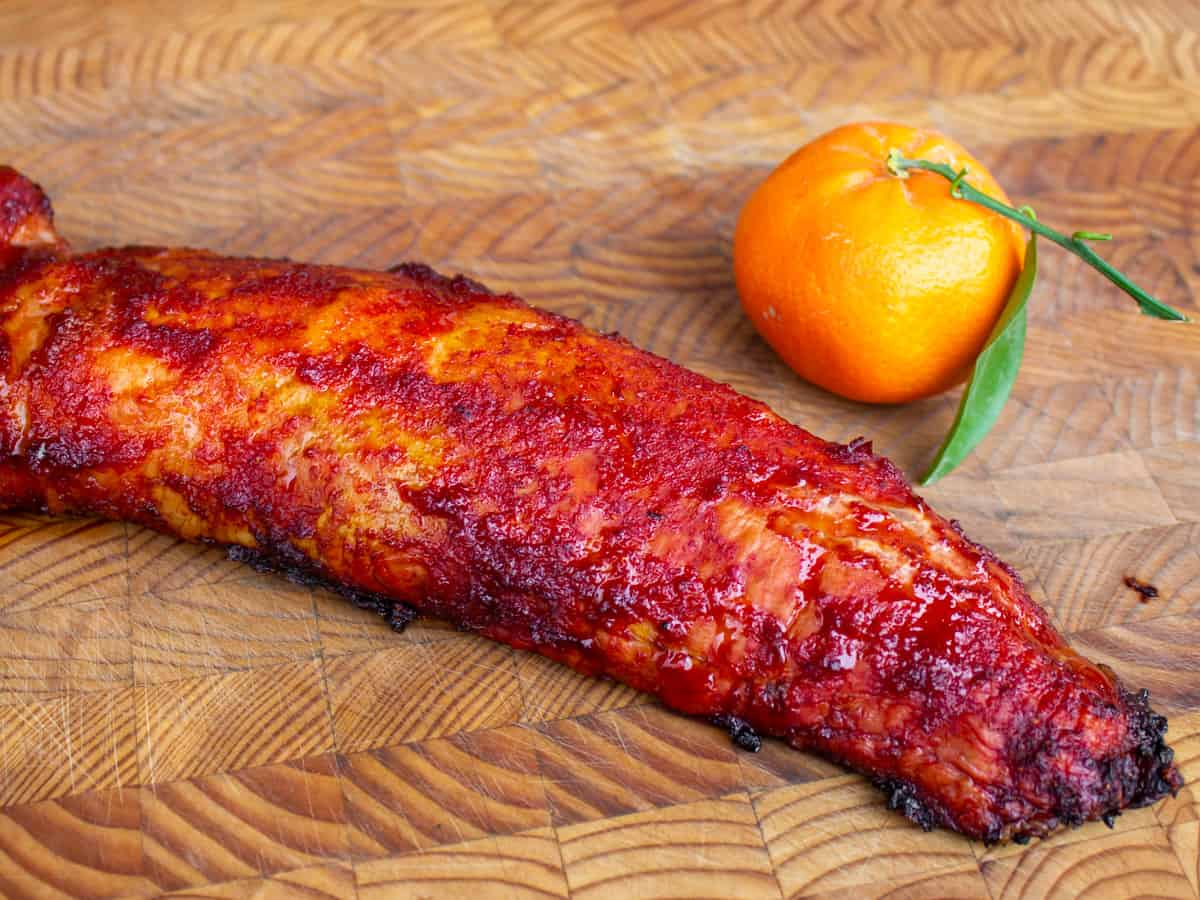 How Long To Smoke Pork Tenderloin
Once the pork tenderloin is rubbed down with the harissa paste, throw it in the smoker. I smoked it at 250F until it reached an internal temperature of 145F. Depending on the type of smoker this can typically take 2 to 2 1/2 hours. Once done, take the pork tenderloin out of the smoker and squeeze the tangerine juice all over the meat. Slice it and serve immediately.
This pork tenderloin tasted incredible. I loved the combination of flavours with the sweet heat of the harissa and brown sugar along with the subtle taste of citrus.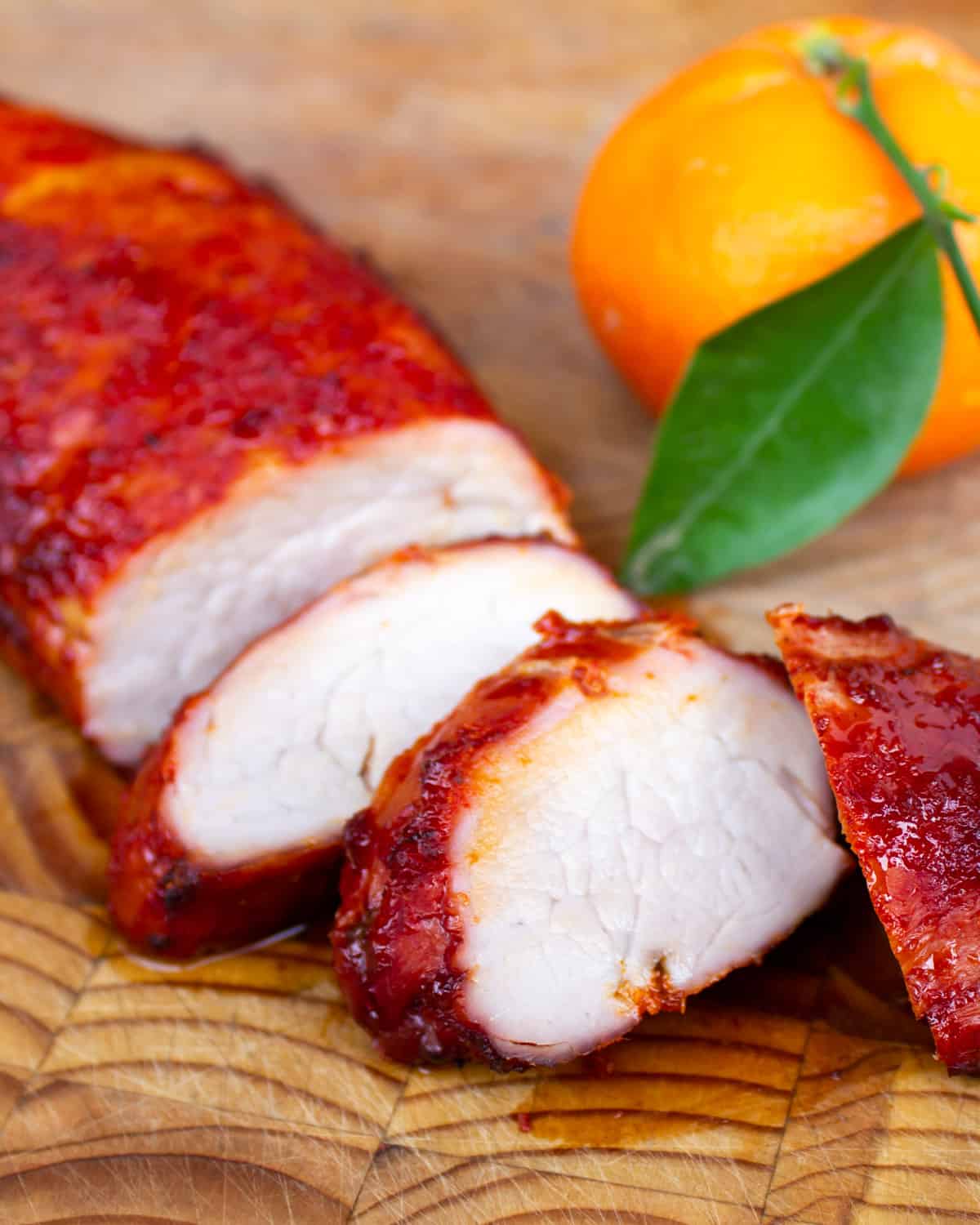 More Great Pork Tenderloin Recipes
Smoked Pork Tenderloin with Harissa and Tangerine Glaze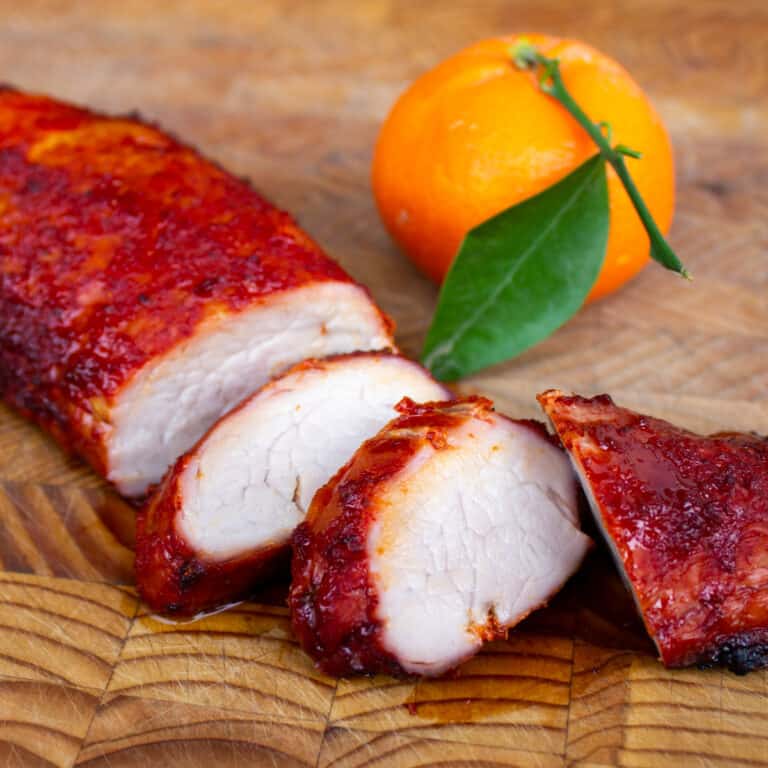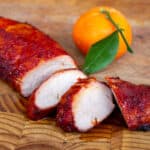 Print
Tender and juicy smoked pork tenderloin with the harissa chili paste glaze with brown sugar and tangerine orange juice flavours. Pecan, oak, hickory, apple or maple wood
Servings: 4
Ingredients
1 pork tenderloin
1 1/2 tbsp harissa paste
2 tbsp brown sugar
1 tsp garlic powder
1/2 tsp salt
1/2 cup tangerine juice
Instructions
In a bowl mix together the harissa paste with the brown sugar, garlic powder and salt. Spread all over the pork tenderloin so that it is evenly coated.

Set the smoker to 250F using wood of choice (hickory, apple or cherry work great).

Smoke the pork until they reach an internal temperature of 145F, approximately 2 – 2 1/2 hours.

Slice the tenderloin into medallions and squeeze tangerine juice on the pork.

Serve immediately.
Nutrition
Per serving:
Calories: 181kcalCarbohydrates: 11gProtein: 27gFat: 3gSaturated Fat: 1gCholesterol: 82mgSodium: 435mgFiber: 0.3gSugar: 10g