Smoked Pork Tenderloin Wrapped in Bacon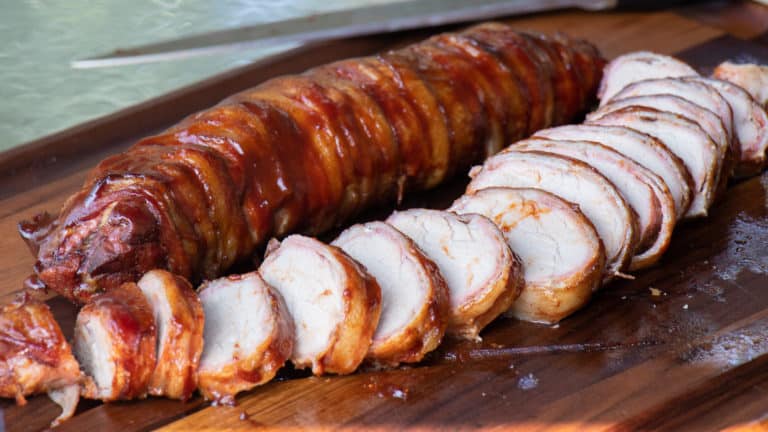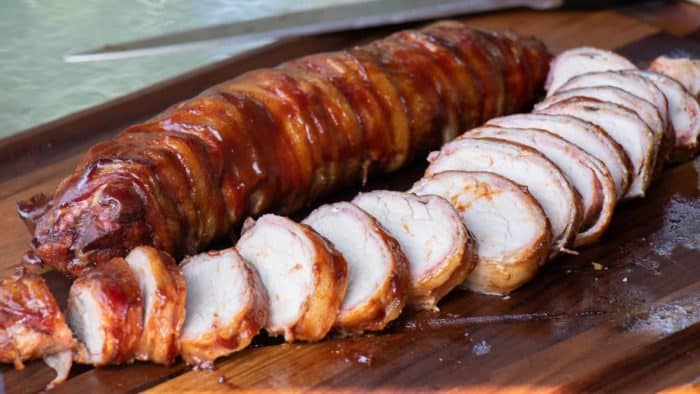 This past weekend was a holiday here in Canada. It was the perfect reason to get the smoker fired up and invite some friends over. Along with corn on the cob and picnic salads, I smoked some ribs, chicken wings and these bacon wrapped pork tenderloin.
Good food – Good friends – Great time!
Pork tenderloin are great for BBQ parties and potlucks. I cut them into medallion slices and people can take however many they want on there plate. Since I smoke lots of different cuts of meat anytime I have a BBQ party, having smaller sized portions is great so people can take a small piece.
The funny thing is that people always come back for more of the tenderloin! It is just incredible!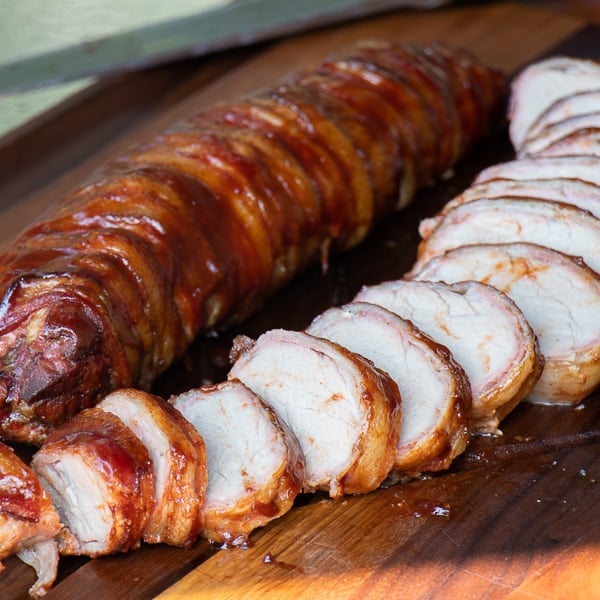 I smoke pork tenderloin so many times every year. Sometimes I stuff them, while other times I just season them with a rub or glaze. One of my favourite ways to smoke them is to wrap them in bacon. Everything is better with bacon!
I have a number of different pork tenderloin recipes for the smoker: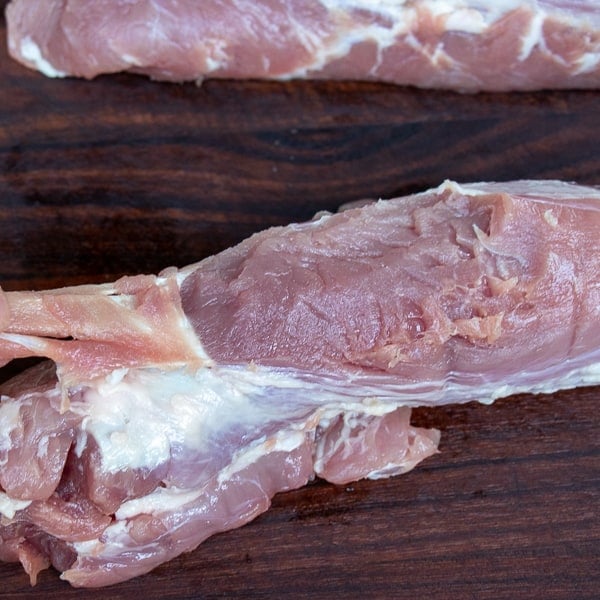 Prep the pork tenderloin by trimming any of the excess fat off. I also like to use a sharp knife and slice away the silver skin membrane off the tenderloin.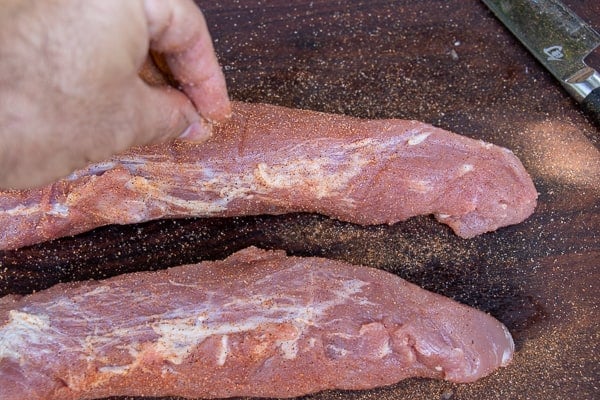 Once the tenderloin has been trimmed, season it with a cajun spice rub. You could easily use a store-bought cajun or creole seasoning. I also have a recipe for a Cajun Spice Rub.
If you want to change up the seasoning, you could use many different types of spice blends. It is a good change to mix it up and try different spice flavours.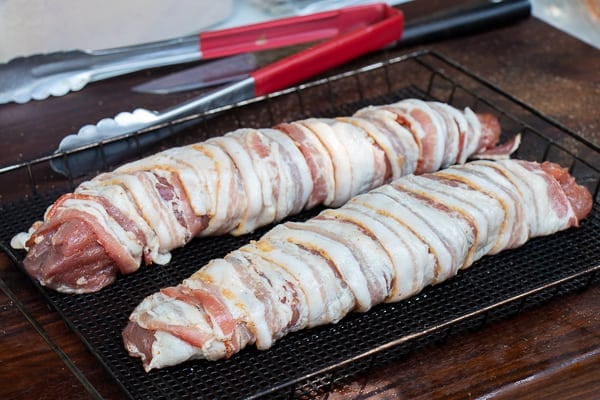 Wrap the pork tenderloin with bacon. I like to use 5 slices per tenderloin as it covers the meat very well and you do not need to stretch the bacon too much. The bacon does a great job of keeping the pork tenderloin moist.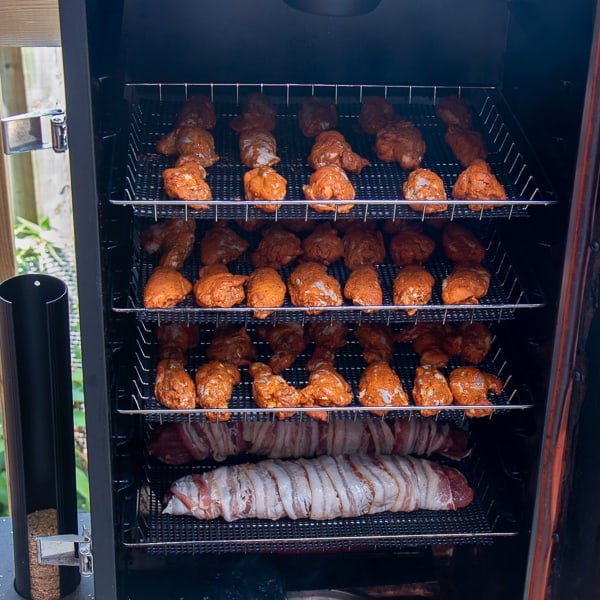 Set the smoker to 275F heat level. This temperature level is a little higher than I typically use to smoke pork tenderloin. Normally, I smoke at 225F or 250F, but I find that bumping it up to 275F does a better job rendering the bacon.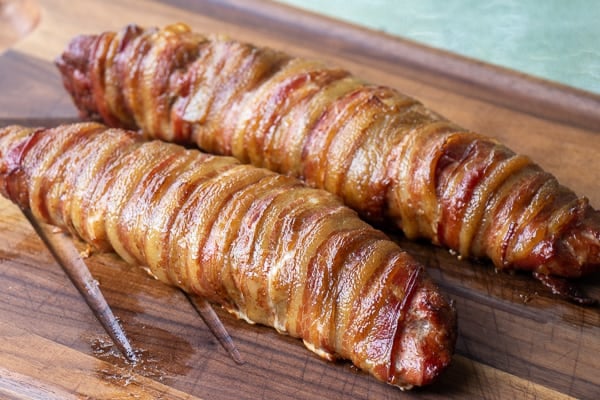 Smoke the pork tenderloin for 2 1/2 to 3 hours. You want the pork to be at least at 145F, but I find that I let it smoke past that level because I want the bacon to be a little more rendered than what it gets to when the tenderloin reaches 145F. Usually, I pull it when the internal temperature is somewhere around 155-160F.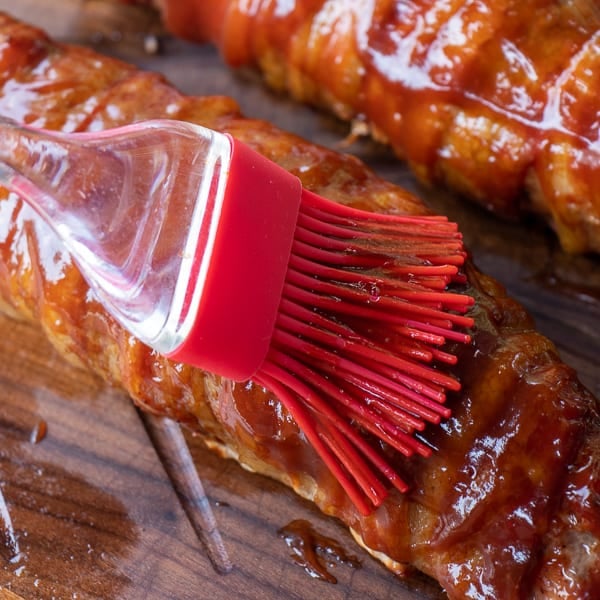 Once the pork tenderloin is finished smoking and taken out of the smoker, let it rest for a good 5-10 minutes. While it is resting, brush it with your favourite BBQ sauce.
Here are some great BBQ sauce recipes.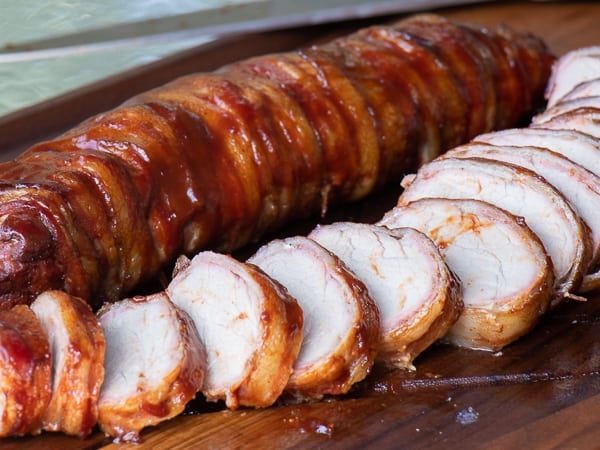 Slice the pork tenderloin into medallions around 1/2 – 1 inch thick. Serve just like this. It is just amazing!
BBQ Smoked Pork Tenderloin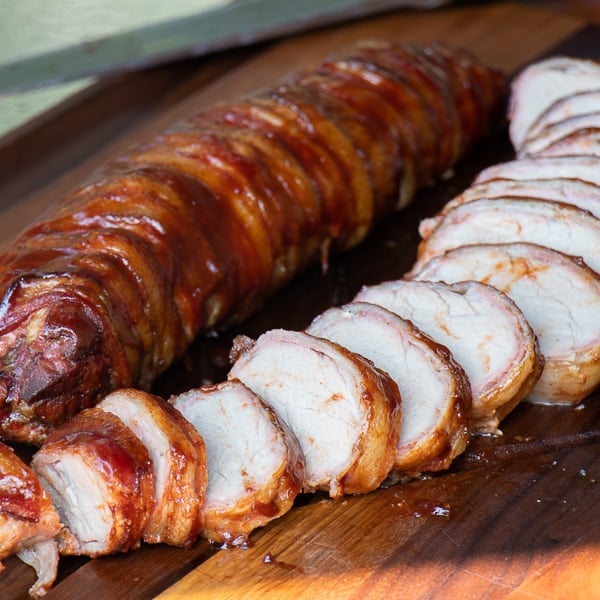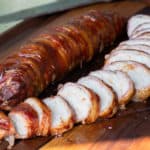 Print
A delicious BBQ recipe of bacon wrapped smoked pork tenderloin with cajun seasoning.
Servings: 4 people
Instructions
Trim the pork tenderloins of any fat and membrane.

Season pork tenderloin with cajun seasoning.

Wrap the tenderloins with the bacon and place on smoker rack.

Set the smoker to 275F using wood of choice (hickory, apple or cherry work great).

Smoke the pork until they reach an internal temperature of 165F and the bacon is rendered and starting to crisp, approximately 2 1/2 - 3 hours.

Take the tenderloins out of the smoker and brush with BBQ sauce. Let rest for 5 minutes.

Let them rest for about 10 minutes. Slice into 1 inch medallions and serve.