Smoked Pork Tenderloin Stuffed with Spinach and Mushrooms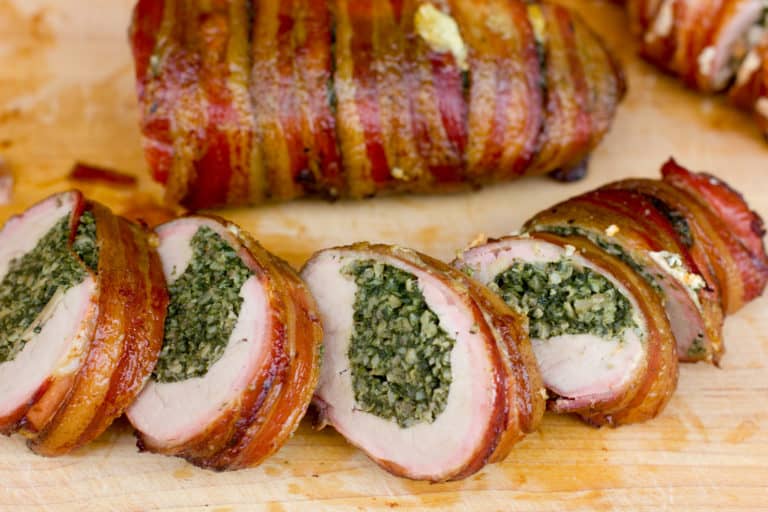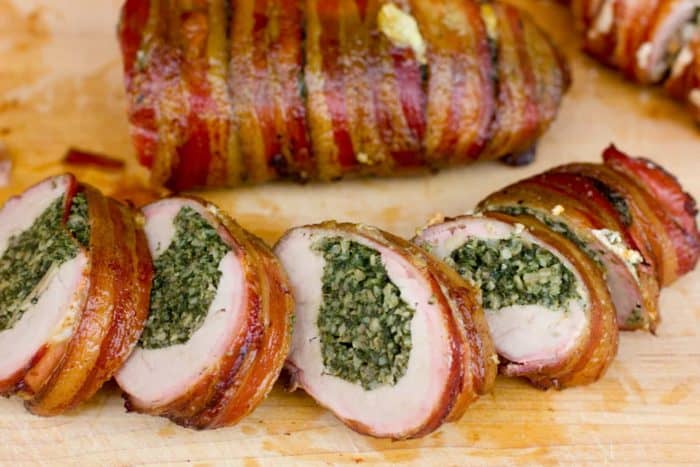 If you were to scroll through my smoking recipes, you would quickly discover that I love smoking pork tenderloin, especially if they are stuffed. But, if you tried any of these recipes, you would be in agreement that smoked pork tenderloin is fabulous!
Pork tenderloin is an excellent cut of meat because it is extremely economical for the quality of the meat. It is tender and full of flavour, and is extremely versatile. It is great smoked on its own with a glaze or BBQ sauce. While I smoke it that way quite a bit, I find that I prefer to stuff the tenderloin and then wrap it with bacon.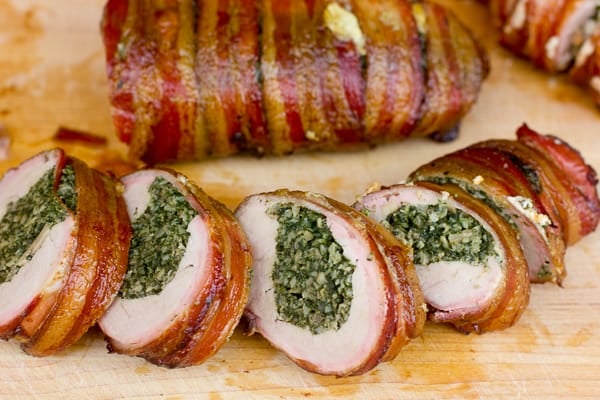 Most of the stuffings I have used for pork tenderloin have cheese in it, but this one is different. Spinach and mushrooms are sautéed and then minced in a food processor. This mixture is then spread into a butterflied tenderloin. This stuffing has a rich flavour that perfectly compliments the flavour notes of the smoked pork and bacon. They all work together to make one delicious dish.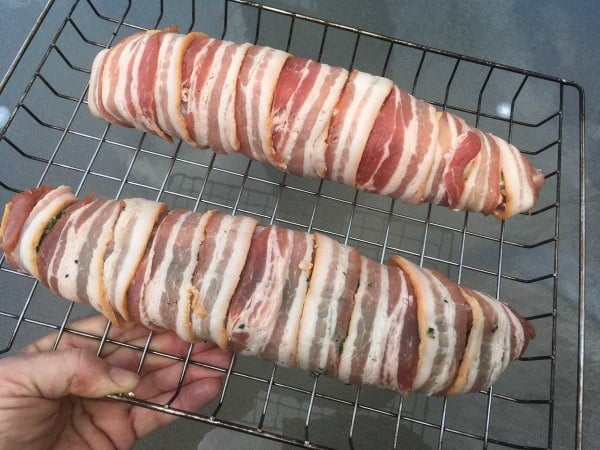 Once prepared, these guys can go into the smoker. For pork, I generally use fruit wood like apple or cherry. I love the sweet smoke that comes from the wood. Hickory, oak, pecan also all work great. Set the smoker for 275F.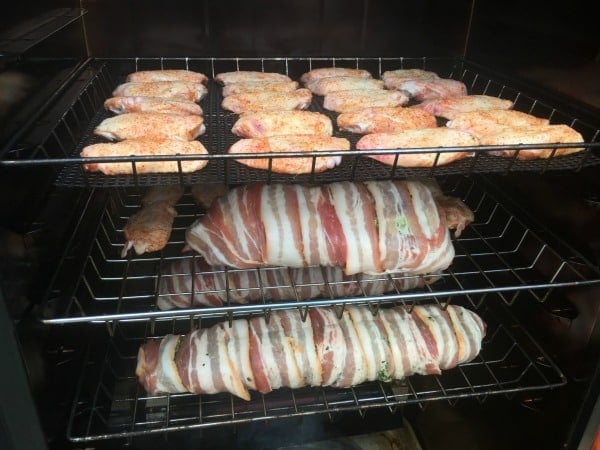 I placed these in the smoker set for 275F and smoked until an internal temperature of 165F where the pork is fully cooked and the bacon rendered and starting to crisp.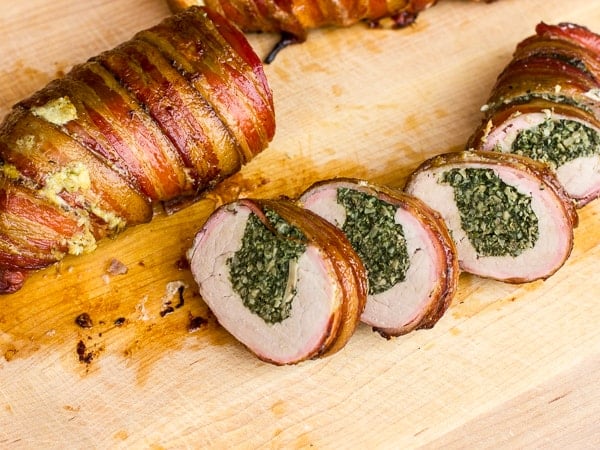 I have a number of different pork tenderloin recipes for the smoker:
Bacon Wrapped Smoked Pork Tenderloin Stuffed with Spinach and Mushrooms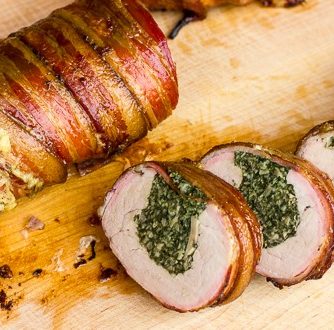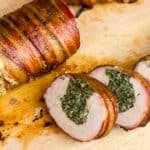 Print
A delicious recipe of bacon wrapped smoked pork tenderloin stuffed with spinach and mushrooms. Made in an electric Bradley smoker.
Servings: 8
Ingredients
2 pork tenderloin
2 tbsp butter
3 garlic cloves , minced
1/2 onion , minced
3 cups spinach
2 cups mushrooms , sliced
1/2 tsp salt
1/2 tsp black pepper
10-12 bacon slices
Instructions
Trim the pork tenderloins of any fat and membrane. Holding knife horizontally, slice the pork tenderloin in half being careful not to pierce through the other end.

In a skillet, melt the butter and then add the onions garlic. Cook for a few minutes and then add the spinach, mushrooms, salt and pepper. Cook, stirring often, until the vegetables are cooked through. Remove from heat and cool to room temperature. Once cool, dump the vegetables in a food processor and pulse until they are finely and evenly minced.

Spread the spinach and mushroom mixture evenly in the openings of the pork tenderloin. Close up the tenderloins ensuring that the mixture stays inside the pocket of the meat.

Wrap the tenderloins with the bacon and place on smoker rack. It may be wise to have the tenderloins with the cut open side facing up, so that any of the vegetable mixture will stay in the pocket and not fall out.

Set the smoker to 275F using wood chips of choice (hickory, apple or cherry work great).

Smoke the pork until they reach an internal temperature of 165F and the bacon is rendered and starting to crisp, approximately 2 1/2 - 3 hours.

Remove the pork tenderloins from the smoker and let them rest for about 10 minutes. Slice into 1 inch medallions and serve.
Nutrition
Per serving:
Calories: 289.72kcalCarbohydrates: 2.64gProtein: 31.12gFat: 16.63gSaturated Fat: 6.36gCholesterol: 107.58mgSodium: 429.74mgFiber: 0.64gSugar: 0.83g