Smoked Pork Chops with Corn and Black Bean Stuffing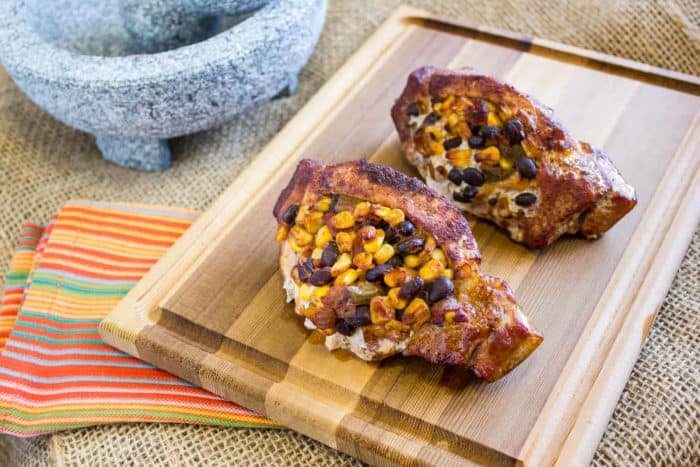 Pork chops are one of the most common cuts of meat that I cook on the grill. That is easily one of my summer grilling staples. So so so tasty! Smoking pork chops is more of a rarity for me, usually opting for cuts of pork like the butt, ribs, or tenderloin. But, every time I do smoke pork chops, I am reminded that they can be amazing and this recipe proves just that.
This pork chop recipe uses loin chops and I like to make sure that they are nice and thick. A good 1 1/2 inches is a great thickness. When I make these stuffed pork chops, I actually purchase a full pork loin roast and then cut my own chops so that I can choose the thickness that I want.
Pork loin chops are much better for stuffing than other types of chops because they are leaner and it is easy to make a pocket for filling. I also like them to be boneless because they look nicer as a finished plated dish and they are far easier to eat.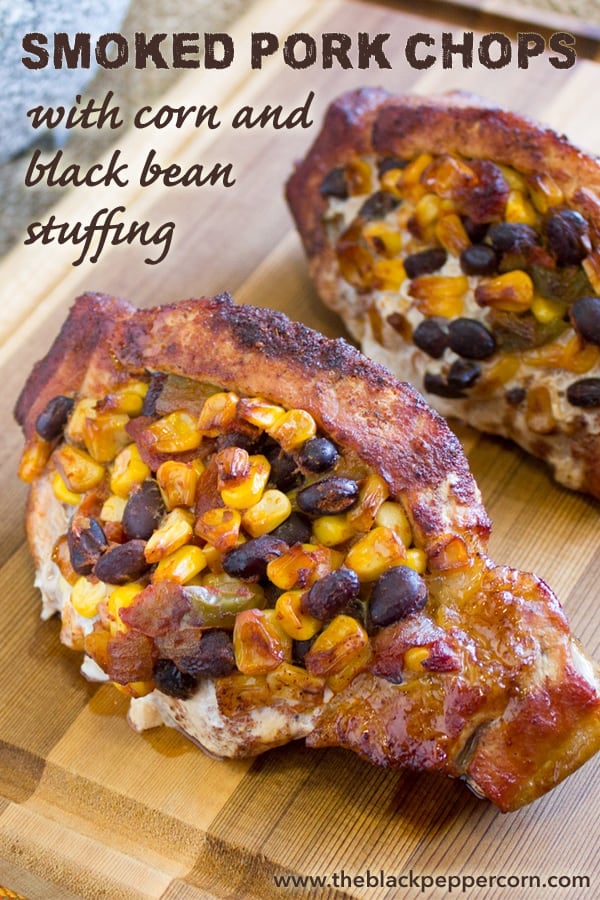 Once you have these nice thick chops, you need to create a pocket for the stuffing to go. I lay a pork chop on a cutting board. Place one hand on the top of the pork chop and with the other, gently insert a knife into the side of the pork chop to cut a horizontal slit. The deeper you are able to go into the pork chop, the more stuffing you can fill it with. Be careful though, because you do not want to go all the way through the pork chop.
The pork chops are rubbed with a southwest style seasoning. I find that smoked meat always tastes better if it has been rubbed down with some sort of seasoning. This blend is quick to throw together and made with chili powder, cumin, cayenne pepper, salt and some brown sugar for a little sweetness.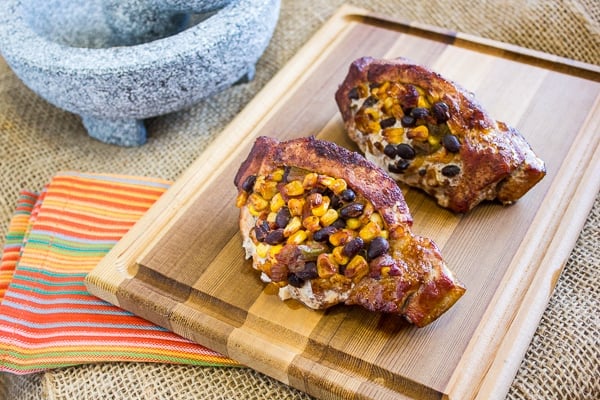 The stuffing is very simple to make and it is essentially just some black beans, corn and salsa all mixed together. Spoon the stuffing into the pocket of each pork chop. Press the stuffing into the pocket to allow you to fill it with as much as possible.
I smoke these chops at 250F and let them cook until they reach an internal temperature of 155F. This takes me around 2 1/2 hours. I like to use fruit woods when I smoke pork, so apple, cherry or even peach are great choices. Hickory and maple also work very well.
This recipe can easily be varied and you can get creative by making your own type of stuffing for the chops. The possibilities are endless!
Smoked Pork Chops with Corn and Black Bean Stuffing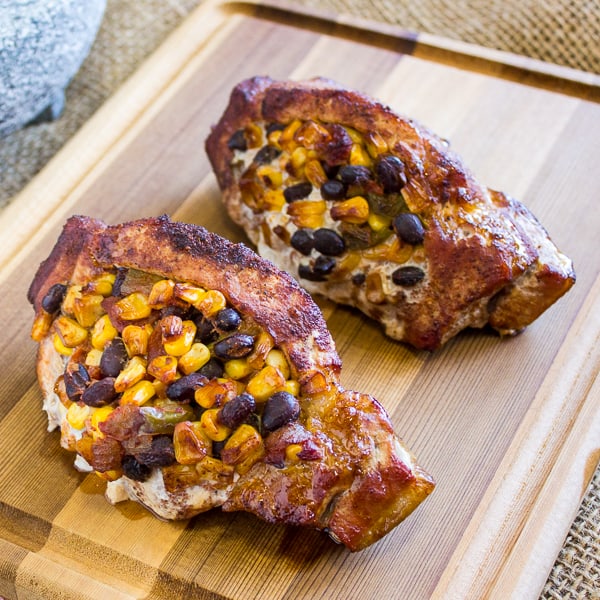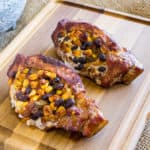 Print
How to smoke pork loin chop stuffed with a southwest filling made with corn, black beans and salsa. Easy recipe and smoked with apple, cherry or hickory wood.
Servings: 4 pork chops
Ingredients
4 boneless pork loin chops 1 1/2 inch thick
2 tbsp brown sugar
1/2 tsp salt
1 tbsp chili powder
1/2 tsp cumin
1/4 tsp cayenne pepper
1 can corn drained
1 can black beans rinsed and drained
1 cup salsa
Instructions
Holding the knife, insert it into the side of each pork chop and cut to make a deep pocket. Be careful not to pierce through the other end.

In a small bowl mix together the brown sugar, salt, chili powder, cumin and cayenne. Rub the mixture all over the outside of the pork chops.

In a large bowl toss together the corn, black beans and salsa. Spoon into the pork chops.

Place the pork chops on smoker racks.

Set the smoker to 250F using wood of choice (hickory, apple or cherry work great).

Smoke the pork until they reach an internal temperature of 155F, approximately 2 1/2 hours.

Serve immediately.