Parmesan Baked Pork Chops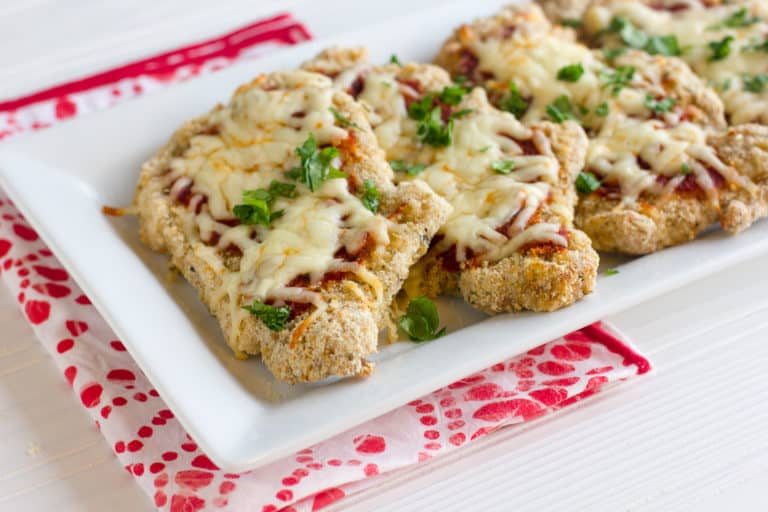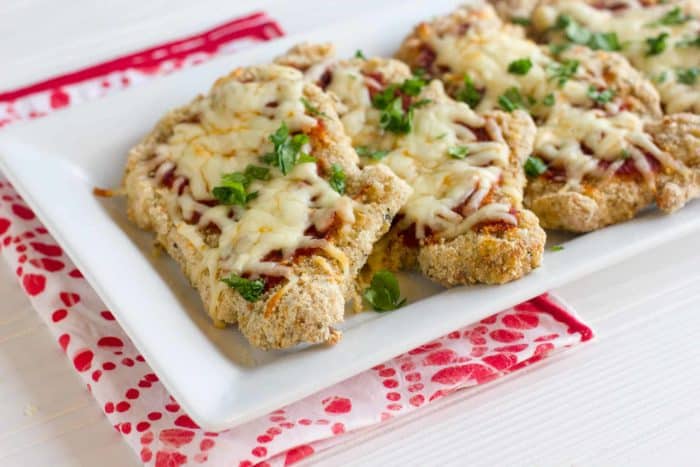 Pork chops are quite the versatile cut of meat. They can be grilled, pan fried, baked, smoked, slow cooked, pressure cooked and more. Not only is there a wide range of cooking methods, but there are so many flavour combinations and profiles that work well with pork chops.
In our house, we love to bake pork chops and often use a breading to coat them. I even have a recipe for Homemade Shake n Bake that is awesome for pork chops. There are many different cuts of pork chops including rib, shoulder, loin and boneless. Our local grocery stores sell club packs of pork chops that include 3 chops of 3 different cuts. It can be a very economical way to feed a big hungry family.
Normally though, my choice for purchasing pork chops is to grab a package with just one type of cut. Each cut can take a different length of time to cook, which can result in a shoulder cut being perfectly cooked, while the rib chops are dry and overcooked.
I usually buy either boneless loin chops or rib chops. My family far prefers the boneless pork loin chops, so that is my more common purchase. These are easy to cook and typically finish quicker than a chop with a bone.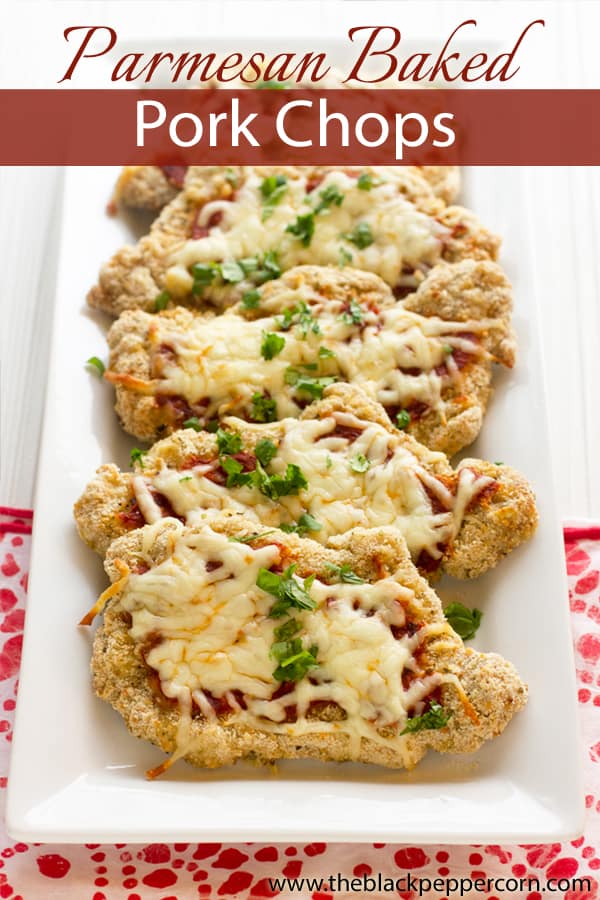 I love chicken parmesan and it is a great way to cook chicken breast cutlets. The breading, marinara sauce, parmesan and mozzarella cheese coat the chicken with so much flavour.
Well, this recipe takes the cooking technique and flavour of chicken parmesan but uses a pork chop. These parmesan baked pork chops are excellent to go alongside a plate of pasta, rice, mixed vegetables and so much more.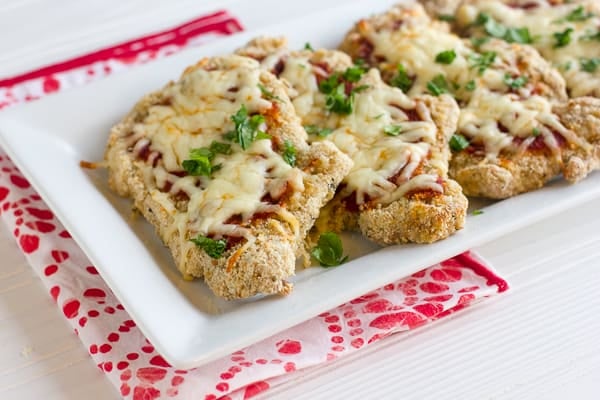 In a sense, this could be viewed as an Italian version of a schnitzel! I pound the pork loin chop so that it has an even thickness of about 1/2 an inch. Then I dip the chops in an egg and milk followed by dredging them in the dry mixture of flour, bread crumbs, parmesan and seasoning. The two steps of dipping in a wet mixture and then into the dry helps to develop a nice breading on the meat.
While chicken parmesan is often fried, I prefer to bake them. I even have a recipe for Baked Chicken Parmesan. So, when cooking these pork chops, I prefer to bake them as well.
Midway through the baking process, I spread some Marinara Sauce on the chops and top with grated cheese. Then continue baking until the pork is fully cooked and the breading crisps up.
Parmesan Baked Pork Chops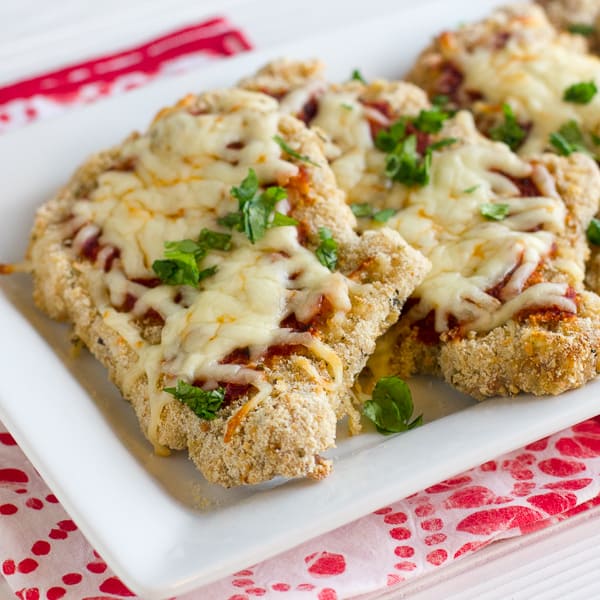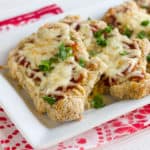 Print
How to bake pork chops with a shake 'n bake and parmesan breading, as well as marinara sauce and topped with grated mozzarella cheese.

Servings: 6 pork chops
Ingredients
6 boneless pork loin chops
1 egg
1 cup milk
1/3 cup flour
1 1/4 cups bread crumbs
1/2 cup grated parmesan cheese
1 tsp salt
1/2 tsp black pepper
1/2 cup marinara sauce
1 cup grated mozzarella cheese
Instructions
Place boneless pork loin chop on a cutting board or butcher block. Using the flat side of a meat pounder, flatten the meat slightly, to about 1/2 inch in thickness.

In a bowl, whisk together the milk and egg.

In a separate bowl, whisk together the flour, bread crumbs, parmesan cheese, salt and black pepper.

Dip a pork chop in the milk and egg mixture, making sure it is coated on all sides. Then dredge the pork chop in the dry mixture. Gently shake off any excess bread crumbs. Place on a baking sheet lined with parchment paper. Do this with the remaining pork chops.

Put the pork chops in a 425F oven.

After the pork chops have been in the oven for about 15 minutes, Spread 1 tablespoon of marinara sauce on each pork chop and sprinkle some grated mozzarella cheese on top. Put back in the oven.

Bake the pork chops for a total cooking time of around 25 minutes or until the pork chops reach an internal temperature of 160F.
Nutrition
Per serving:
Calories: 454kcalCarbohydrates: 25gProtein: 42gFat: 19gSaturated Fat: 8gCholesterol: 143mgSodium: 996mgFiber: 2gSugar: 5g