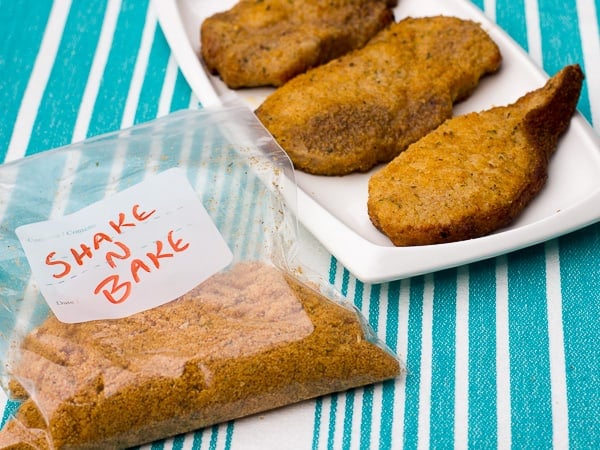 Do you remember seeing those Shake n Bake commercials in the 1980s, with Alice from The Brady Bunch. She really was the perfect spokesperson for anything cooking related back then, because pretty much everyone watched The Brady Bunch.
Ahhh, the memories!
Shake n Bake was all about convenience, and really, what could be simpler. Place the seasoning mix in a bag, throw in a piece of chicken or a pork chop – shake it around so the meat is coated and place it on a baking sheet. Bake it in the oven and the meat comes out crispy. That's it. Not only is it easy, but it is also a healthier way to cook than deep frying.
I still love Shake n Bake and have found myself buying the box of seasoned bread crumbs from time to time. Considering that it is essentially bread crumbs and seasoning, the box is expensive. Making your own is very simple and way cheaper. You likely have all the ingredients in your pantry right now!!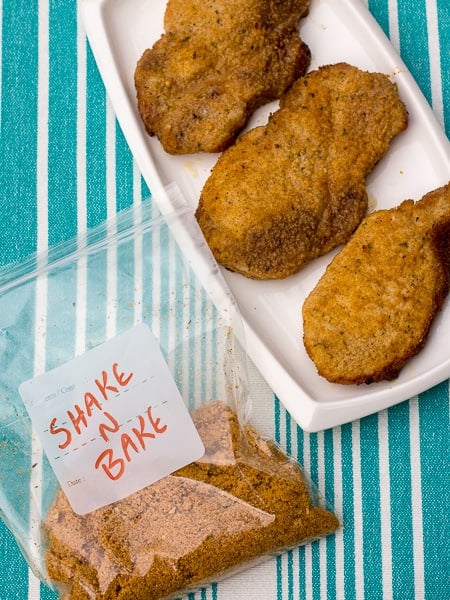 This copycat recipe of Shake n Bake is the equivalent of 3 or 4 boxes of the real stuff. So, you will want to store it. I use a mason jar and keep the lid on fairly tight. I find that this helps to keep the mixture fresh for a couple months anyway. Place it in the freezer and it will last even longer.
Making Shake n Bake at home means that you will not get those nifty little bags for coating the meat in the breading mixture. No worries! I find that freezer bags work perfectly.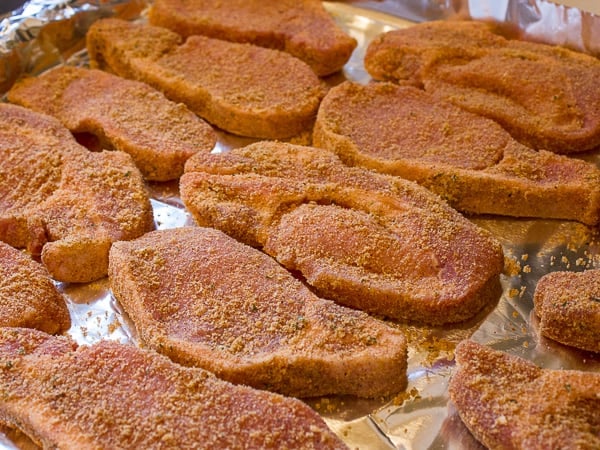 I line my cookie sheet with aluminum foil so that the meat does not stick. It is far easier to clean this way as well!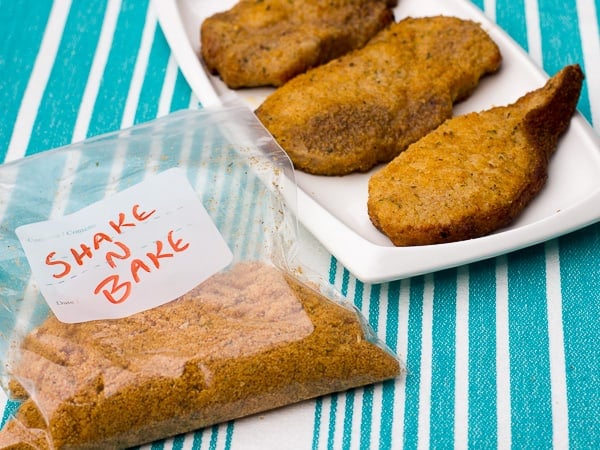 Homemade Shake n Bake - Great for chicken and pork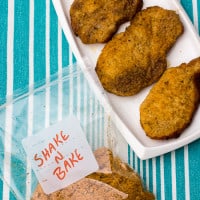 Print
Classic crispy oven baked shake n bake copycat recipe of the Kraft original. Perfect for pork chops and chicken legs, breasts and more. Bread crumbs, oil, salt, pepper, garlic, onions
Servings: 8 people
Ingredients
3 cups bread crumbs
1/4 cup vegetable oil
1 tbsp salt
1 tbsp dried onion flakes
3 tsp paprika
2 tsp sugar
1 tsp garlic powder
1 tsp black pepper
1/2 tsp cayenne pepper
1/2 tsp dry parsley
1/2 tsp dry basil
1/2 tsp dry oregano
Instructions
Mix all ingredients in a large bowl until evenly mixed and the bread crumbs are no longer 'clumpy' from the oil.

Dump into a mason jar or plastic container and store in the pantry for 1-2 months.
Notes
Shake n Bake Pork Chops Preheat oven to 425F. Dump some of the shake n bake mix in a large ziploc bag. Rinse pork chops in cold running water. Let excess water drain off. Place pork chops 1 at a time in the bag with the shake n bake. Seal and shake the bag so that the pork chop is totally coated in the breading. Remove the pork chop from the bag, shaking off excess breading. Place on a cookie sheet lined with aluminum foil. Do this with the remaining pork chops. Bake for 15-20 minutes. Shake n Bake Chicken Preheat oven to 400F. Dump some of the shake n bake mix in a large ziploc bag. Rinse chicken in cold running water. Let excess water drain off. Place chicken, one piece at a time, in the bag with the shake n bake. Seal and shake the bag so that the chicken is totally coated in the breading. Remove the chicken from the bag, shaking off excess breading. Place on a cookie sheet lined with aluminum foil. Do this with the remaining pork chops. Bone-in chicken - Bake for 45 minutes. Boneless chicken - Bake for 20 minutes
Nutrition
Per serving:
Calories: 230kcalCarbohydrates: 31gProtein: 5gFat: 9gSaturated Fat: 6gSodium: 1169mgFiber: 2gSugar: 3g