Baked Pork Chops with Apples and Peppers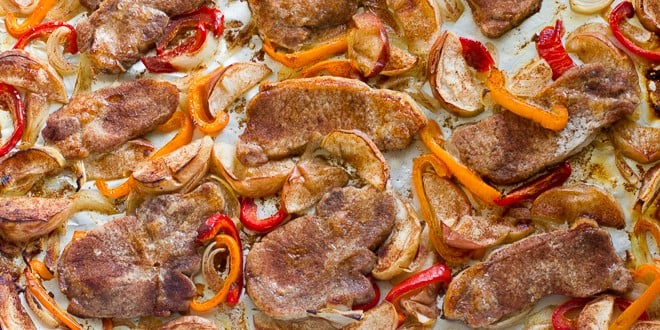 Baked pork chops are one of those classic fall meals. As the temperature drops, the ovens get used more frequently and we make pork chops all the time. Chops are an economical cut of meat that allows you to feed a hungry family with teenage boys without breaking the bank. I am all over anything that is economical!
Not only is baking pork chops easy, but it is also quite versatile. You can season and dress up the pork chops many different ways to create a unique dinner. Many times, I do the classic Shake n' Bake with my pork chops and I even have a recipe for that here: Homemade Shake n Bake
For this recipe, I wanted to give the pork chops a nice fall type flavour. I had a few apples on hand and decided to bake the apples with the pork chops. Apples are a great compliment to pork – remember the classic Brady Bunch line by Peter? Pork Chops and Apple Sauce, that's swell!
Along with the apples, I also threw on some peppers and onion. For the seasoning, I used some spices that are common in apple pie or pumpkin spice. This seasoning really enhanced that fall type flavour and worked so well with the pork chops, apples and veggies.
I love sheet pan cooking as it it simple and a great way to prepare dinner. Sometimes you can even cook your entire meal on a baking sheet and those are days I declare victory!
Not much is better for me that when I have my potatoes, veggies and meat all cooking away on a baking sheet. This is an easy way to cook, and it is also super quick for clean-up.
The onions, peppers and apples take longer to cook than the pork chops. I wanted to ensure that they are nicely roasted and have that sweet caramelized flavour.
Brush the baking sheet with oil and evenly spread the apples, onion and peppers on the sheet pan.
Place in an oven preheated to 400F and bake for about 20 minutes. This gives the apples and veggies some time to cook a bit before adding the pork chops.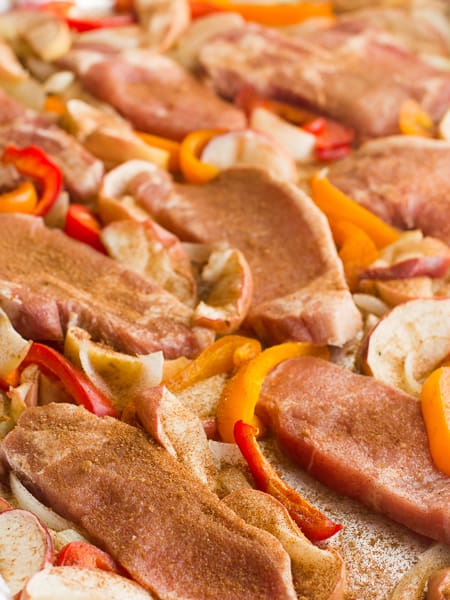 Take the sheet out of the oven and lay the pork chops on the baking sheet. Wiggle them in place, pushing the apples and veggies aside. You want to make sure that the pork chops are resting directly on the baking sheet and not on top of any apples or peppers/onions. Sprinkle the seasoning mix all over everything. Be generous because it tastes so great and really enhances the pork and brings all the flavours together.
For pork chops, I used boneless centre cup chops. Frankly, I buy whatever is on sale. You can use any type of pork chop. While these are boneless, bone-in chops are great as well. Be aware though, that pork chops with the bone in will generally take longer to cook through.
Also, the chops I used were around 1/2 inch in thickness. You can get thicker chops, but they will obviously take longer to cook through as well.

Stick the sheet pan back in the oven and bake for another 25-30 minutes or until the pork chops are cooked through or reach an internal temperature of 145F (medium rare) or 160F (medium).
These pork chops are so delicious and just scream autumn. If you have never baked apples like this, you should really give it a try. They taste so good and really compliment the whole dish.
I serve the pork chop on a plate with rice and spoon some of the apples, peppers and onion slices on top of the chop. Not only does it taste great but it is visually stunning as well!
Baked Pork Chops with Apples and Peppers Recipe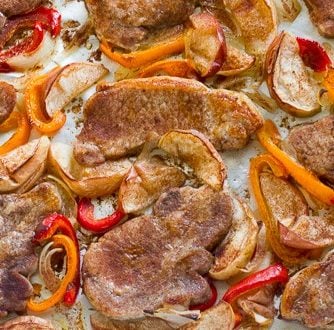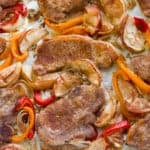 Print
How to cook pork chops (bone-in or boneless) in the oven. Bake these centre cut loin pork chops with apples, peppers, onions spices (cinnamon, ginger, etc.)
Servings: 6 people
Ingredients
2 tbsp oil
3 apples cored and cut into wedges
1 red pepper cored and sliced
1 orange pepper cored and sliced
1 onion sliced
8-10 pork chops boneless, centre cut
2 tbsp brown sugar
1 1/2 tsp cinnamon
1 tsp salt
1/2 tsp nutmeg
1/2 tsp ground ginger
1/4 tsp ground cloves
1/4 tsp cayenne pepper
Instructions
Preheat oven to 400F

Brush oil on a baking sheet. Spread the apples, peppers and onion all over the baking sheet. Bake in the oven for 20 minutes.

In a small bowl, mix together the brown sugar and spices to make the seasoning blend.

Take the baking sheet out of the oven. Lay the pork chops on the baking sheet, moving the apples and veggies around to ensure that the chops are resting directly on the sheet.

Sprinkle the seasoning all over the pork chops, apples and veggies.

Stick back in the oven and bake for 25-30 minutes or until the pork chops are cooked through or reach an internal temperature of 145F (medium rare) or 160F (medium)