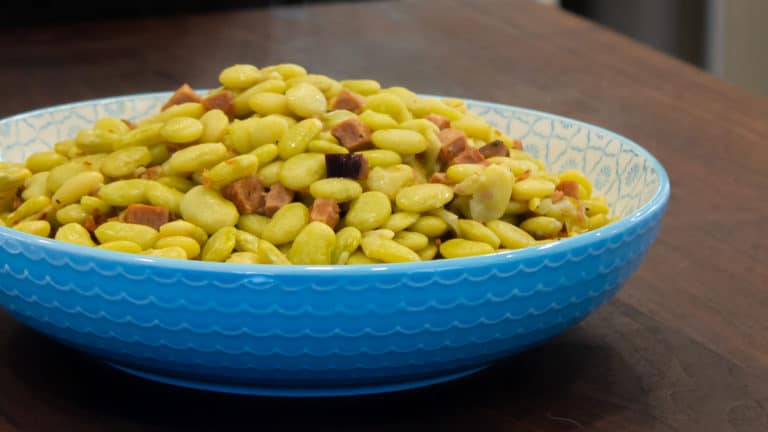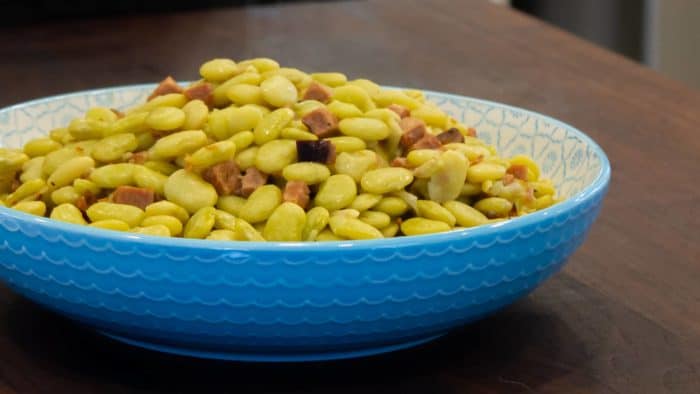 Lima beans always seems to get a bad rap. Along with brussels sprouts, blue cheese, black liquorice and anchovies, lima beans is one of those universally hated foods. I don't get it either, because I absolutely love them. It is not a new appreciation either, as I liked lima beans ever since I was a kid.
I do not cook lima beans much, but recently I had some at a Cracker Barrel restaurant. We went on a trip to Alabama and once we crossed the border into the United States, I made sure that our first restaurant stop was a Cracker Barrel. I love this place and there are a number of dishes they serve that is so hard to find in Canada.
The lima beans at Cracker Barrel was so good and I was determined to try and replicate the flavour and method once I got home. So, here is my Lima Bean with Ham recipe. It is simple to make and oh so delicious.
Everyone in the family absolutely loved this down home comfort food side dish. Try this recipe and you will also agree that lima beans get a bad rap!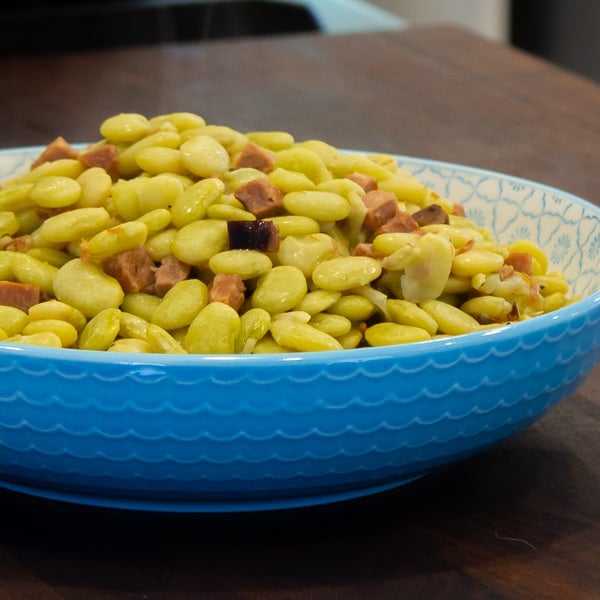 Lima beans is a classic country style side dish. It is awesome to go alongside so many great comfort foods. Here is a list of recipes that are perfect alongside these lima beans.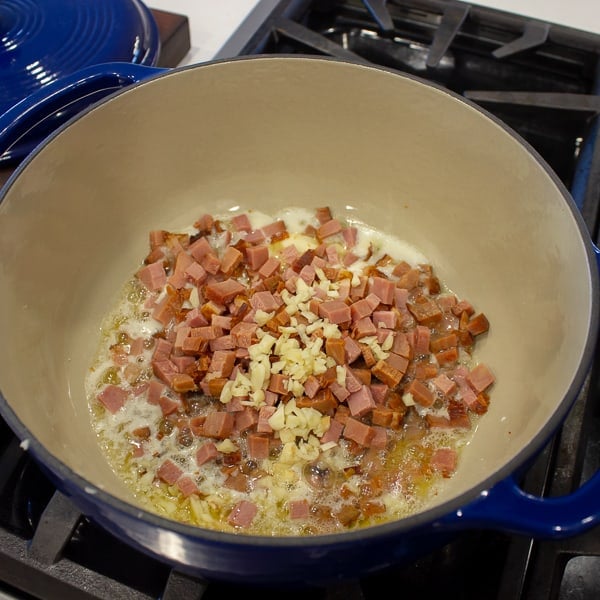 Melt the butter in a pot or dutch oven over medium heat. Add in the diced ham and garlic. Let them sauté for a good 5 minutes or so, stirring occasionally.
While I use ham, you could also use bacon or a smoked sausage like andouille. I like how the smokey flavour of the meat infuses into the lima beans. If desired, you could also make a meatless version as well.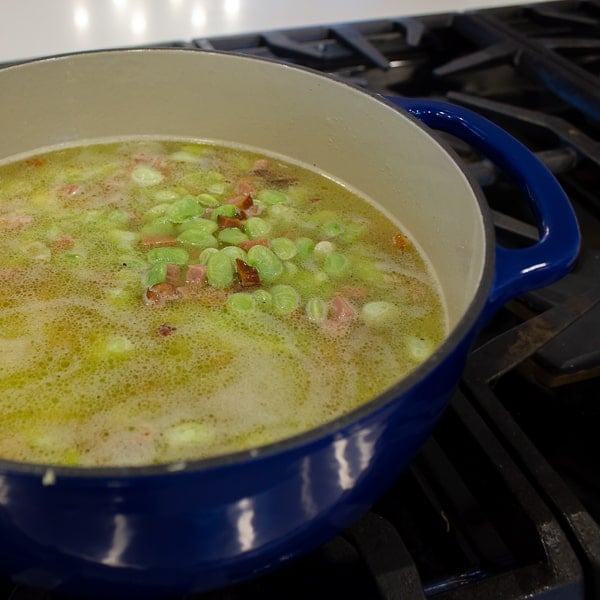 Add in the frozen lima beans and water. Bring the water to a boil and then lower the heat so that it is just barely at a rolling boil.
Let it simmer for about an hour. During this time, the lima beans will absorb much of the water. They will soften and turn buttery and creamy in texture.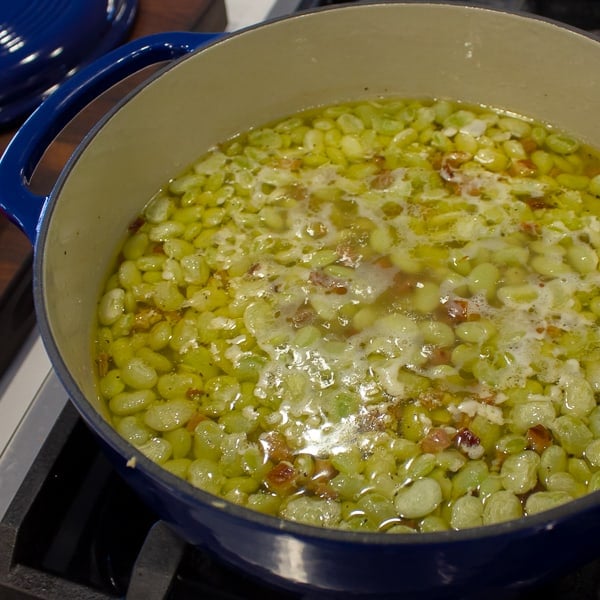 The picture above is after the beans have been simmering for about 30 minutes. You can see that the water level has come down a little bit. Make sure to stir the beans occasionally while they are simmering.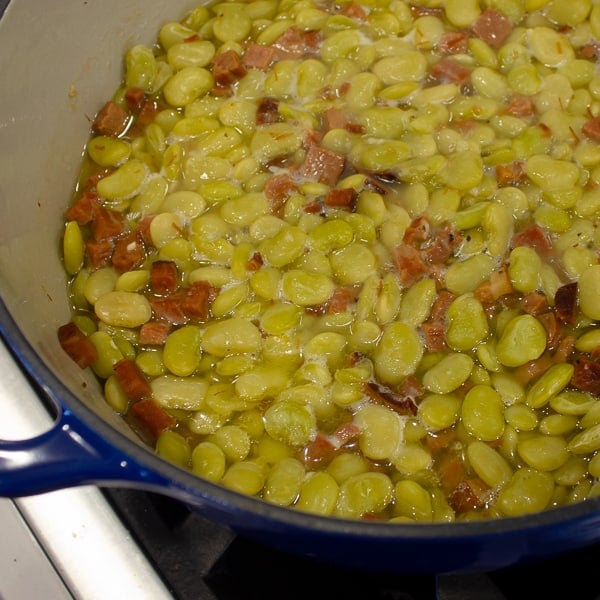 In the picture above, the beans have simmered for an hour. The water level has dropped more and there is probably somewhere between 1 and 2 cups of liquid. I also find that the liquid has thickened a little bit as well.
I let the beans simmer for another 15 minutes, which is 75 total minutes.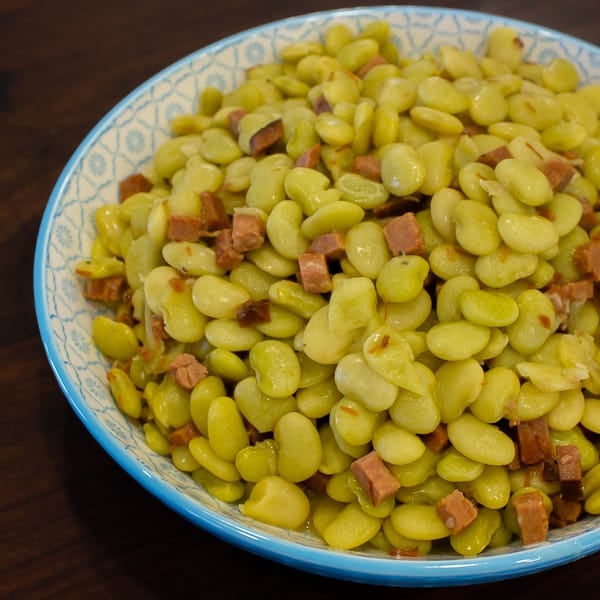 Once the beans have simmered for 75 minutes, they are some and creamy. They taste absolutely delicious and I love the little bites of ham as well.
As good as the lima beans are, I also absolutely love the broth. It is buttery and has so much flavour. You can mop some up with a slice of crusty bread. So good!
Lima Beans with Ham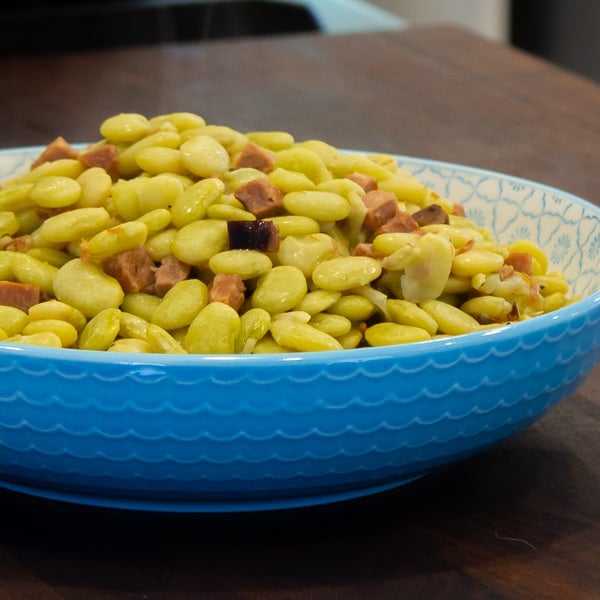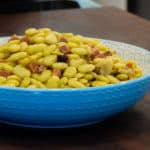 Print
Slow simmered lima beans that are buttery and creamy just like you get at Cracker Barrel or other southern country restaurants. Homestyle with ham or bacon.
Servings: 8
Ingredients
1/3 cup butter
3 cloves garlic minced
1 1/2 cup diced ham
2 pounds frozen lima beans
4 cups water
1/2 tsp salt
Instructions
Melt butter over medium heat in a pot of dutch oven.

Add the garlic and ham. Sauté for 5 minutes.

Add the rest of the ingredients. Bring to a boil and then lower the heat to a simmer.

Continue to let simmer with it just barley boiling for about 75 minutes or until the beans are soft and most of the water is absorbed into beans or evaporated. There should only be 1-2 cups water left and it should have thickened somewhat.

Serve
Nutrition
Per serving:
Calories: 242kcalCarbohydrates: 29gProtein: 13gFat: 9gSaturated Fat: 5gCholesterol: 32mgSodium: 557mgFiber: 7gSugar: 1g