Oven Baked Chicken Parmesan
Easy to prepare, quite tasty this chicken parmesan recipe is a great weeknight meal!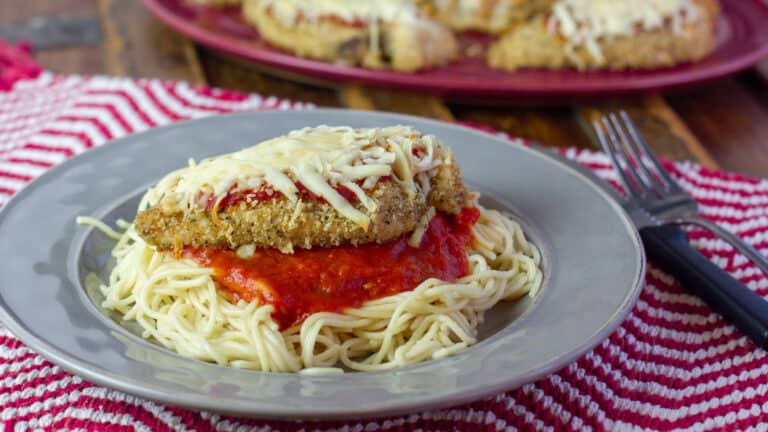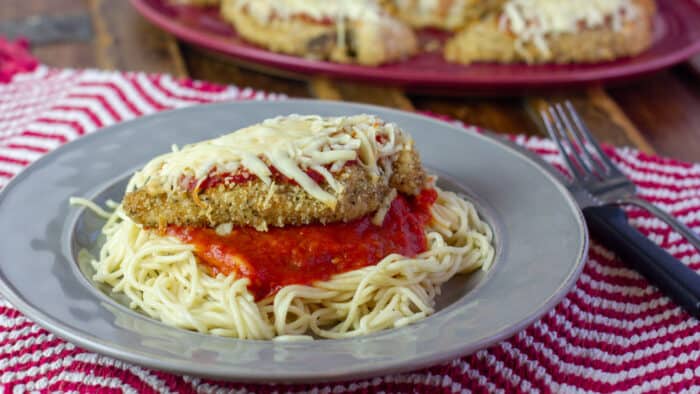 Chicken parmesan is one of those meals we love so much and it is a regular part of our dinner rotation. This oven baked chicken parmesan recipe is a quick and delicious version of the classic Italian dish.
The chicken cutlets are lightly breaded and then baked in the oven. Once they are almost finished cooking, I add a little marinara sauce on top of each chicken cutlet and put some cheese on top as well.
Chicken parmesan can be served with so many things, but we usually plate it with some spaghetti pasta and extra marinara sauce. I have also served it with steamed vegetables and rice. There are so many options!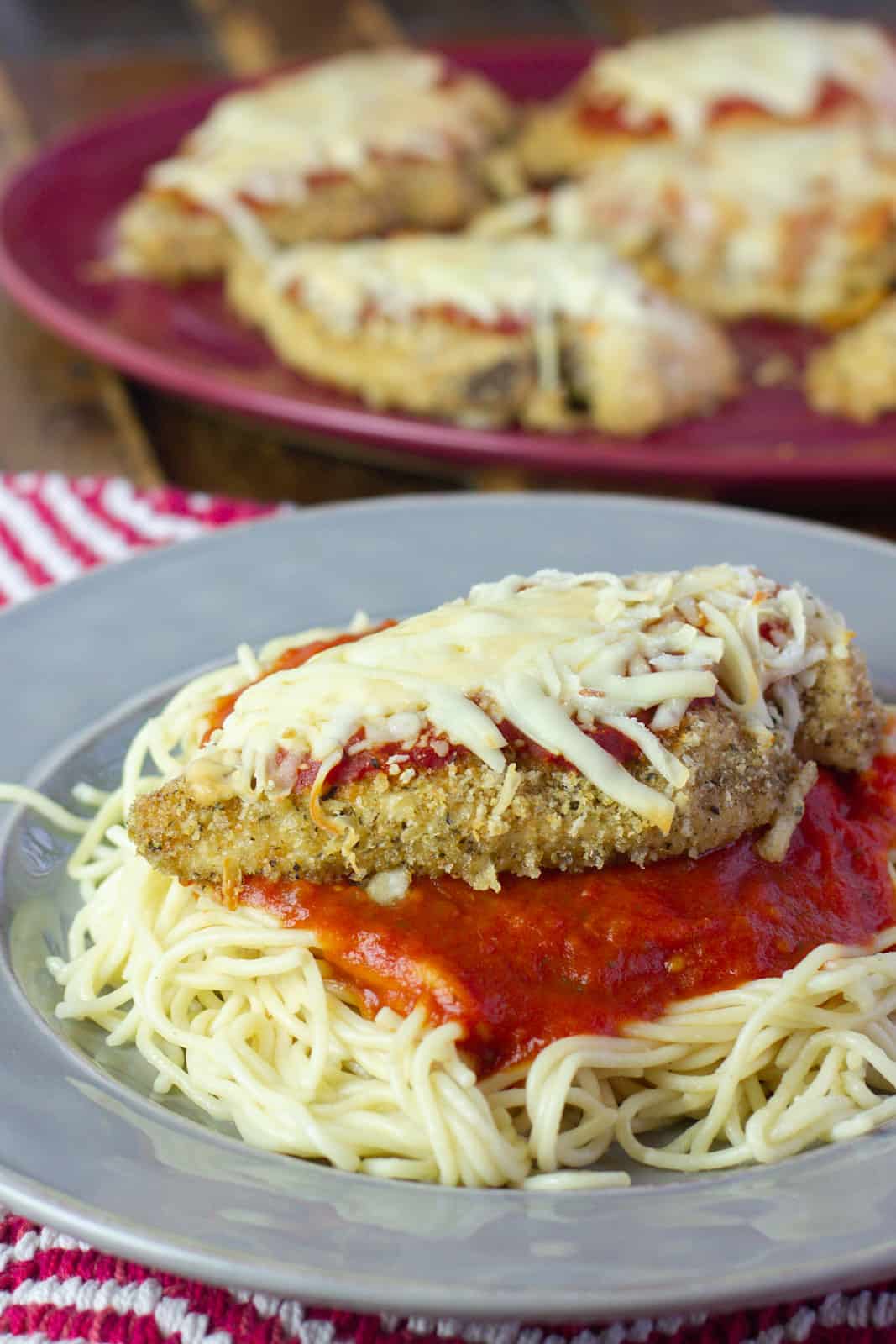 I always used to pan fry the breaded chicken cutlets, but lately I find that baking them in the oven is just as tasty and it is a lower fat option. Baked chicken parmesan is also very crispy and full of flavour.
There are some other benefits to cooking the chicken in the oven. Pan frying them usually requires that they be fried in batches since all the chicken will not fit in one pan, once they are cut into cutlets. But, if they are baked, the chicken easily fits on a baking sheet and you do not need to monitor them as much as if they are fried in a pan. Stick them in the oven and remove them once they reach the cooking time. So simple!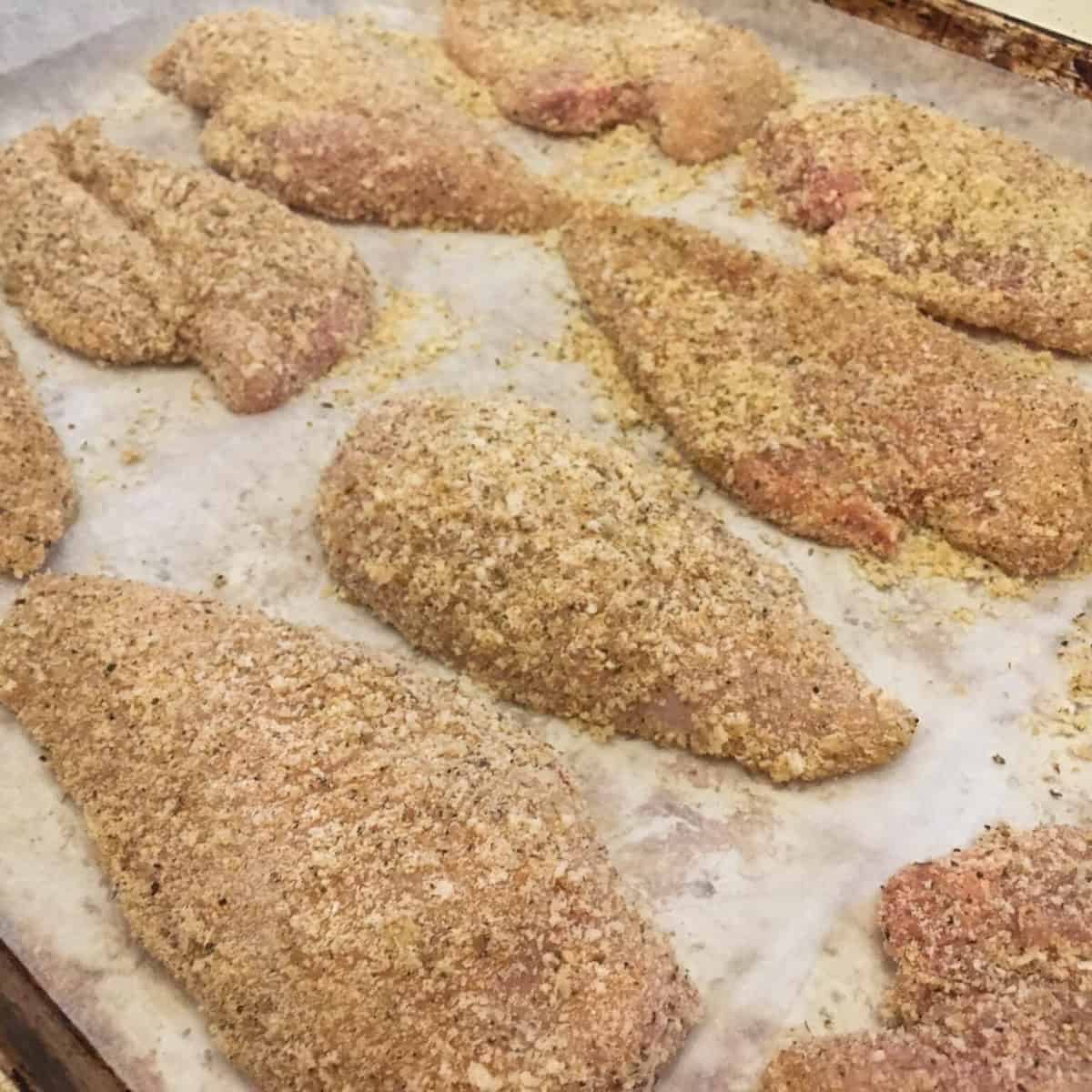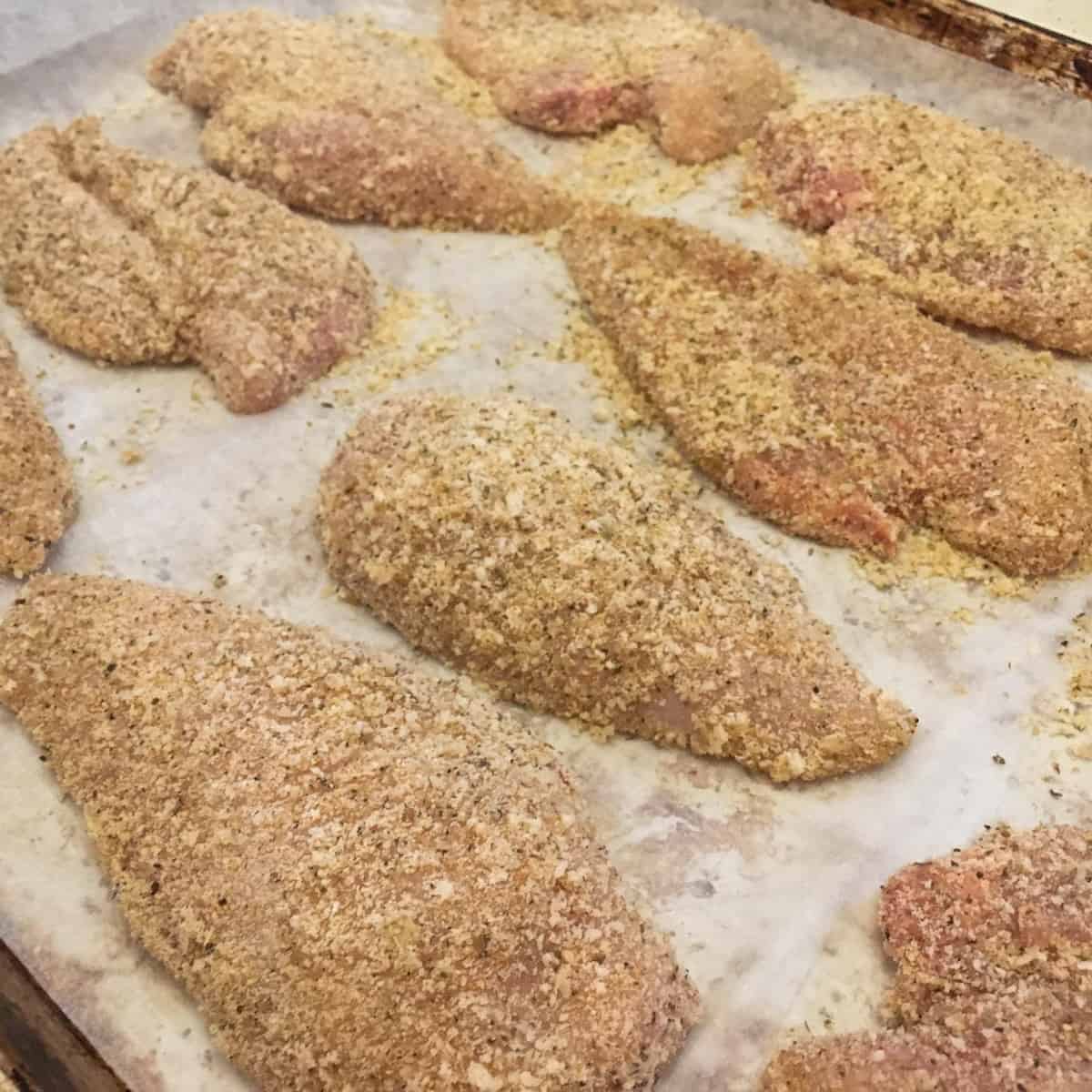 Lightly Coat the Chicken with Breading Mixture
Chicken cutlets are essentially just boneless, skinless chicken breasts that have been sliced horizontally so you end up with two thinner pieces of chicken. You can then pound them to ensure they are an even thickness. Brush the chicken lightly with the oil and then dredge in the breading mixture until evenly coated.
By brushing them in the oil, the breading adheres to the chicken better. Plus, I also find that the oil enhances the crispness and flavour of the breading. Once breaded, lay the chicken on a baking sheet lined with parchment paper.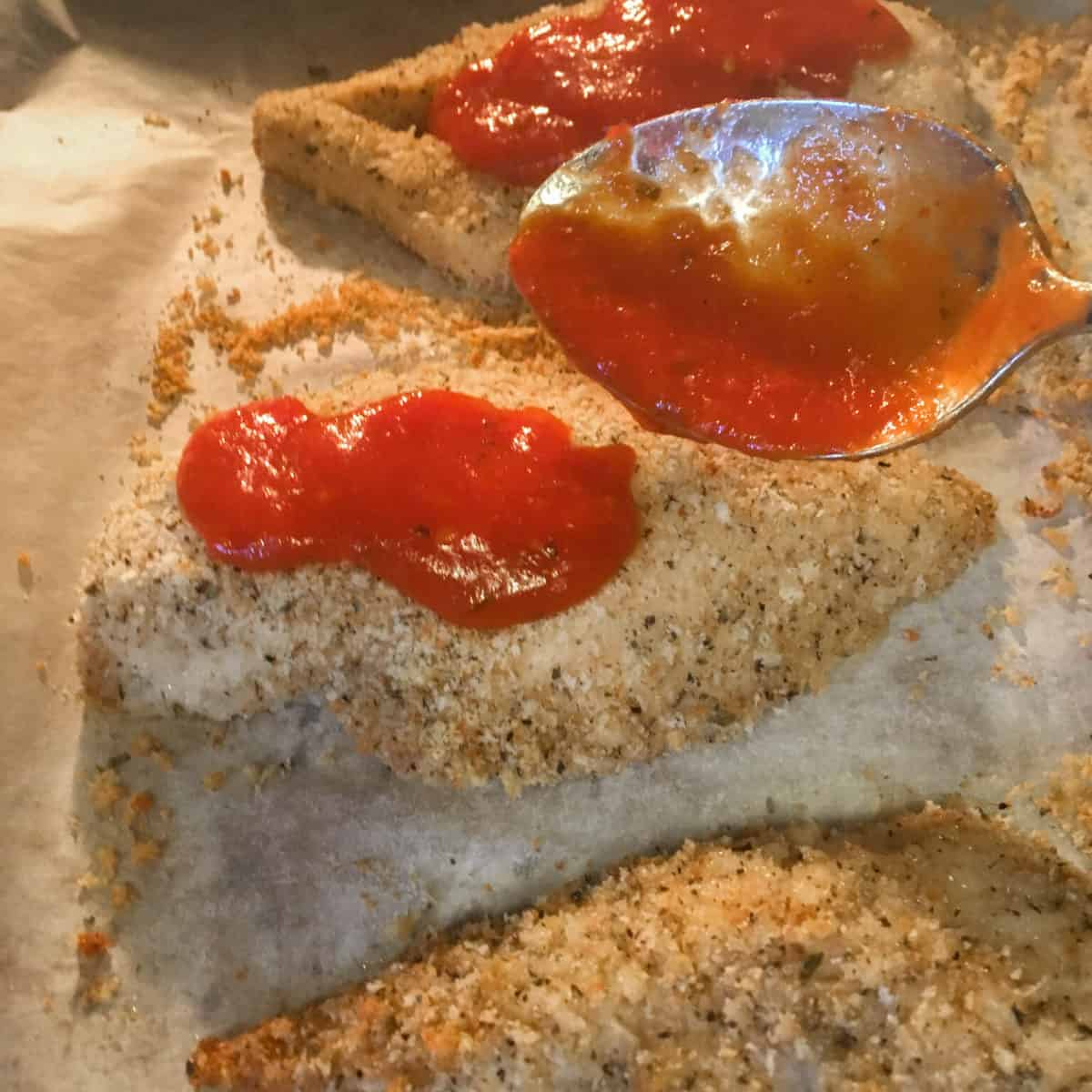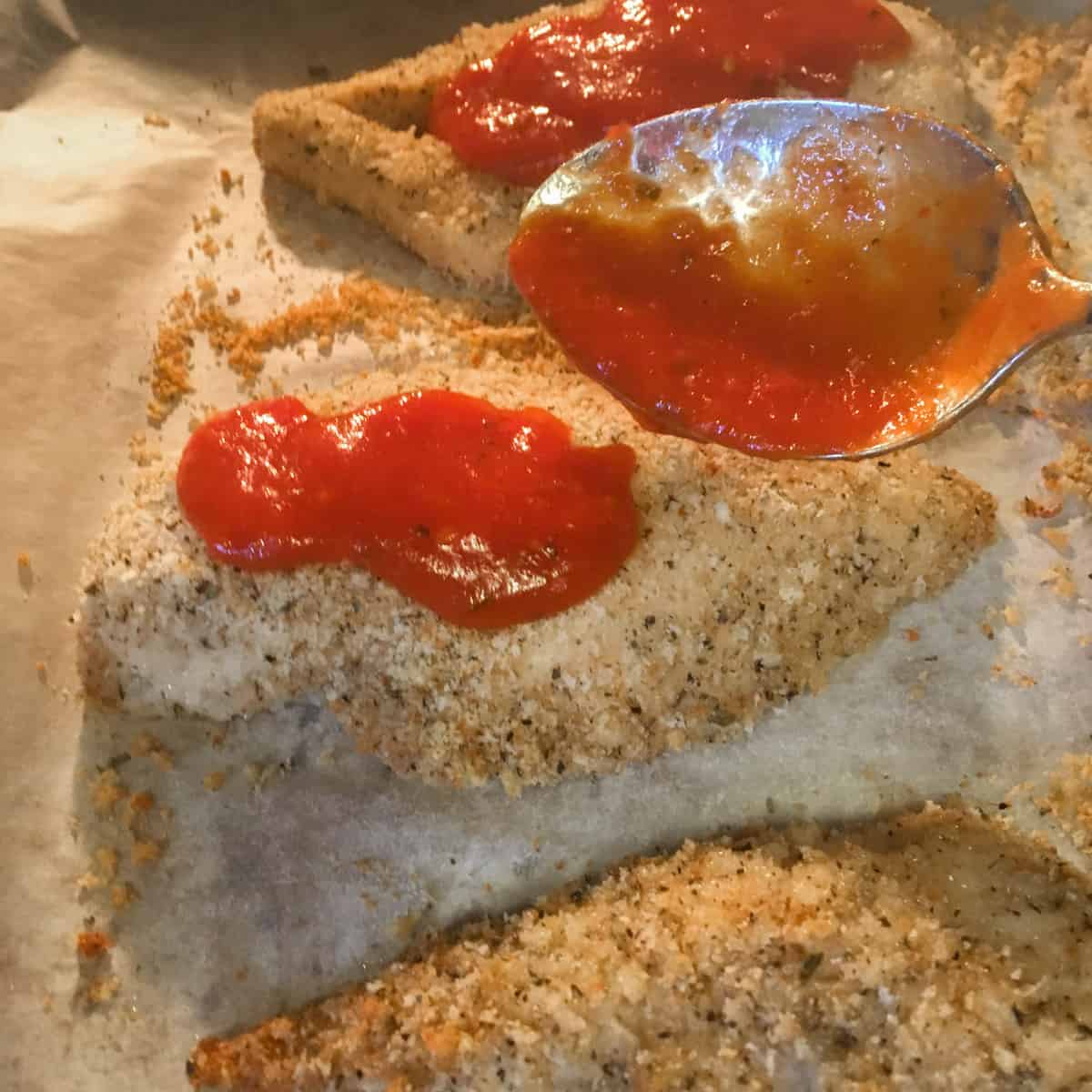 How Long to Bake the Chicken Cutlets?
Place the chicken in a 400F oven and bake for 20 minutes.
After the 20 minutes, spoon a little of the marinara sauce on the top of each chicken cutlet. This might just be my favourite part of oven baked chicken parmesan. The sauce and cheese baked into the breading on the chicken tastes so good!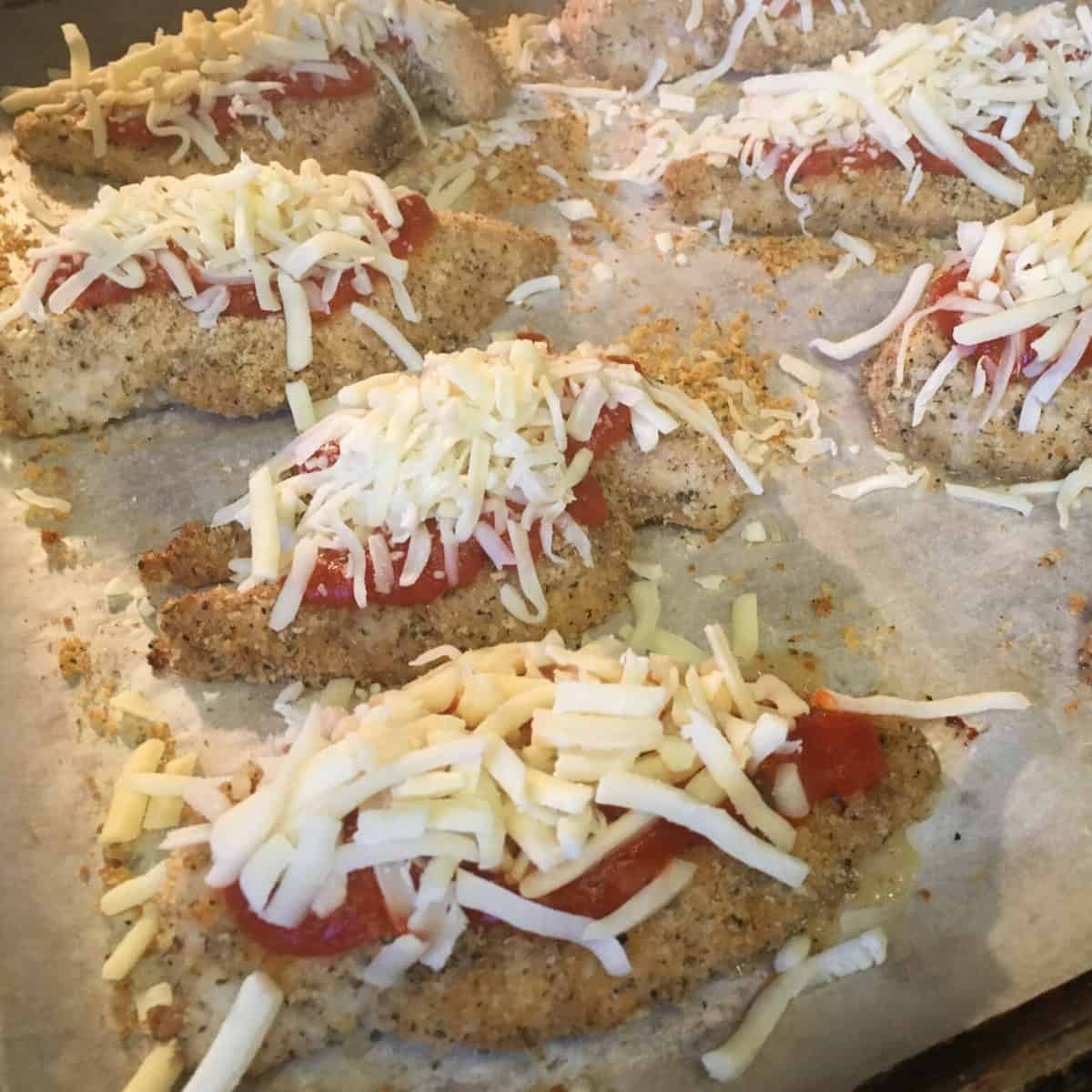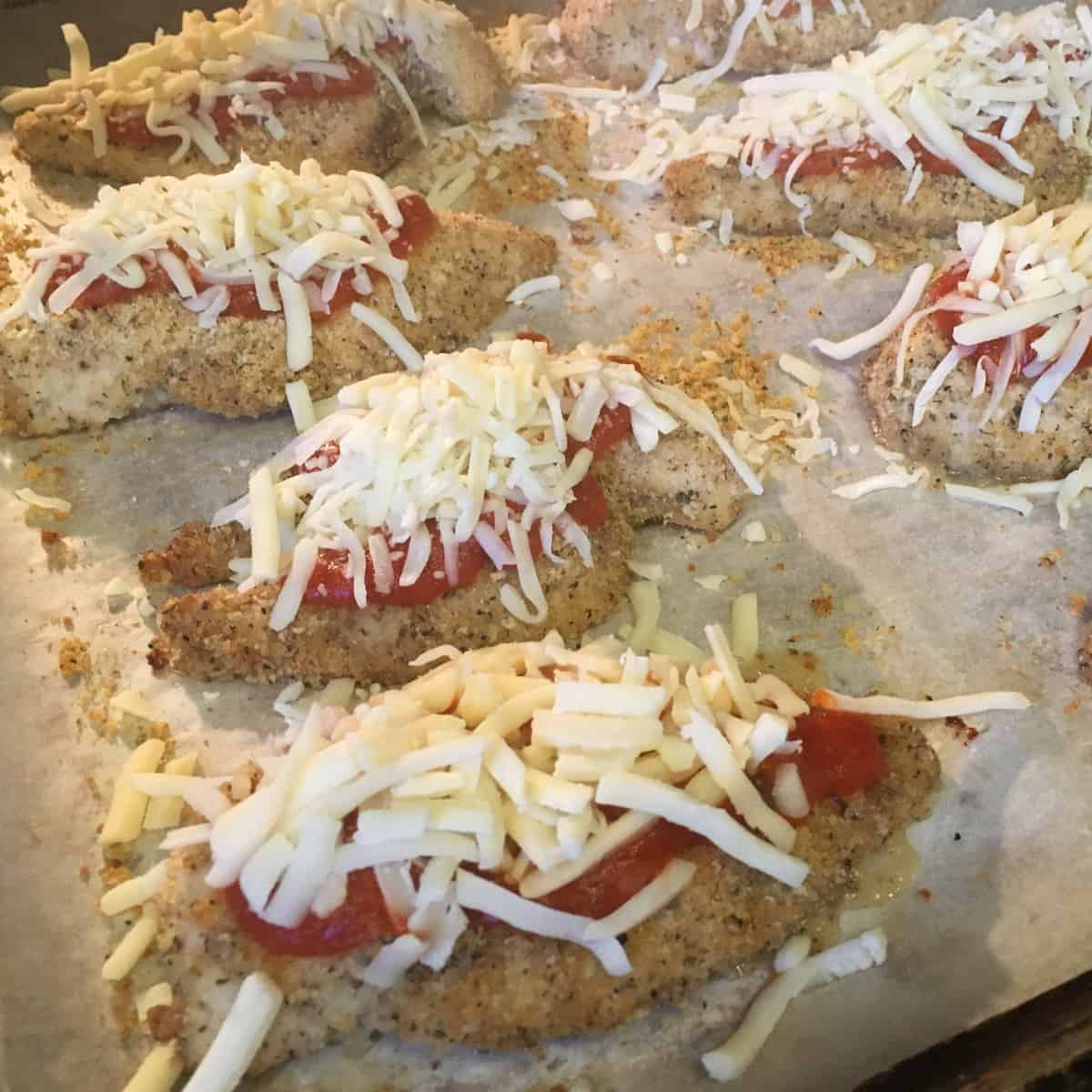 Then sprinkle a little bit of grated mozzarella cheese and parmesan on top.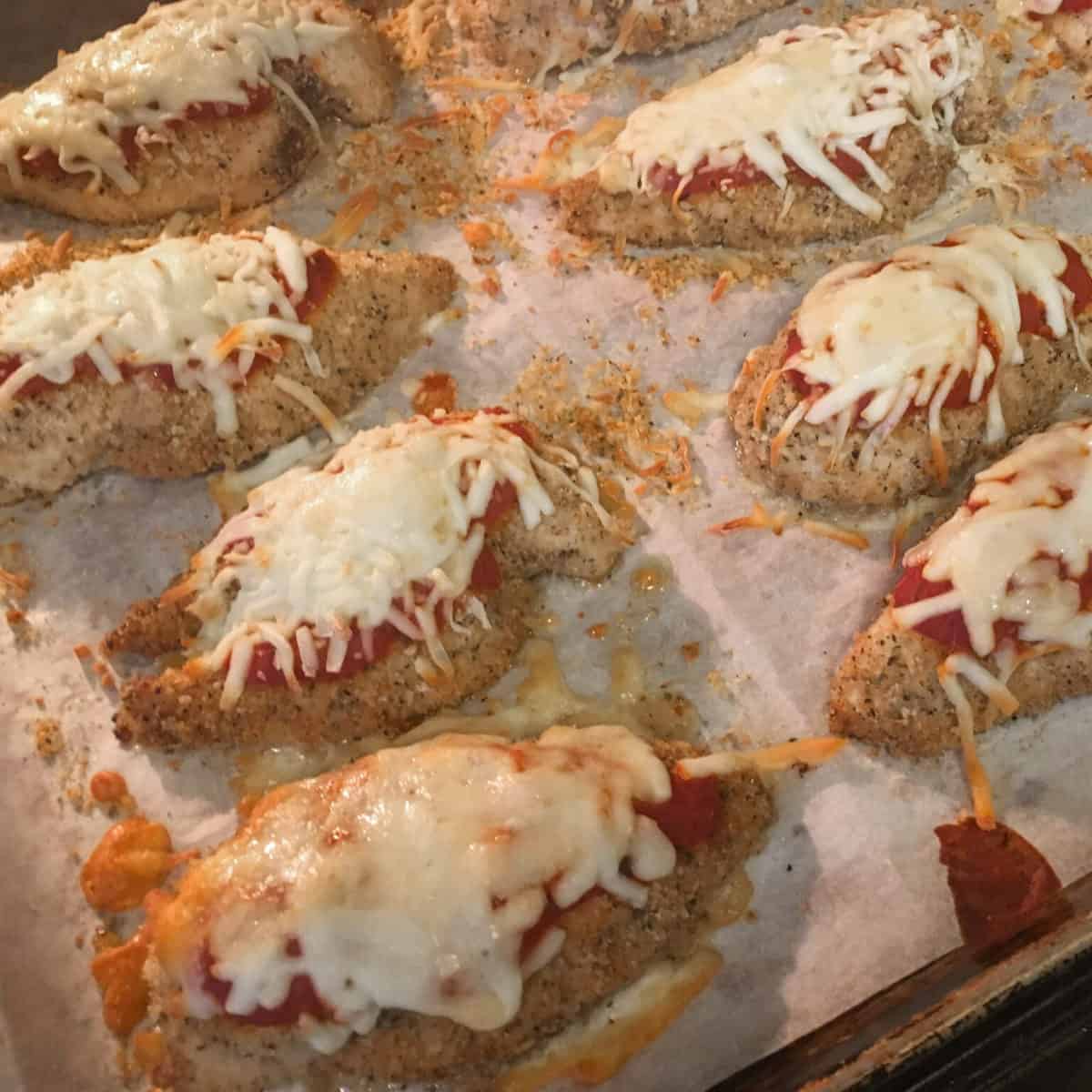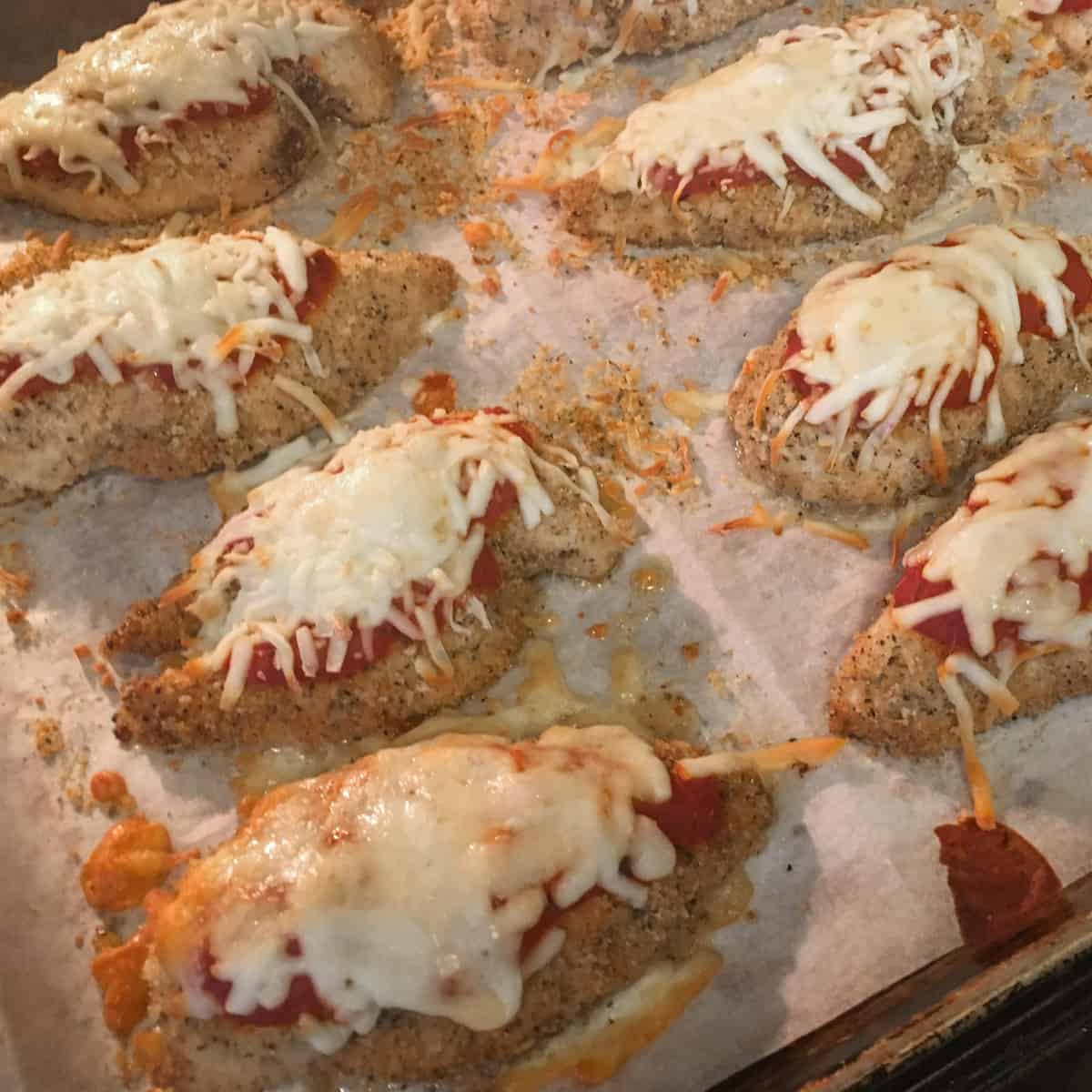 Place back in the oven and bake until the chicken is cooked through and reaches an internal temperature of 165F. This should take an additional 15 minutes or so in the oven. The cheese should be nicely melted as well.
Dinner is Served!
I serve the chicken parmesan on a bed of pasta with more marinara sauce. It is a simple and delicious meal, which does not take too long to prepare. This is a perfect weeknight meal and the whole meal should take no less than an hour to make, including all the prep.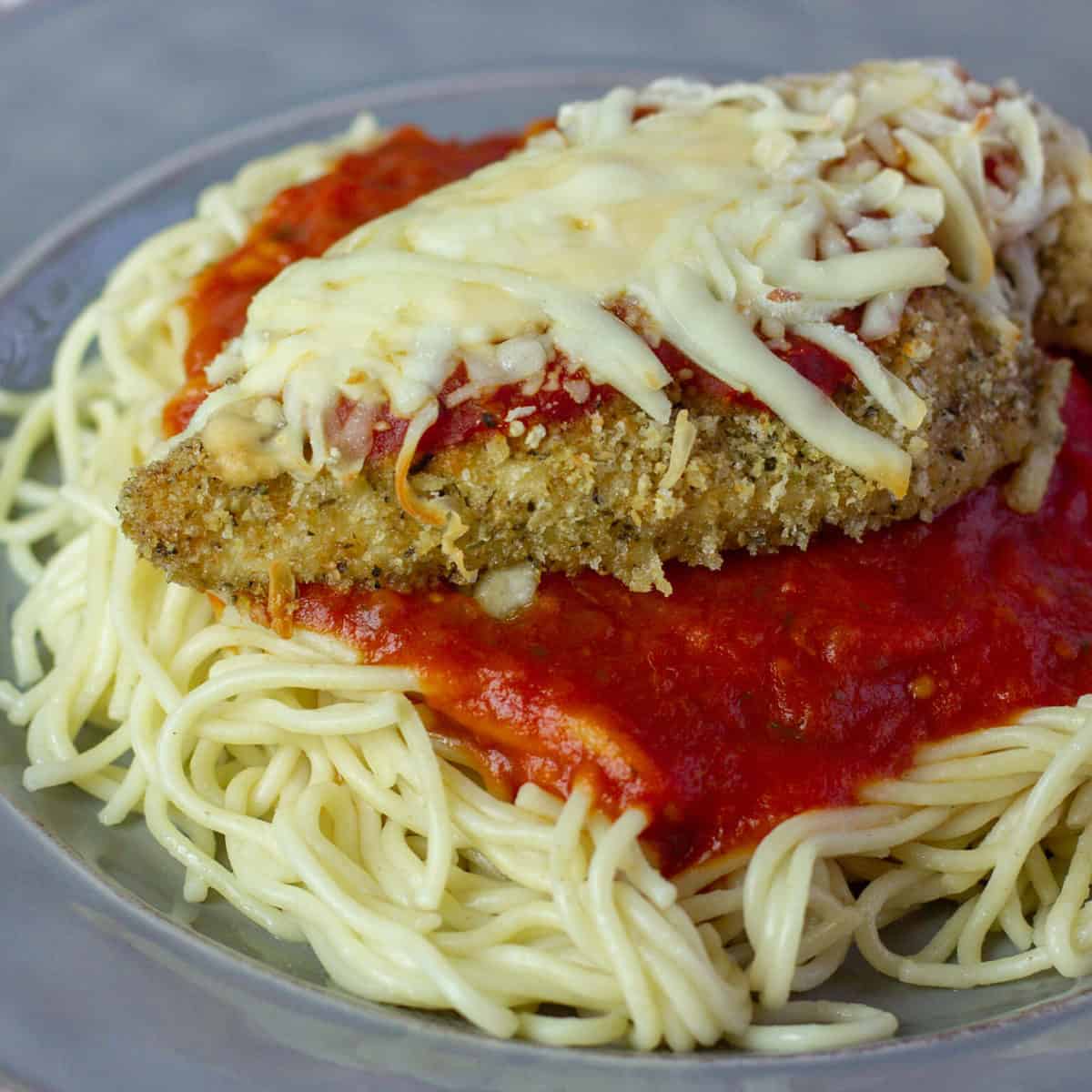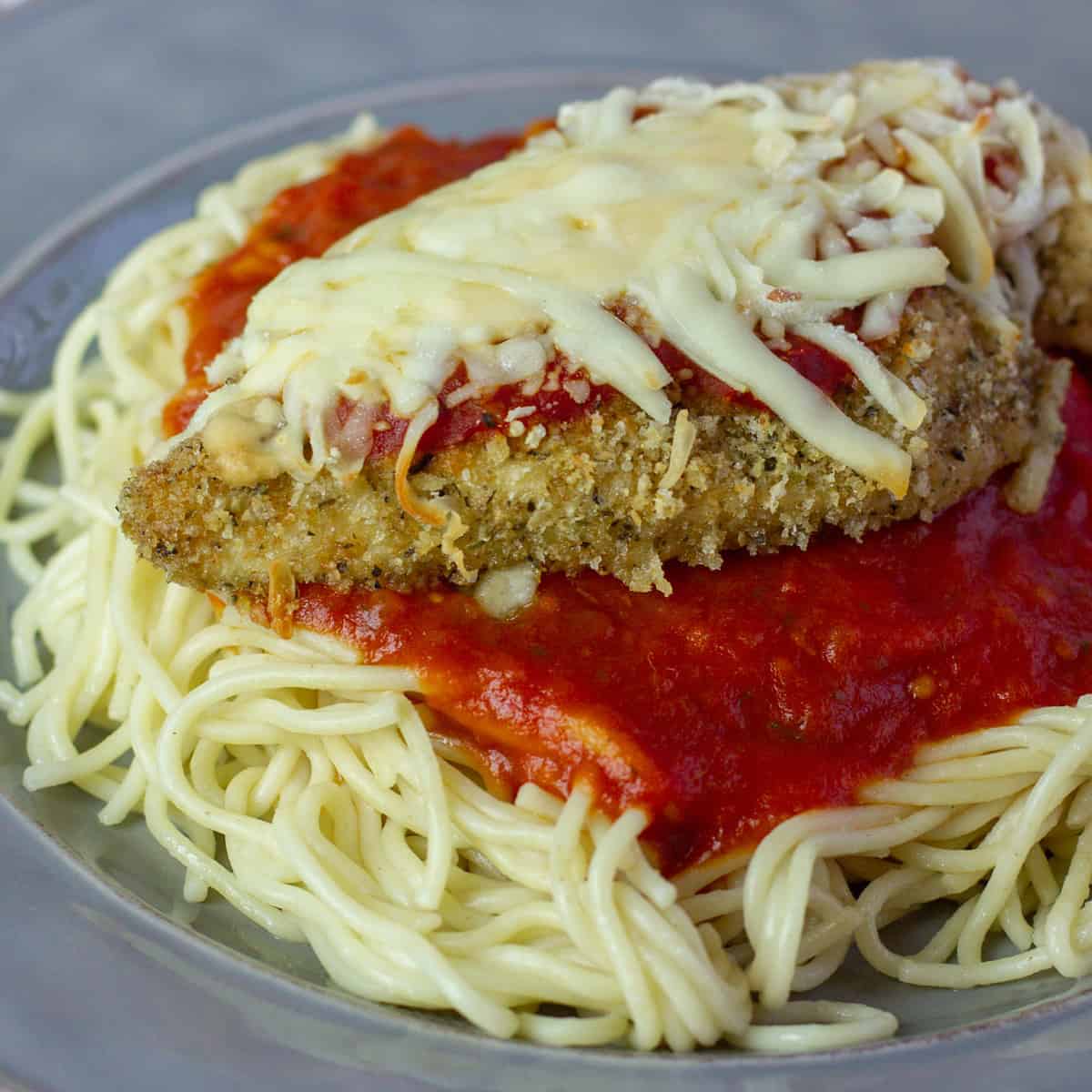 One of the added benefits of cutting the chicken breasts into cutlets is that I often find that the meat goes further. This recipe calls for 4 chicken breasts and while I say in the recipe that it serves 4, I actually find that it can serve more. Some people are content with one cutlet and are full after that. Myself, I have a couple cutlets, which works out to one full chicken breast.
Some More Great Chicken Recipes!
Chicken Parmesan - Oven Baked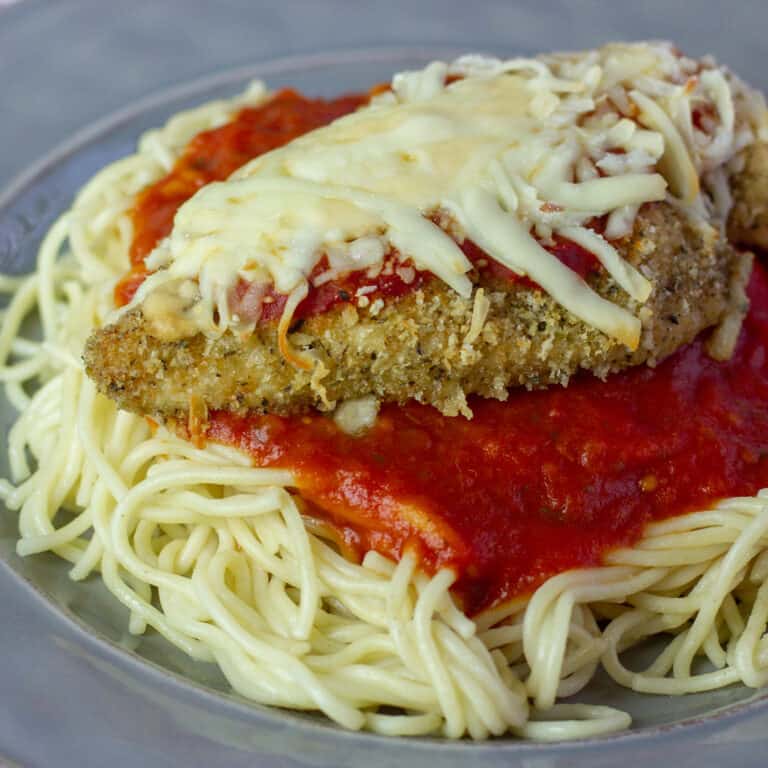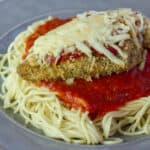 Print
Delicious chicken parmesan recipe made with crusted boneless chicken breast cutlets and baked in the oven. Such a simple recipe that it can easily be made on a weeknight!
Servings: 4
Ingredients
4 boneless skinless chicken breasts
2 cups bread crumbs
1 cup grated parmesan cheese divided
1 tbsp oregano
1 tsp basil
1 tsp garlic powder
1 tsp salt
1/2 tsp black pepper
1/4 tsp cayenne pepper
2 tbsp oil
4 cups pasta sauce
1 1/2 cups grated mozzarella cheese
1 pound spagetti pasta
Instructions
Preheat oven to 400F.

Place a chicken breast on a cutting board. Use a long sharp knife to slice the chicken breast in half so you have two flat thinner cutlets of chicken. Place a piece of plastic wrap over one chicken cutlet and pound it so that it is an even thickness. Flatten the other cutlet the same way. Do this with the remaining chicken breasts.

In a medium sized bowl, mix together the bread crumbs, 1/2 cup grated parmesan, oregano, basil, garlic powder, salt, black pepper and cayenne.

Brush the oil on both sides of the chicken cutlets. Dredge the chicken in the bread crumb mixture and place on a baking sheet lined with parchment paper.

Bake in the oven for 20 minutes.

Heat the marinara sauce in a saucepan on medium low heat.

Cook the pasta according to directions on the package.

After the chicken has been in the oven for 20 minutes. Spoon a little of the marinara sauce on each chicken cutlet. Sprinkle some grated mozzarella and the remaining parmesan cheese on top of each chicken.

Continue to bake until the chicken is cooked through and reaches an internal temperature of 165F, about 15 more minutes.

Serve the chicken parmesan on spaghetti pasta topped with a ladle of marinara sauce.
Nutrition
Per serving:
Calories: 1124kcalCarbohydrates: 140gProtein: 68gFat: 31gSaturated Fat: 12gCholesterol: 127mgSodium: 3044mgFiber: 10gSugar: 17g