Chicken Cutlet with Broccoli and Peppers in a Dill Cream Sauce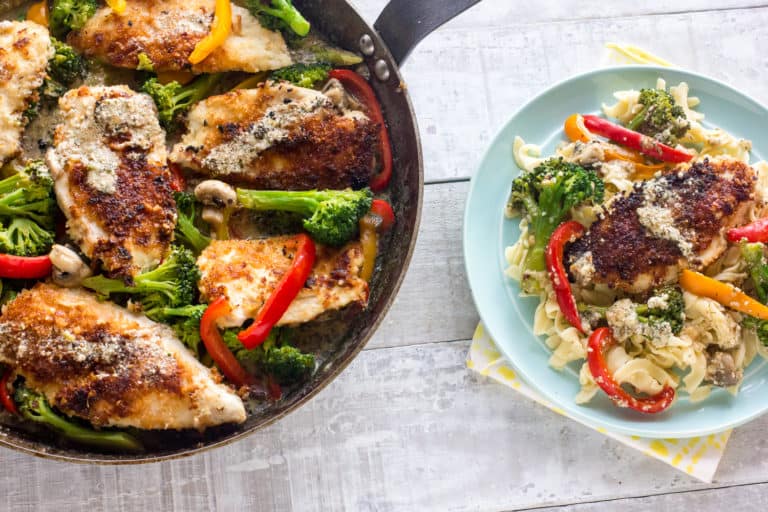 This dish is one of those meals that I have made for years. In fact, this is a meal that my mom used to make many moons ago, when I was a teenager. Once I moved out, she taught me how to make it, and ever since, this dish has been one of my go-to favourites. But, it is not just me who loves it, as my wife and kids are quite pleased any time I make it. This is also great to make when people are coming over for dinner and we have had many a guest rave about it and ask for the recipe.
There are so many things to like about this dish:
The flavours are unique but not complicated. We often have most ingredients on hand all the time.
Crispy chicken cutlets that have been breaded in panko and fried to a golden brown.
Lots of vegetables with bright flavours and colours.
The sauce – OH THE SAUCE! Creamy with a tartness from the buttermilk which goes so well with the dill.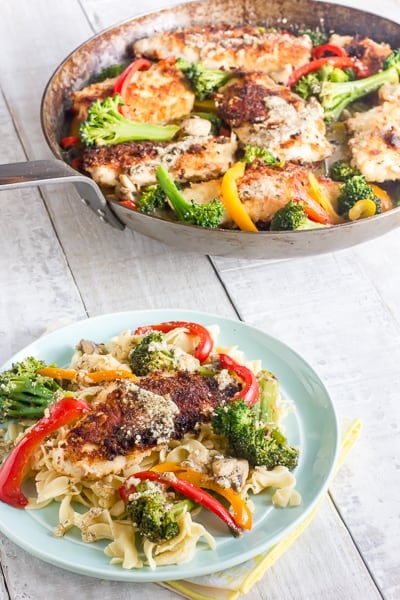 For this recipe I like to use chicken cutlets. These are essentially just boneless, skinless chicken breasts that have been sliced horizontally so you end up with two thinner pieces of chicken. You can then pound them to ensure they are an even thickness.
Chicken cutlets have a few benefits.
They cook more quickly.
They cook more evenly.
The meat tends to go further. Some people do not want to eat a whole chicken breast and prefer one cutlet to be their portion.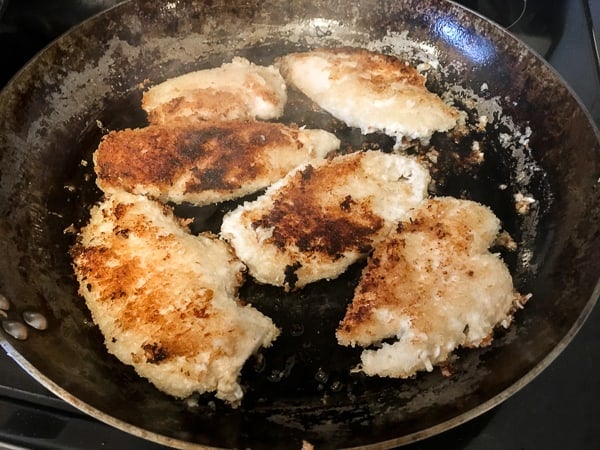 Dredge the chicken cutlets into panko breadcrumbs and then fry them in an oiled skillet over medium heat.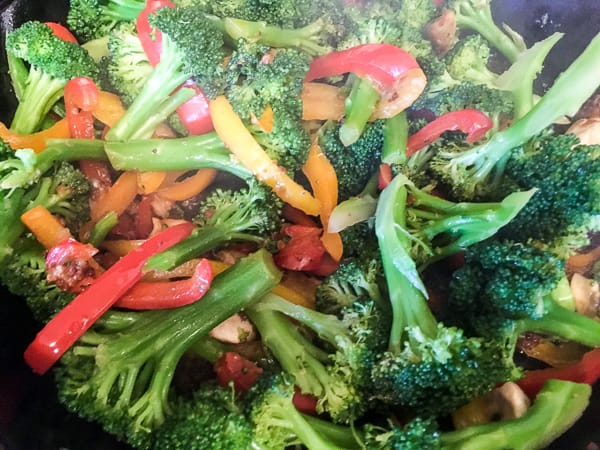 Once the chicken is cooked through and browned on both sides, remove them from the skillet and place them on a plate. They will come back to the skillet later.
Add the cut up veggies to the skillet and pour in the water. Cover with a lid and let the veggies steam for about 6 minutes. Stir every once in a while to make sure that the vegetables do not burn or stick to the bottom of the skillet. They are done once the broccoli stems are tender.
The last step is to make the sauce. Remove the vegetables from the skillet and place in a bowl. They will be added back later as well.
Melt the butter in the skillet and whisk in the flour. This creates a roux and helps to thicken the sauce. Slowly whisk in the buttermilk, dill and parmesan. Lower heat to a simmer and cook for just a few more minutes.
Add the vegetables and chicken back to the skillet and you are all done! Serve on some cooked noodles and you have one original and creative dinner! I generally use egg noodles for this dish as we like the taste and texture of them with this sauce.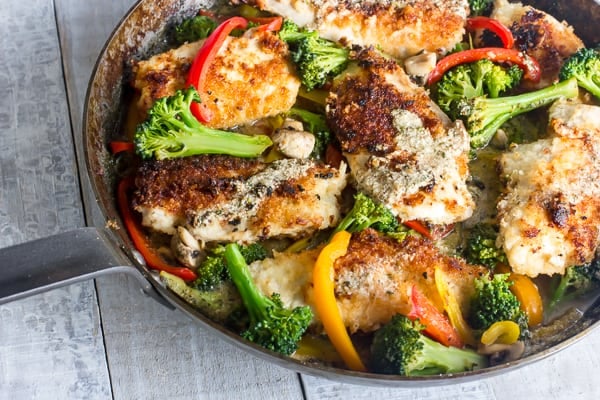 This meal looks like it is complicated and time consuming, but it actually does not take long at all. From start to finish you can get this meal onto the table in under an hour. It actually takes me between 30-45 minutes to prepare which makes this a great weeknight meal!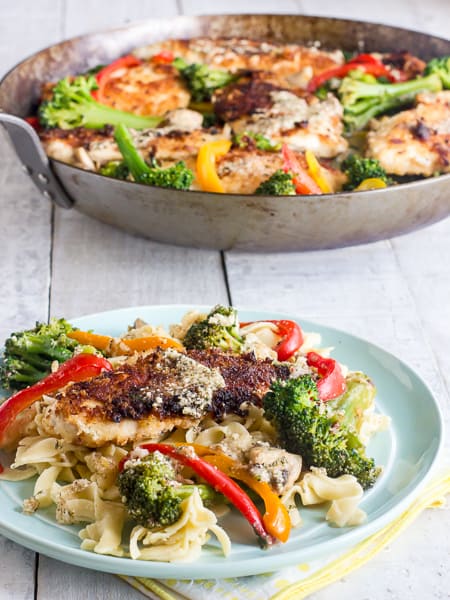 Chicken Cutlets with Vegetables in a Dill Cream Sauce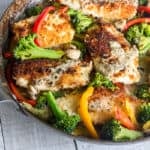 Print
How to make chicken cutlets and fry them in a skillet with broccoli, peppers and mushrooms in a dill cream sauce with buttermilk and parmesan cheese.
Servings: 6
Ingredients
3 chicken breast , boneless and skinless
3 tbsp oil
1 1/2 cups panko bread crumbs
4 cups broccoli florets
1 red pepper , cored and sliced
1 orange or yellow pepper , cored and sliced
2 cups mushrooms , halved
1/2 cup water
3 tbsp butter
3 tbsp flour
3 cups buttermilk
1/2 cup parmesan cheese , grated
1 tbsp dry dill
1 tsp salt
1 tsp black pepper
1 package (500g) egg noodles cooked according to directions on package
Instructions
Place a chicken breast on a cutting board. Rest your one hand on the top of the chicken breast. Use a long sharp knife to slice the chicken breast in half so you have two thinner cutlets of chicken. Place a piece of plastic wrap over one chicken cutlet and pound it so that it is an even thickness. Flatten the other cutlet the same way. Do this with the remaining chicken breasts.

Dredge chicken cutlets in panko bread crumbs.

Heat oil in a skillet over medium heat. Place the breaded chicken cutlets in the skillet and fry until cooked through, flipping hallway. Since these cutlets are thinner than a whole chicken breast, it will take less time to cook through, usually around 8-10 minutes. Depending on the size of the skillet, all the cutlets might not fit, so you may need to cook them in batches.

Remove the chicken cutlets from the skillet, for now, and place on a plate. Add the vegetables to the skillet and pour in the water. Cover with a lid and allow the vegetables to steam. Check every once in a while and stir so they do not stick or burn on the bottom of the skillet. Continue to cook until the broccoli is tender, probably around 6-7 minutes.

Remove the vegetables, for now, from the skillet and place in a large bowl. Melt the butter in the skillet and whisk in the flour to create a roux. Slowly whisk in the buttermilk, parmesan cheese, dill, salt and pepper. Lower heat and let simmer for 3-4 minutes.

Add the vegetables and chicken back to the skillet and gently stir to coat in the sauce.

Serve with egg noodles.
Nutrition
Per serving:
Calories: 718.51kcalCarbohydrates: 87.14gProtein: 36.3gFat: 25.28gSaturated Fat: 9.3gCholesterol: 140.08mgSodium: 915.33mgFiber: 6.41gSugar: 11.77g