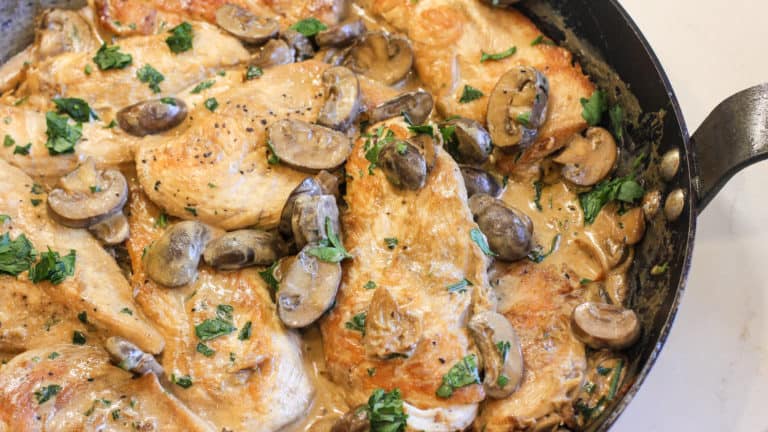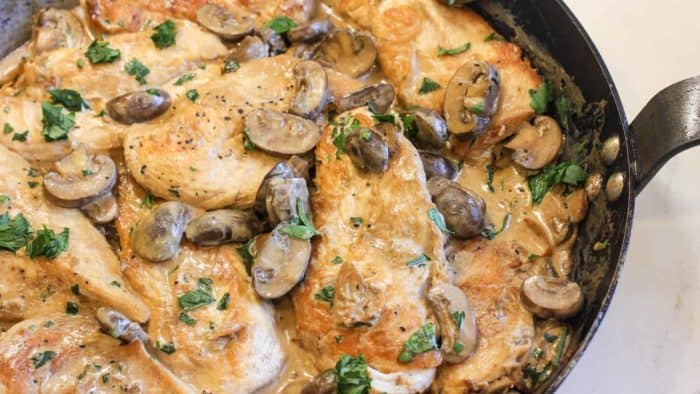 Chicken marsala is a dish that has been around for years and is a staple in many peoples homes. This Italian-American dish is very similar to scaloppine which is pan fried thin slices of meat served with a reduction sauce.
For Chicken Marsala, the chicken breasts are sliced in half lengthwise to form thin cutlets. These pan fried cutlets are served with a delicious sauce made from marsala wine, chicken stock, mushrooms and shallots. The version in this recipe also adds some cream to give the sauce a rich creamy texture.
Since this dish has been around for so long, there are many different versions out there. Some use cream, while others don't. There are some recipes that add additional types of sautéed vegetables to the sauce, capers or other ingredients. The beauty of a dish like chicken marsala is that every home may have their own take on this classic dish, and while they are all similar, they each have their own flair.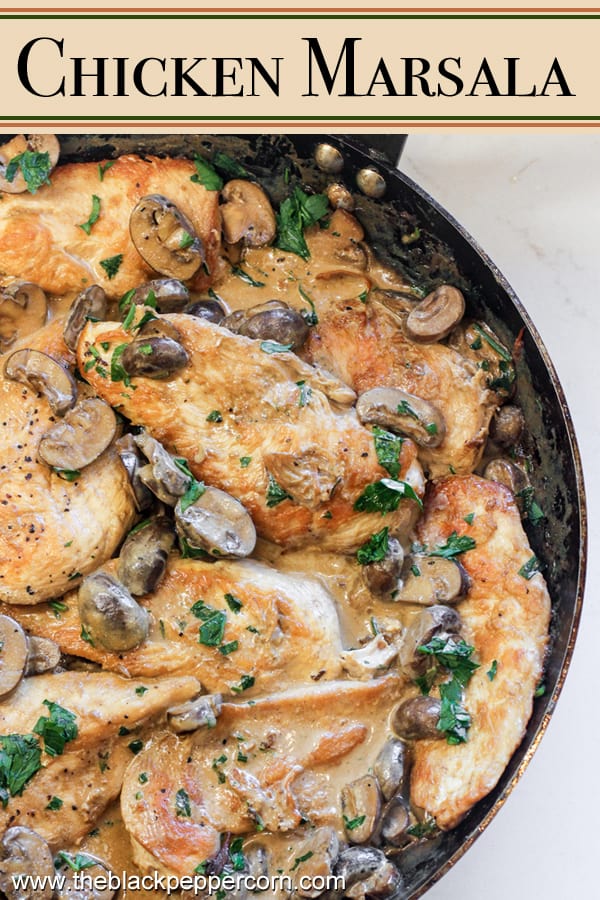 This is a dish that tastes incredible and is something you might expect to find at a nice restaurant. But, it can be easily cooked at home and does not take all that long to prepare. This is even a dish that can be made during the week, once you come home from work.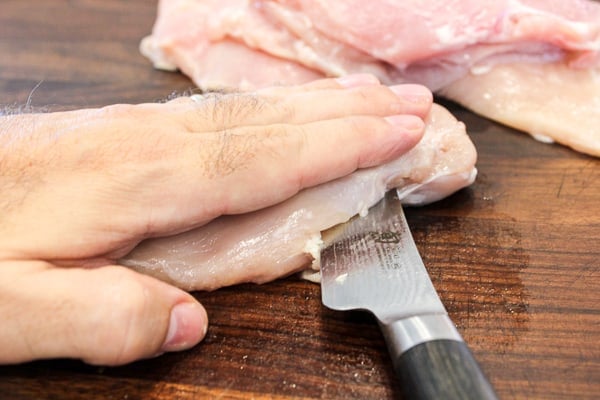 For this recipe I like to use chicken cutlets. These are essentially just boneless, skinless chicken breasts that have been sliced horizontally so you end up with two thinner pieces of chicken. If desired, you can then pound them to ensure they are an even thickness.
Chicken cutlets have a few benefits.
They cook more quickly.
They cook more evenly.
The meat tends to go further. Some people do not want to eat a whole chicken breast and prefer one cutlet to be their portion.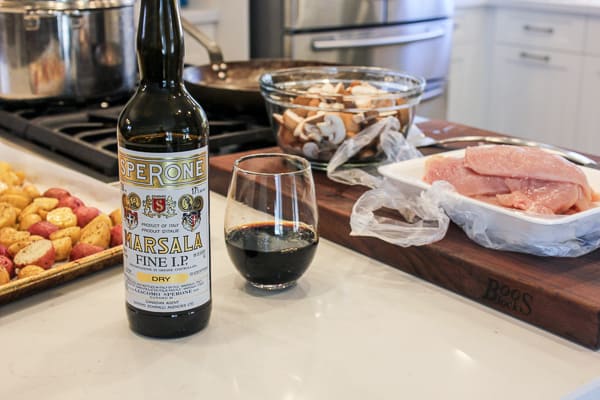 Chicken Marsala gets its name from the Marsala wine which is a fortified wine from Sicily. Fortified wine has a higher alcohol content compared to traditional wine because spirits are added to the wine. Sherry and port are popular fortified wines.
For Marsala wine, brandy is added to the wine just after the fermentation process. Marsala wine comes in both a dry and sweet variety. For the purposes of this recipe, dry Marsala wine is the preferred choice.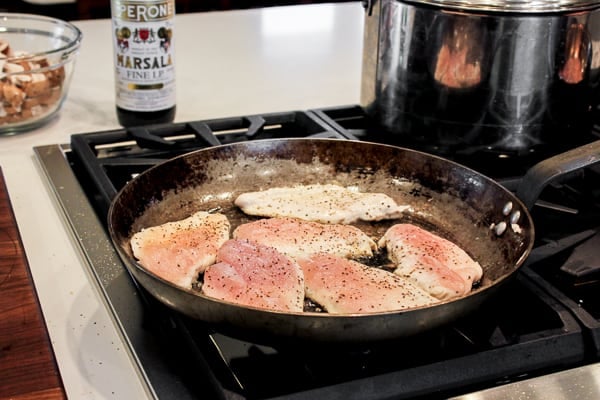 Sprinkle the chicken breast cutlets with salt and pepper. Pan fry them with some oil in a large skillet over medium heat.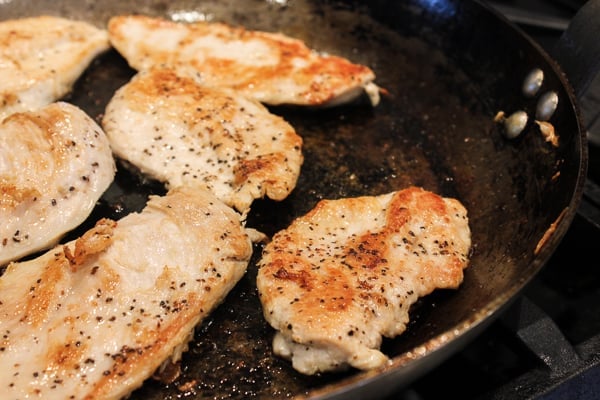 Once the chicken cutlets have browned on the one side, flip them so that they brown on the other. Since these are thinner than a full chicken breast, they will cook through more quickly.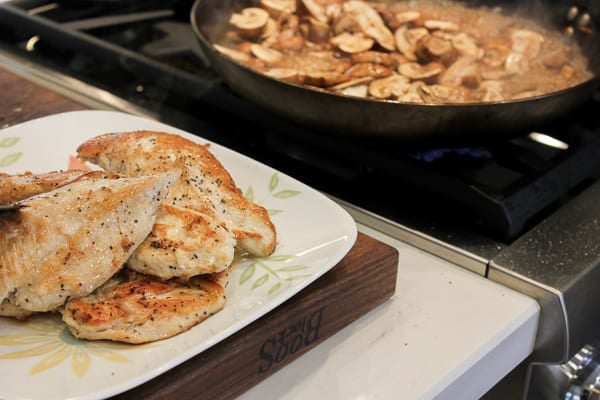 Once the chicken is cooked through and browned on both sides, remove them from the skillet and place them on a plate. They will come back to the skillet later.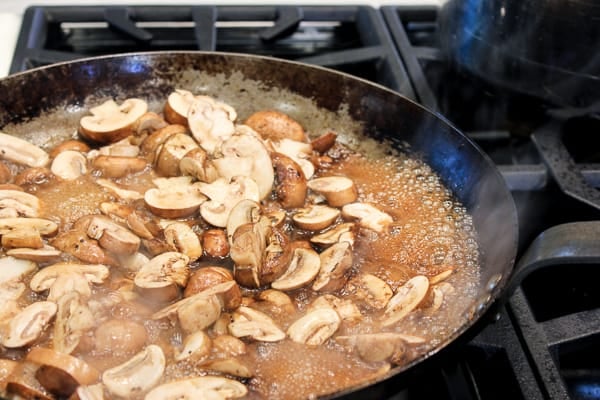 Add the sliced mushrooms, shallots, marsala wine and chicken broth to the skillet. Bring the liquid to a boil and let it reduce by about half. The liquid will deglaze the pan and all the fried goodies stuck to the skillet will add lots of flavour to the sauce that will develop.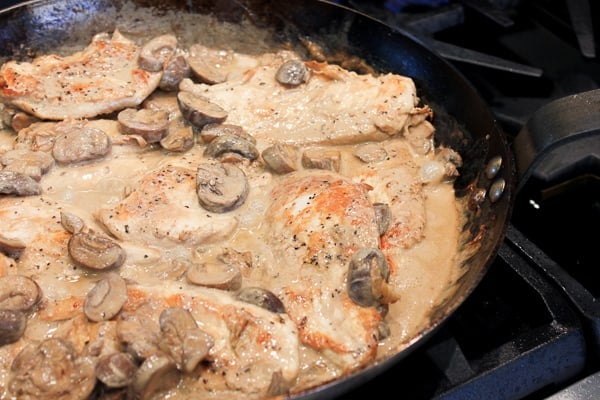 Stir in the cream and place the chicken breasts back into the pan. Lower the heat to a simmer and cook for another 5 minutes.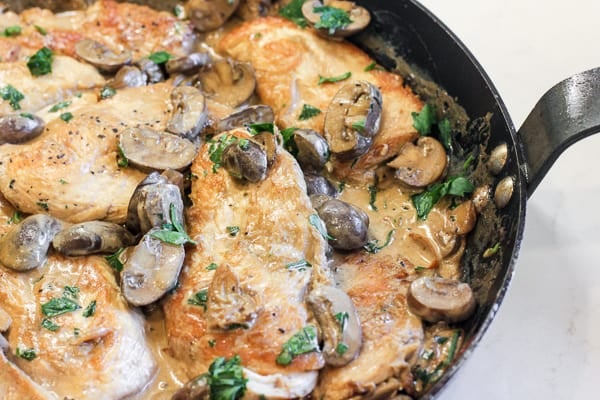 We normally serve Chicken Marsala with roasted mini potatoes. These potatoes are crispy on the outside but soft and buttery in the middle. They go perfectly with the rich creamy sauce of Chicken Marsala. Pasta is another popular way to serve the chicken.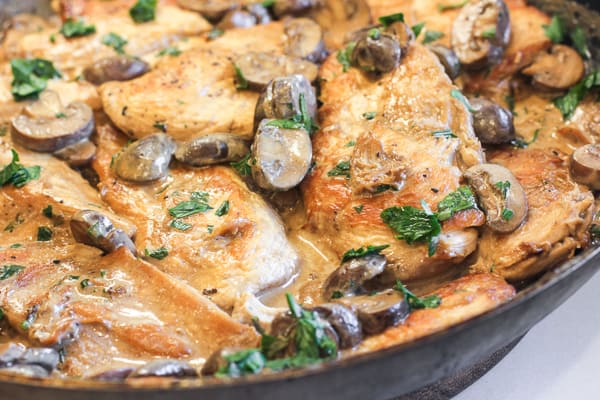 If you are looking for some other dishes using chicken breasts, then check out these recipes.
Creamy Chicken Marsala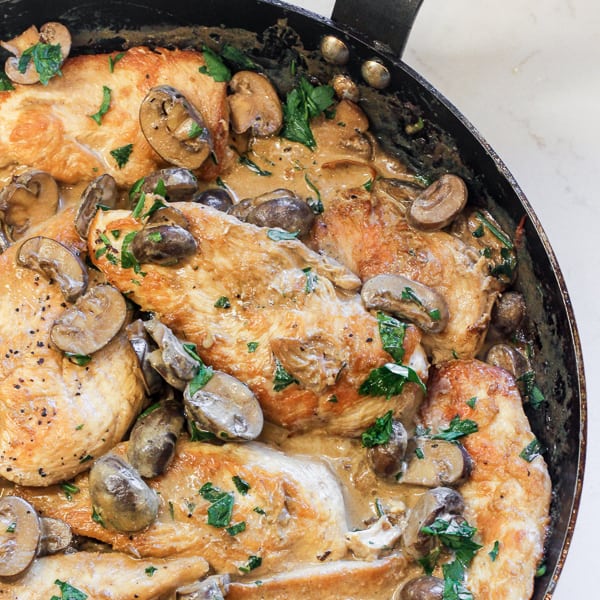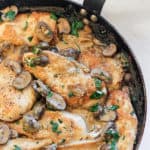 Print
How to make chicken marsala with this simple recipe. Classic Italian American dish using chicken breast cutlets, mushrooms and marsala wine.
Servings: 4 people
Ingredients
4 chicken breasts , boneless and skinless
1 tsp salt
1/2 tsp black pepper
3 tbsp oil
4 cups button or cremini mushrooms sliced
2 shallots , minced
3/4 cup dry marsala wine
3/4 cup chicken stock
3/4 cup cream
2 tbsp fresh parsley , minced
Instructions
Place a chicken breast on a cutting board. Rest your one hand on the top of the chicken breast. Use a long sharp knife to slice the chicken breast in half so you have two thinner cutlets of chicken. Place a piece of plastic wrap over one chicken cutlet and pound it so that it is an even thickness. Flatten the other cutlet the same way. Do this with the remaining chicken breasts.

Sprinkle both sides of the chicken breast cutlets with salt and pepper.

Heat oil in a skillet over medium heat. Place the breaded chicken cutlets in the skillet and fry until cooked through, flipping hallway. Since these cutlets are thinner than a whole chicken breast, it will take less time to cook through, usually around 8-10 minutes. Depending on the size of the skillet, all the cutlets might not fit, so you may need to cook them in batches.


Remove the chicken cutlets from the skillet, for now, and place on a plate. Add the sliced mushrooms, minced shallots, marsala wine and chicken stock. Bring to a boil and cook for about 6-8 more minutes. The mushrooms and shallots should cook through and the liquid should reduce by about half.

Lower the heat to a medium low and stir in the cream. Place the chicken breast cutlets back into the skillet and flip them in the sauce so they are completely coated.

Continue to cook for 5 more minutes on low so the sauce thickens. Sprinkle with fresh parsley.

Serve with roasted potatoes or cooked pasta.
Nutrition
Per serving:
Calories: 618kcalCarbohydrates: 14gProtein: 52gFat: 33gSaturated Fat: 12gCholesterol: 207mgSodium: 935mgSugar: 6g