Maple Blueberry Chicken Stuffed with Canadian Brie and Basil Creme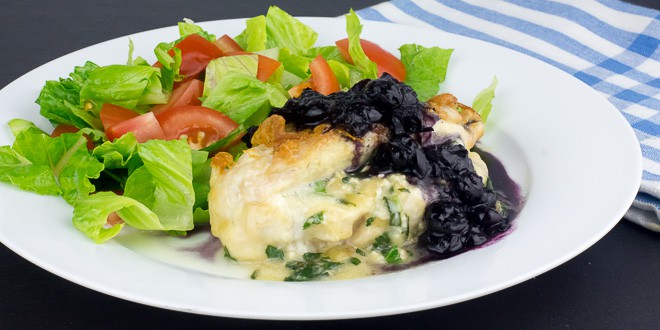 We eat chicken breast a lot. I try to mix things up when cooking chicken, since it is a highly versatile cut of meat. While versatile, it can also be very boring. So, when the Dairy Farmers of Canada asked if I would like to try out a recipe that utilizes some great Canadian dairy to make a fresh and delicious chicken dish – I was in!
The ingredients in this recipe are wonderful and the way they are used create a dish that was amazing. Brie, fresh basil, blueberries, balsamic vinegar, whipping cream and maple syrup. Wow!!
Chef Devan Rajkumar, the developer of this recipe, made an elegant dish that has such a wonderful profile of flavours, yet at the same time, it is simple to make and does not require you to spend the afternoon in the kitchen.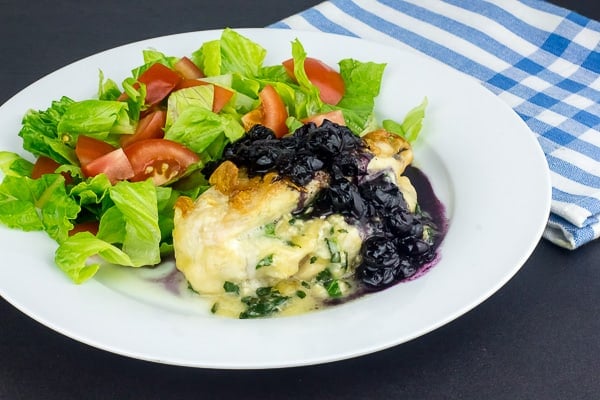 Maple-Blueberry Chicken Stuffed with Canadian Brie and Basil Crème
Ingredients
4 bone-in skin on chicken breasts, (about 2 lbs/ 1 kg)
1 cup (250 mL) diced chilled Canadian Brie cheese
12 large basil leaves, finely chopped
1 tbsp (15 mL) vegetable oil
Maple-Blueberry Sauce:
2 tsp (10 mL) butter
2 tbsp (30 mL) chopped shallot
1 cup (250 mL) blueberries
1/4 cup (60 mL) balsamic vinegar
3 tbsp (45 mL) maple syrup
Basil Crème:
1/2 cup (125 mL) 35% cream
8 basil leaves
1 tsp (5 mL) grated lemon zest
1/4 tsp (1 mL) each salt and white pepper
Preparation
Using a sharp knife, debone chicken, leaving skin attached. Holding knife horizontally, insert into thick end of each chicken breast and cut to make a deep pocket (careful not to pierce through; remove and reserve fillet for another use).
In small bowl, combine Brie and basil; carefully stuff into each chicken pocket. Cover and refrigerate.
Preheat oven to 400°F (200°C). Maple-Blueberry Glaze: In a small saucepan, on medium heat melt butter. Add shallot and sauté until translucent, about 1 minute. Add vinegar and maple syrup and bring to a boil; add blueberries and cook until berries soften about 4 minutes. Set aside.
In a large oven-proof skillet, heat oil over medium heat. Place chicken skin side down and cook until golden brown, about 2 to 3 minutes; turn over and place in preheated oven. Bake for 15 to 20 minutes or until juices run clear and a thermometer registers 165° F (74°C).
Basil Crème: Meanwhile, in a small saucepan bring cream to a simmer on medium heat, stir in basil leaves and remove from heat. Puree with an immersion blender or in a blender. Stir in lemon zest, salt and pepper.
To serve, spoon 2 tbsp (30 mL) of the basil crème sauce in the center of each plate; top with chicken breast and spoon maple-blueberry sauce over the chicken.
To find more recipes from other Canadian chefs, check out this website – www.AnyDayMagic.ca