Sautéed Vegetables with Basil and White Wine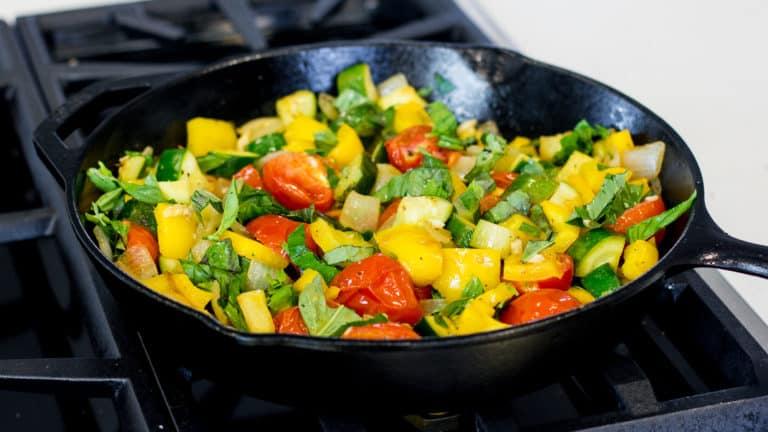 At least once each week, I have a desire for some new way to prepare a vegetable side dish. I am so tired of simply steaming vegetables or boiling a bag of frozen corn or peas. Sure that is quick and easy, but there must be a fast way to prepare a vegetable side that has bright and bold flavours.
Well, look no more! This dish of sautéed vegetables can be made in mere minutes and the flavours are incredible. This dish tastes so good that it can compliment anything from pan seared scallops to baked chicken breasts. Or, as these pictures show, seared white fish topped with an olive tapenade.
I like layers of flavour, but at the same time, I am not looking for a dish complicated to prepare. Especially when it comes to a vegetable side dish, I want something simple – but not basic.
That is what makes these sautéed vegetables so wonderful. Simple to make, yet it has such a great flavour profile.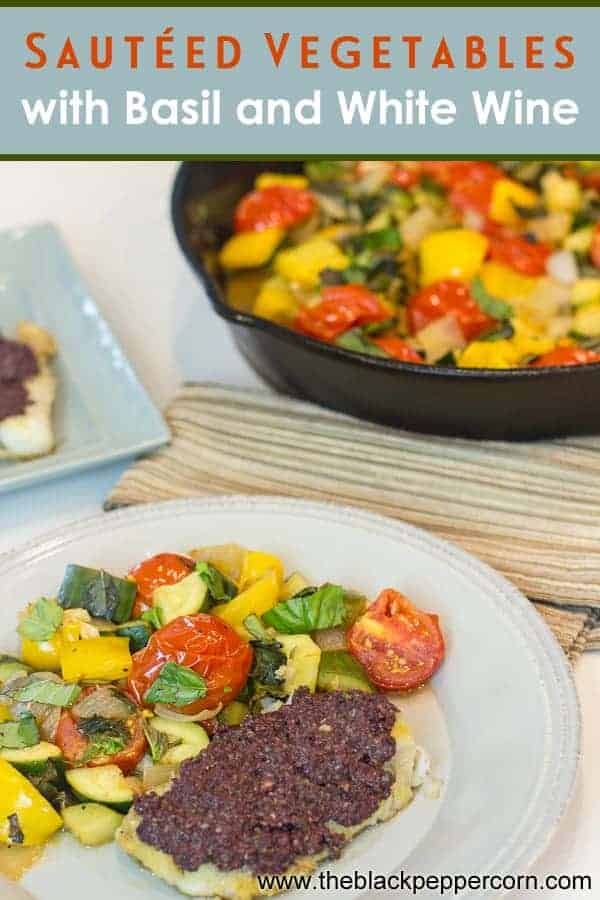 This vegetable side has diced onion, yellow pepper, zucchini and campari tomatoes. There is nothing profound or meaningful regarding those choices. They are simply the vegetables I had in the vegetable crisper of the fridge.
This is often the way I prepare vegetables – I look at what I have on hand and try to think of something original to do with them.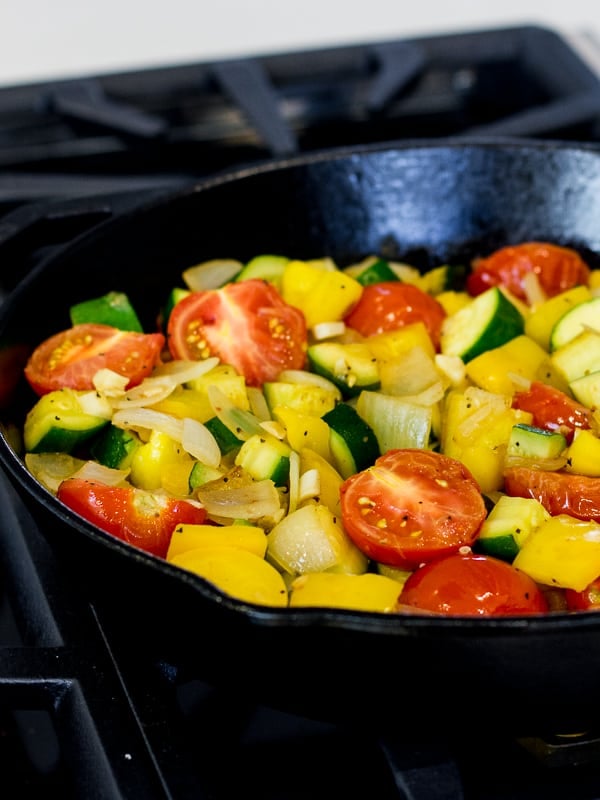 To get these vegetables going, I heated up the oil in a cast iron skillet. Then, I started off sautéing the onion, pepper, and zucchini. They will take longer to cook through than the tomato, so they went in first.
After about 7 minutes, they will all look like they have softened quite a bit. Make sure that you stir the veggies often, ensuring that they are not sticking to the bottom of the skillet, starting to burn.
Add the campari tomatoes, minced garlic, white wine, salt and pepper. If you don't have campari tomatoes, feel free to use cherry, grape or other small sized tomato. The wine should start to boil and partially evaporate. This process will deglaze the pan and create a rich flavour within the vegetables.
After 5 more minutes cooking, the tomatoes should look a little plump and the skins should be starting to wrinkle. Remove the skillet from the heat and stir in the fresh sliced basil. That is it. These vegetables are ready to be served.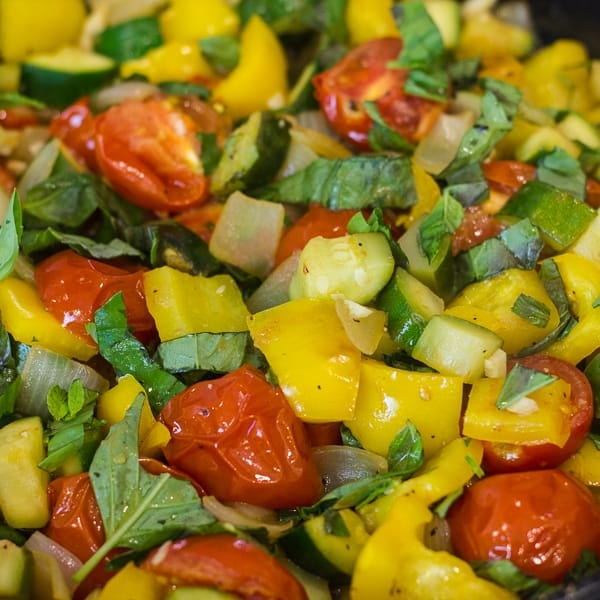 I made these sautéed vegetables to go alongside some pan seared white fish that I topped with a black olive tapenade. While the tapenade was made ahead and in a container in the fridge, everything else was cooked in less than 30 minutes.
The combination of the fish and the veggie side was seriously amazing. It easily could be something ordered from a nice fancy restaurant. The wild thing was that this went from fridge, to stove, to table in less than 30 minutes!
Do not ever think that delicious and healthy meals require you to slave away in the kitchen. There are plenty of dishes that do not take long and can even be made on a week night after work. This recipe is a prime example!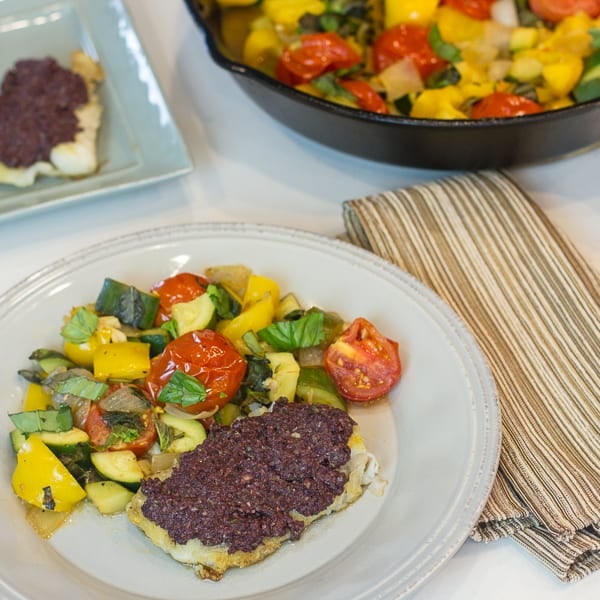 Over the years I have posted many different vegetable side dish recipes. Here are some of my favourite ones!
Don't think that vegetable side dishes need to be boring. Whether it is this recipe for sautéed vegetables with basil and white wine, or any of the recipes in the links above, vegetables can not only taste amazing but also stand on its own alongside a delicious cut of meat.
Sauteed Vegetables with Basil and White Wine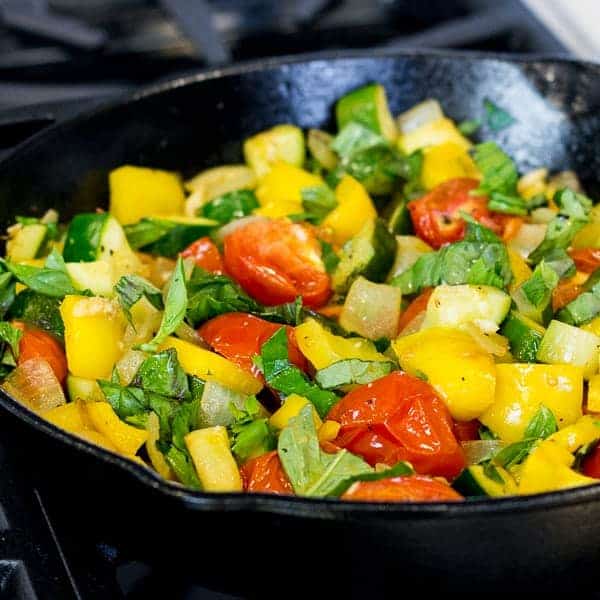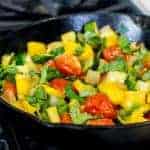 Print
Fresh sautéed zucchini, onion, yellow pepper and campari tomatoes with basil and white wine. Recipe has bright flavours and a perfect side for chicken, fish and pork. Make in less than 30 minutes.
Servings: 4 people
Ingredients
2 tbsp olive oil
1 onion , peeled and diced
1 yellow pepper , cored and diced
2 small zucchini , diced
3 garlic cloves , minced
1 pound campari tomatoes , halved
1 tsp salt
1/2 tsp coarse ground black pepper
1/2 cup white wine
1/3 cup fresh basil , sliced
Instructions
Heat oil in a skillet over medium high heat.

Add onion, yellow pepper and zucchini to the skillet and sauté for 7 minutes, stirring often.

Add minced garlic, tomatoes, salt, pepper and white wine. Sauté for 5 more minutes. The wine should come to a low rolling boil and evaporate some while simmering.

Remove the from heat and stir in the fresh basil. Serve.