Roasting brussels sprouts take minutes to prep and get in the oven. Not only that but they are sweet, toasty and full of flavour. This recipe is the perfect weeknight side dish!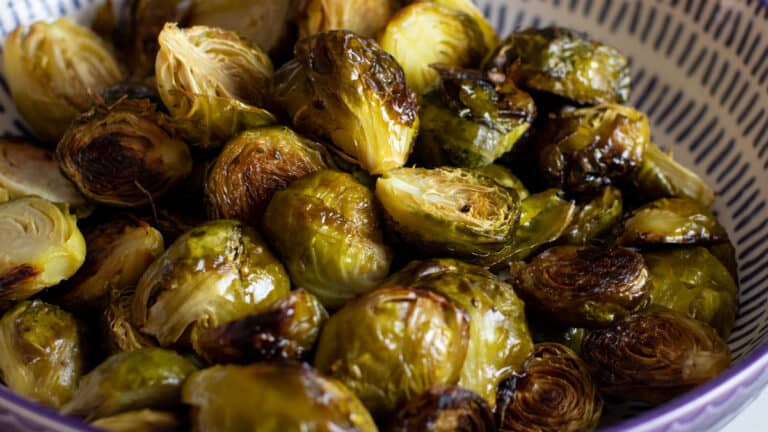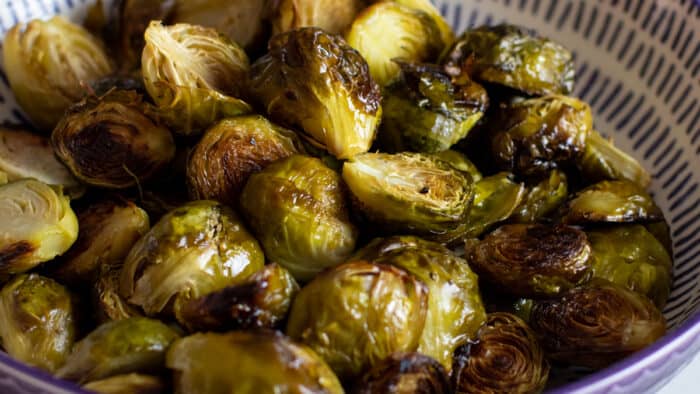 Brussels sprouts tends to be a love it or hate it vegetable. I fall in the 'love it' camp and my favourite way to cook them, by far, is by roasting them. Roasted brussels sprouts are delicious and so easy to prepare.
This vegetable side dish is perfect for a weeknight meal and it is great alongside chicken, beef, pork and more!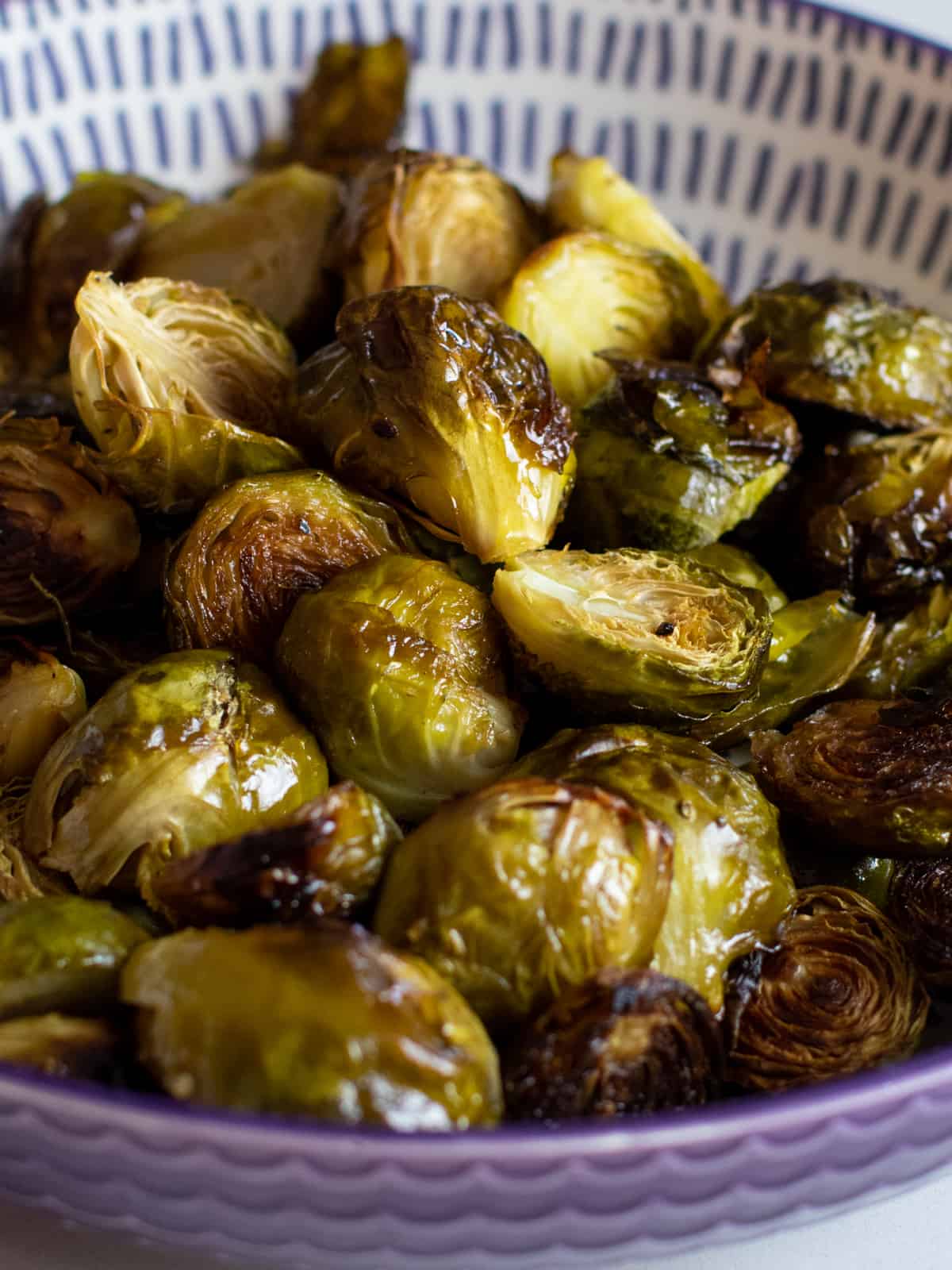 There are times when simple is best and that is exactly true when it comes to brussels sprouts. I have had brussels sprout casserole before that is creamy, cheesy and trying its hardest to hide the truth that brussels sprouts are in there. It was ok, but nothing like this recipe. These roasted brussels sprouts are so simple to make and they celebrate the wonderful flavour of these veggies that resemble little mini cabbages.
Packed with nutrients, brussels sprouts are low in calories and carbs, yet have high levels of protein, vitamin C and K.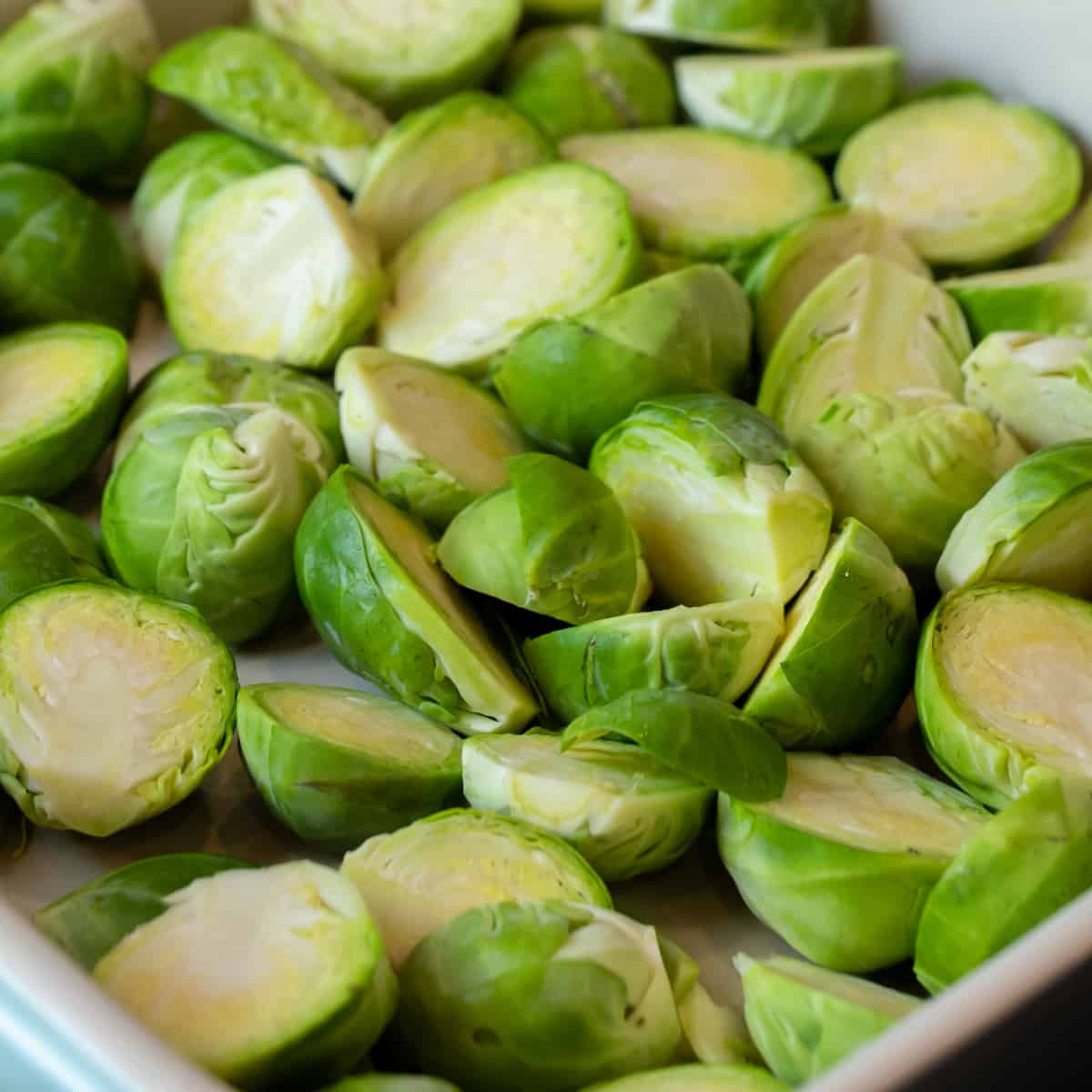 How to Prepare the Brussels Sprouts
Fresh Brussels sprouts sometimes need a little bit of cleaning and prep. Rinse them in water and then thinly slice the stump off the base part of the sprout.
If needed, remove some of the outer leaves. This can be required if the outside of the Brussels sprouts are worn or wilted.
Cut the Brussels sprouts in half lengthwise.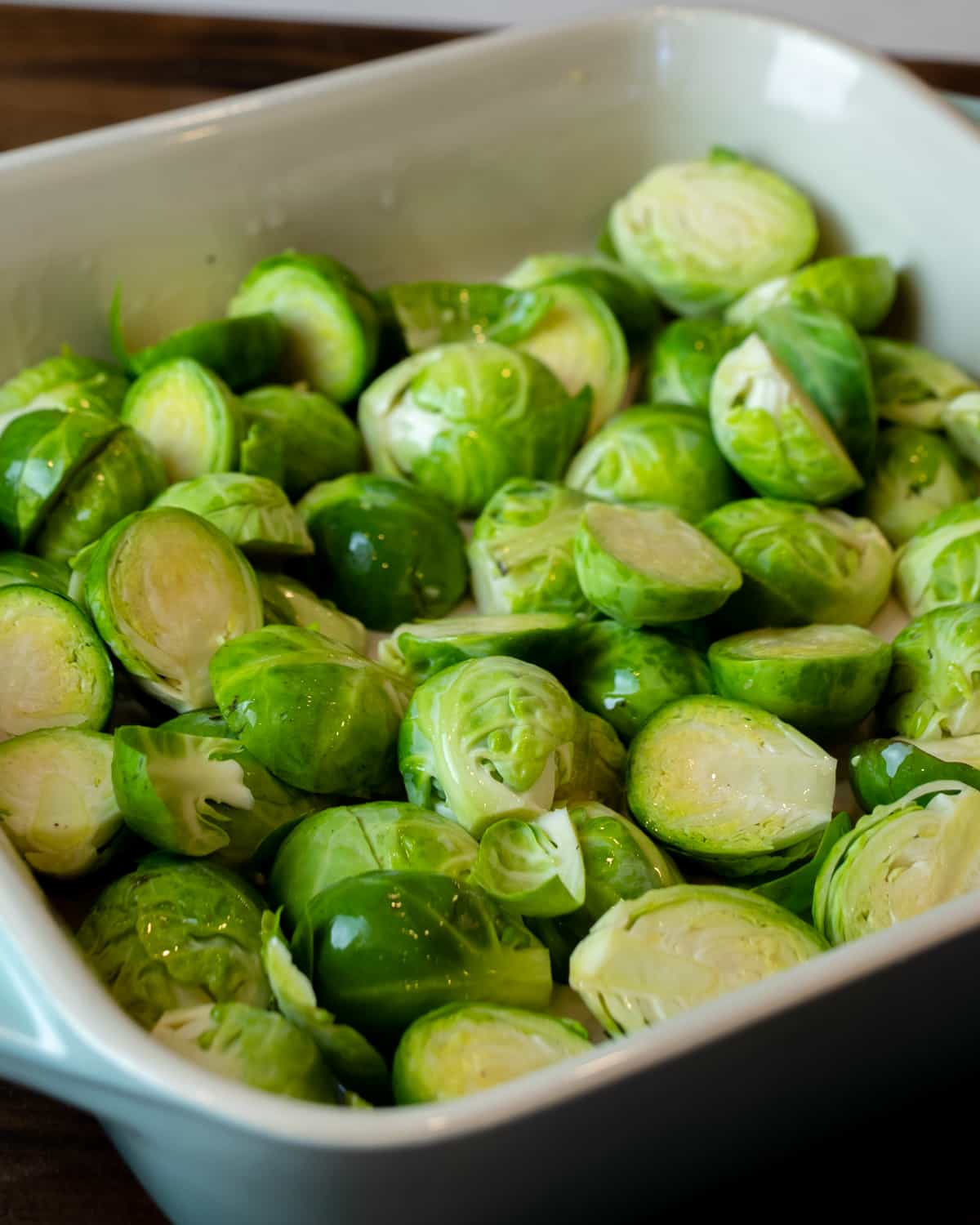 Once they are prepped, lay them out on a baking sheet or in a baking dish. I used a stoneware dish and it works very well. Toss them in some oil, salt and pepper. Make sure the Brussels sprouts are evenly spread out and not piled on top of each other.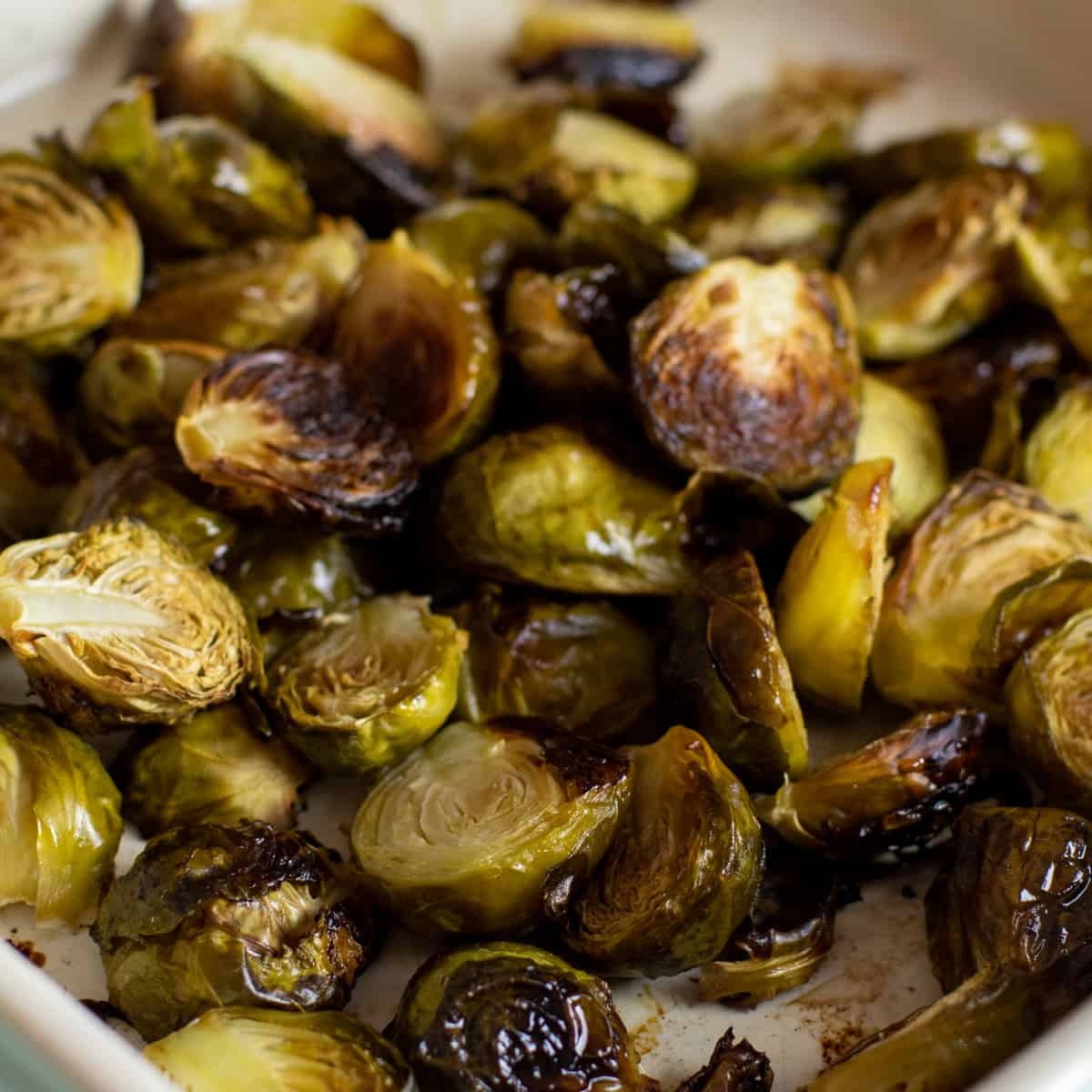 How To Roast Brussels Sprouts
Roasting brussels sprouts in the oven is very easy to do. Preheat the oven to 400F. Place them in the oven and roast, uncovered, for 20-25 minutes. They should tender, cooked through and beginning to brown and crisp up on the outside. The browning on the outside is a key part to the wonderful flavour of roasted Brussels sprouts.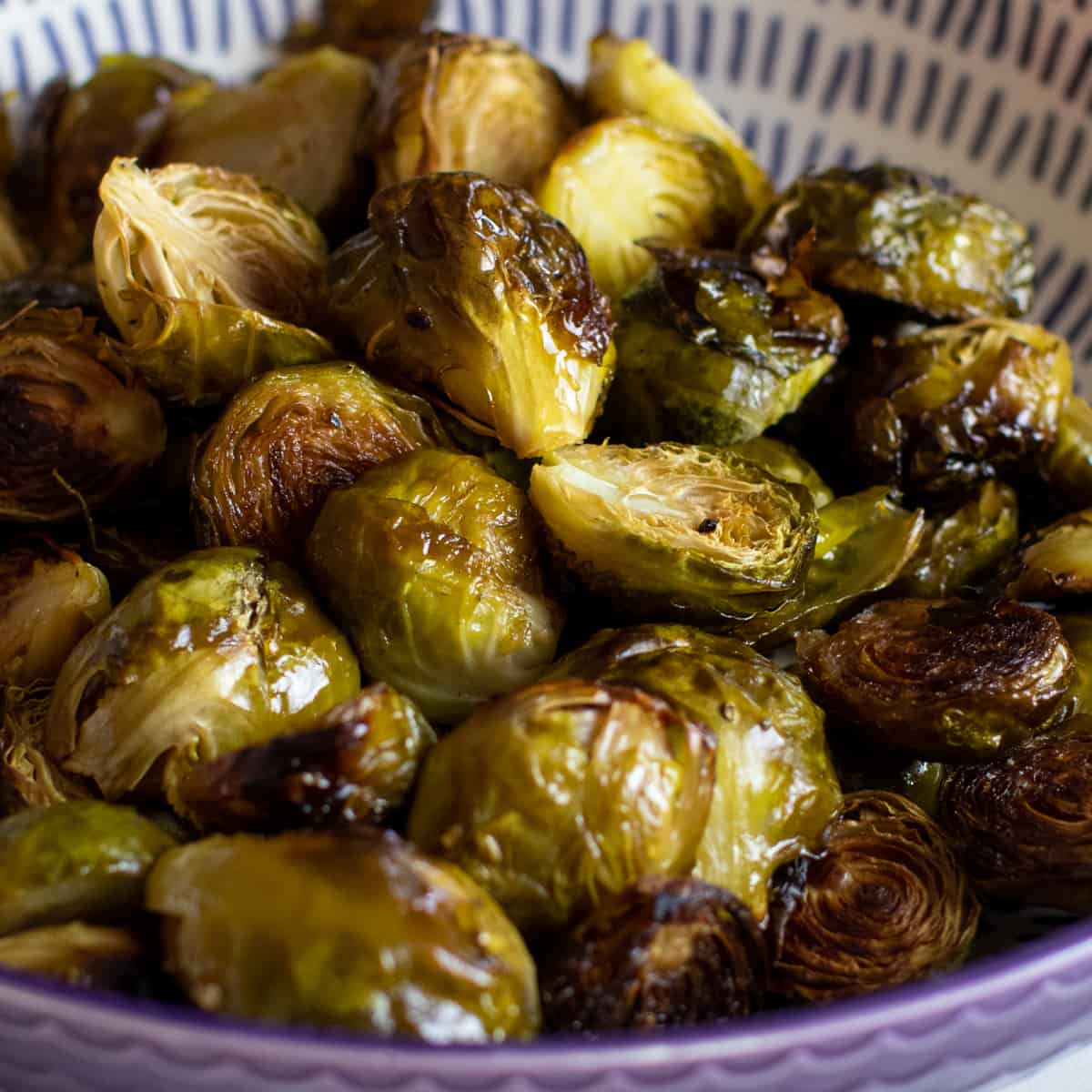 Once the Brussels sprouts have finished roasting in the oven they are ready to be served. Place them in a bowl and serve immediately. These are a versatile vegetable and delicious with chicken, beef, pork and fish.
Recipes with Brussels Sprouts
If you want to try a unique salad that is a delicious way to have these roasted veggies, then check out this Roasted Brussels Sprout Salad!
Some other recipes with this delicious vegetable are Pan Fried Brussels sprouts With Bacon and Cheesy Ranch Brussels Sprout Bake.
Roasted Brussels Sprouts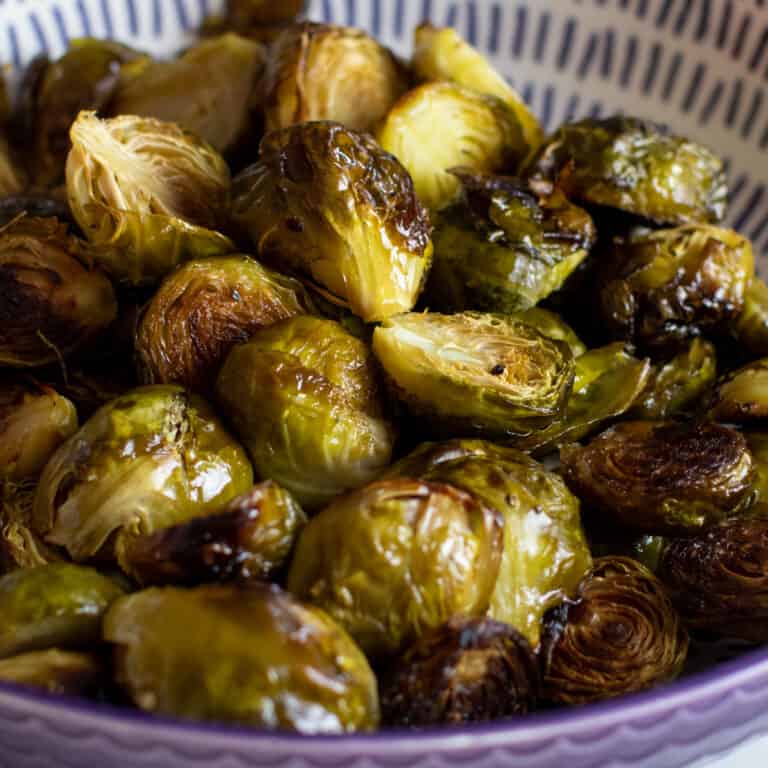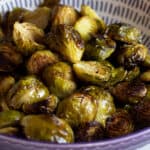 Print
Roasting brussels sprouts take minutes to prep and this recipe shows how to cook them in the oven Roasted, sweet, toasty and full of flavour.
Servings: 4
Ingredients
1 pound brussels sprouts
3 tbsp oil
1 tsp salt
1/2 tsp pepper
Instructions
Cut a thin slice off the stump of each brussels sprout and remove any loose or old leaves on the outside of each sprout.

Slice each of the Brussels sprouts in half lengthwise.

Toss in the oil and spread out on a baking dish or sheet.

Sprinkle some salt and pepper on the brussels sprouts.

Bake in a 400F oven for 20-25 minutes, flipping them halfway through the cooking time.
Nutrition
Per serving:
Calories: 142kcalCarbohydrates: 10gProtein: 4gFat: 11gSaturated Fat: 1gSodium: 610mgFiber: 4gSugar: 2g