Cheesy Ranch Brussels Sprout Bake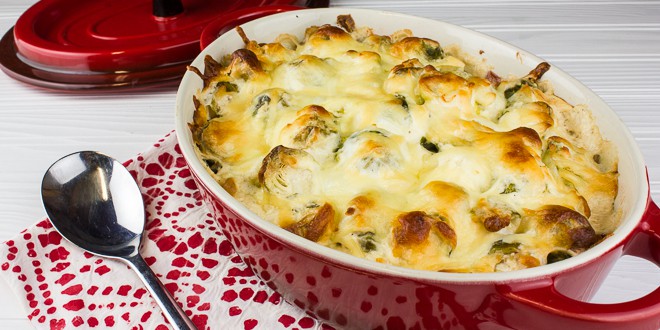 Gotta love ranch dressing. It is always in in our fridge and I usually keep one or two spare bottles in the pantry as well. Ranch is good for more than just salad and Hidden Valley Ranch asked me to develop a gluten free recipe using their dressing for the #HiddenValleyGFChallenge !!
I had some brussels sprouts in the fridge and I wanted to try out something new. Since we all love baked veggies and love pretty much anything in a creamy cheese sauce, I figured it would be great to use some Hidden Valley Ranch to make a cheesy bake with the brussels sprouts. The dish turned out awesome and the ranch gave the perfect flavour and seasoning to the dish!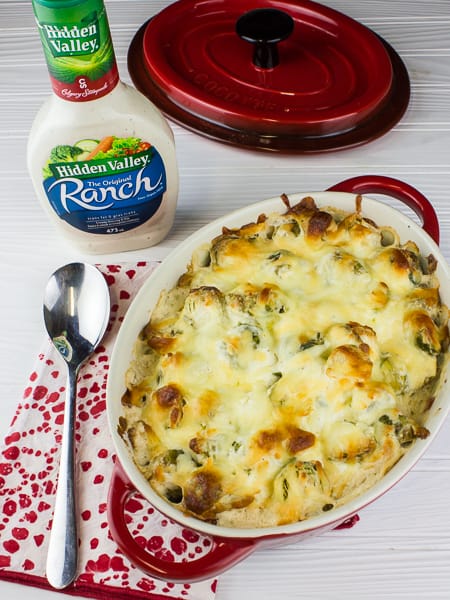 Cheesy Ranch Brussels Sprout Bake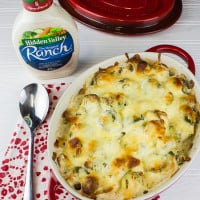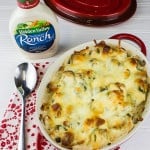 Print
Servings: 4
Ingredients
2 pounds bussels sprouts
1 1/4 cups Hidden Valley Ranch Salad Dressing
1 8 oz (226g) package cream cheese
1/3 cup 10% cream
3/4 cup mozzarella cheese , grated
Instructions
Preheat oven to 375F

Cut stems off brussels sprouts and remove outer leaves. Cut the brussels sprouts in half.

In a large bowl, mix together the Hidden Valley Ranch Salad Dressing, cream cheese and cream until smooth and without lumps.

Toss the brussels sprouts in the creamy mixture until evenly coated.

Dump the brussels sprouts in a baking casserole dish. Top with grated mozzarella cheese.

Bake in oven for 22-26 minutes or until bubbly.