Pan Fried Brussels Sprouts with Bacon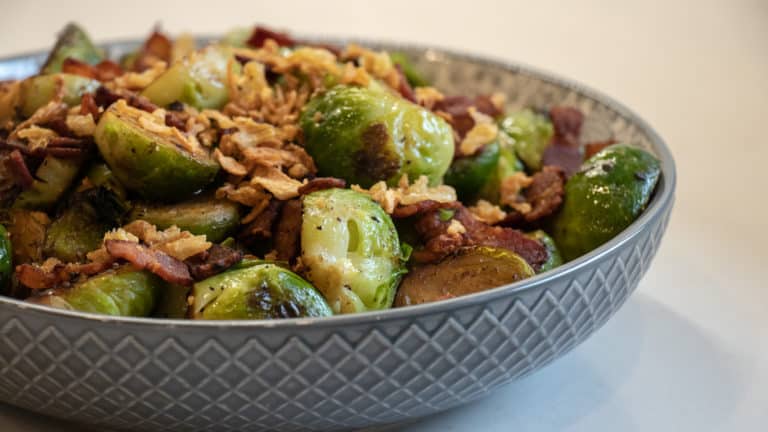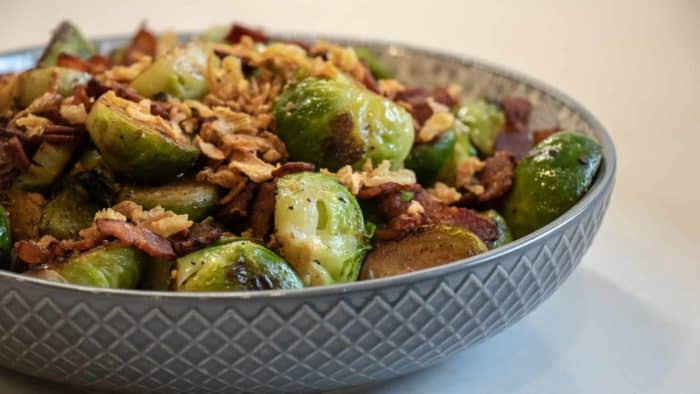 The best brussels sprouts recipe I ever had was one mom used to make when I was a kid. I know that lots of kids hate brussels sprouts, but honestly, I always loved when my mom put a bowl of what I always called mini cabbages.
Cooking brussels sprouts is so easy. Unfortunately, many people remember being served brussels sprouts that were boiled. They were bland, bitter and had very little flavour.
But, when cooked properly, brussels sprouts are delicious and they are an amazing vegetable side dish. I love roasting or pan frying brussels sprouts because the browning and caramelizing on the outside of the vegetable adds a sweet flavour to the brussels sprouts.
These pan fried brussels sprouts are so good and having them be topped with crumbled bacon and crispy fried onions turns a tasty vegetable into an incredible side dish. Once you make them, you will be looking for the next opportunity to cook them again!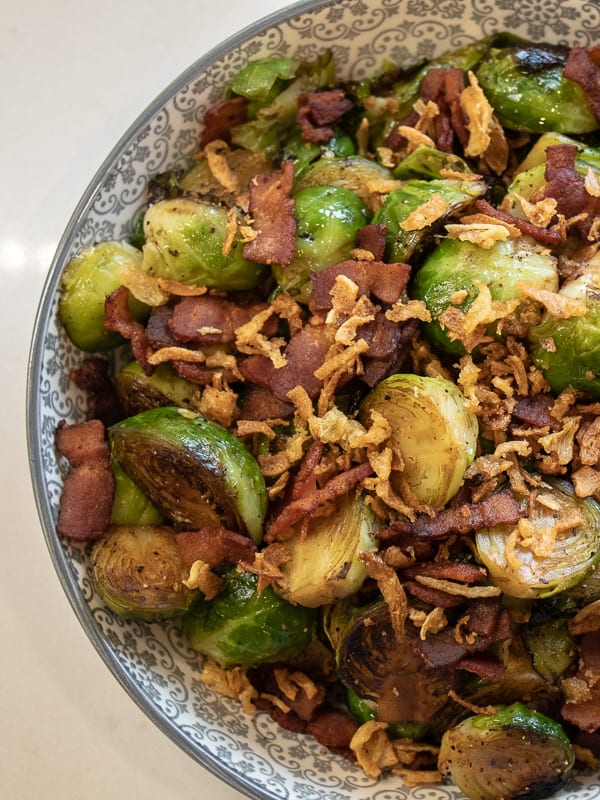 If you are looking for a new side dish for your next holiday dinner, then look no further. These brussels sprouts are delicious and the perfect compliment for Thanksgiving turkey or Christmas dinner. Serve these alongside these Garlic Mashed Potatoes or Dairy Free Scalloped Potatoes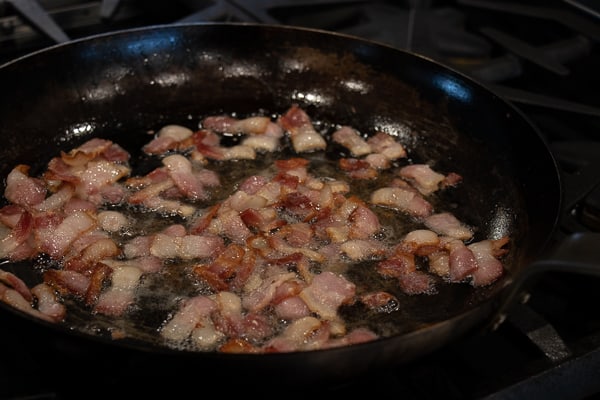 Start things off by cooking the bacon. I cut them first into small strips and then fry them in the skillet over medium heat. The temperature does not need to be too high. I find medium is perfect for browning and rendering the bacon.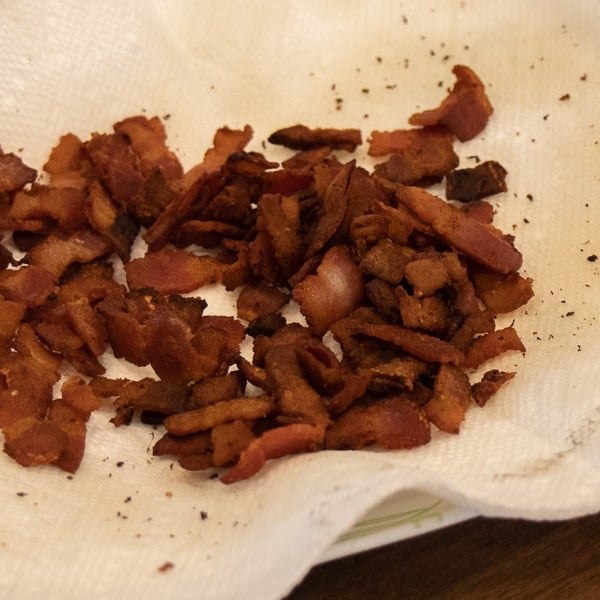 Once the bacon is browned and crispy, scoop them out of the skillet and let them drain on a paper towel. Drain most of the bacon grease off the skillet, but keep a few tablespoons in the skillet.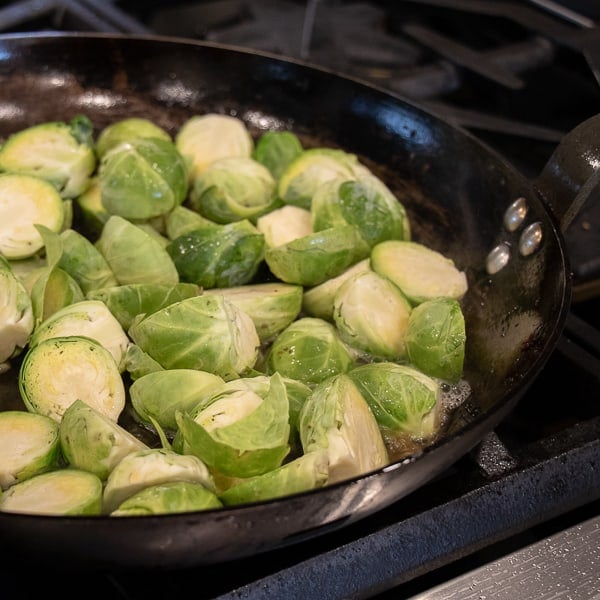 Place the brussels sprouts halves in the skillet with the salt, pepper and water.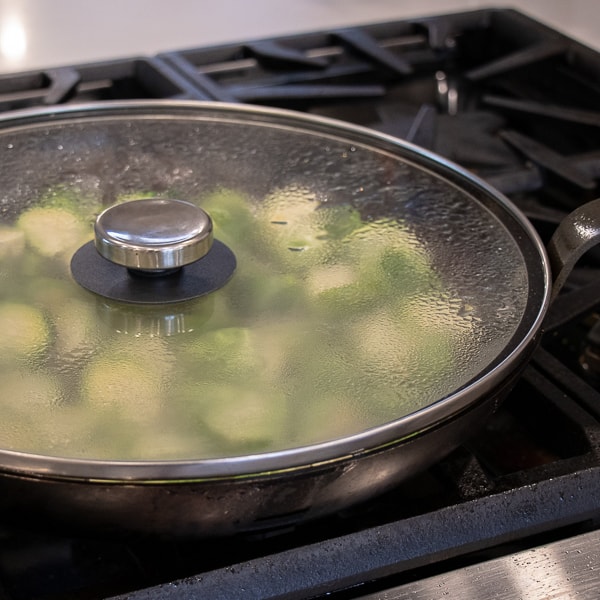 Put a lid on the skillet to cover the brussels sprouts. Since these vegetables are hard and quite dense, they need a little help to cook them through. This is a combination of steaming them at the same time they are pan fried.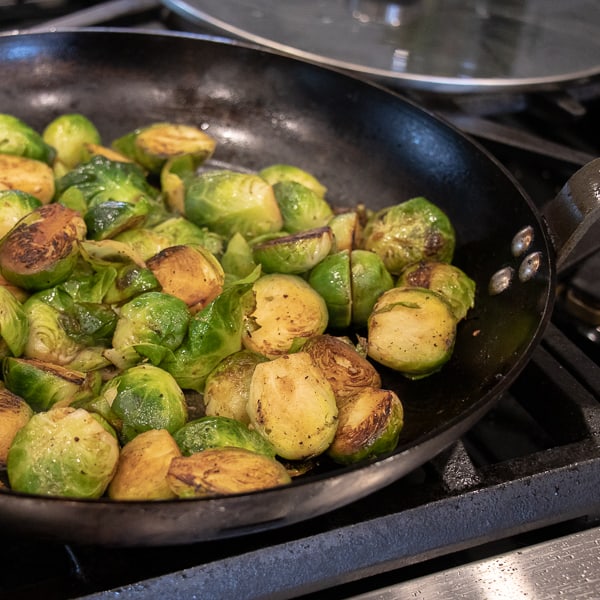 After cooking with the lid on for about 6-8 minutes, remove the lid, lower heat and continue to cook. During this time the water will evaporate and the brussels sprouts will start to brown and caramelize as they sauté in the skillet.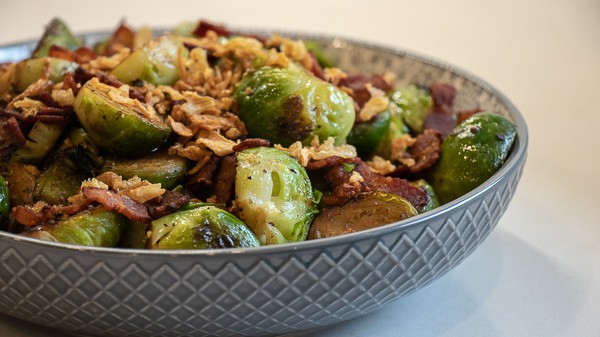 The brussels sprouts are finished cooking once you can easily stick a fork in them with no resistance. Remove them from the heat, place them in a serving bowl, and top them with the cooked bacon pieces and crisp fried onions.
For the fried onions, you can purchase a package of French's, Original French Fried Onions or some other brand. You can also make them yourself using this recipe for Onion Crisps.
Be prepared – this dish will be popular! Any time I make them, they disappear FAST.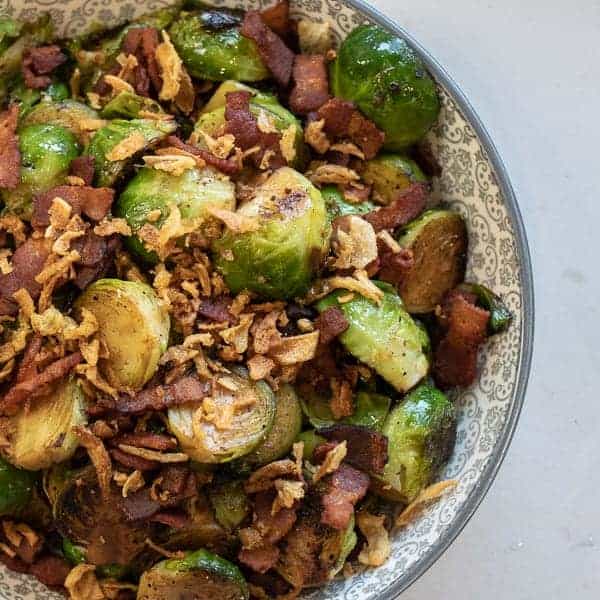 Check out these other brussels sprouts recipes!
Pan Fried Brussels Sprouts with Bacon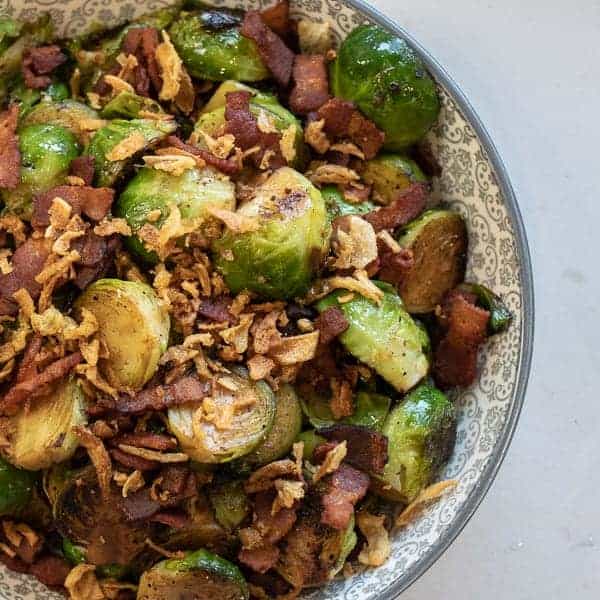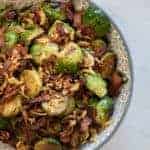 Print
How to cook brussels sprouts in a pan on the stove with crumbled bacon and crispy fried onions using this simple recipe. A delicious side dish with browned caramelized brussels sprouts that taste similar to being roasted.
Servings: 6
Ingredients
8 slices bacon diced
2 pounds brussels sprouts halved
1/2 cup water
1 tsp salt
1/2 tsp black pepper
1/3 cup crisp fried onions French's or other brand or homemade
Instructions
Cook the bacon in a skillet over medium heat until browned and crispy. Scoop out the bacon onto a plate lined with paper towel to drain.

Drain most of the bacon grease, leaving about 3-4 tablespoons in the skillet.

Add the brussels sprouts halves, water, salt and pepper to the skillet. Cover skillet with lid and let them cook for about 6-8 minutes. Check every few minutes and stir, ensuring that the brussels sprouts do not stick to the bottom of the skillet.

Remove the lid, lower heat and continue to cook until the brussels sprouts are tender and nicely browned. This should take another 5 minutes or so and all the water should be evaporated.

Remove from the heat and place the brussels sprouts in a serving bowl. Toss with the cooked bacon and crisp fried onions.
Nutrition
Per serving:
Calories: 207kcalCarbohydrates: 15gProtein: 9gFat: 14gSaturated Fat: 5gCholesterol: 19mgSodium: 647mgFiber: 6gSugar: 3g