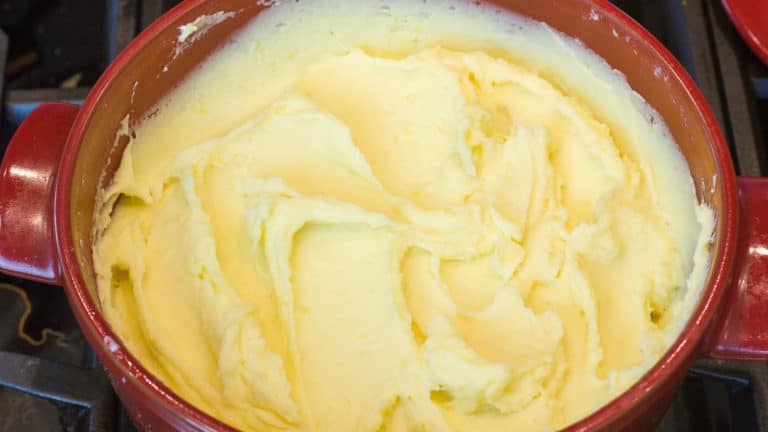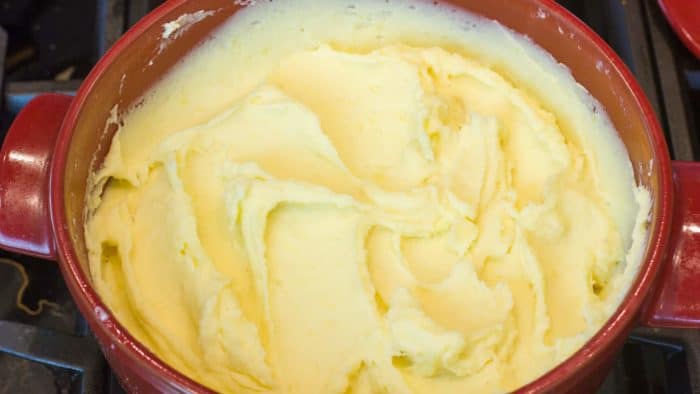 Who doesn't love mashed potatoes? I know that in my house, mashed potatoes always get a cheer whenever they are made. My kids will come into the kitchen, see a big pot on the stovetop. As they lift up the lid and see the pot full of creamy and fluffy potatoes, they often yell out "Mashed Potatoes – YES!"
I remember I was the same way, I always loved it anytime that my mom made mashed potatoes. Even on those days when my mom made plain boiled potatoes (does anyone make just boiled potatoes anymore?) and they were dropped on my plate, I would immediately use my fork to mash them myself.
As good as mashed potatoes are, do you want to know what is better?
Garlic mashed potatoes!
Adding the flavour of garlic really lifts mashed potatoes to new heights. I almost always add garlic to my mashed potatoes anymore, and when I don't, my kids are bummed. They just love the added zing of garlic to the creamy mash!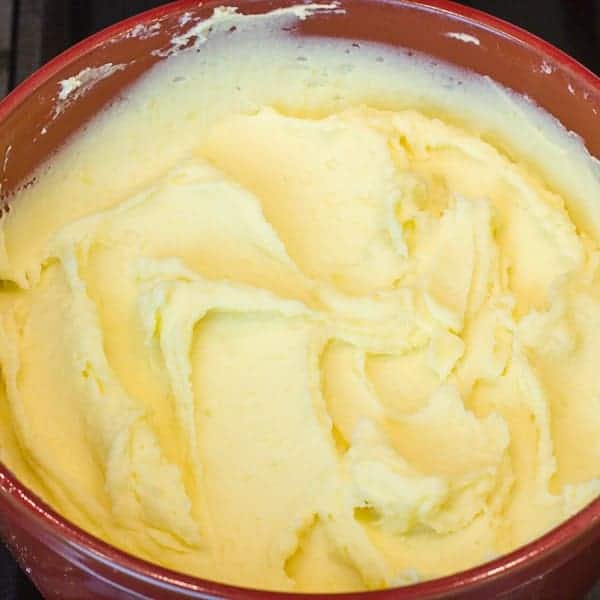 Make sure to use yellow fleshed potatoes. I find that they are the best for mashing because they are high in starch. Russet potatoes are also great. In the UK, some of the kinds that are good for mash are maris piper, King Edward and desiree.
Wherever you are from, make sure that you use a potato that is high in starch. Waxy potatoes, on the other hand, do not provide the velvety mash you would desire.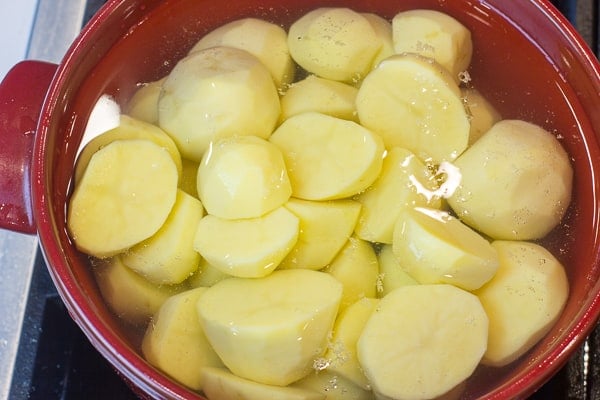 To get the potatoes ready for mashing, they first need to be boiled. I use medium sized potatoes, peel them and cut them in half. More than anything, you want to try to have the potatoes as even in size as possible. This allows them to all be cooked through at the same time.
Place the potatoes in a large pot or dutch oven. Fill the pot with water ensuring that all the potatoes are immersed. Bring to a boil over high heat. Then lower the heat so that it is a low rolling boil.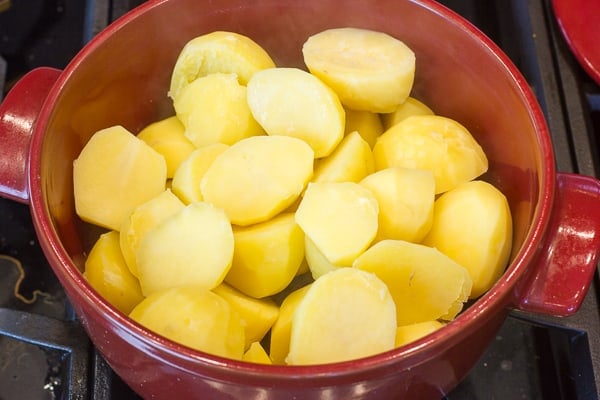 Once the potatoes are soft, they are done cooking and the water can be drained. To check, stick a knife in the centre of a couple potatoes. If they feel soft, they are done. If the potatoes feel firm and it is difficult to put the knife in, then they should boil a little longer. The total cook time, including bringing the water to a boil should take around 20-30 minutes.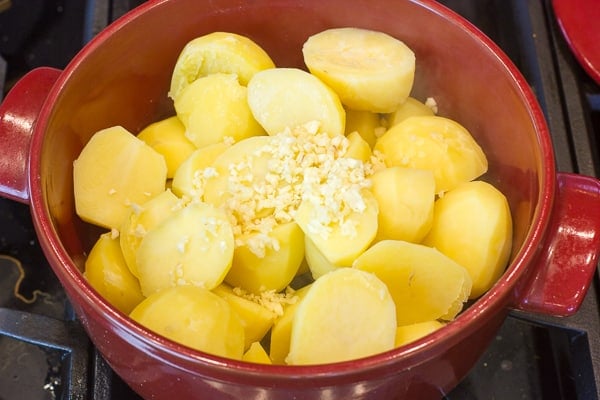 While, purchasing pre-minced garlic works just fine for these mashed potatoes, I prefer to mince the garlic cloves myself. Freshly minced garlic cloves gives a brighter, more garlicky, flavour to the potatoes.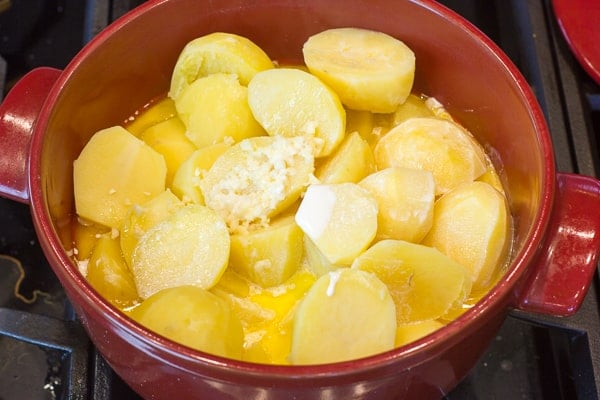 Add the minced garlic, butter and cream to the cooked and drained potatoes. I often wait a couple minutes, before mashing, to allow the butter to soften and melt.
To mash the potatoes, use a hand potato masher. Try to avoid hand blenders or immersion blenders as they can create a mash that is gummy and gooey. While a manual potato masher does require some elbow grease, you will far prefer the results.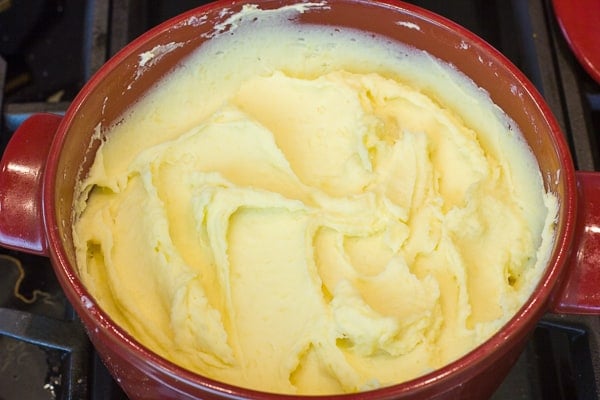 These garlic mashed potatoes are amazing. It is probably a good idea to make more than you think you will need, as I find everyone scoops a big mound of these potatoes on their plate. They disappear really quick.
Mashed potatoes are the ultimate side for so many main dishes. Here are a few options that go perfectly with this garlic mash.
If you want to add a little extra to these garlic mashed potatoes, you can also stir in some minced fresh chives, grated pecorino romano or parmigiano-reggiano.
Garlic Mashed Potatoes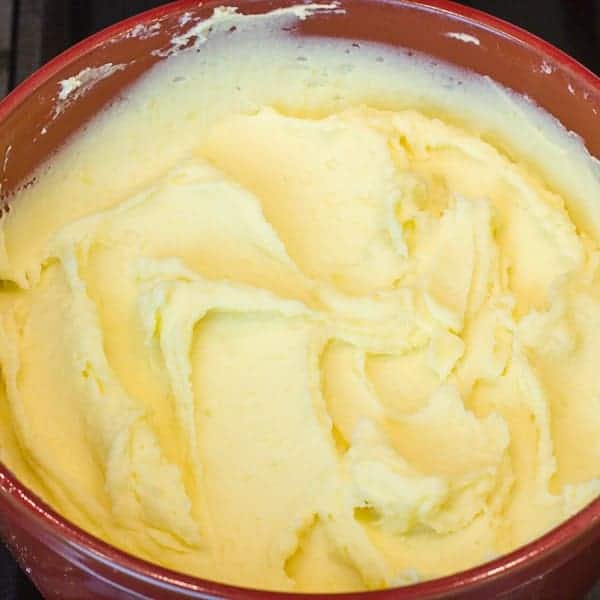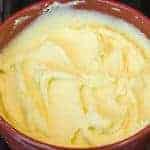 Print
Easy Instructions for how to make the best creamy garlic mashed potatoes recipe. Boiled yellow fleshed potatoes, minced garlic, butter and cream.
Servings: 8 people
Ingredients
5 pounds medium sized yellow fleshed potatoes , peeled and halved
6 garlic cloves , minced finely
1/3 cup butter
1 1/2 cups 10% cream
1 tsp salt
1/2 tsp black pepper
Instructions
Place the peeled and halved potatoes in a large pot or dutch oven. Fill with water so that it covers all the potatoes.

Bring to a boil and lower heat to a low simmering boil. Cook until the potatoes a soft when poked in the centre with a knife (the total cook time should take about 30 minutes). Remove from the heat and drain the water.

Add the minced garlic, butter, cream, salt and pepper. Use a potato masher to mash the potatoes until smooth and creamy.

Serve immediately.
Nutrition
Per serving:
Calories: 390kcalCarbohydrates: 37gProtein: 8gFat: 24gSaturated Fat: 15gCholesterol: 81mgSodium: 404mgFiber: 7gSugar: 1g