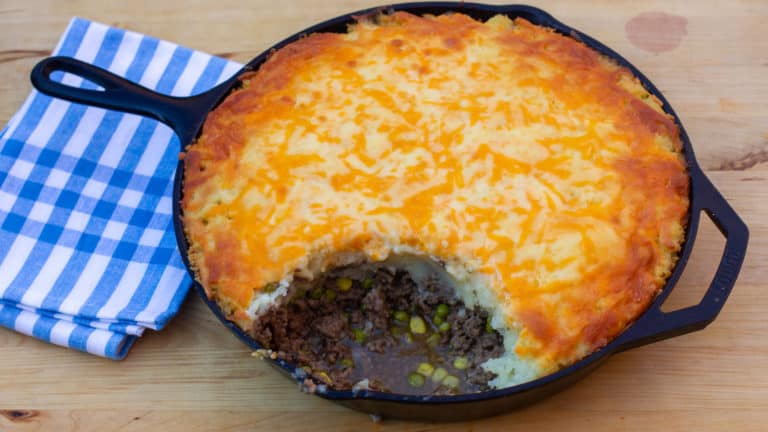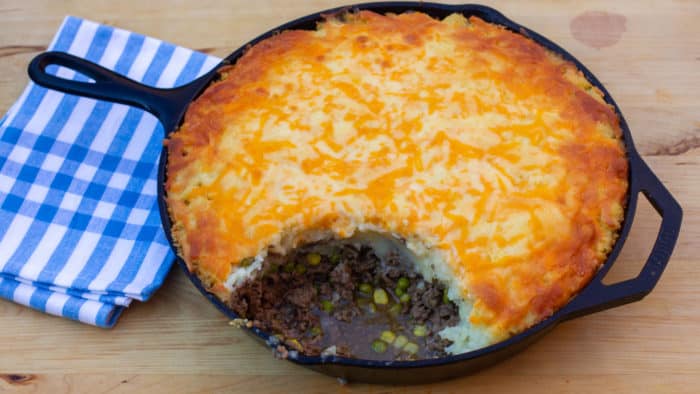 We love our cast iron skillet and I find many different ways to use it. I love how it is non stick, can cook on the stove-top, and then be placed right into the oven. This recipe shows how to make a cast iron skillet shepherd's pie. I made this when we had a bunch of leftover mashed potatoes and using a skillet worked very well. It is great to be able to prepare dinner all in one dish. Not only does it make things simpler, but it makes clean-up go much faster as well.
I love my cast iron skillets. Over the years, I have bought multiple skillets and often give them away as gifts. They will last your lifetime and can be used for so many things. I love that I can start cooking something in the skillet on the stove top and then grab the skillet and put it in the oven to bake. That is how this shepherd's pie is made.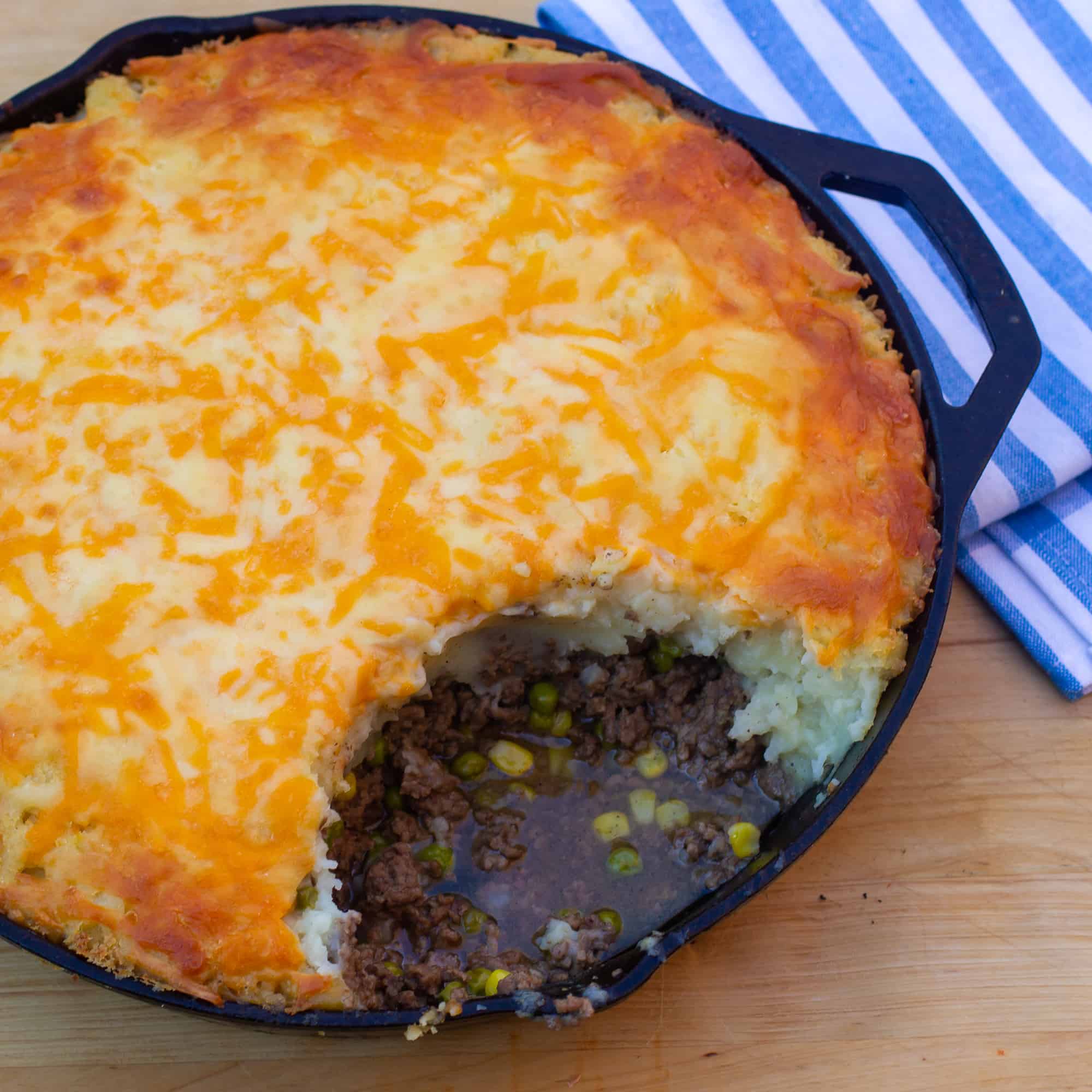 What is in the ground beef filling?
Shepherd's pie is great comfort food and suprisingly quick to make. With leftover mashed potatoes, this recipe can be made in a matter of minutes.
The ground beef filling has great flavor, with a natural gravy and goes really well with many types of veggies mixed in. I used the classic peas and corn, but carrots, green beans and so many others would work just as well.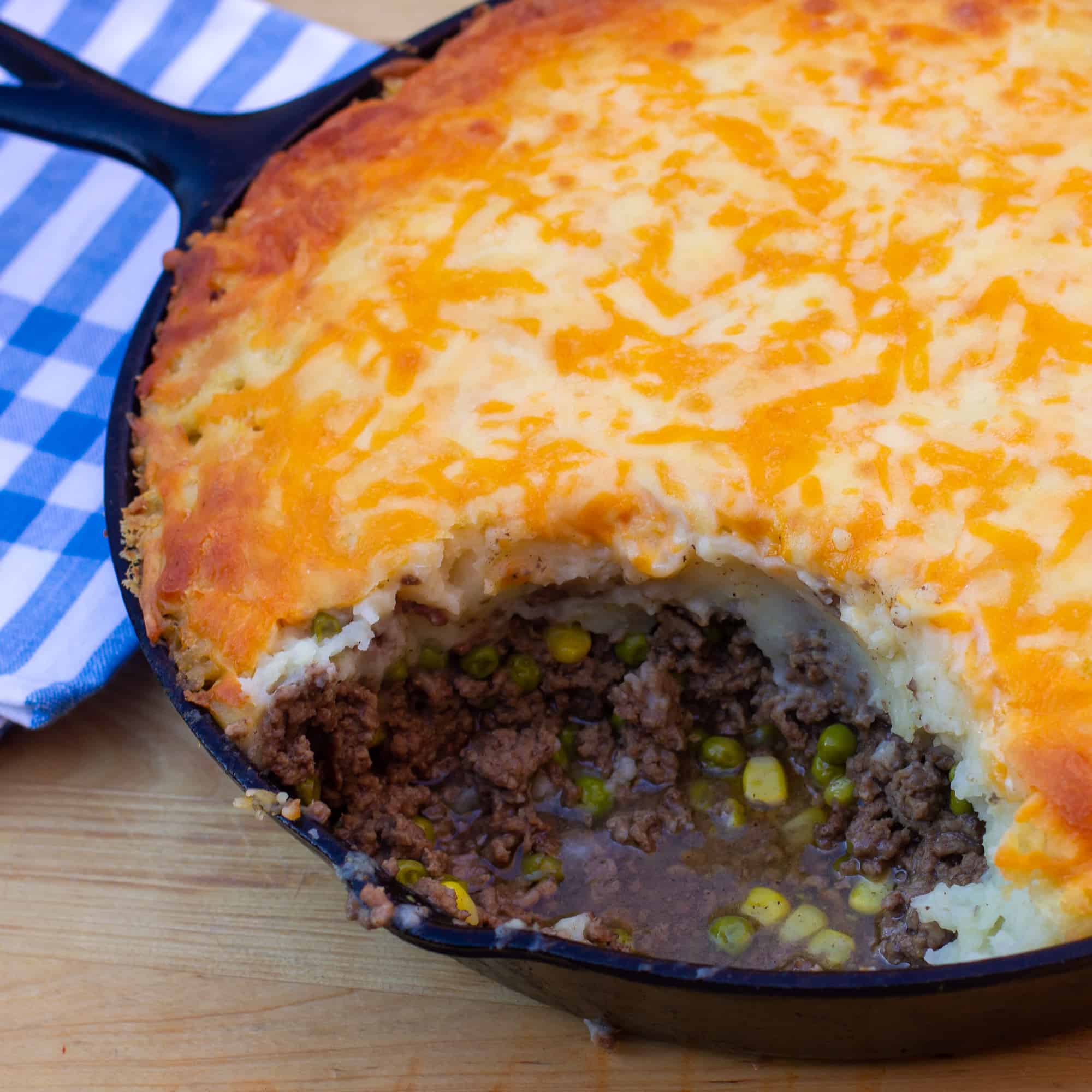 How long to bake the Shepherd's Pie?
Spread the mashed potatoes on top of the filling and sprinkle the grated cheese on top. Then, it just needs to be baked in the oven for a bit, so that the cheese is melted and the filling is bubbly. It is also possible to make this ahead. Instead of putting the skillet in the oven, place it in the fridge until 30 minutes before dinner. Since everything is cold, it will need to bake a little longer, about 20-30 minutes.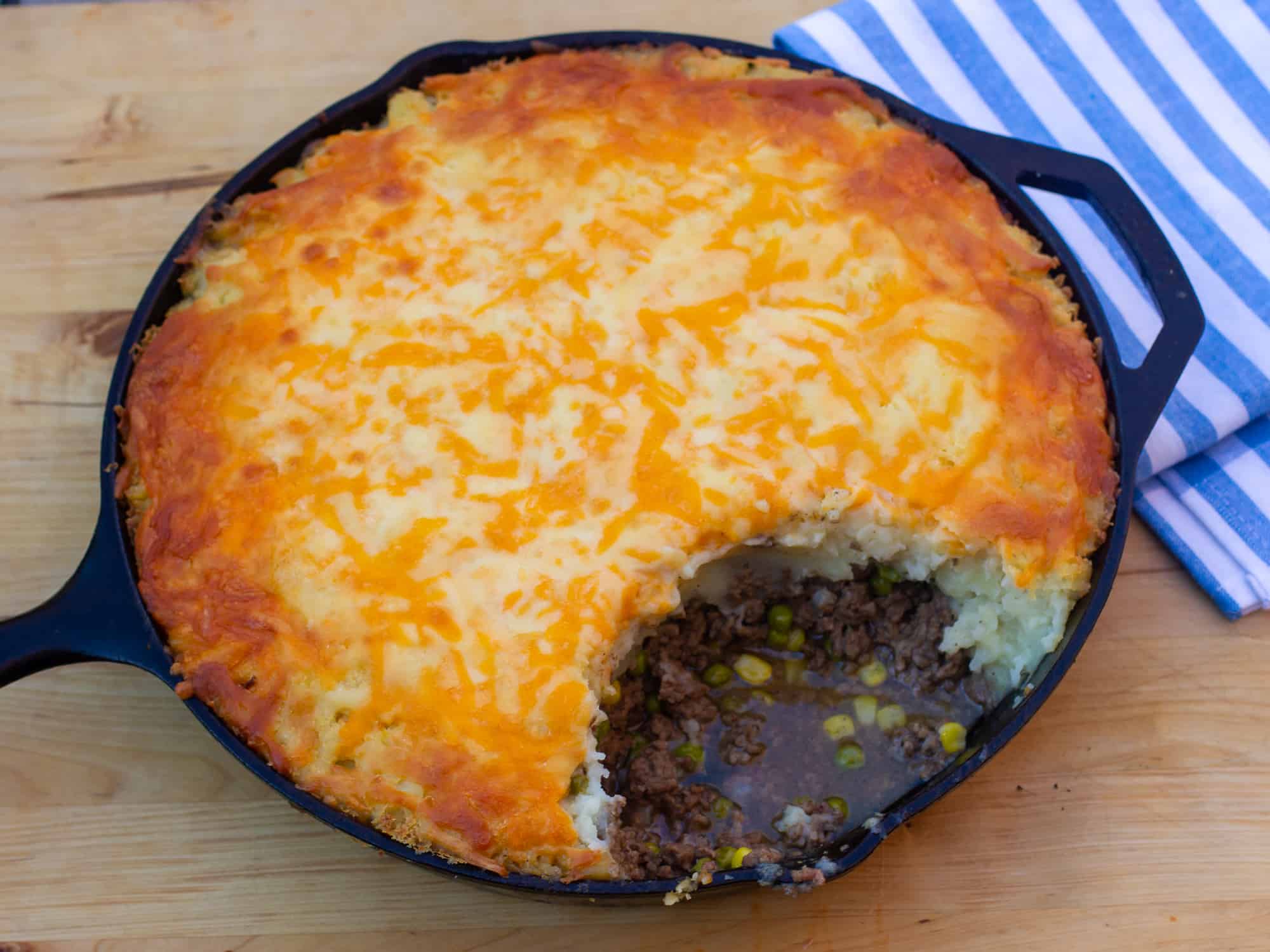 If you like shepherd's pie, then check out these other recipes?
Skillet Shepherd's Pie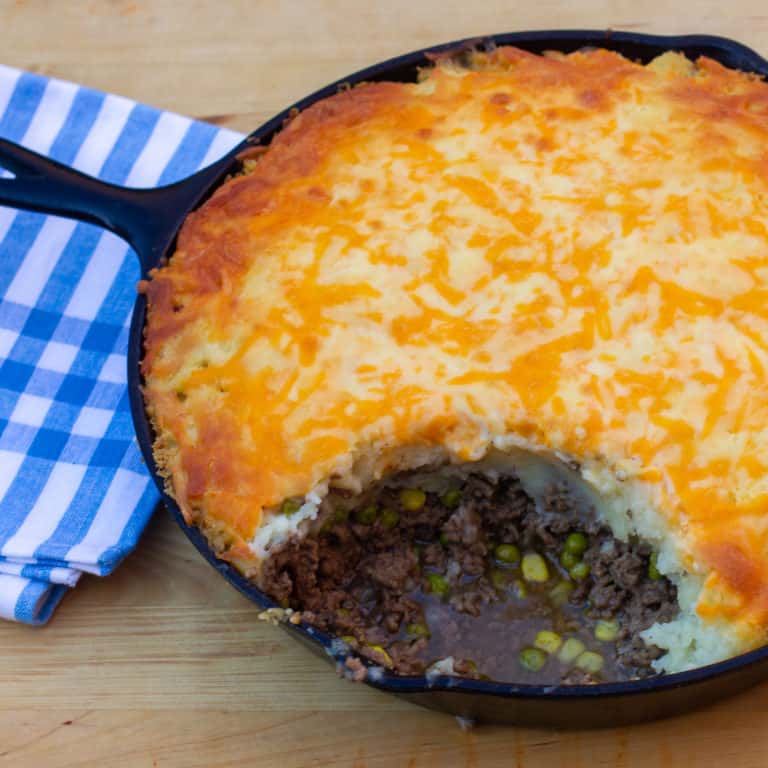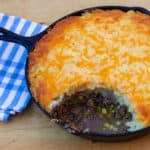 Print
How to make shepherd's pie in a cast iron skillet! Baked recipe has beef filling with peas and corn, topped with mashed potatoes and grated cheddar cheese.
Servings: 4 people
Ingredients
1 1/2 pounds lean ground beef
1 onion minced
2 garlic cloves minced
1 1/2 tbsp Worcestershire sauce
1 tbsp flour
salt and pepper to taste
1 1/2 cups frozen peas thawed
1 1/2 cups frozen corn thawed
4 cups mashed potatoes
1 cup grated cheese (cheddar, monterey jack,etc.)
Instructions
Preheat oven for 400F.

Brown the ground beef, onion and garlic, on high heat, in a cast iron skillet. Stir often, ensuring that the beef does not stick to the bottom of the skillet. Once fully cooked, remove from the hot element and drain the grease drippings. Stir in the Worcestershire sauce, flour, salt, pepper, peas and corn.

Spread the mashed potatoes on top of the beef mixture.

Sprinkle the grated cheese on top.

Bake in the oven until the cheese is melted and the beef filling is starting to bubble around the sides of the skillet. It should take 15-25 minutes.

Let the pie rest about 5 minutes before serving.