Leftover Thanksgiving Dinner Casserole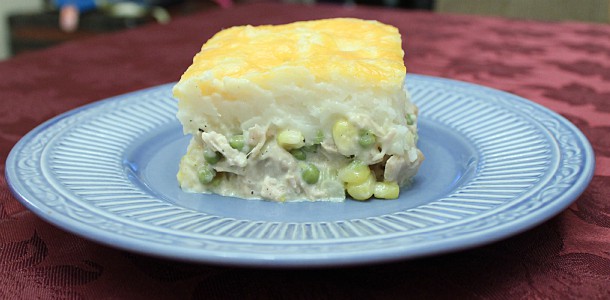 If your family is like mine, there are always plenty of leftovers after a big holiday meal. Whether it is Thanksgiving or Christmas, I make WAY more than we could possibly eat. It is always a game of Tetris trying to get all the leftovers into the fridge.
We are ok eating the leftovers the first day after the holiday but with every day that passes there is less and less enthusiasm. I like to create something new with the leftovers and this recipe is a fusion of turkey pot pie and shepherd's pie. There was thumbs up all around the table for this casserole.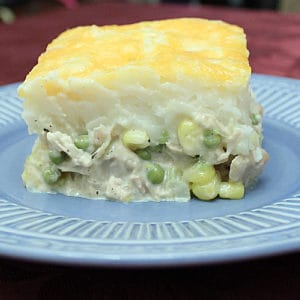 Print
Servings: 6 -8
Ingredients
2 tbsp butter
2 onions , diced
3 celery stalks , diced
3 garlic , minced
4 cups turkey meat , cubed
1 cup mushrooms , sliced (or 1 can)
1 cup frozen corn (or 1 can)
1 cup frozen peas (or 1 can)
1 1/2 cups cream
3 tbsp flour
salt and pepper to taste
6-8 cups mashed potatoes
1 1/2 cups grated cheddar cheese
Instructions
Melt the butter in a frypan. Under medium heat add the onions and celery. Cook for 5 minutes. Add garlic and cook 5 minutes more.

Add the turkey meat, mushrooms, corn and peas and cook for 10 minutes, stirring often.

Stir in the flour. Pour in the cream, lower heat to a medium low. Let this simmer for a few minutes, stirring often. The cream will thicken.

Spread the meat mixture evenly in a lasagna pan.

Spread the mashed potatoes evenly on top of the meat mixture.

Sprinkle the grated cheese on top of the mashed potatoes.

Bake in a 325F oven for 45 minutes.