Classic Green Bean Casserole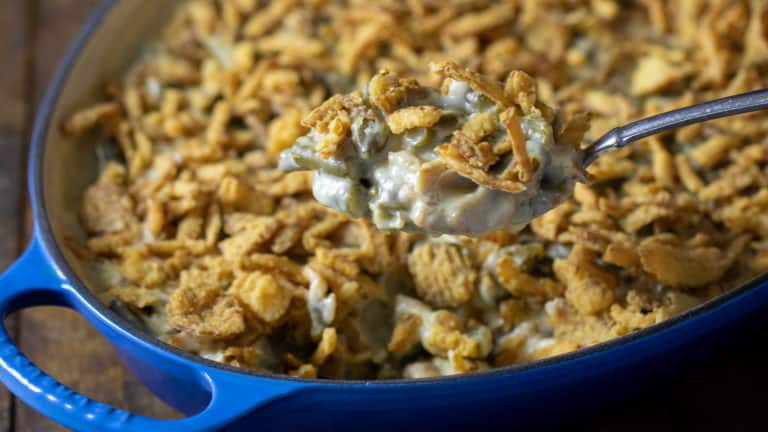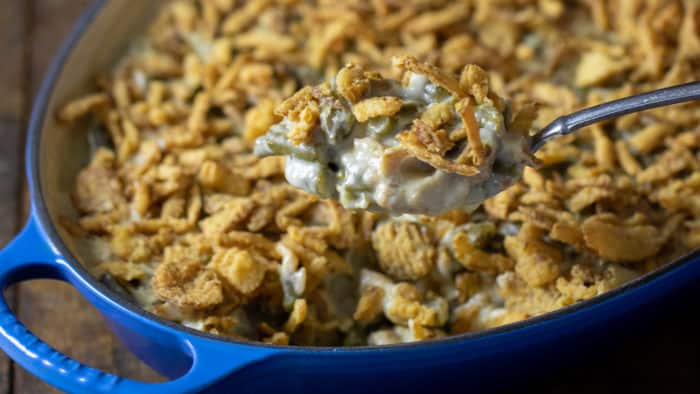 Anytime I host a Thanksgiving dinner, there are a list of dishes that I have to make every year. Turkey, stuffing, mashed potatoes, cranberry sauce and sweet potato casserole are all made all the time. One other dish I always cook is this green bean casserole recipe!
My green bean casserole is the very same as the way my mom used to make this side dish. I use canned green beans, condensed cream of mushroom soup, like Campbell's and crisp fried onions, like the kind from French's.
Over the years, I have made this casserole with fresh green beans and I have made my own cream sauce from scratch. But, we all seem to prefer this down home classic and traditional version. Sometimes the old recipes are full of nostalgia, and this classic comfort food side dish is exactly one of those kinds.
I love this green bean casserole recipe because it is very simple to make. Preparing a Thanksgiving dinner is busy and hectic, with lots of things to get done. It is nice to know that this side dish can be whipped up in a matter of minutes and thrown in the oven.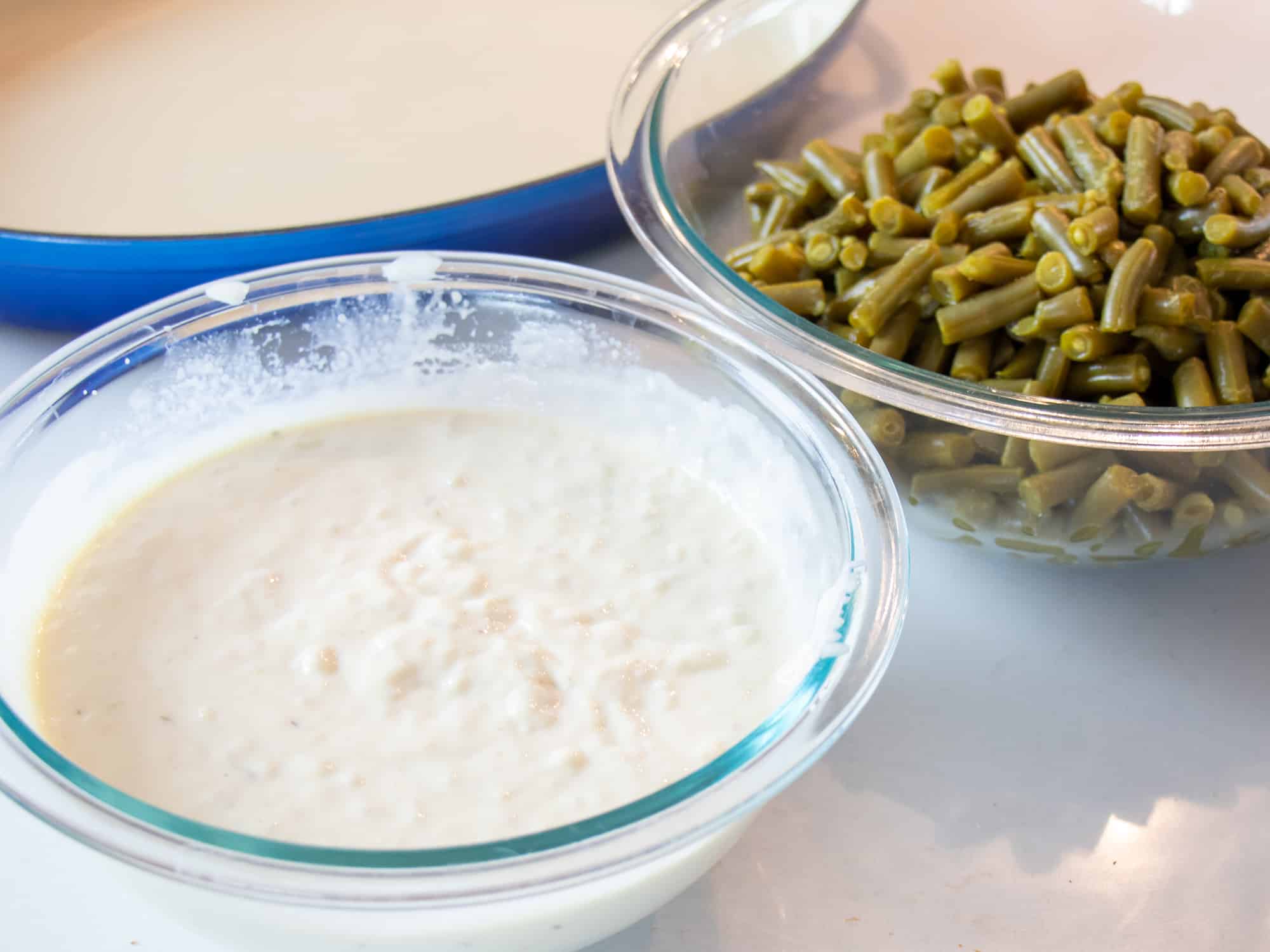 How to Make Green Bean Casserole?
The first step in making this casserole is to whisk together the condensed soup with the milk, salt and pepper. Whisk until there are little to no chunks of the condensed soup.
I use one can of cream of mushroom soup and another can of cream of celery. Depending on your preference, you could use two of the same kind, or you could also use cream of chicken soup. All these condensed cream soups work great.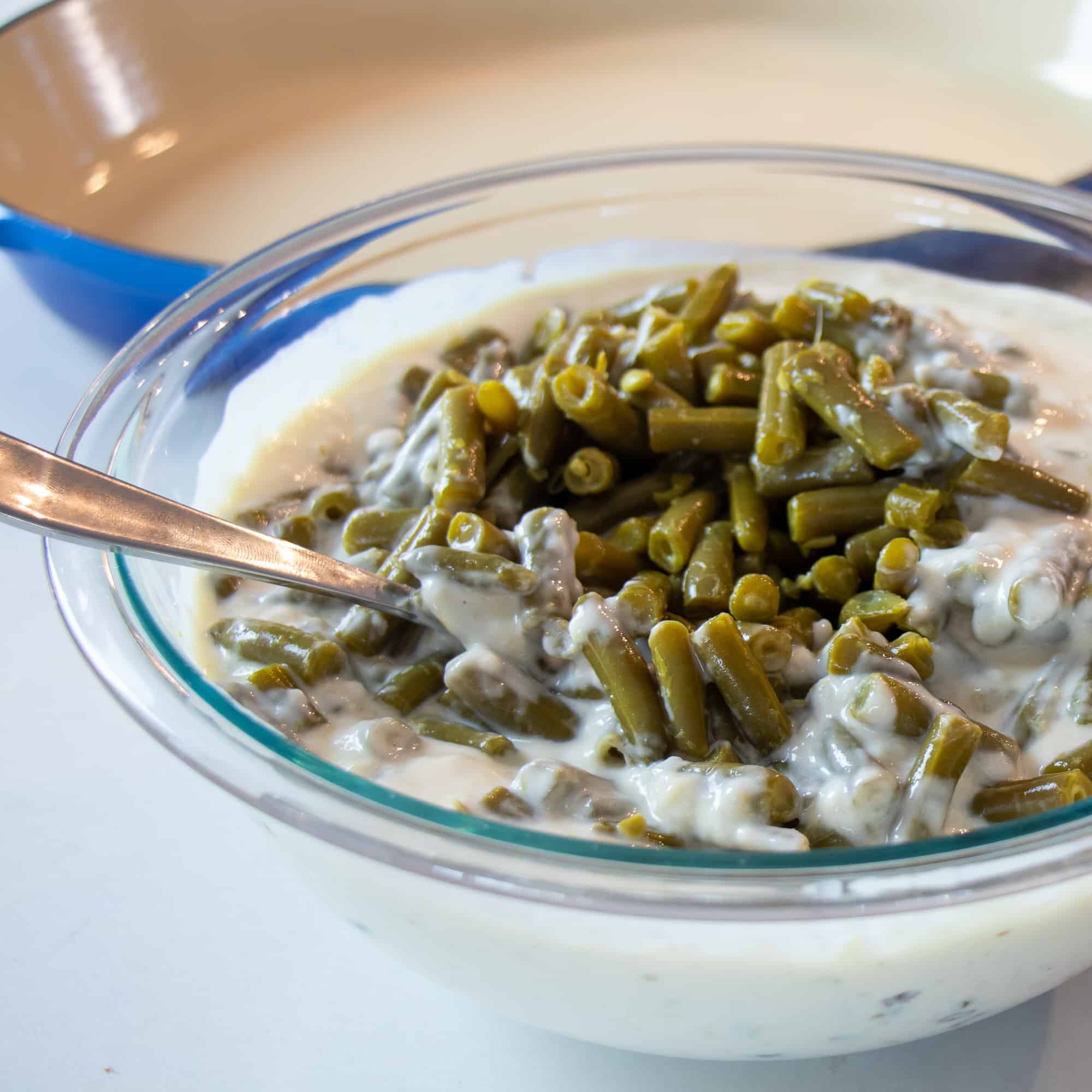 Stir the soup mixture with the green beans. Make sure that you have drained the beans. Continue to mix until the beans are all coated in the cream mixture.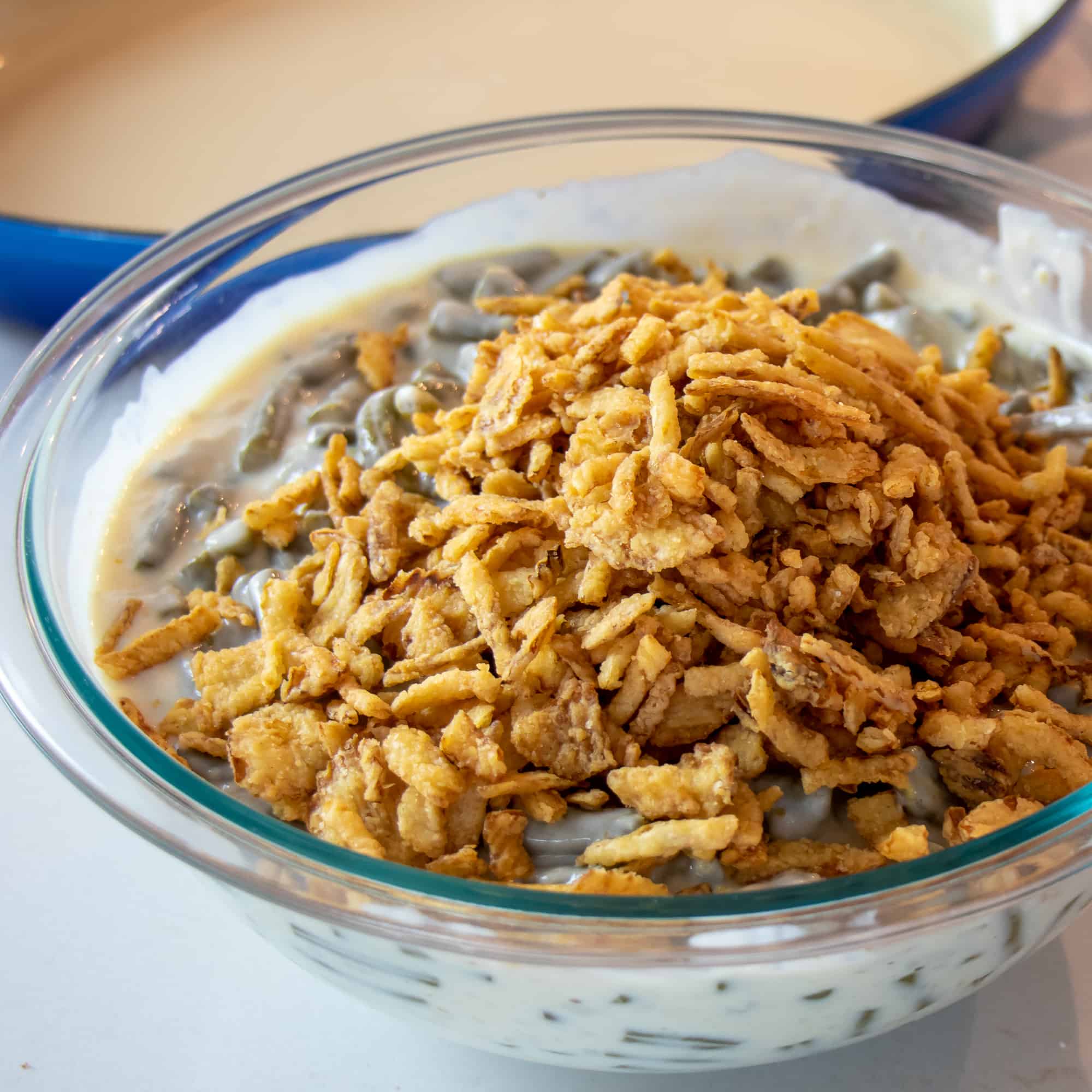 Stir in one cup of the crisp french fried onions. This ingredient is easily my favourite part of the green bean casserole recipe. I often buy a large bag of these crispy onions and nibble away all day on them! I also find that I sprinkle a little extra on the casserole, cause it never looks like quite enough.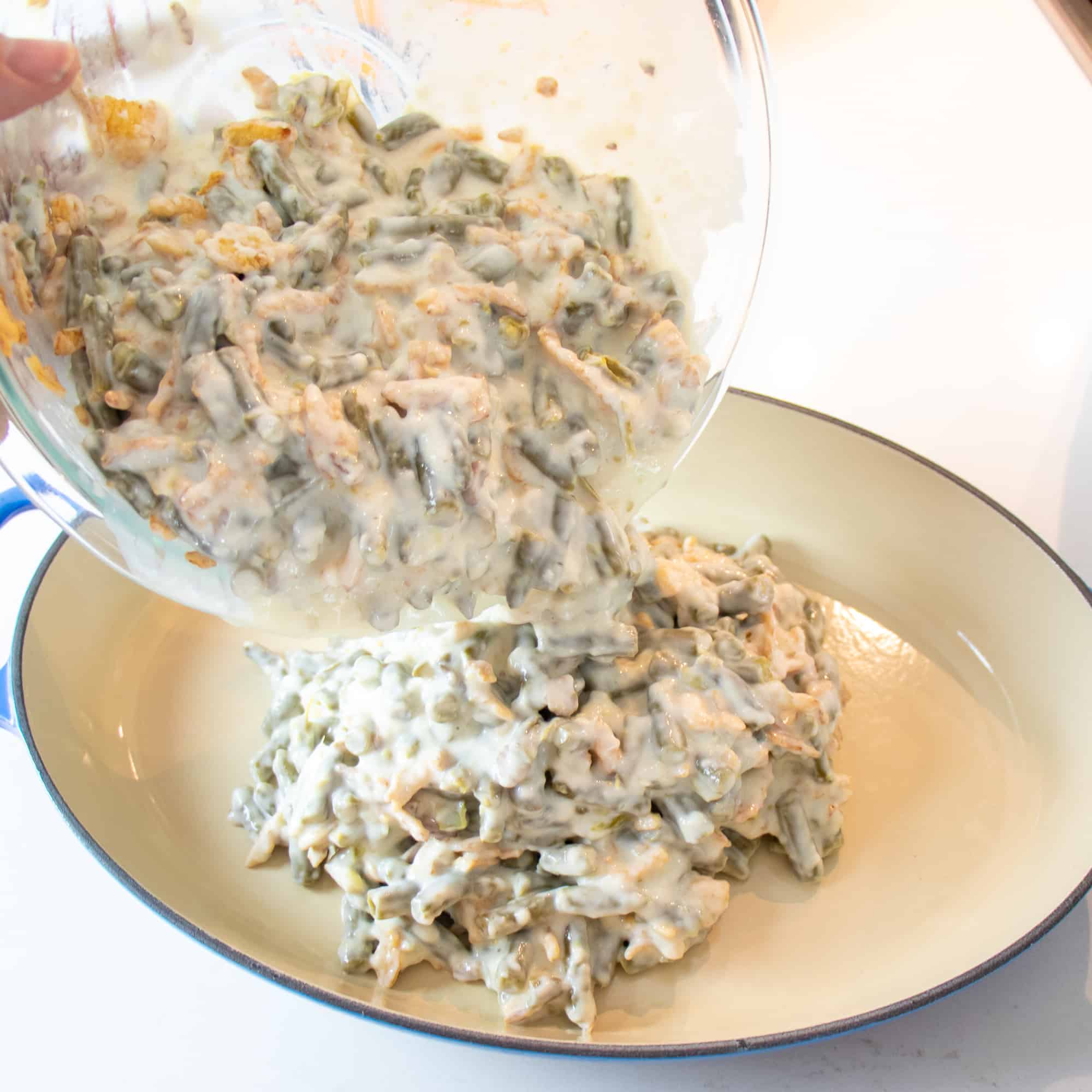 Spread the bean mixture in a large shallow casserole dish. I use an oval dish, but you could also use a rectangular 13×9 baking casserole dish. Just try to use one that is not too small where the green bean casserole will be very deep.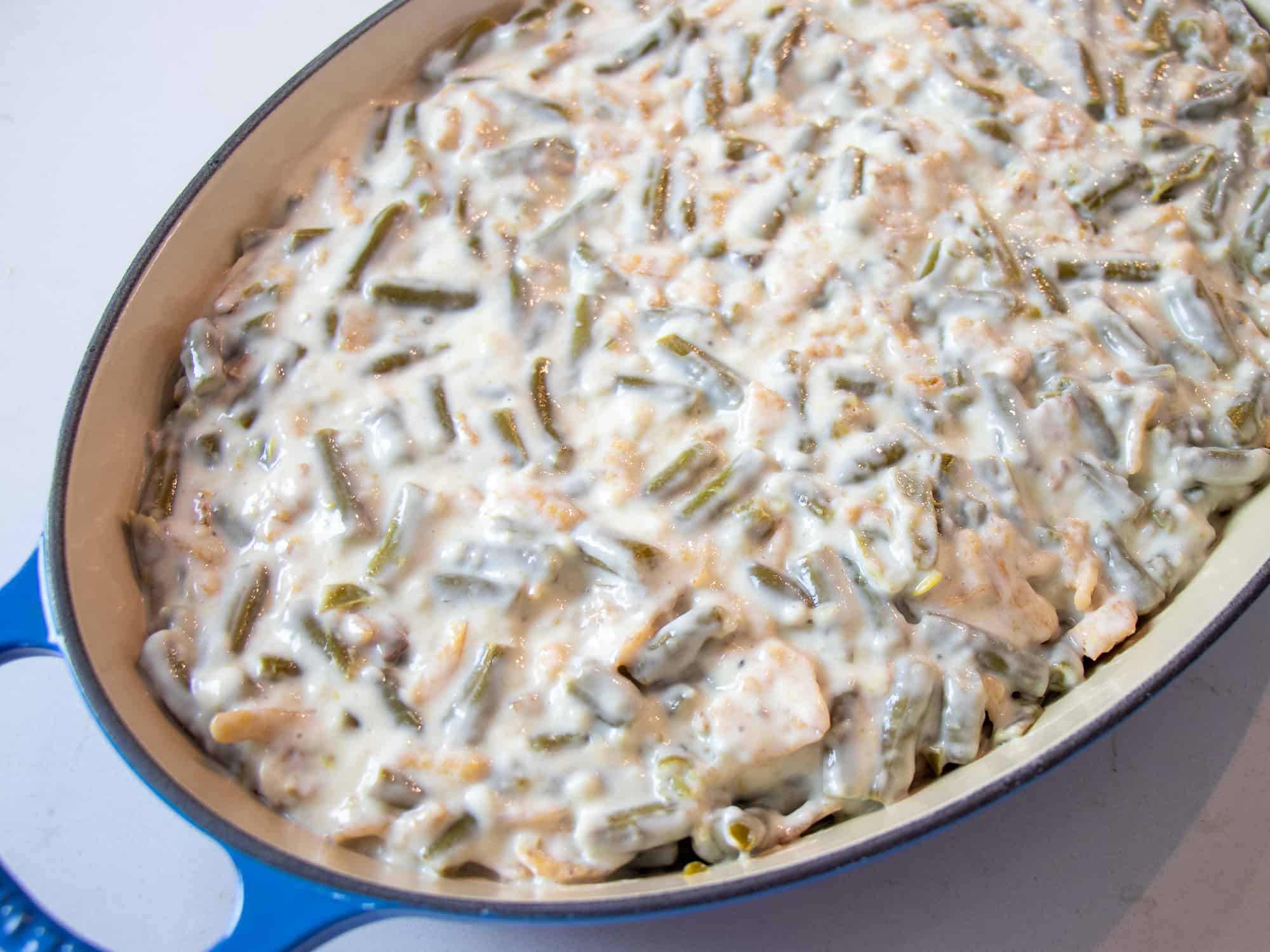 How Long to Cook in the Oven?
Once you have spread the mixture in a casserole dish, it is ready to go into the oven. I bake the casserole in a 350F oven for 30 minutes. You should notice it bubbling around the edges.
The last step of this recipe is to sprinkle the remaining 1 cup of crisp fried onions all over the green beans. Put the casserole back into the oven and bake for another 10 minutes.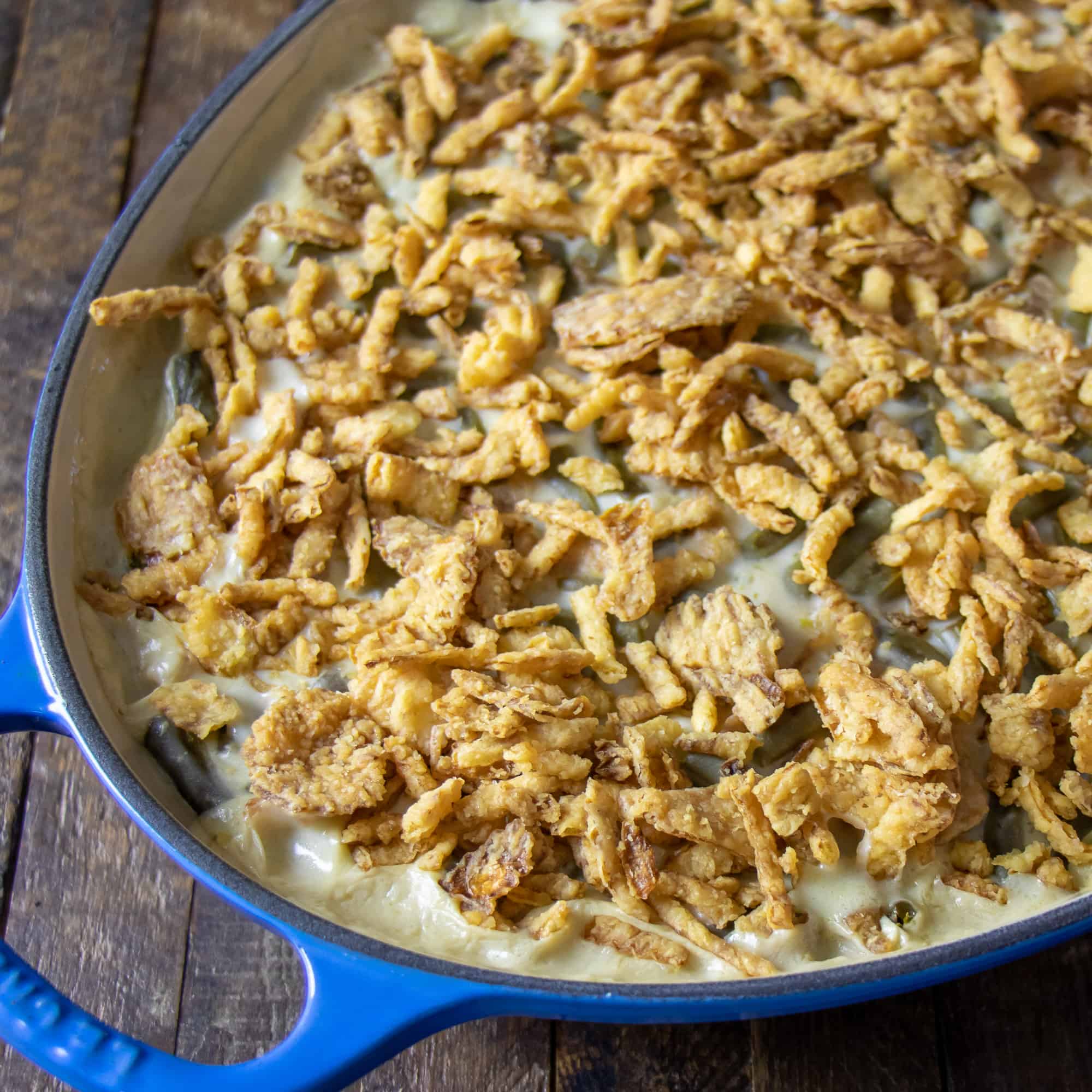 Once this casserole comes out of the oven, it can go straight to the table. Trust me, this side dish will get gobbled up very quickly!
Since I have a large family, I make a green bean casserole that is large enough to feed a crowd. This recipe uses 4 cans of green beans. If you are not needing to make as much, you could easily halve this recipe.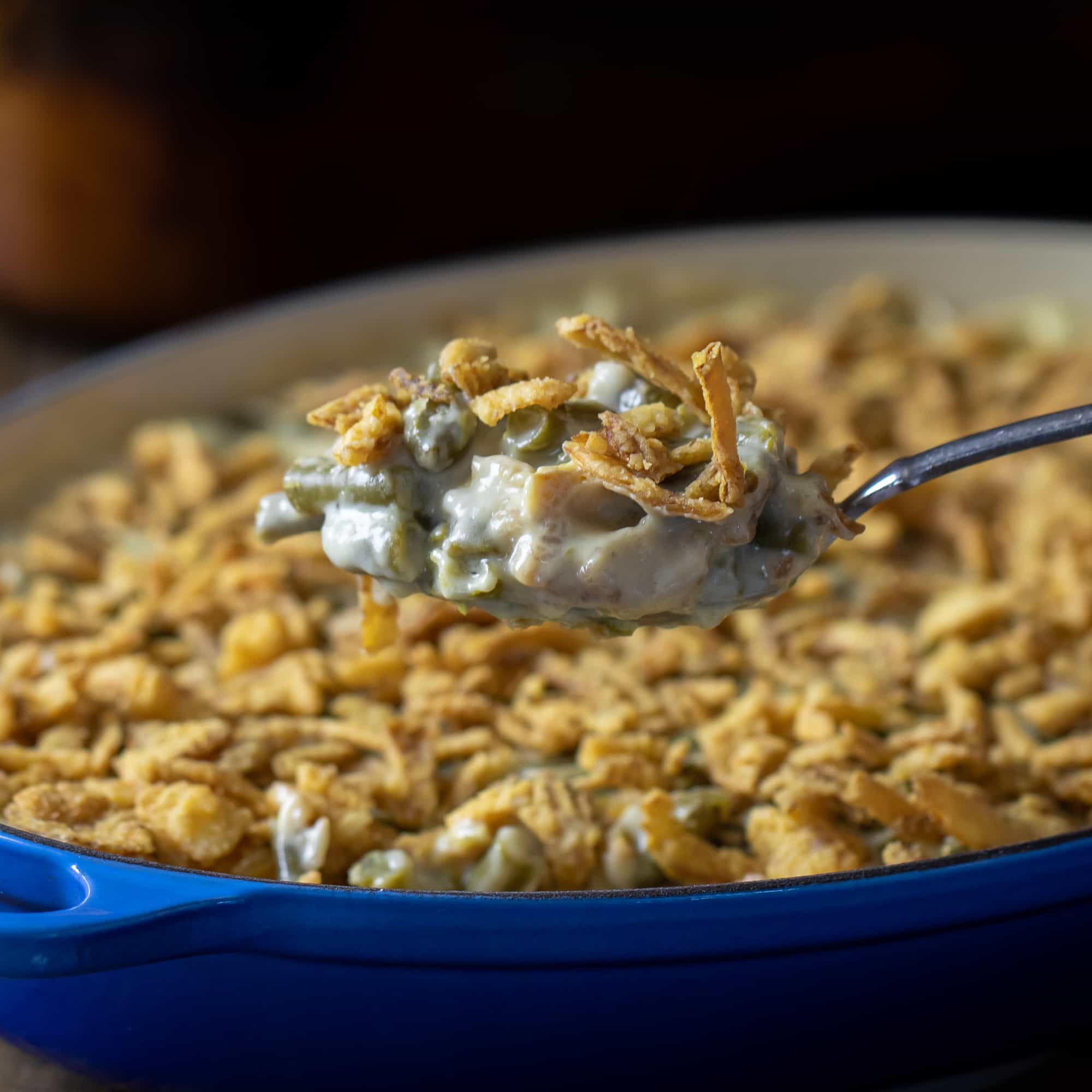 If you are planning a holiday dinner for Thanksgiving or Christmas, then check out some of these great recipes to go along with this cranberry sauce!
Green Bean Casserole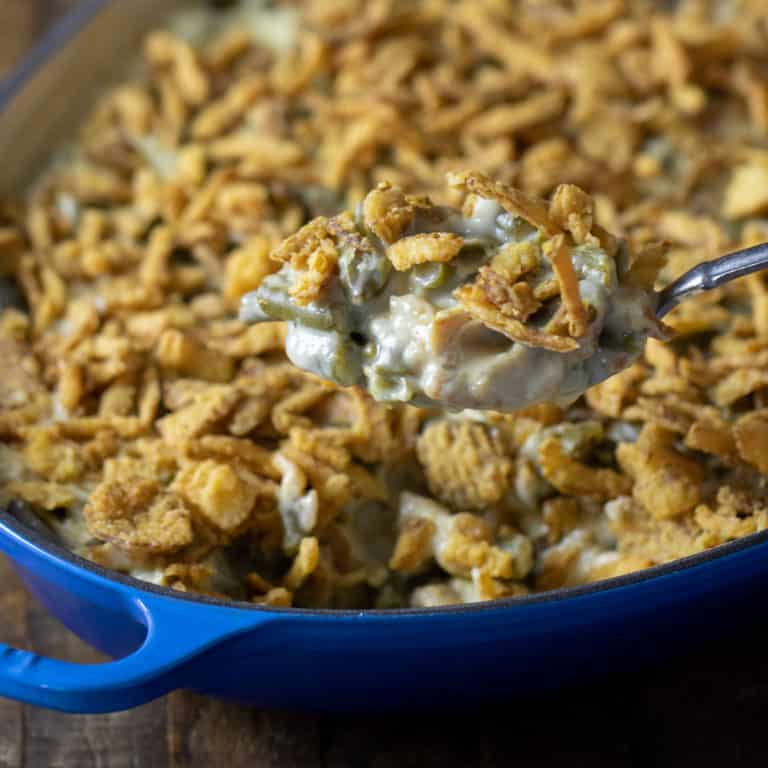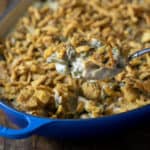 Print
Traditional green bean casserole recipe made with cream of mushroom soup and crispy fried onions. The best holiday Thanksgiving side dish.
Servings: 8 servings
Ingredients
4 cans green beans (drained) 14oz/398ml cans
1 can condensed cream of mushroom soup
1 can condensed cream of celery soup
1 cup milk
1/2 tsp pepper
1/2 tsp salt
2 cups crispy fried onions
Instructions
Preheat the oven to 350F.

Whisk the condensed soup with the milk, salt and pepper, in a bowl until smooth and the soup is not chunky.

Stir in the drained green beans and 1 cup of the crisp fried onions.

Spread in a large oval or 13x9 casserole baking dish and bake for 30 minutes.

Sprinkle the remaining crisp fried onions on top and bake for another 10 minutes.

Serve.
Nutrition
Per serving:
Calories: 198kcalCarbohydrates: 21gProtein: 6gFat: 11gSaturated Fat: 4gCholesterol: 9mgSodium: 750mgFiber: 4gSugar: 6g