This sweet potato casserole is a classic Thanksgiving side dish. Creamy and buttery filling with toasted marshmallow topping.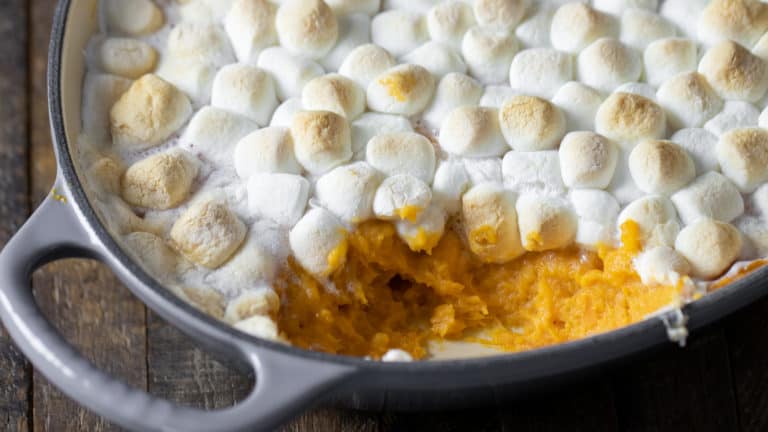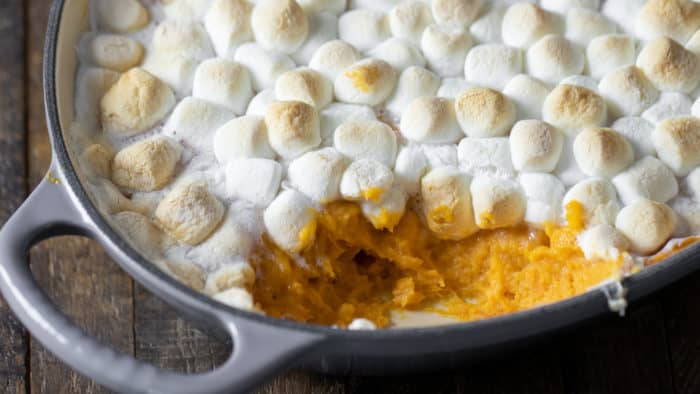 There are a handful of dishes I make for Thanksgiving every single year. This sweet potato casserole is one of them and quite possibly my favourite. This dish is all about the flavours of fall. Cinnamon and nutmeg bring the flavours of pumpkin spice and the sweet potato has an almost butternut squash like taste.
Thanksgiving turkey and stuffing is great, but I love the side dishes. This casserole is perfect to go alongside green bean casserole and mashed potatoes. The filling in this dish is sweet and creamy and the topping of toasted marshmallows will make you think you are at a campfire.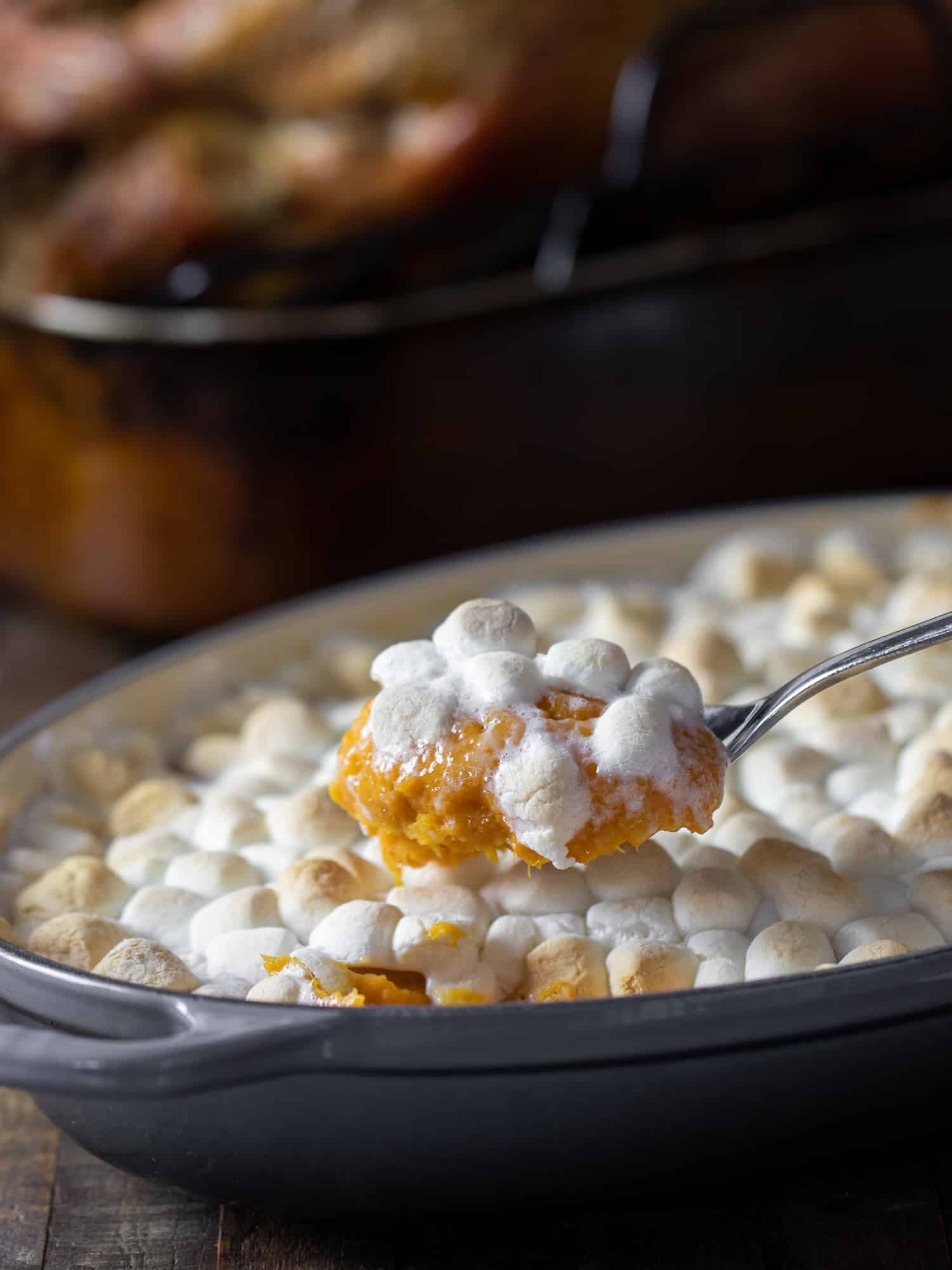 Sweet potatoes are an amazing and quite versatile vegetable. They are not just a side dish ingredient. Their sweet caramelized flavour makes them great for dessert. Here are some other recipes using sweet potatoes.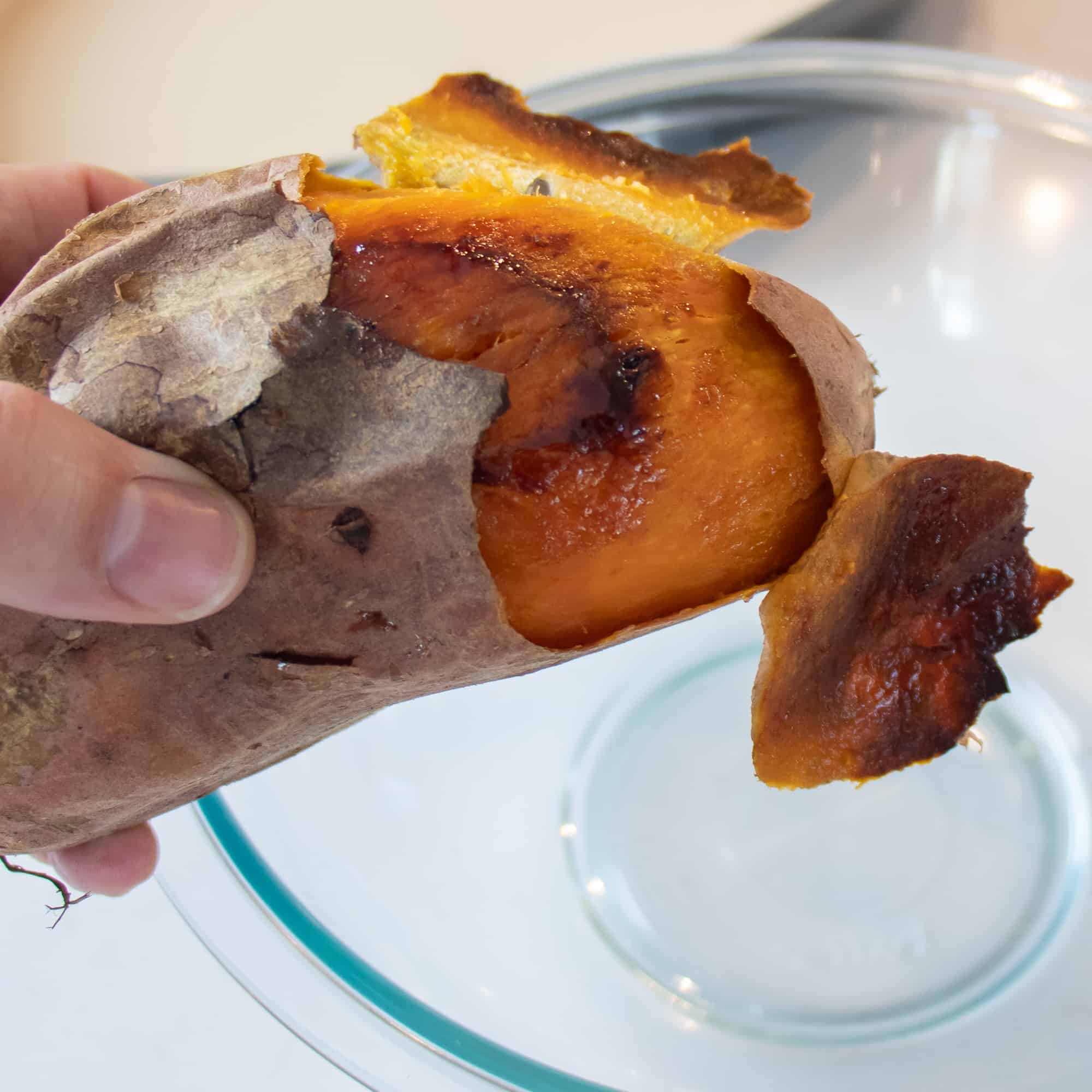 How to cook sweet potatoes
There are many different ways to cook sweet potato. They can be boiled or cooked in a microwave, but I prefer to bake them in the oven. Place the sweet potatoes in the oven whole and bake them at 375F for 60-90 minutes. Depending on the size and shape of the potato, the cooking will vary. Bake until the sweet potato is cooked through. Check by sticking a knife into the potato and it should be soft, right to the centre.
Once the sweet potatoes are soft, take them out of the oven and let them cool slightly. This makes them easier to handle and the skin will peel right off the potato very easily.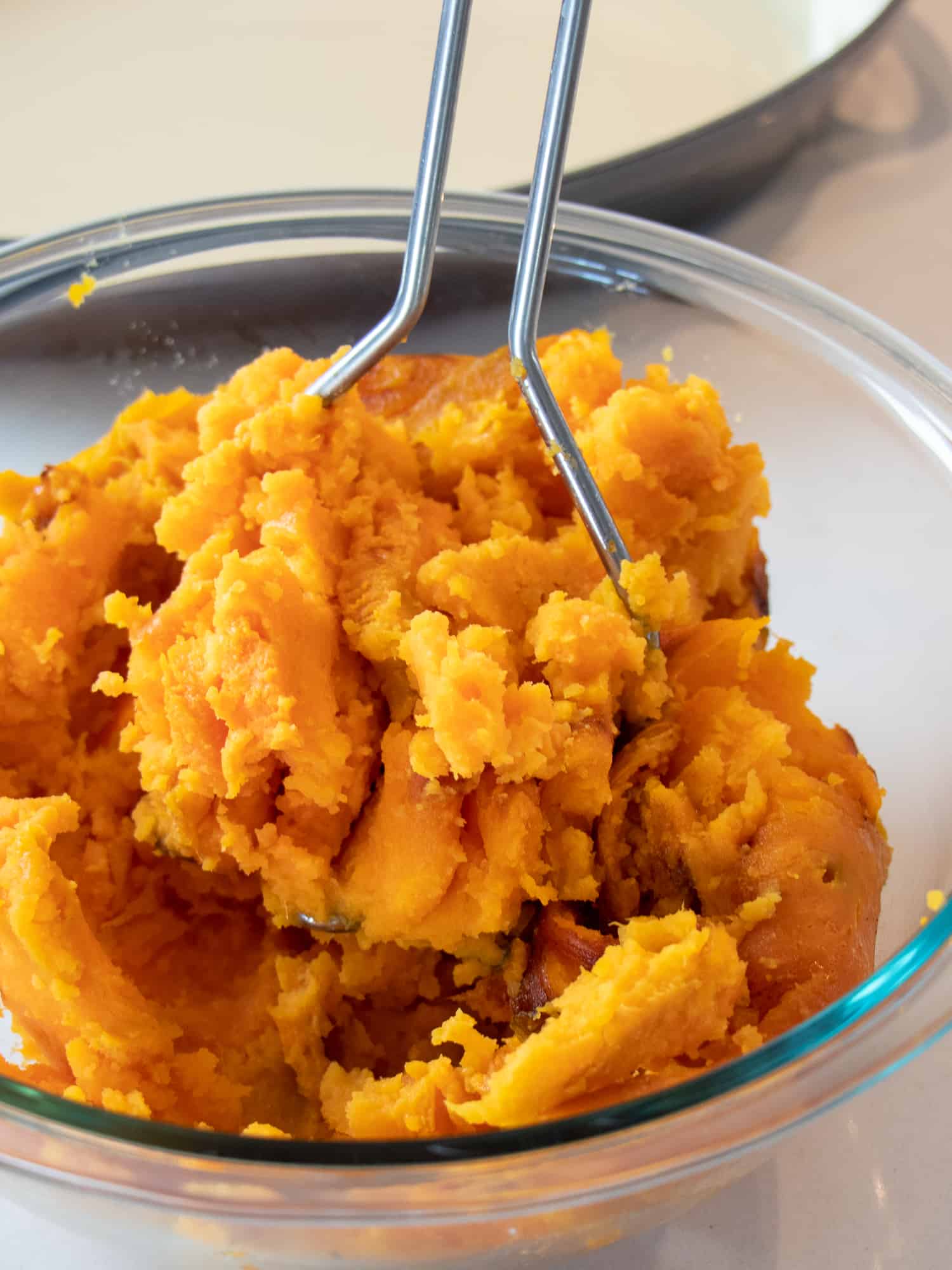 Place the cooked sweet potato flesh in a large bowl. Mash them with either a hand potato masher or hand blender until smooth and creamy.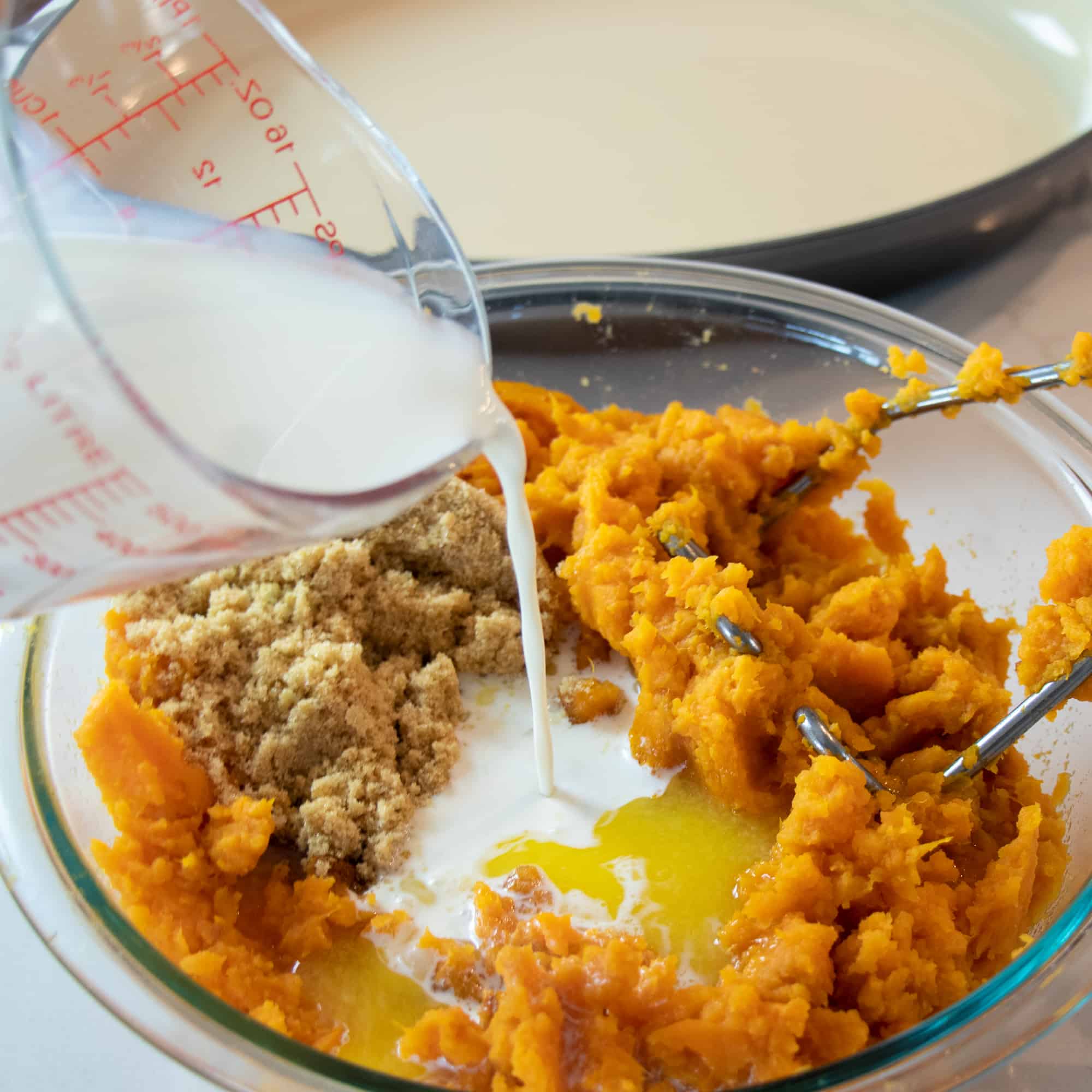 The base of this casserole is more than just sweet potatoes. The butter and cream give the filling a smooth creaminess but it is the cinnamon and nutmeg that add the autumn harvest flavour. Pour the remaining ingredients for the sweet potato base and stir.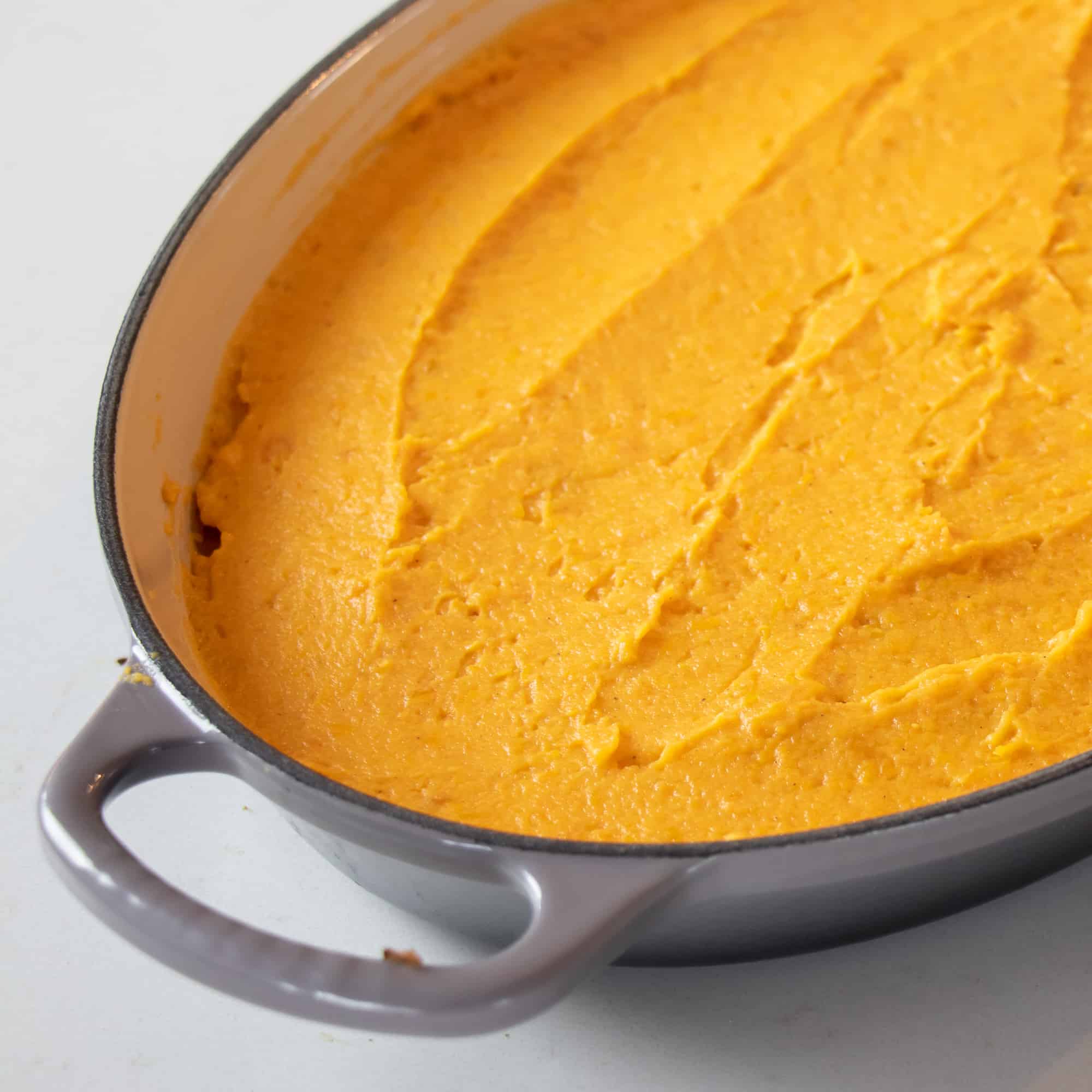 Spread the sweet potato filling evenly across the bottom of a casserole baking dish. You could use a 13×9 glass baking dish, or an oval dish similar to the ones in the photos.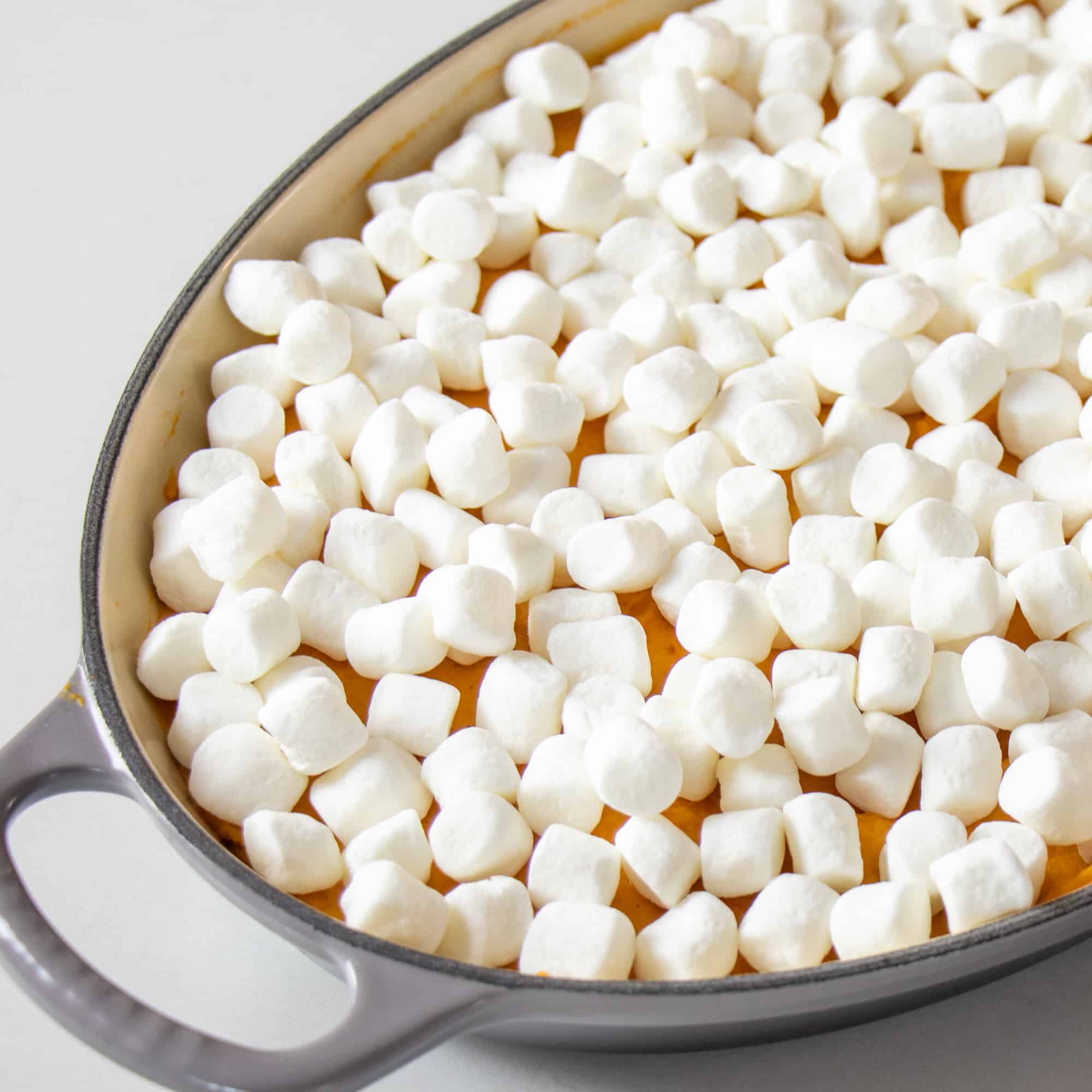 The last step to making this sweet potato casserole is to spread the mini marshmallows across the sweet potato filling.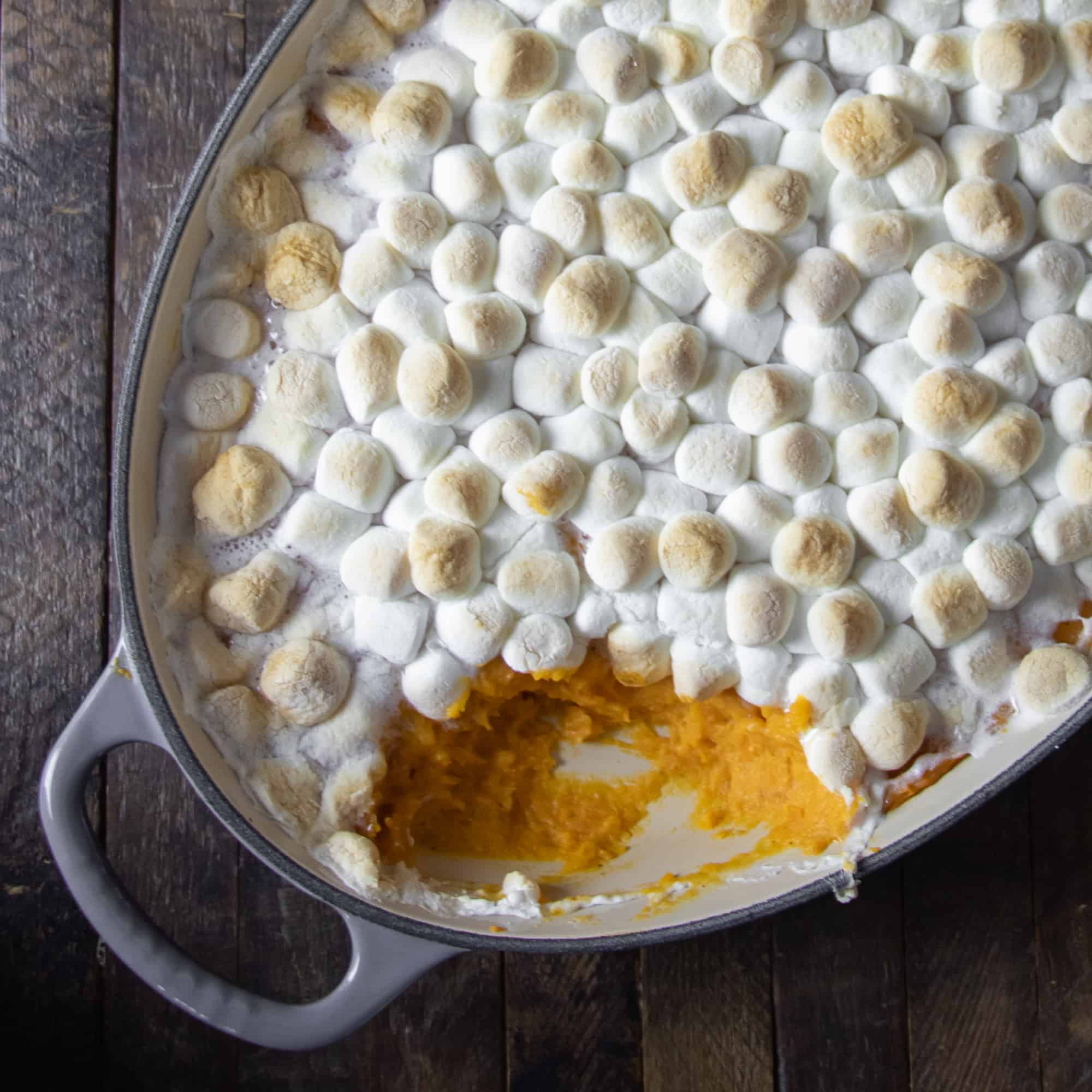 How long to bake sweet potato casserole
Thanksgiving dinner typically has lots of dishes to cook and prepare. I like to look for ways to do some of the stuff earlier in the day, or maybe even the night before. Doing this takes away some stress and busyness on Thanksgiving day. So, if desired, you can make the sweet potato filling ahead of time and when you are ready for it to bake, spread it on the casserole dish and top with the marshmallows. Set the oven to 350F and bake the casserole for 20 minutes. That is enough time to heat up the sweet potato filling and toast the marshmallows.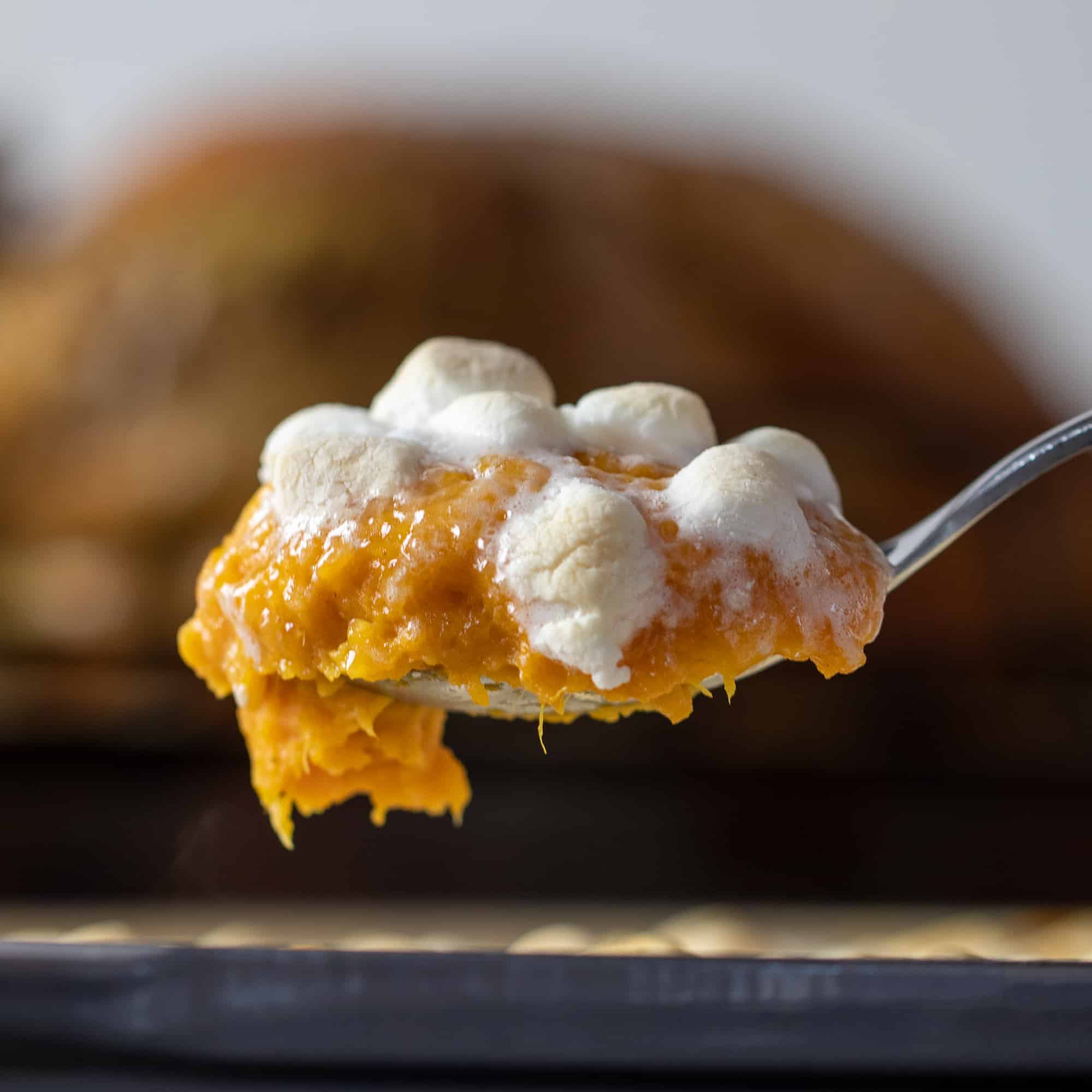 Thanksgiving dinner ideas
If you are planning a holiday dinner for Thanksgiving or Christmas, then check out some of these great recipes to go along with this sweet potato casserole!
Sweet Potato Casserole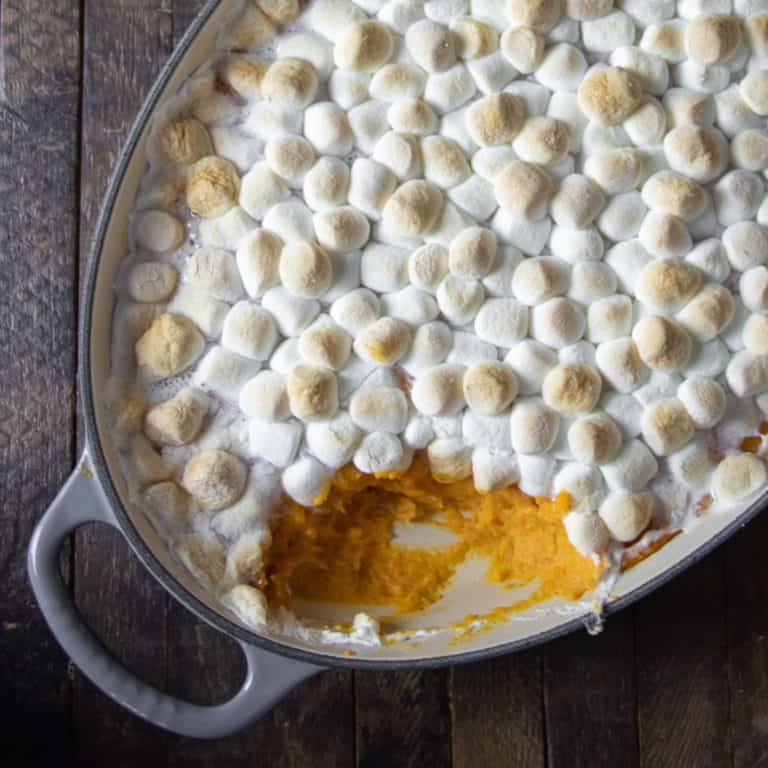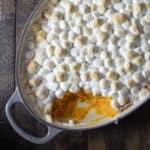 Print
This sweet potato casserole is a classic Thanksgiving side dish. Creamy and buttery filling with toasted marshmallow topping.
Prep Time: 15 minutes
Cook Time: 1 hour 30 minutes
Total Time: 1 hour 45 minutes
Servings: 10
Ingredients
4 sweet potatoes
1/2 cup melted butter
1 cup 10% cream
1/3 cup brown sugar
1 tsp salt
1 tsp cinnamon
1/4 tsp nutmeg
3 cups mini marshmallows for topping
Instructions
Bake sweet potatoes in a 375F oven for 60-90 minutes or until cooked through and tender. You can check doneness by sticking a knife in the centre of the weet potato. If it is cooked, the knife should go through easily.

Let the potatoes cool slightly. Peel the skin off the potatoes and place the flesh in a large bowl.

Use a hand potato masher or an electric mixer to mash the sweet potatoes until creamy.

Stir in the melted butter, cream, brown sugar, cinnamon, nutmeg and salt.

Spread in a baking dish, top with mini marshmallows and bake at 350F for 20 minutes.
Nutrition
Per serving:
Calories: 284.53kcalCarbohydrates: 30.71gProtein: 1.69gFat: 18.09gSaturated Fat: 11.34gCholesterol: 57.01mgSodium: 365.31mgFiber: 1.67gSugar: 17.97g