Sweet Potato and Pecan Pie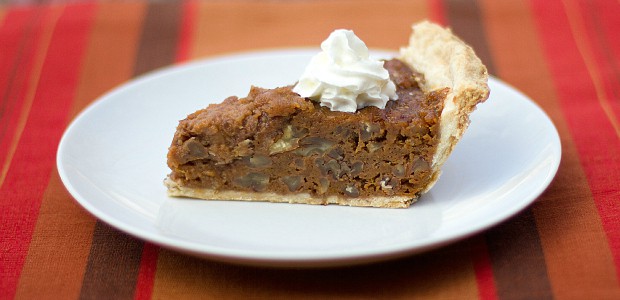 My parents came up for American Thanksgiving last week and they asked what I wanted them to bring. Immediately, I asked my dad to make his sweet potato pie. This pie has been made every thanksgiving for so many years that I have lost count. I am always amazed at how similar it tastes to pumpkin, but also seems a little richer in flavour. Mixed into the sweet potato filling are pecans which add a great texture and taste.
I told my dad when he brought the pie, that I would love it if he provided the recipe so I could share it with you. He obliged and I made sure I took a nice picture of a slice, highlighting the deep colour of the sweet potatoes and the hidden gems that are the pecans.
So, next time that you plan to make a pumpkin pie, give this one a whirl!!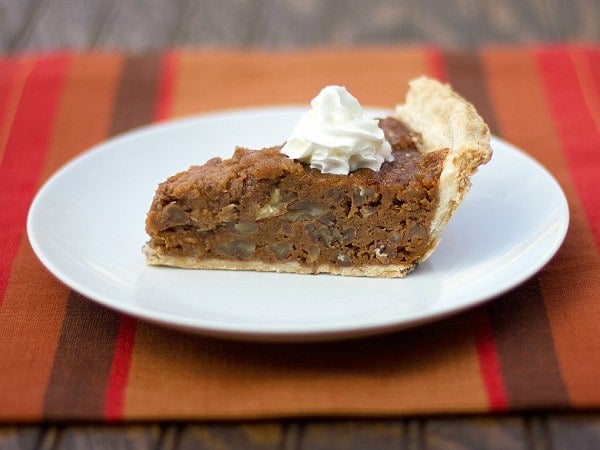 Sweet Potato and Pecan Pie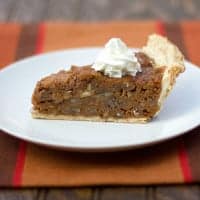 Print
A classic southern pie recipe that is simple to make and incredibly delicious. Sweet potatoes taste similar to pumpkin in this pie and there are many pecans stirred in.
Servings: 8
Ingredients
2 cups mashed boiled sweet potatoes
1/2 cup honey
1 tsp ground cinnamon
1/2 tsp ground nutmeg
1/2 tsp salt
4 large eggs
1/2 cup dark brown sugar
1/4 cup Steens pure cane syrup (or corn syrup)
1 tsp vanilla extract
1 cup pecan pieces or whole pecans
1 - 9 inch deep dish unbaked pie shell
Instructions
Preheat oven to 350 F.

Mix sweet potatoes, honey, cinnamon, nutmeg and salt togetherin a large mixing bowl.

In a separate bowl, beat the eggs, then gradually beat in sugar and vanilla.

Pour the eggs into the potato mixture and mix well. Add pecans, if desired, and pour

into pie shell.

Bake 1 hour or until a knife inserted into center comes out clean.