Baked Cajun Sweet Potato Pancakes with an Herb Ranch Dip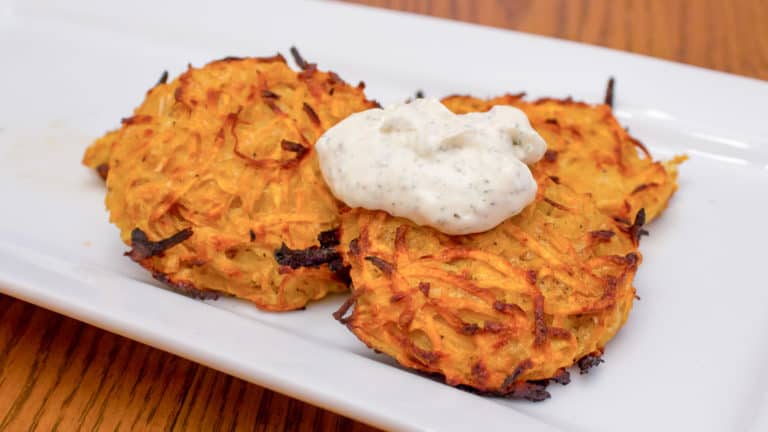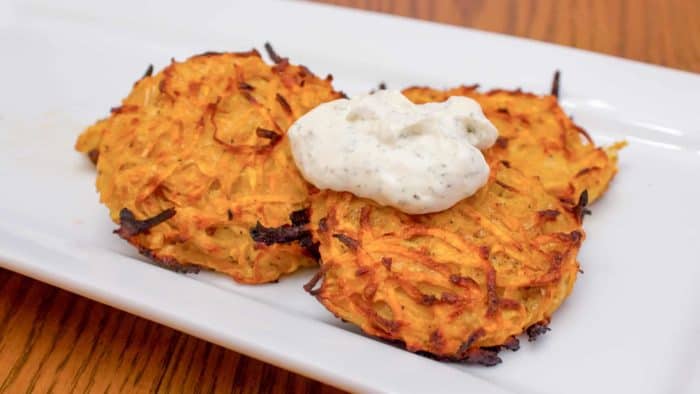 Today is the first day of Hanukkah. In Hebrew, Hanukkah means to dedicate. The name is a reminder that the holiday commemorates the rededication of the Second Temple in Jerusalem following the Jewish victory of the Syrian-Greeks in 165 BCE. Hanukkah is an eight day holiday. I love Christmas, but it is only one day! I cannot even imagine celebrating Christmas for 8 days. WOW!
This holiday is also called the Festival of Lights and one of the traditions of Hanukkah is lighting the eight candles on the Menorah. On the first day of Hanukkah, two candles are lit. Another candle is lit each day during the eight days of Hanukkah.
A common food of Hanukkah are latkes (aka – potato pancakes). Latkes are also very popular in many Eastern European countries and I grew up eating them regularly at home. I loved them with either sour cream or apple sauce.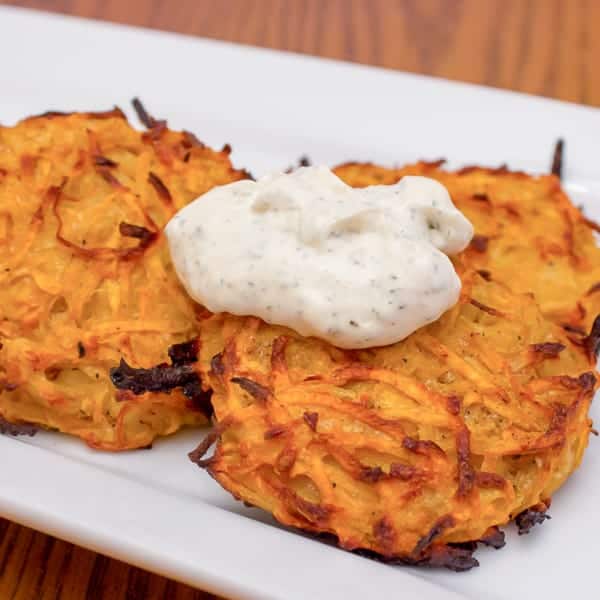 Since today is the start of Hanukkah, I figured there is no better time to share a recipe for potato pancakes. I wanted to try something different, so these are made with both sweet potatoes and white potatoes. The cajun seasoning in the pancakes give them a kick that is offset by the sweetness of the sweet potato.
Since many people eat sweet potatoes for their health benefits, I decided to bake these instead of frying them in oil. They turned out great and the dollop of herb ranch dip made them even better!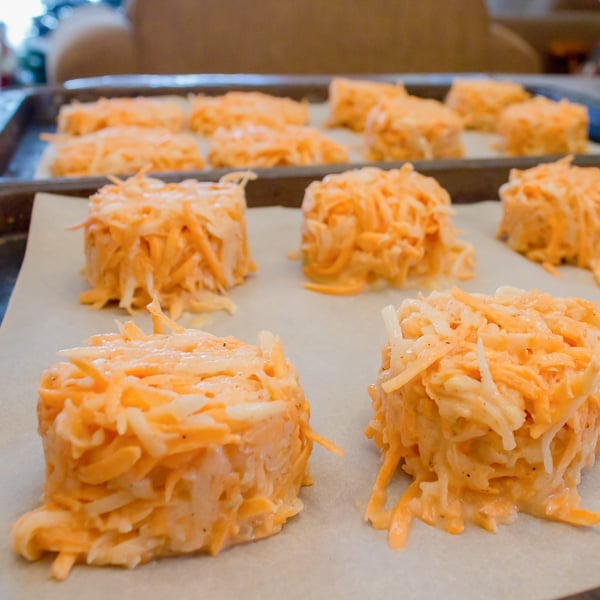 Once you have grated all the potatoes and made the potato pancake batter mixture, use a 1/3 cup measuring cup to scoop out some of the potato mixture and place on a baking sheet lined with parchment paper.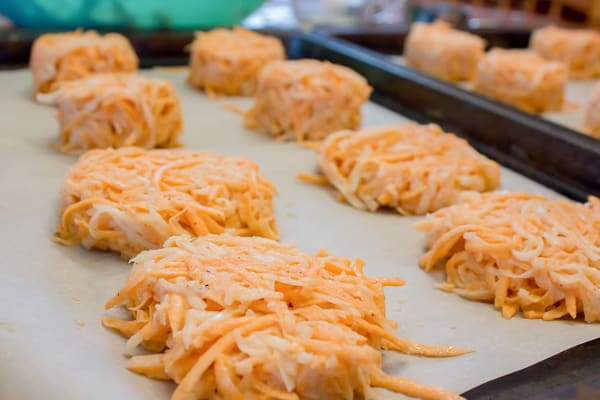 Gently flatten so that the pancakes are around 1/2 inch in thickness and uniform shape and size.
Bake in a 400F oven for 30-40 minutes, or until cooked through and the grated potato is soft and tender.
While the pancakes are in the oven, make the ranch dip.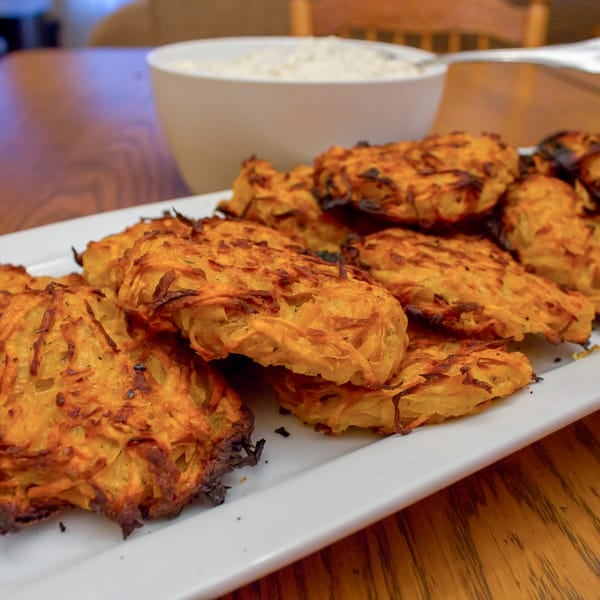 Sweet potatoes have a wonderful sweet flavour that goes very well with cajun spices. These pancakes are baked providing a healthy alternative to the typical fried variety.
Check out these other great recipes using sweet potatoes!
Baked Cajun Sweet Potato Pancakes with an Herb Ranch Dip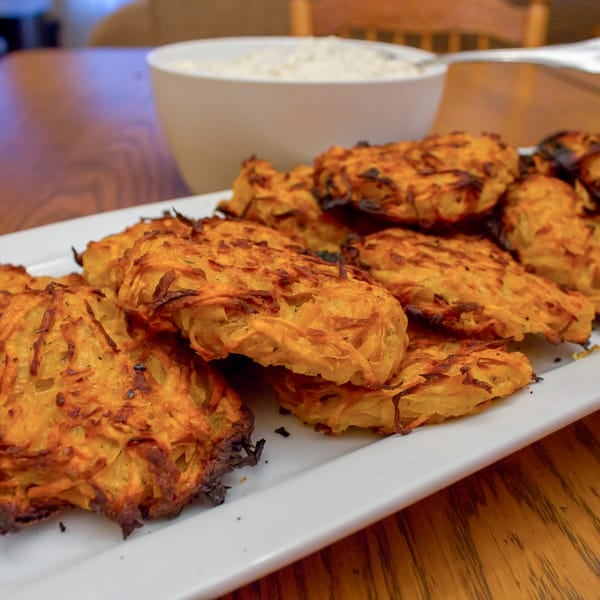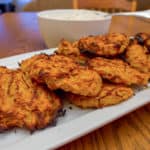 Print
This sweet potato pancake (latkes) recipe has a wonderful combination of sweet and spice. They are baked instead of being fried so they are a healthy option for people celebrating Hanukkah.
Servings: 8 pancakes
Ingredients
1 large sweet potato
2-3 medium white potatoes
1 small onion , minced
2 eggs , lightly beaten
1/4 cup flour
2 tbsp milk
1 tsp salt
1/2 tsp paprika
1/2 tsp garlic powder
1/2 tsp black pepper
1/4 tsp thyme
1/4 tsp cayenne pepper
1/2 cup cream cheese
1/2 cup sour cream
1/2 cup mayonnaise
1/2 tsp garlic powder
1/2 tsp paprika
1 tsp dill weed
1 tsp parsley
1 tsp chives
Instructions
Grate the white and sweet potatoes. Squeeze the potatoes to get rid of as much liquid as possible.

In a large bowl, mix the grated potatoes, onion, eggs, flour, milk, salt, paprika, garlic powder, black pepper, thyme and cayenne pepper.

Lightly oil a cookie sheet using a pastry brush or spritzer. Using a 1/3 cup measuring cup, scoop out pancake batter onto the cookie sheet. Flatten them so they are about 1/2 inch thick or a little less.

Bake in a 400F oven for 30-40 minutes, flipping them halfway through. The pancakes should brown and crisp up. If they have not crisped up enough, bake them a little bit longer.

Beat the remaining ingredients together to make the herb ranch dip.

Serve the pancakes immediately after removing from the oven with the herb ranch dip.