Deep Fried Sweet Potato Fries
These sweet potato fries are soft in the middle with a crispy coating. They are perfect alongside a bowl of spicy ranch for dipping.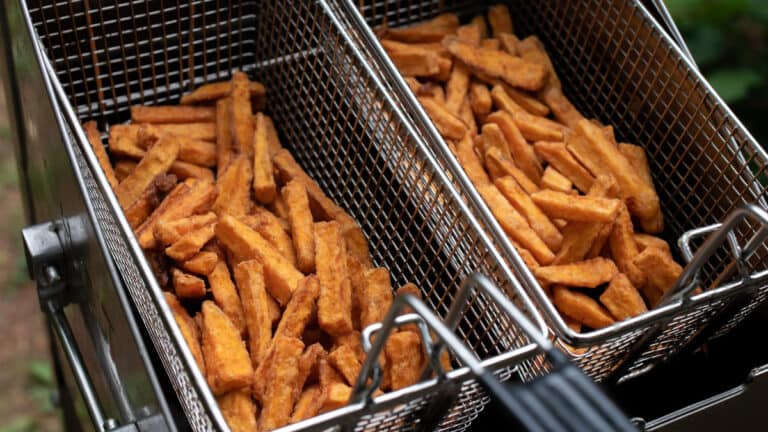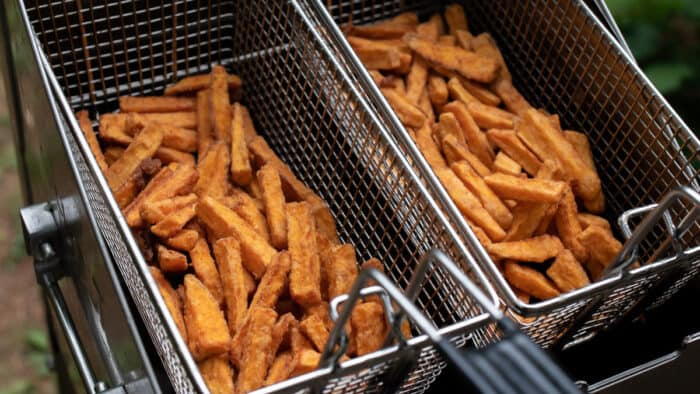 Almost every time we eat out at a restaurant, I will order sweet potato fries, if they offer it as an option. I love the taste of these fries, and dipping them in that spicy ranch, is so very good! We make them at home quite a bit, and this recipe for deep fried sweet potato fries, is my favourite version!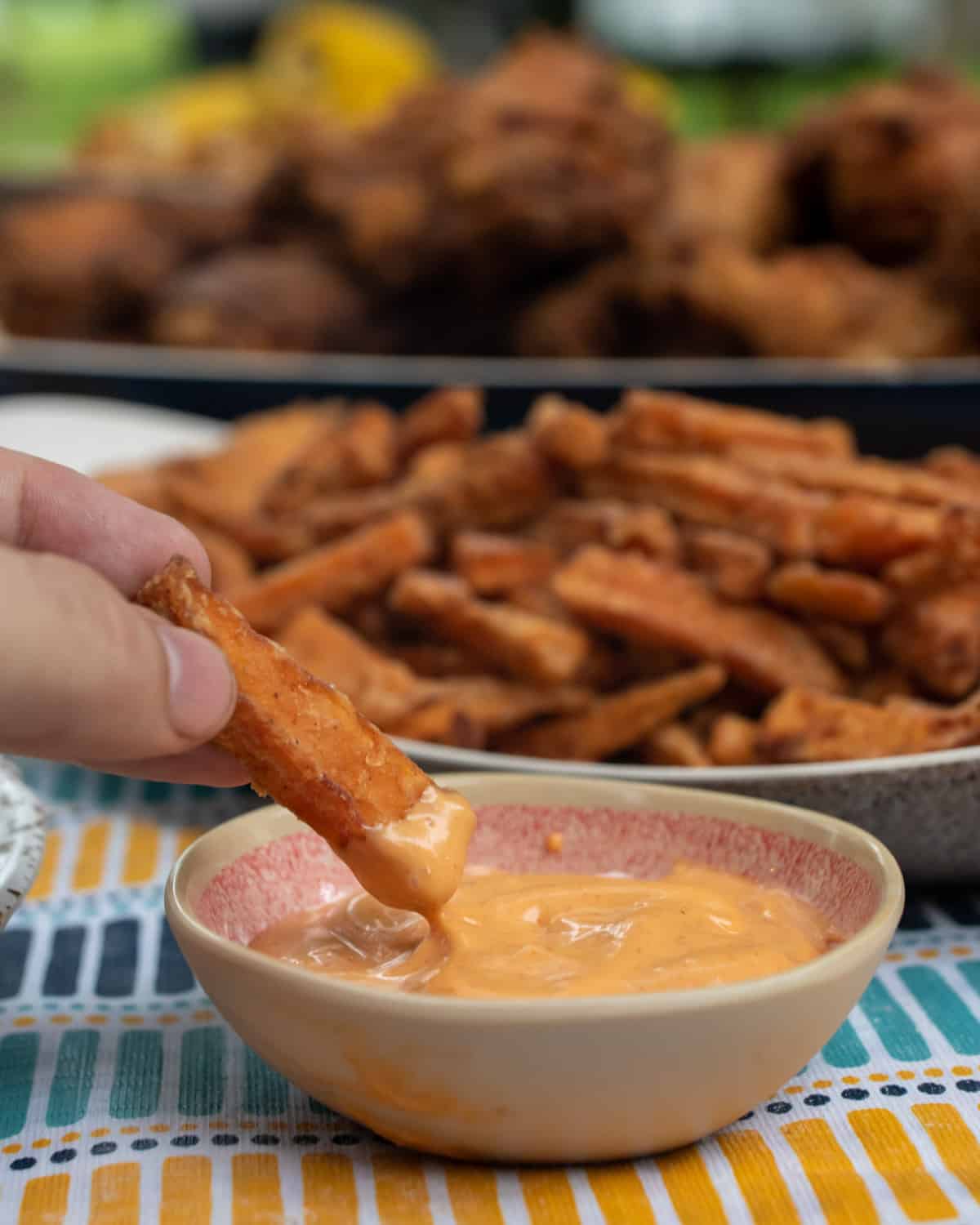 What Makes These Sweet Potato Fries So Good?
By blanching the fries first, it allows them to be a little fatter than the way sweet potato fries are usually. Then, these fries are tossed in a seasoned flour. This gives the fries that crispy coating that makes them taste amazing!
More Recipes For Fries
We love fries and have recipes for fries using many different cooking methods as well as various kinds of potatoes!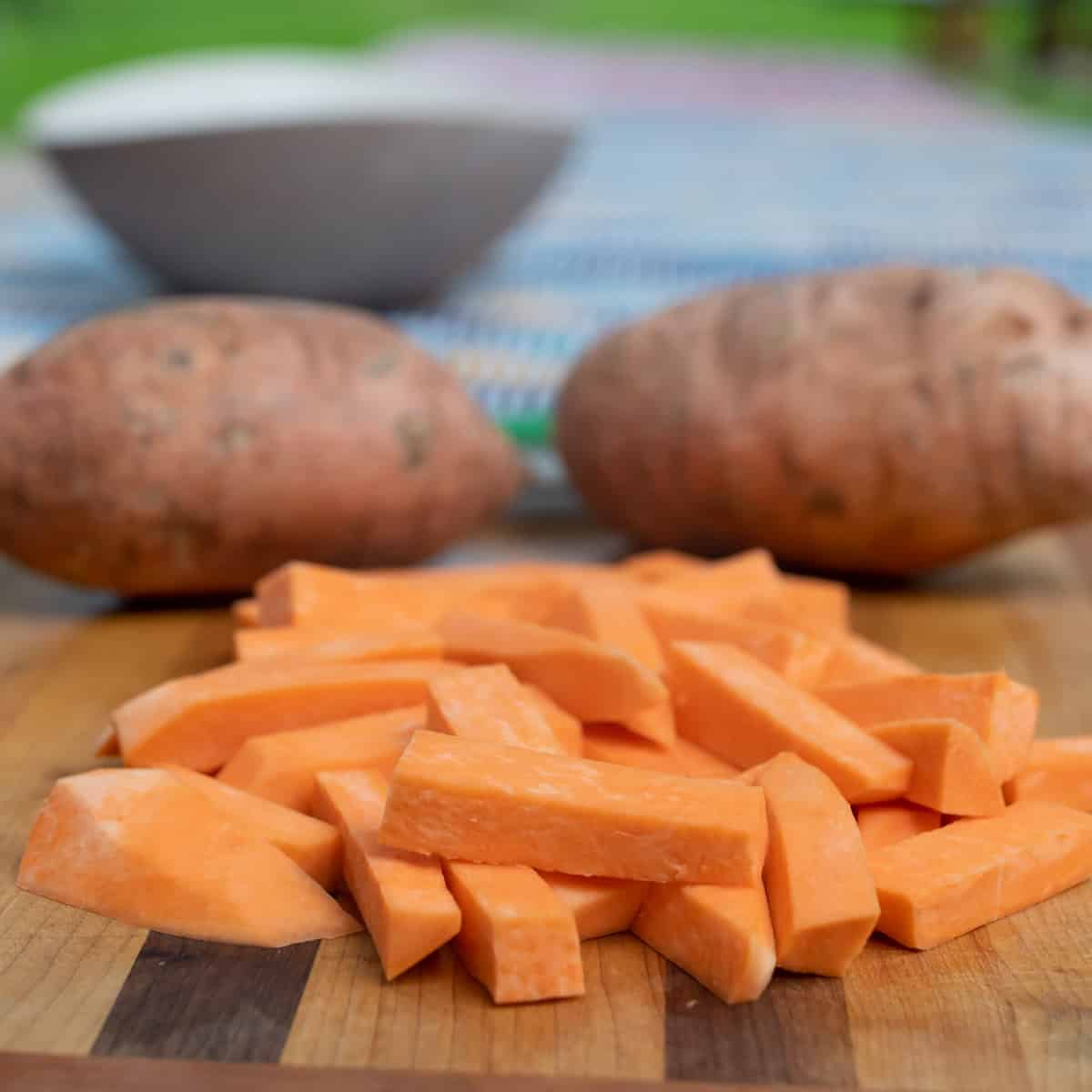 Ingredient Notes
Sweet potatoes – obviously this is the main ingredient of the recipe. Sweet potatoes are surprisingly large and you do not need as many as you may think. I find that 2 or 3 large ones are enough for our family.
Flour – this recipe recreates those fries that have a crispy coating. I always love the coating and they work especially well with these sweet potato fries and perfect with a spicy ranch dip.
Spices – the seasoning is added to the flour for the coating. I typically use creole seasoning or a cajun spice blend. But a simple mixture of salt and pepper will also work great.
Oil – My favourite oil for deep frying is definitely peanut oil. But, this is a pricier oil where we live, so I find that I more often use canola or vegetable oil.
What Kind of Dip? When you order sweet potato fries from a restaurant, they often come with a dip. The most common type is a spicy mayo or ranch dip and it is perfect for dipping these crispy sweet potato fries! Sometimes I will make my own dip, or just purchase some. Recently, I bought a chipotle ranch salad dressing, and that worked so well with these fries.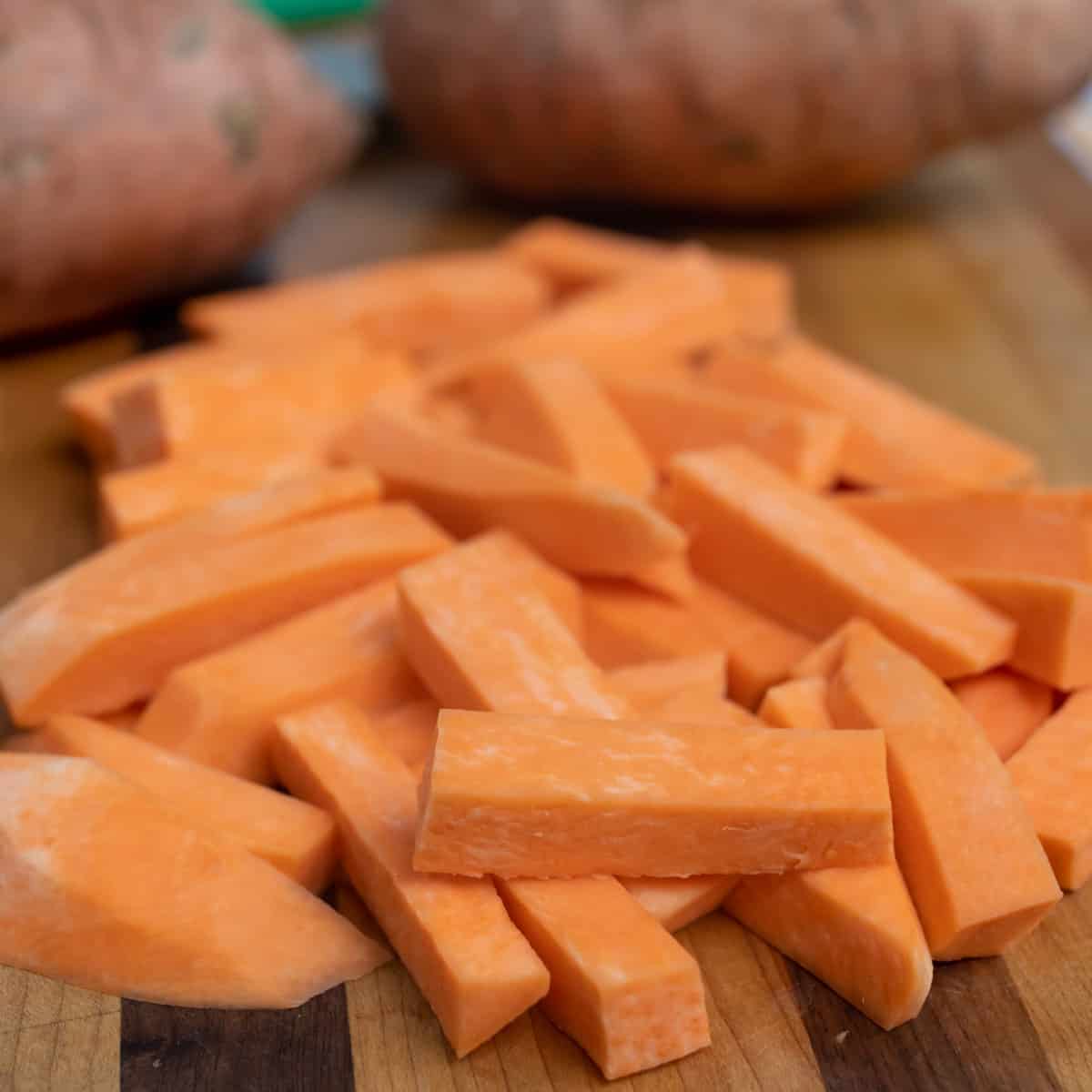 How To Cut Sweet Potato Fries
The first step with making these fries is to peel the skin off them. You can use a potato peeler, or a paring knife. Many times, sweet potato fries are long and thin. These fries are shorter and chunkier in size. This is because they are blanched first.
With a large sweet potato, cut it in half lengthwise which should give the proper length for these fries. I aim for the size of the fries to be sticks that about 3 inches long and 1/2 inch thick.
Skin on or off? While I love leaving the skin on when I make French fries with white or russet potatoes, my preference is to take the skin off sweet potatoes. But, it is not necessary and many people love sweet potato fries with the skin on. It is all what you prefer.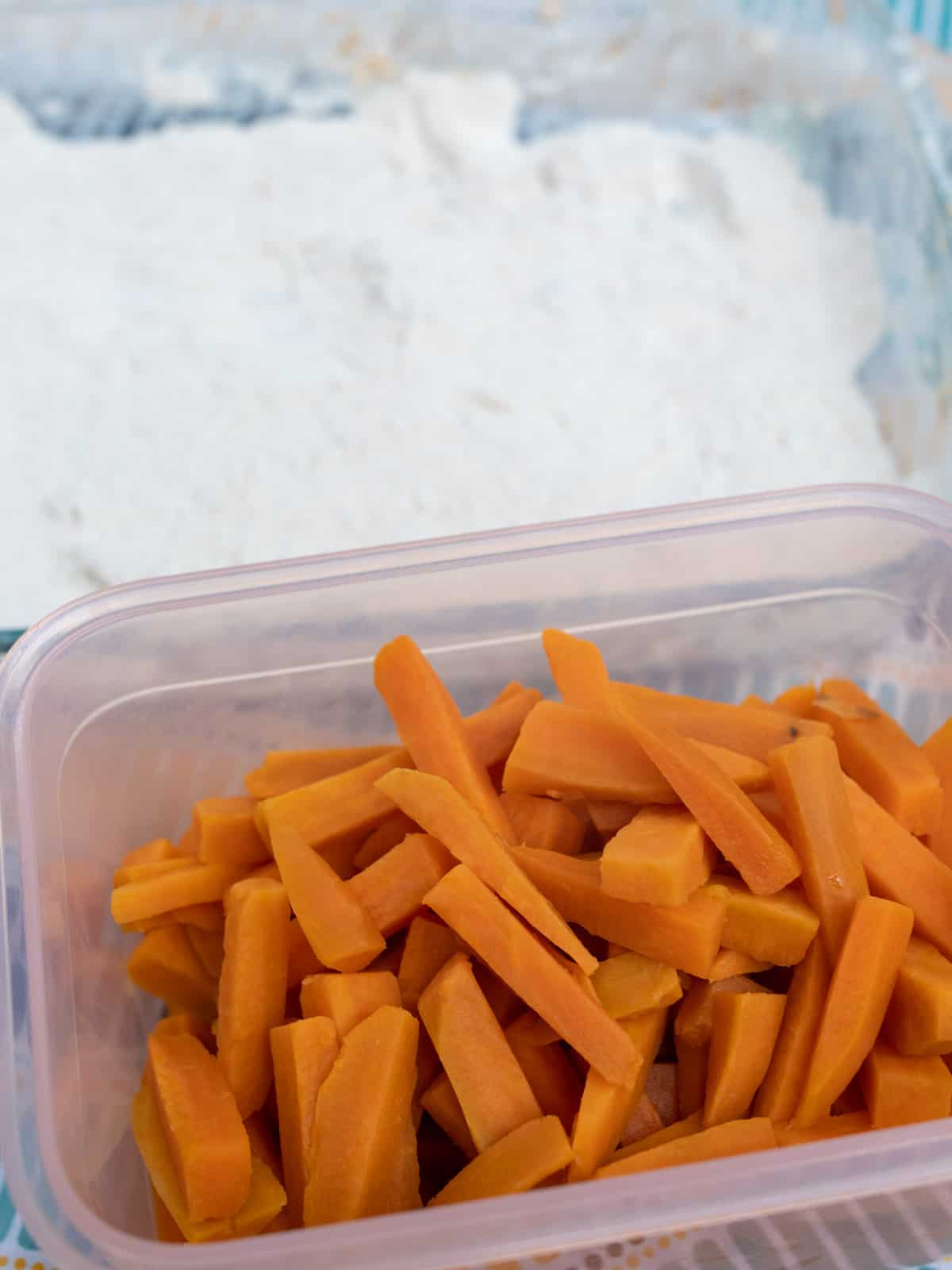 How To Blanch Sweet Potato Fries
Once the sweet potatoes are cut into sticks it is time to blanch them first in water. Bring a big pot of water to a boil, and then add the sweet potato fries. Let them boil for about 3-4 minutes. They should be just to the point where they are tender right through.
To test, you could take a fry out and, once cooled to the touch, you could gently try to bend the fry. If it is fairly flexible, then they are done. Take the blanched sweet potatoes out of the hot water and run them under cold water to stop them cooking further.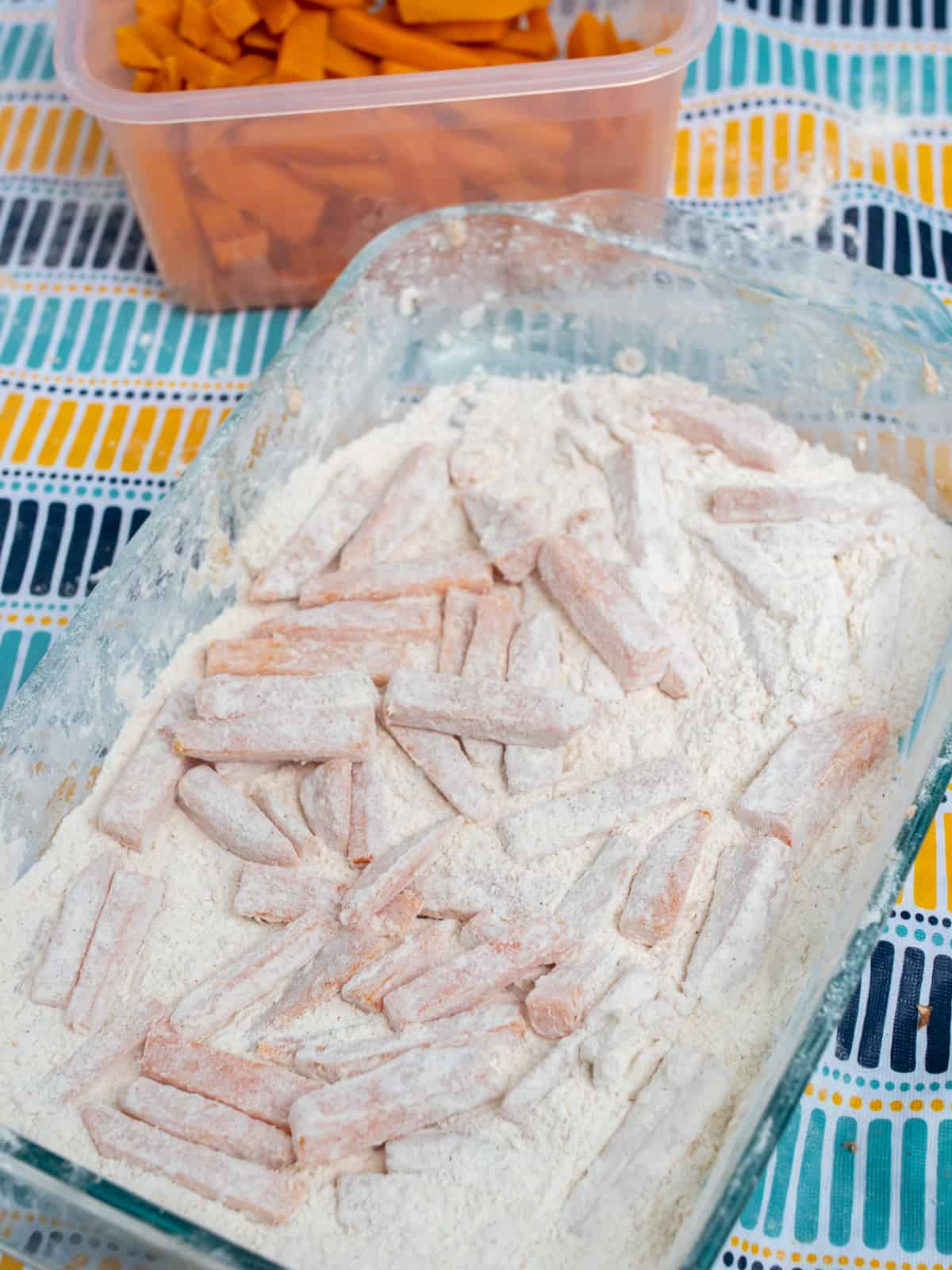 Toss In Seasoned Flour
After the sweet potato fries have been blanched, they are ready to be tossed in the seasoned flour. Take a handful of sweet potato fries and place them in the container with the flour and seasoning. Gently toss them in the flour. Be careful to not let the sweet potatoes break up, since they are softer after the blanching.
Once the fries are well coated, lift them out. You can either place them directly into a fryer basket or place them on a plate or bowl. Continue until all the fries are coated in the flour.
Expert Tip! I usually make these sweet potato fries when I also make fried chicken. The flour mixture I use then, is the leftover flour I used to coat the chicken. It works so well and I always love opportunities to use up stuff that is just going to be trashed anyways.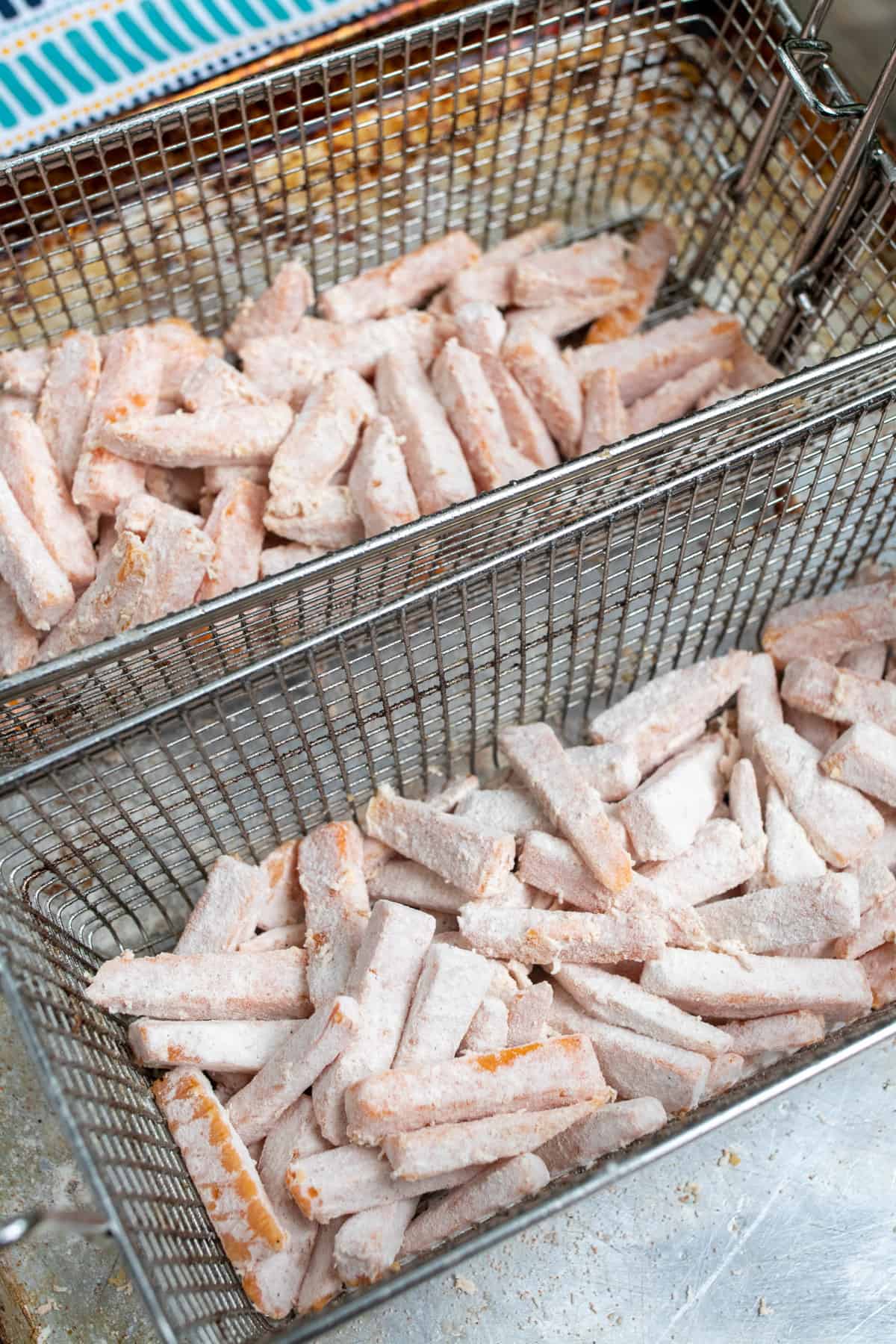 Do not overfill your fryer basket. Follow the instructions with your deep fryer and add the amount of fries as the manual recommends.
Expert Tip! Shake off any excess flour from the fries. Loose flour is just going to go into the oil, so it is better to shake it off first before they are immersed in the hot oil.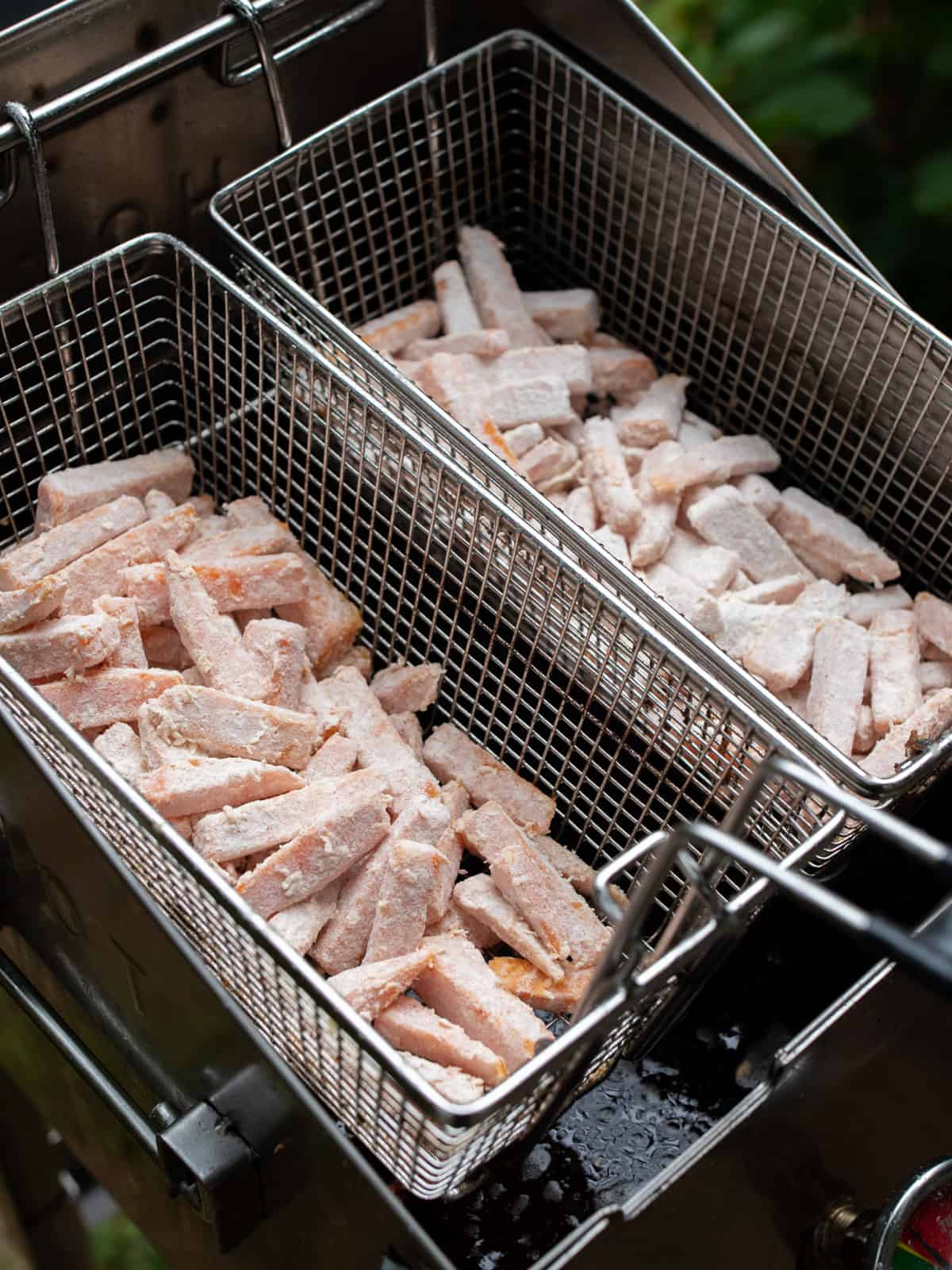 Don't add the fries until the oil in the deep fryer has come up to temperature. While I made these in an outdoor deep fryer that has a double basket and each basket can hander a large batch, this recipe works just as well with an indoor countertop deep fryer. I make these as well with my indoor fryer. It is just necessary to fry them up in smaller batches that the deep fryer can handle.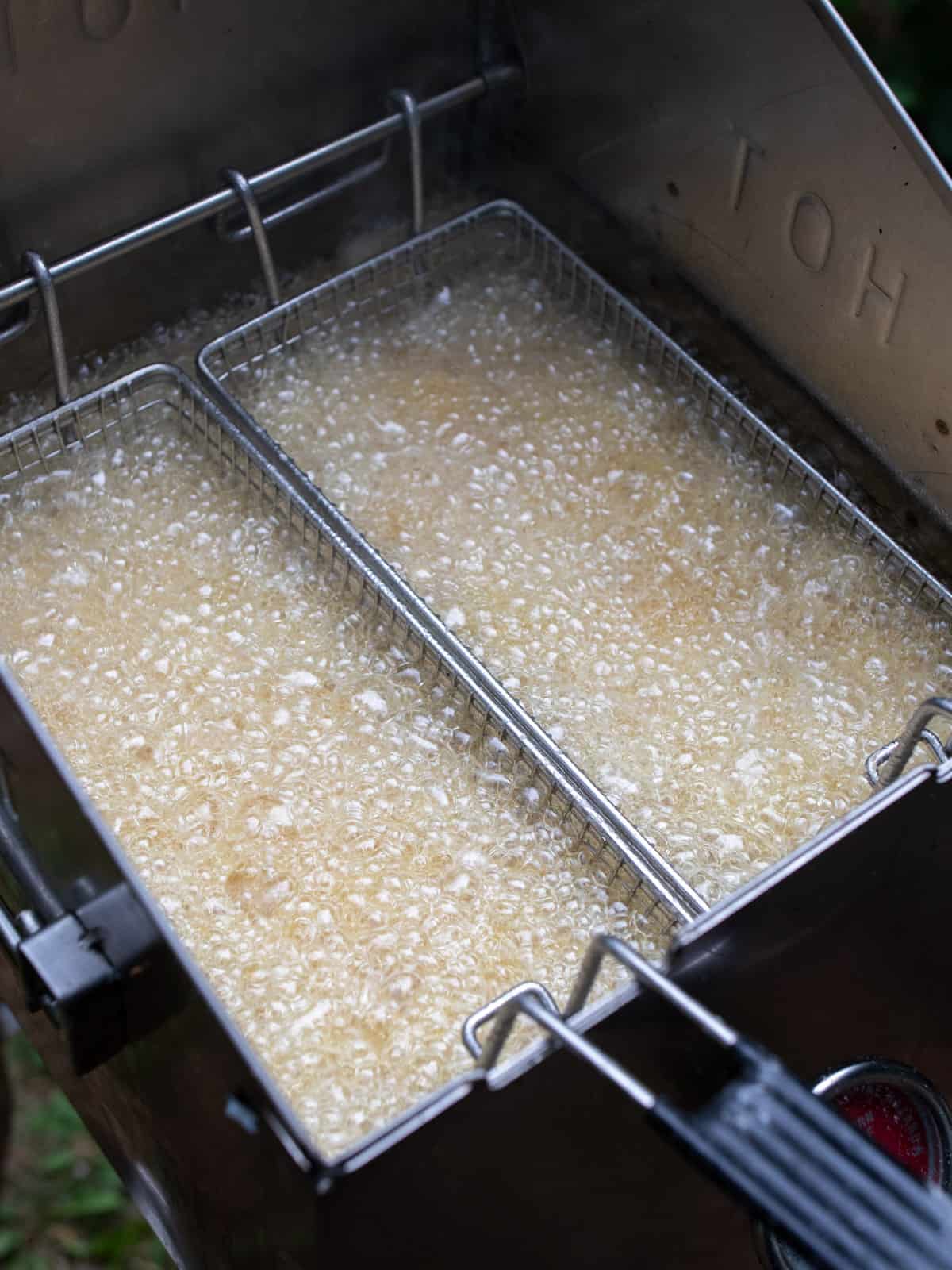 What Temperature To Deep Fry Sweet Potato Fries?
Since these sweet potato fries have already been blanched, the time in the deep fryer is to crisp up the outside. Therefore, I go for a temperature of 350F which is high enough to give the fries a nice crisp.
Can You Deep Fry Raw Sweet Potatoes? Sure! While I prefer to blanch the sweet potatoes first, if it definitely possible to fry them raw. If doing this, I would cut the fries a little thinner so they cook through more quickly. Also, I have the oil at 325F. I find this lower temperature fries them through better.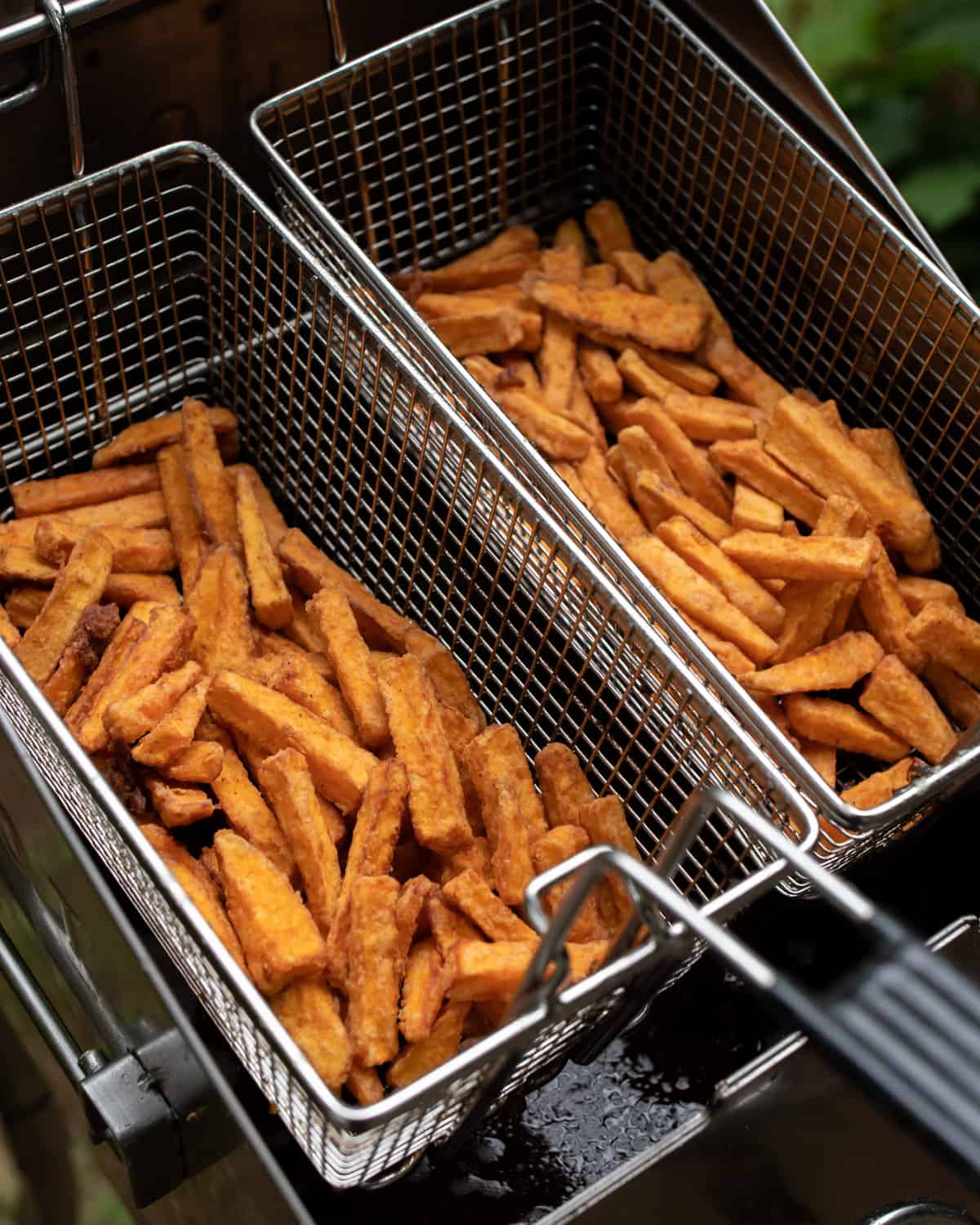 How Long To Deep Fry Sweet Potato Fries?
These sweet potato fries only need to be deep fried for about 3 to 4 minutes. Look for the coating of the fries to get golden brown and crispy. You should see the corners get brown first.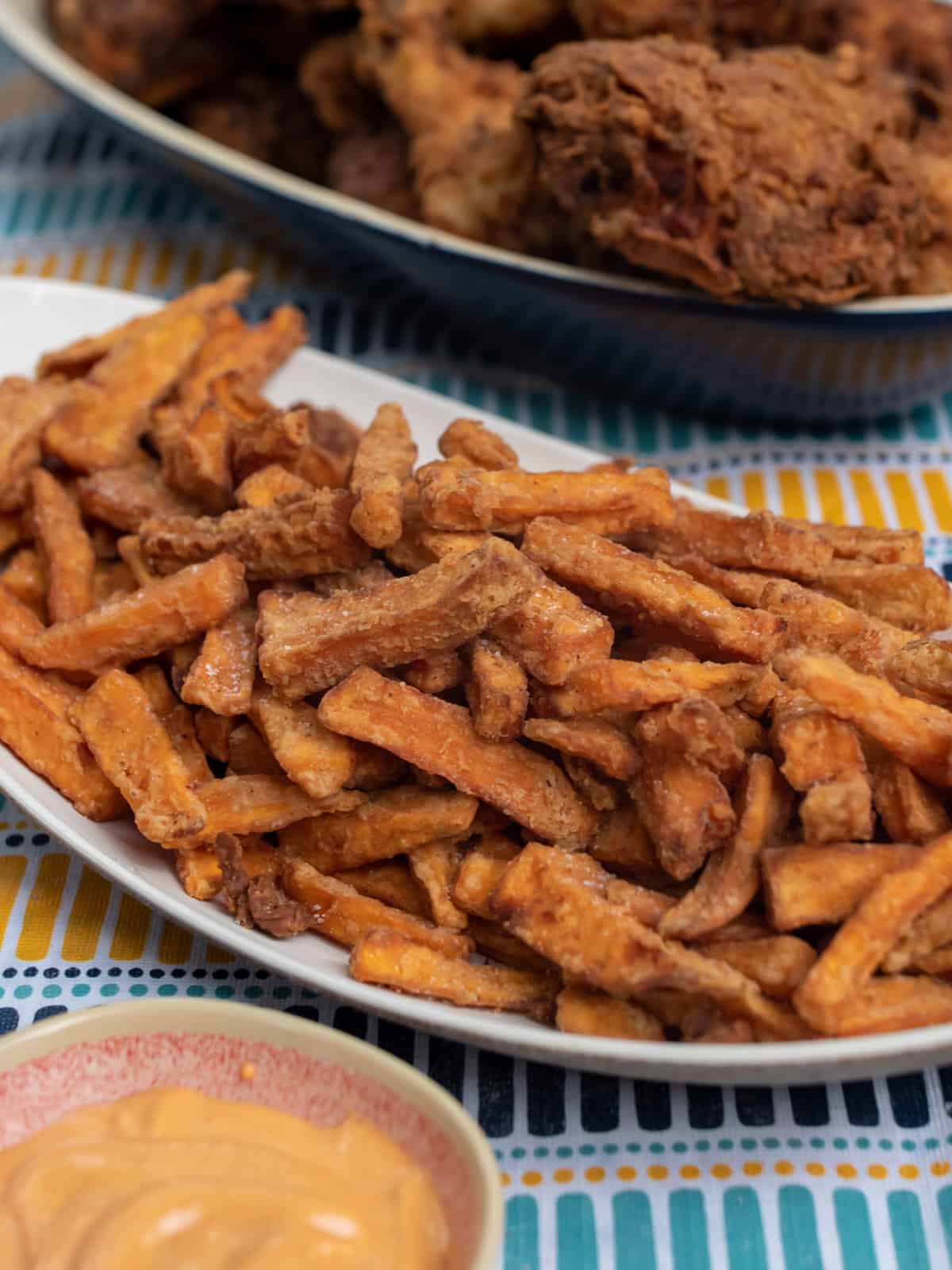 These deep fried sweet potato fries are best when served right away. The outer coating is nice and crispy, but the inside is soft with a hint of sweetness of the potato. We love dipping them in a spicy ranch or mayo. So good!!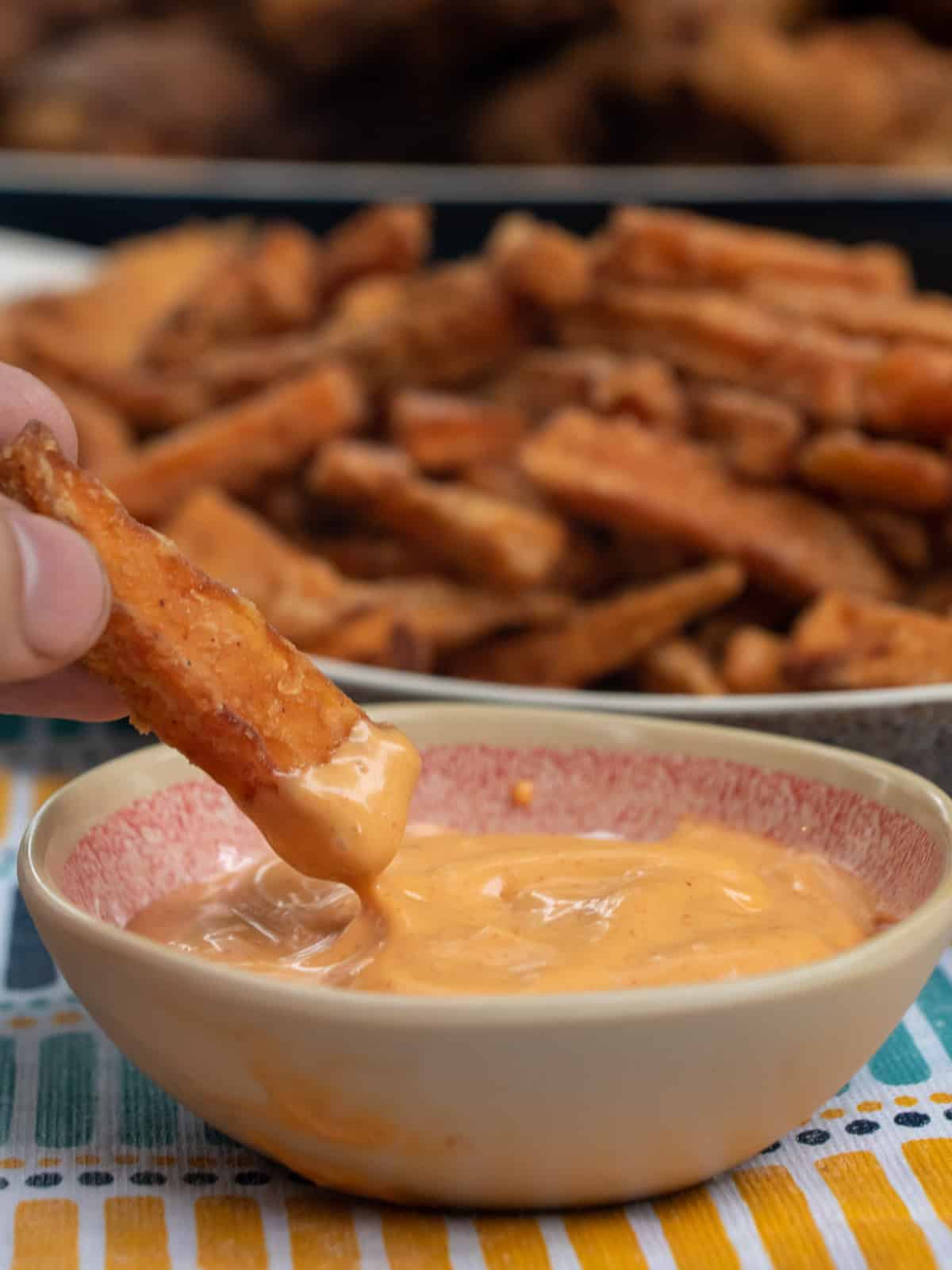 More Recipes
We absolutely love sweet potatoes and cook them in many different ways. Here are a few more recipes that use sweet potatoes.
Classic Sweet Potato Casserole – This is a go to for many families on Thanksgiving, this casserole is sweet, rich and creamy. So very good!
Baked Sweet Potato Pancakes – Looking for a new type of potato pancake? These are delicious and easy to make.
Sweet Potato Pie – With some similarities to pumpkin pie, this version also has lots of pecans mixed in every bite!
Deep Fried Sweet Potato Fries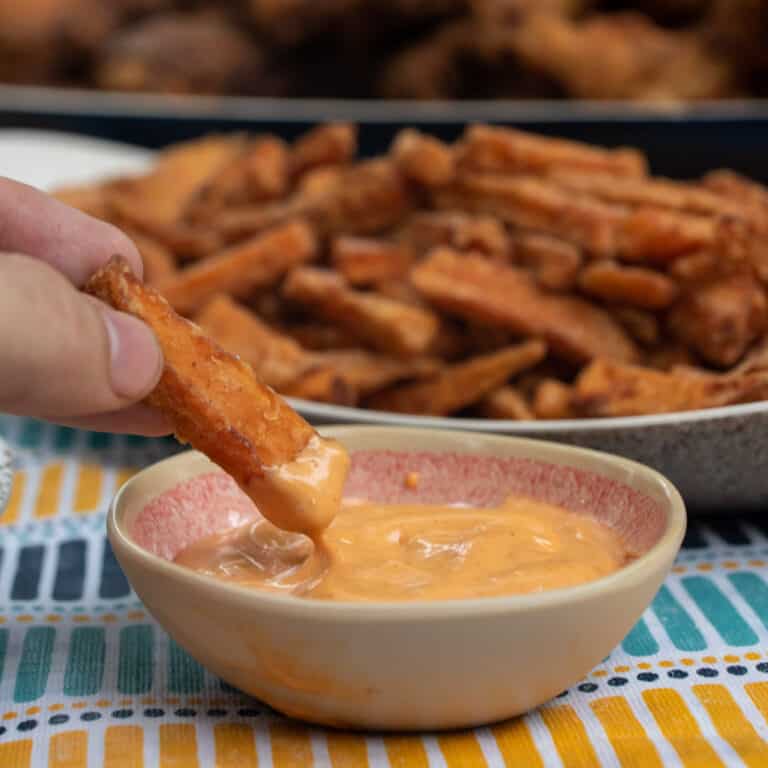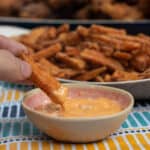 Print
Simple instructions for how to deep fry sweet potato fries. This recipe blanches the fries first and they have a crispy coating.
Servings: 4
Ingredients
3 sweet potatoes
2 cups flour
2 tbsp creole seasoning
oil , for frying
Instructions
Peel the potatoes and cut them into sticks that are approximately 3 inches long and about 1/2 thick.

Blanch the sweet potatoes in a large pot of boiling water for 3-4 minutes. Cook them until they are just starting to be tender right through to the middle. Take the fries out of the boiling water and run them under ice cold water until they cool down. This stops the cooking process.

Heat oil to 350F using a deep fryer. Follow instructions for deep fryer regarding how much oil to use and how many fries to cook at a time.

Mix the flour and spice mixture in a large bowl or container. Toss a handful of the sweet potato fries in the flour mixture until they are completely coated. Remove from the bowl of flour and shake off excess flour.

Place a batch in the eep fryer basket and lower in the hot oil. Cook for 3-4 minutes, or until the sweet potato fries are browned and crispy on the outside.

Serve hot with a small bowl of spicy mayo or ranch.