Air Fryer Sweet Potato Fries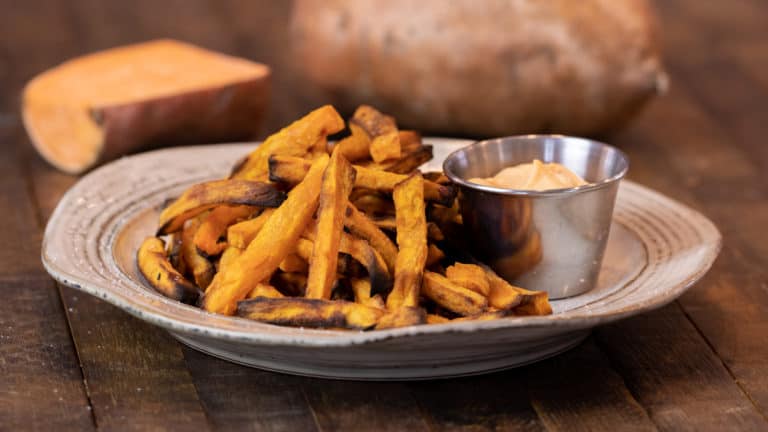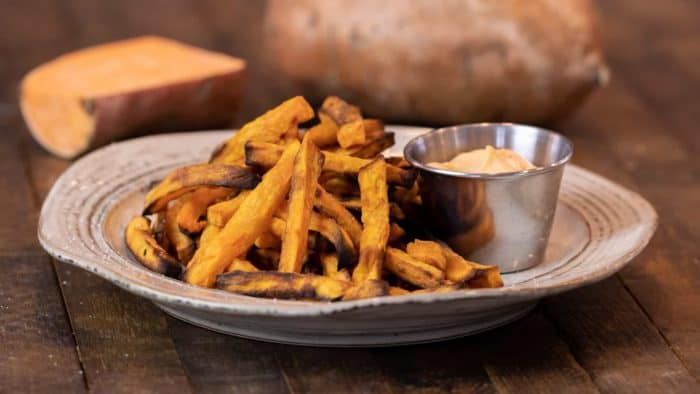 I love sweet potato fries. Anytime we go to a restaurant, if sweet potato fries are an option, I will almost always choose them in place of regular fries. They are sweet, crispy, and full of flavour.
It is easy to make sweet potato fries at home and I typically bake them. They are great deep fried as well, but with sweet potatoes being such a healthy vegetable, I prefer to bake them in the oven. Since I got an air fryer, I was eager to try air fried sweet potato fries.
They did not disappoint and were so good!
Cooking in the air fryer is one I my new obsessions. It is quick, easy and does not heat up the whole kitchen during the summer like an oven will. Also, this method uses a fraction of the oil that deep frying.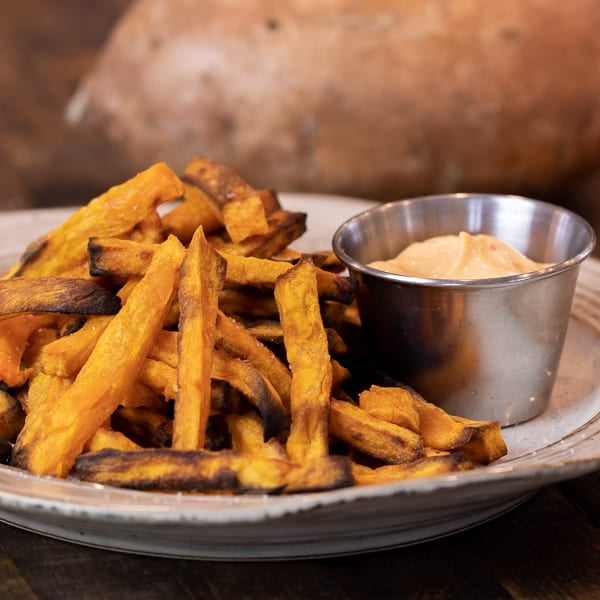 If you want to use a regular oven for baking sweet potato fries, then check out this recipe.
If you are looking for some other great air fryer recipes, then check these out!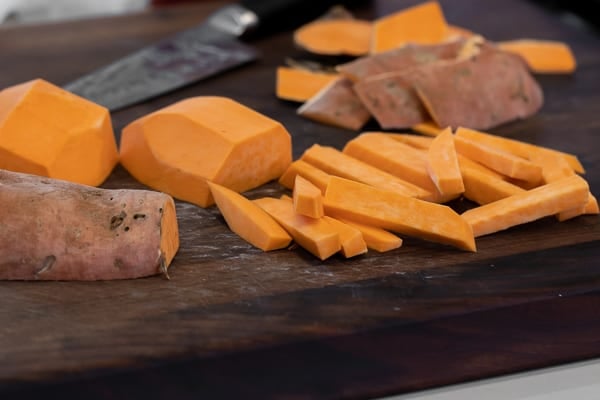 The first step in making sweet potato fries is to peel the skin. While I love to leave the skin on for regular french fries, the sweet potato skin is too thick and woody, so it needs to be removed. You can use a regular peeler, I find that it is quicker to use a sharp knife and carve the skin off. Be careful not to get too much of the potato flesh.
Once peeled, cut the sweet potato into french fry sticks that are about 1/2 inch thick.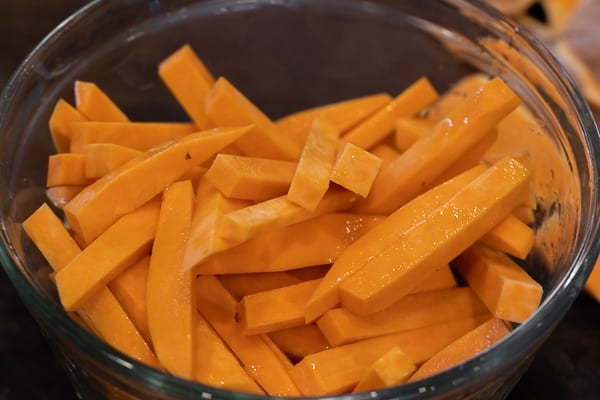 Toss the sweet potato sticks in the oil and sprinkle with salt. That is it. They are ready to go in the air fryer.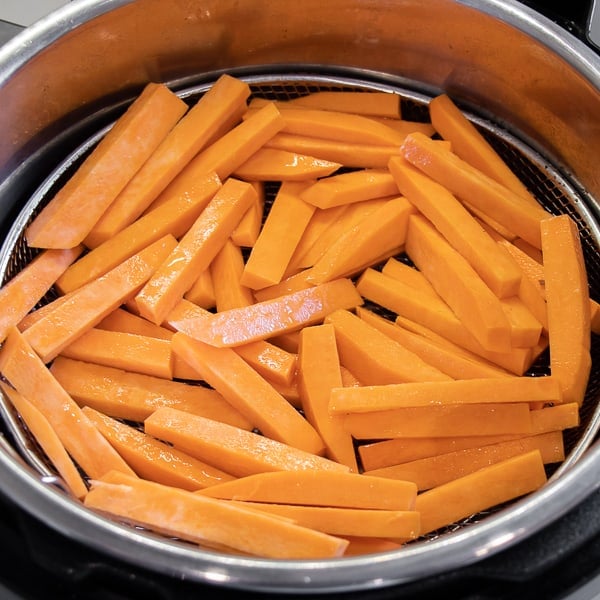 Try and spread the sweet potato fried in one even layer. I had so many sticks, that I had a bit of an overlap. This just means that I will need to flip the fries a little more to ensure even cooking and that they all get a chance to crisp up.
Set the air fryer to cook at 400F for 15 minutes.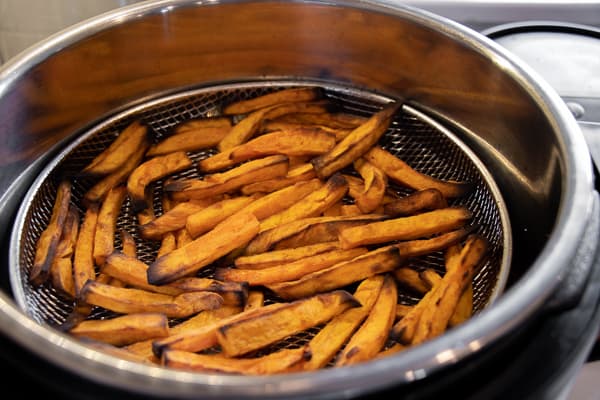 After the fries have had a chance to cook for 15 minutes, flip them and cook for another 7-10 minutes in the air fryer. Depending on your air fryer, you may find the the heat circulates very well and flipping them is not necessary. I find that with my air fryer, the top crisps up great. But if I want the underside to crisp as well, I need to flip them during the cooking session.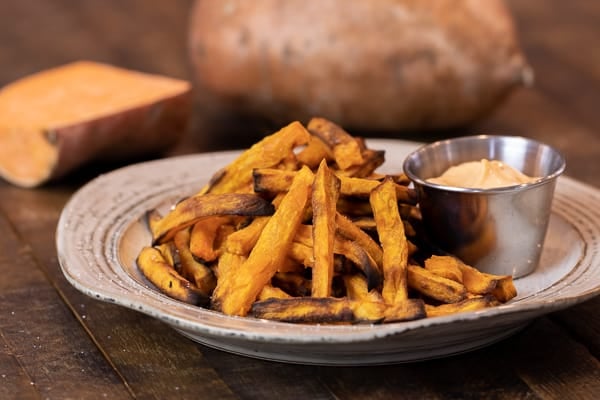 There are many different types of dip that work very well with sweet potato fries. I prefer a mayo based dip for sweet potato fries as I find the creamy dip perfectly compliments the sweet crispy fries.
Here are some recipes for the perfect dip.
Air Fryer Sweet Potato Fries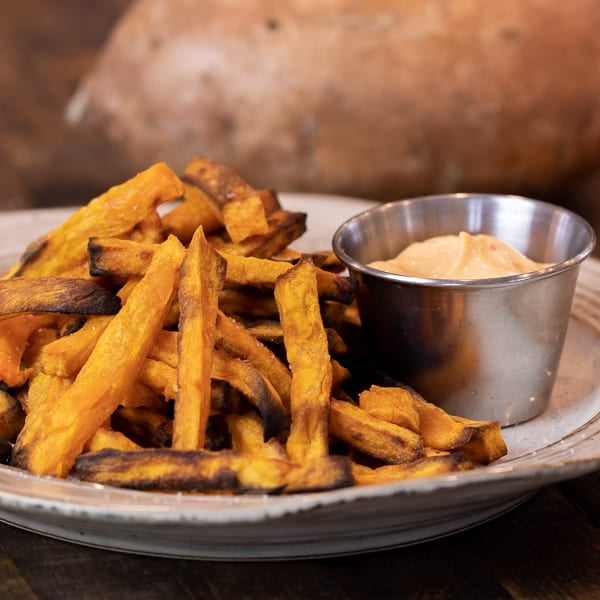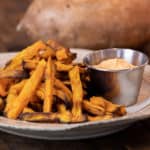 Print
Easy instructions for how to make sweet potato french fries in an air fryer. Crispy and tastes just like deep fried but this recipe uses very little oil. Sweet potatoes make the perfect fries.
Servings: 1 serving
Ingredients
1 large sweet potato
1 1/2 tbsp oil
1/4 tsp salt
Instructions
Peel the sweet potatoes and cut into 1/2 inch french fry sized sticks. Toss with oil and sprinkle with salt.

Place the cut sweet potato sticks evenly in the fryer basket.

Set the air fryer to cook at 400F for 15 minutes.

Once finished cooking, flip the fries over and set the air fryer to cook for 7-10 more minutes. The sweet potato fries should be cooked through and starting to crisp up on the outside.

Serve.