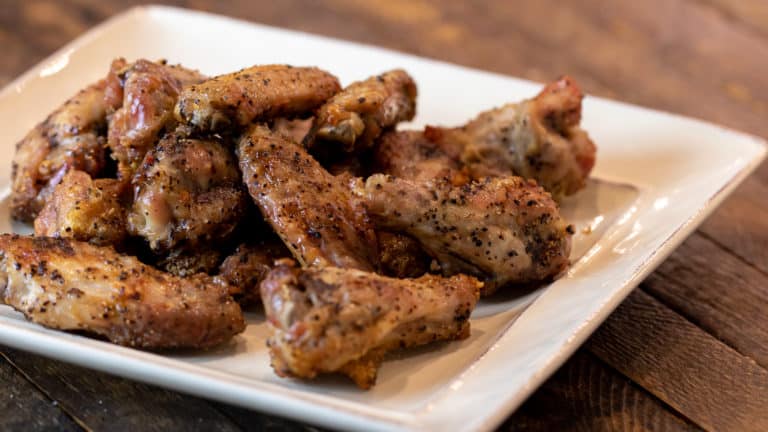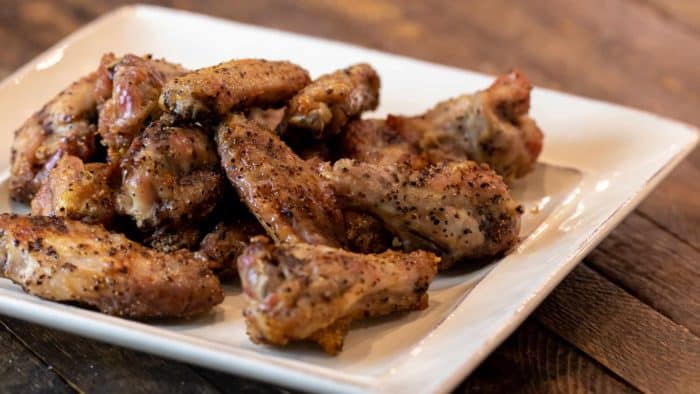 Air frying has really grown in popularity over the past number of years. It is a great way to make crispy food that, while it does taste similar to deep fried, it uses far less oil. One of my favourite things to make in my air fryer is chicken wings. The skin is crispy, and the wing just turns out great.
Air frying in many ways is similar to convection cooking, but because the food it closer to the heat and smaller, the air seems to circulate more quickly than convection ovens. Therefore the cooking time is quicker when using an air fryer.
There are lots of different types of air fryer machines. There are dedicated air fryers, toaster ovens that have air fryer functions and other air fryer add-on attachments to other products.
Since I have gotten into air frying, I have tried a number of different foods and there are many recipes to come.
Air frying is great for food like frozen french fries, frozen chicken nuggets and other similar foods. It results in fries and nuggets that are crispier than oven baked, and actually pretty close to tasting like they were deep fried.
But the air fryer can do so much more than just cook frozen food.
Some great air fryer recipes:
Air Fryer French Fries – these fresh cut fries are made with russet potatoes and turn out almost as good as if they are deep fried.
Sweet Potato Fries – I love these and the air fryer does a great job making them soft and sweet inside while crispy on the outside. Dip them in a cajun mayo for something incredible!
Air Fried Chicken – while not the exact same as deep fried chicken, the air fryer does a pretty solid job making the pieces of chicken juicy with a crispy outside breading.
Chicken Wings – I have made chicken wings in the air fryer multiple times and I really love how they turn out. They are crispy on the outside and not dried out inside at all. So good!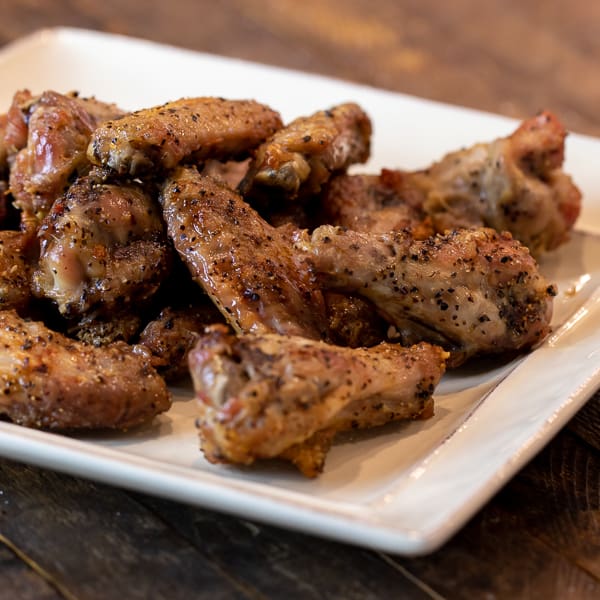 Air fryer chicken wings come out very well and are quite similar in taste and crispiness to deep fried wings that have not been breaded. I like to just put a light seasoning on the wings and then once they are done in the air fryer, I toss them with different sauces – honey garlic, bbq, buffalo, and more.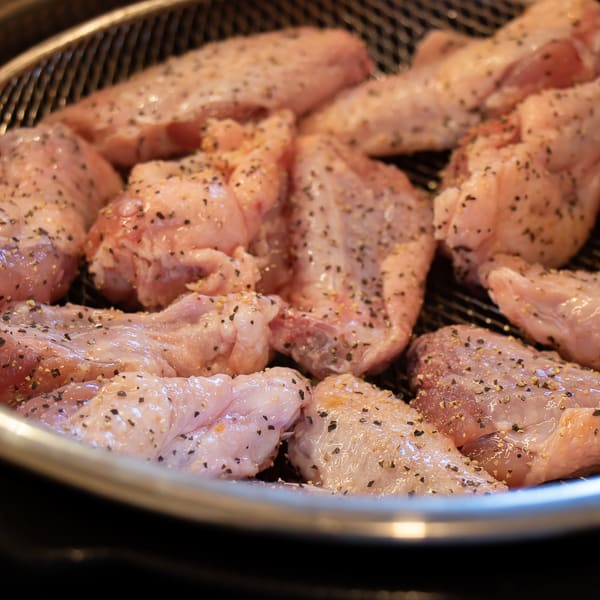 While chicken wings can be cooked whole, I think that it is better to cut them into sections. Air fryers, generally do not have the largest basket, so cutting them into the drummette and middle portion (wingette) allows you to arrange them in the basket so that more can be air fried at once. Plus, you discard the little wing tip, which allows for more space.
When I air fry the wings, more often than any other method, I just season them with salt and pepper. Once the wings are cut into portions and seasoned, I place them in the fryer basket. Make sure they are just one layer, and if possible, spread them so they are not touching (or barley touching).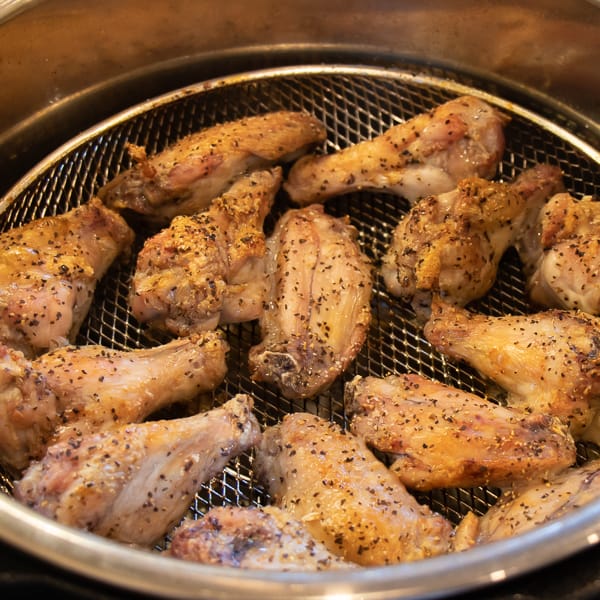 Set the air fryer to cook at 425F for 20 minutes. Some air fryers do not do a great job crisping up the underside. If your air fryer is like that, then flip the over when there is about 5 minutes left in the 20 minutes of cooking.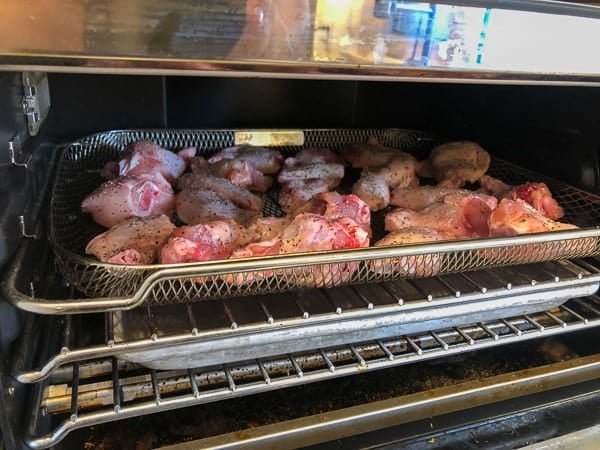 In the pic above, I use the air fryer function in my toaster oven to cook some wings. It is a pretty large basket, so I can either hold more wings or spread them out more.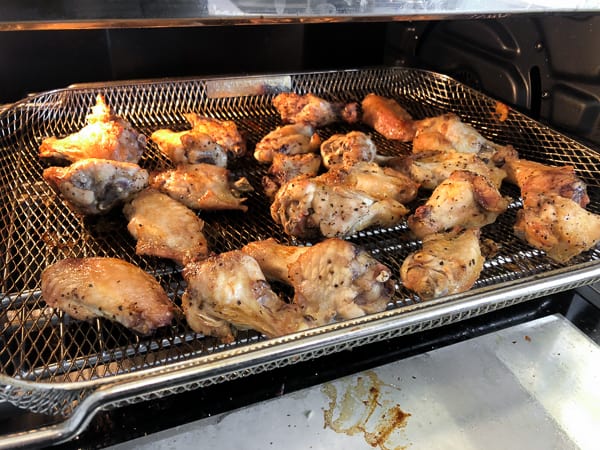 The toaster oven does a pretty good job crisping up the skin on the wings as well.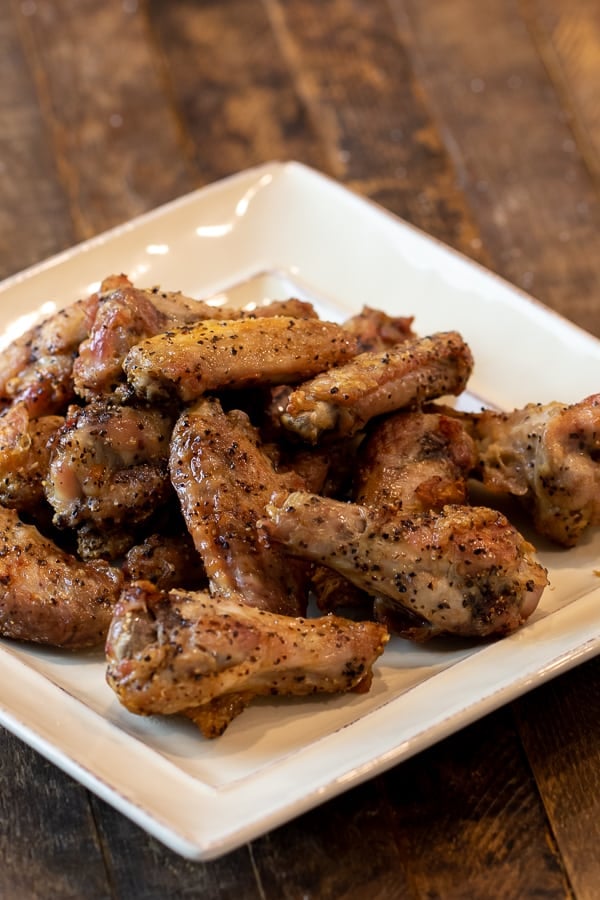 Air Fryer Chicken Wings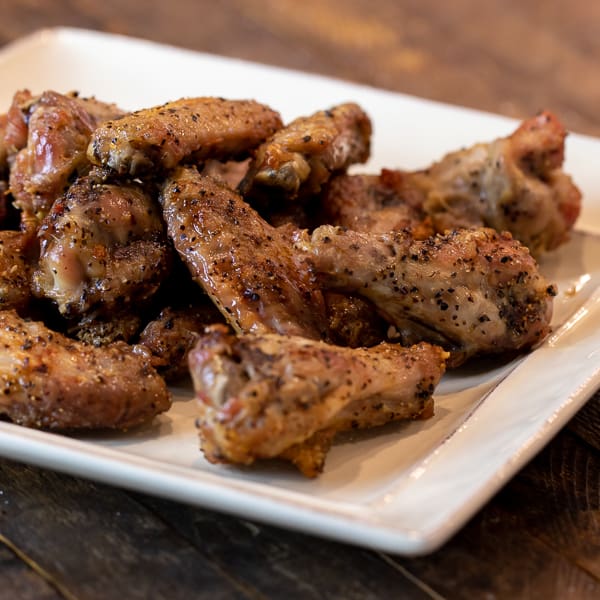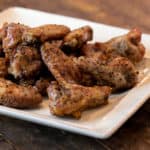 Print
How to cook wings in Air Fryer that are crispy and taste like they are deep fried. Simple instructions for basic salt and pepper chicken wings. Add sauce after for sweet and sticky wings.
Servings: 1 serving
Ingredients
1 pound chicken wings
1 tsp salt
1/2 tsp black pepper
Instructions
Cut each chicken wing into three portions: drumette, middle portion and tip. Discard the tip of the wings and place the other portions in a large bowl. Season with salt and pepper. Toss to coat.

Evenly spread the wings in one layer on the air fryer basket.

Cook in the air fryer at 425F for 20 minutes. If desired, flip the wings over with 5 mintues remaining.

Serve hot.
Notes
Even though these wings are great just like this, you can also toss them in some bbq, honey garlic or hot sauce. Toss them in the sauce immediately after they finished cooking.