Chipotle Lime Cream Sauce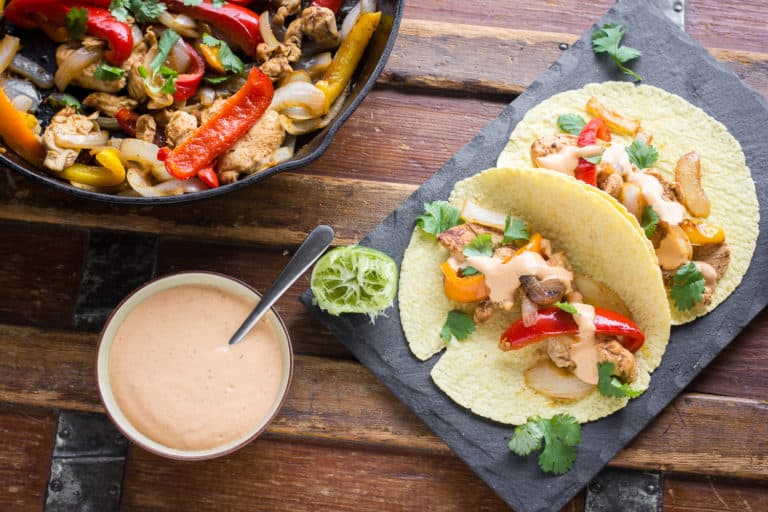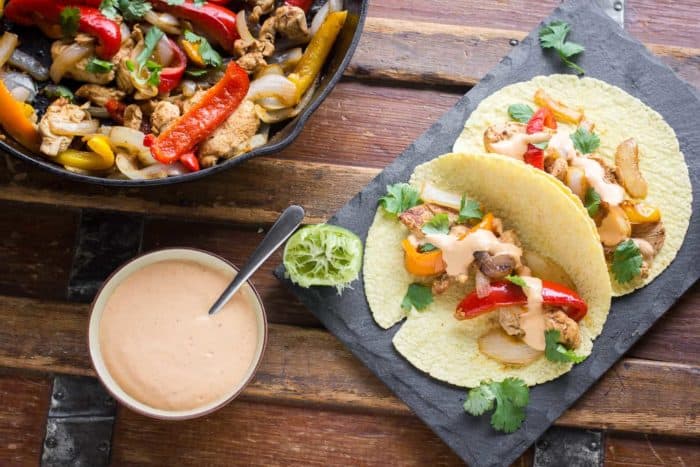 One of my favourite toppings for fajitas and tacos is sour cream. It might be the Ukrainian in me that likes anything with sour cream. Since I love spicy toppings like jalapeños and other savoury toppings like sautéed onions and peppers, sour cream is a perfect compliment.
At a local Mexican restaurant, they have a chipotle cream sauce that is incredible. It is creamy and zesty with a pretty solid kick of spice from the chipotle. It is served on many different dishes including flautas, chimichangas, tacos and more.
I figured that it could not be too hard to make. After a couple attempts, I think I have come pretty close. Aside from the sour cream, the main ingredient is chipotle peppers in adobo sauce. There is also some lime juice which adds a nice zing.
Chipotle peppers in adobo sauce is not too hard to find. It is in the Mexican section of pretty much every grocery store in my area. It comes in a fairly small can that holds about 3-5 whole chipotle peppers. The adobo sauce in the can is full of spices and seasonings that add such incredible flavour to this chipotle cream.
This cream sauce is super simple to make. I simply toss all the ingredients into a blender or food processor and pulse until it is smooth and creamy.
Once done, this sauce can be served on fajitas, as seen in the images, or many other Mexican dishes.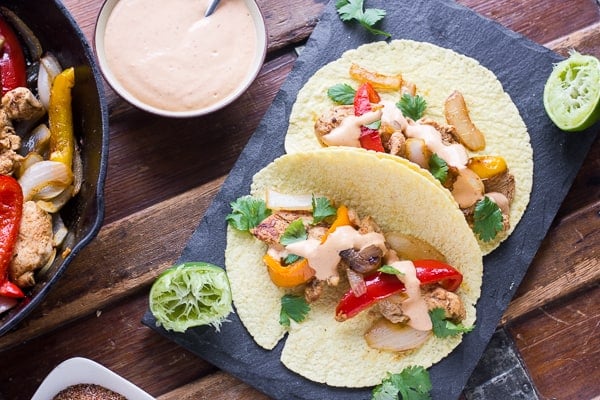 If you want to make this Chipotle Cream alongside other Mexican dishes, check out some of these great recipes: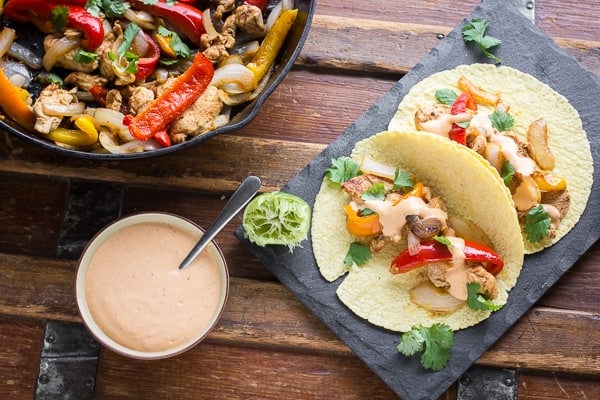 Chipotle Lime Cream Sauce for Fajitas or Tacos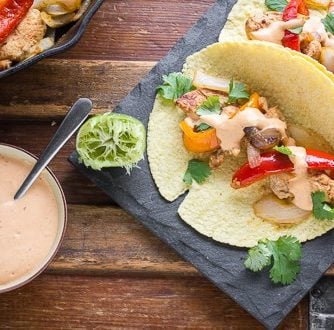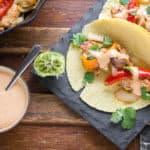 Print
A spicy and zesty sauce that is perfect for tacos, fajitas, or any mexican or tex mex dishes. This ranch style sauce is made with chipotle peppers, sour cream and lime.
Servings: 6
Ingredients
1 1/2 cups sour cream
1 chipotle pepper, in adobo sauce
1 1/2 tbsp adobo sauce
3 tbsp lime juice
1 tsp sugar
1/4 tsp salt
Instructions
Place all ingredients into a blender of food processor and pulse until smooth and creamy.

Serve as a topping for tacos, fajitas or other Mexican dishes.
Nutrition
Per serving:
Calories: 129kcalCarbohydrates: 4gProtein: 1gFat: 12gSaturated Fat: 7gCholesterol: 30mgSodium: 947mgFiber: 1gSugar: 3g