Mexican Rice with Black Beans and Corn
This flavourful rice is cooked on the stove and very easy to make. Every spoonful of rice is packed with black beans, corn, jalapeño and more!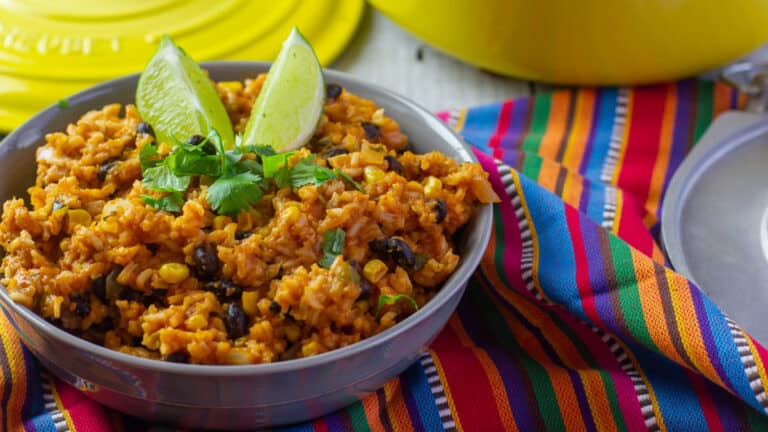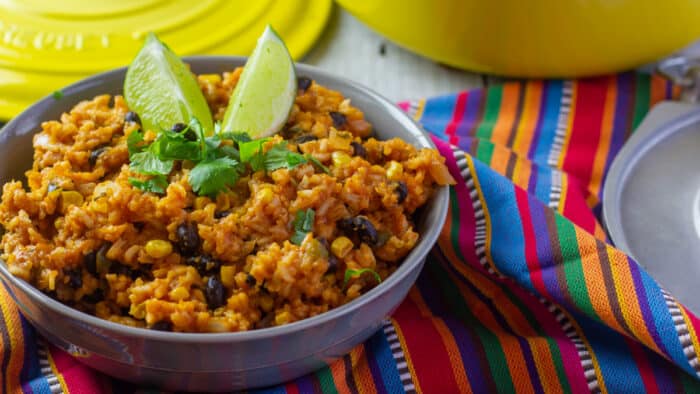 We make rice all the time and it can be both an excellent side dish, or packed with so much stuff that it is basically a meal in itself. One of my favourite rice dishes is authentic Mexican rice and it is so easy to make. There are not a lot of steps for how to make Mexican rice and for this recipe it is all done on the stovetop.
Mexican rice and Spanish rice are close to the same dish. Both are rice that is toasted first and then cooked with broth and tomatoes. Some of the seasoning is different between the two regional side dishes and Mexican rice usually has more stuff in it. That is definitely true with this recipe as I added some onion, jalapeño peppers, corn and black beans.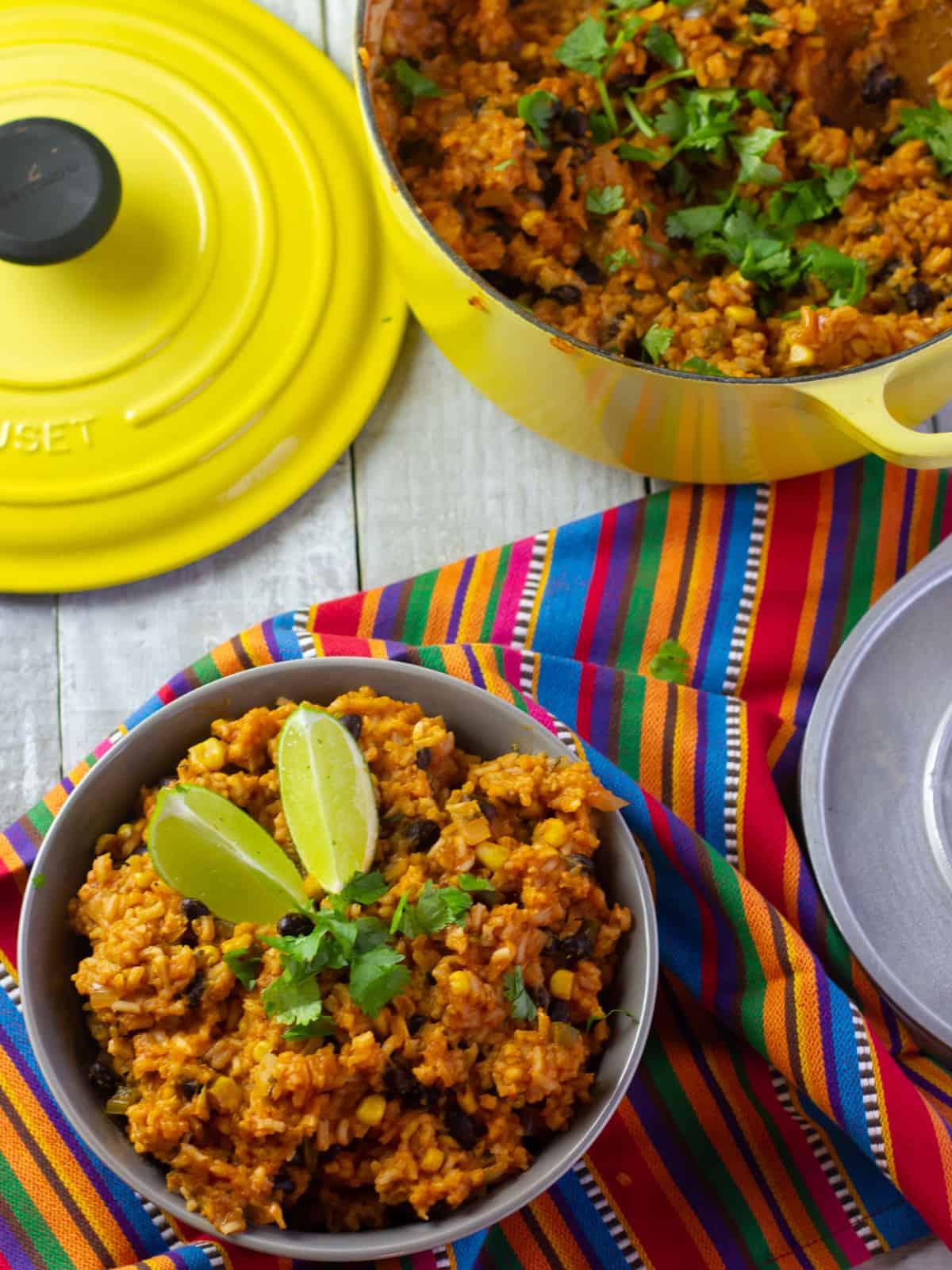 What Makes Mexican Rice So Good?
Will feed a crowd! Have a bunch of people coming over? Make some fajitas along with this rice and I bet you will have leftovers!
Perfect for a Mexican dinner – We love this rice to go alongside tacos, fajitas, enchiladas and more. I have also thrown some of this in a burrito, along with some chicken, pico de gallo, guacamole and cheese. Oh My Word!
So Versatile! This dish comes with black beans and corn, but you can easily switch it up and add other ingredients like chorizo sausage, pinto beans, chicken, peas and so much more!
Stovetop or Oven – Sometimes with a rice dish like this, I will bake it in the oven. That is how I made this Chorizo Fiesta Rice Bake. For this recipe though, I did not want to use the oven, but instead I cooked it on the stovetop, which is more traditional to the preparing of Mexican rice.
Ingredients You Will Need
oil
rice
onion
jalapeno
garlic
black beans
corn
can of tomatoes
chili powder
oregano – Mexican or Italian
cumin
salt
vegetable broth
fresh cilantro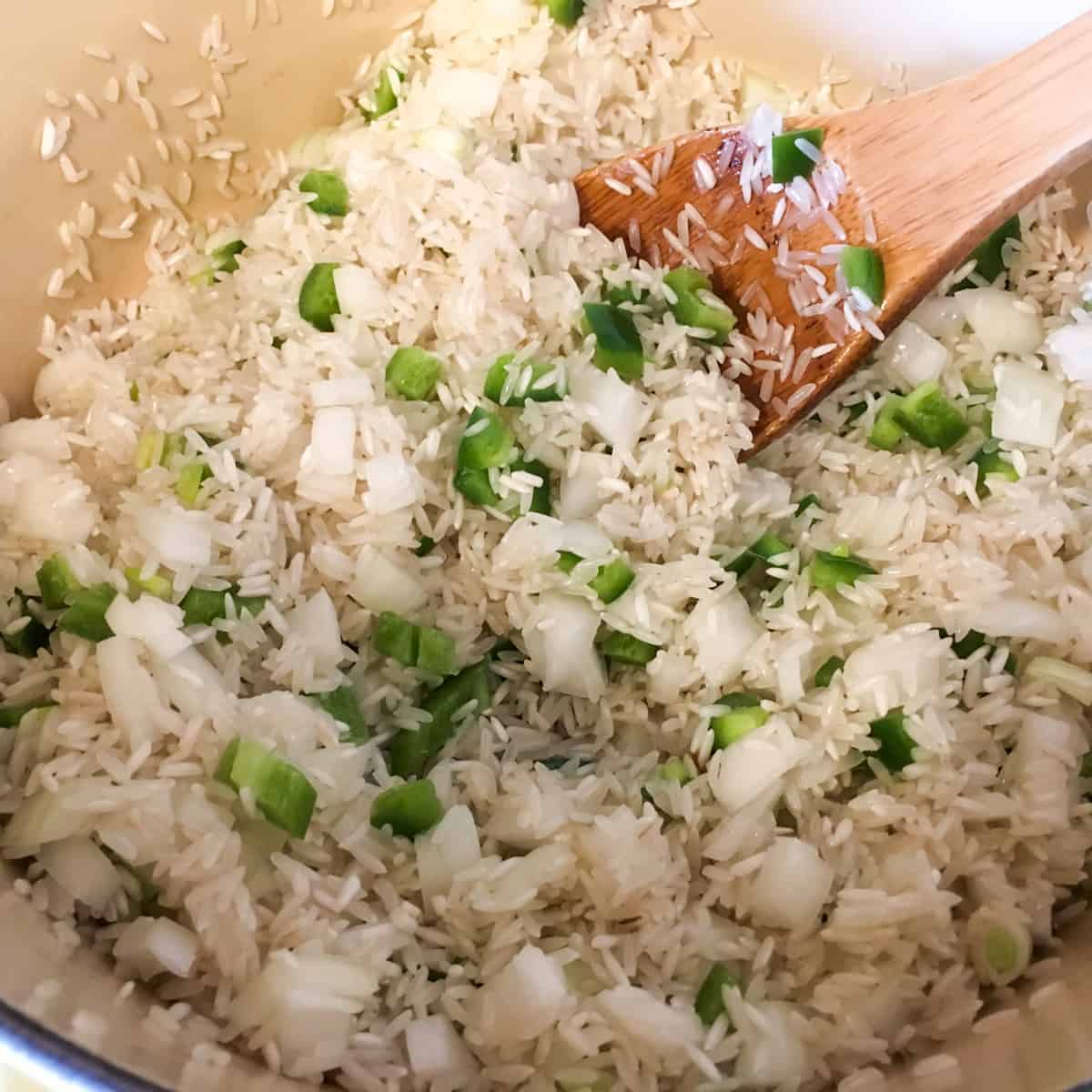 Toast the Rice
First, heat some oil in the dutch oven on medium heat and then add the rice. This toasts the rice which gives it a nuttier taste and texture. Cook for 3-4 minutes. Make sure you stir is almost constantly so that the rice does not stick to the bottom.
After a few minutes, add the onion, jalapeño and garlic. Continue to cook for another 5 minutes, stirring often.
Add the Rest of the Ingredients
Dump in the remaining ingredients and stir. Bring to a boil and lower the heat to a simmer. Cover the dutch oven with a lid and let the rice soak up all that flavour infused liquid. Mexican rice is so good because all the flavours soak into the rice.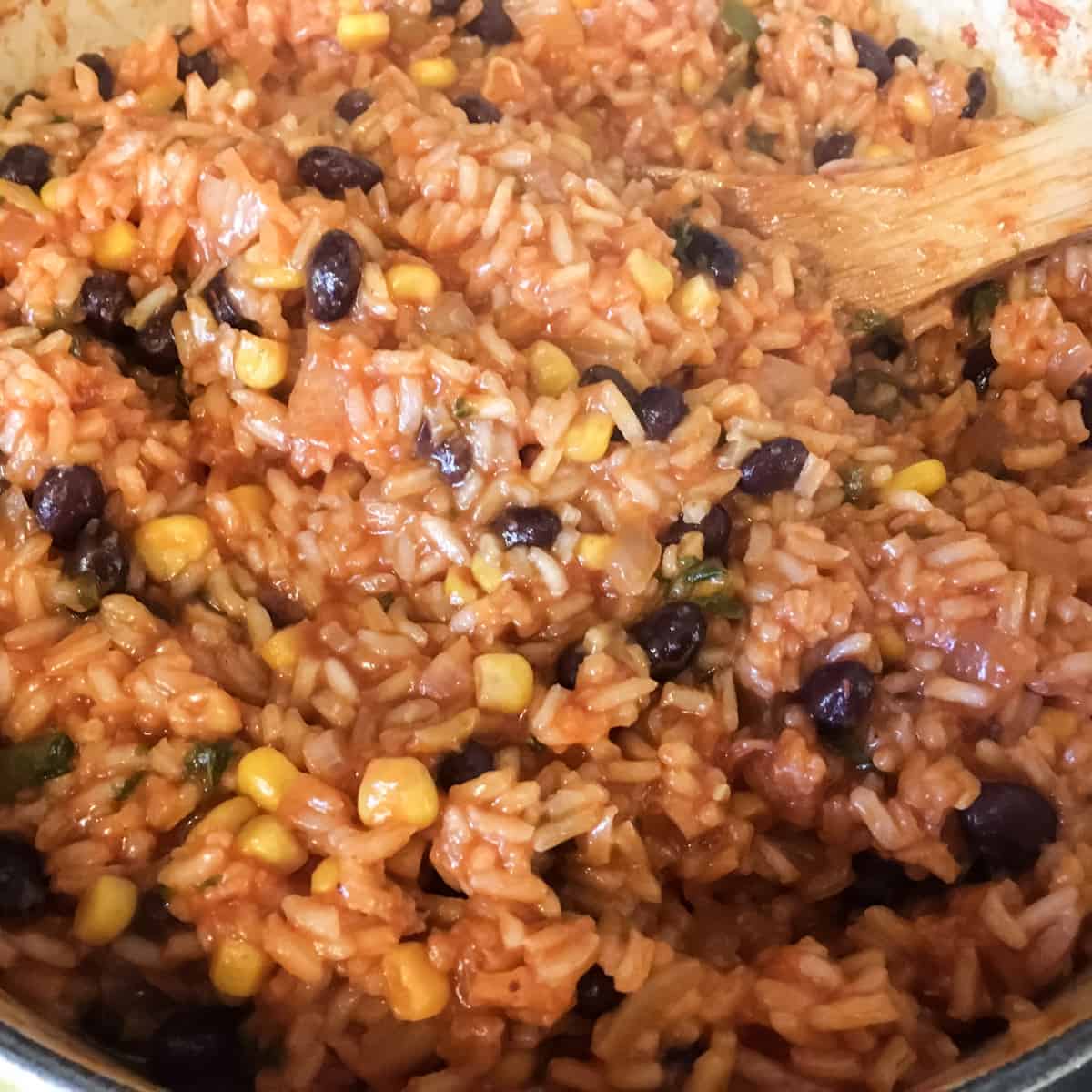 Simmer Time!
Every once in a while, check to see how the rice is doing and stir it, making sure to scrape any rice that is sticking to the bottom with a wooden spoon. Put the lid back on and cook some more.
Cook until all the liquid is absorbed and the rice is tender. If there is no more liquid and the rice is still a little crunchy, add a bit more broth or water and cook a little longer.
Expert Tip! Make sure that you do not have the temperature too high while it is simmering. You want to make sure that the rice does not stick to the bottom and burn.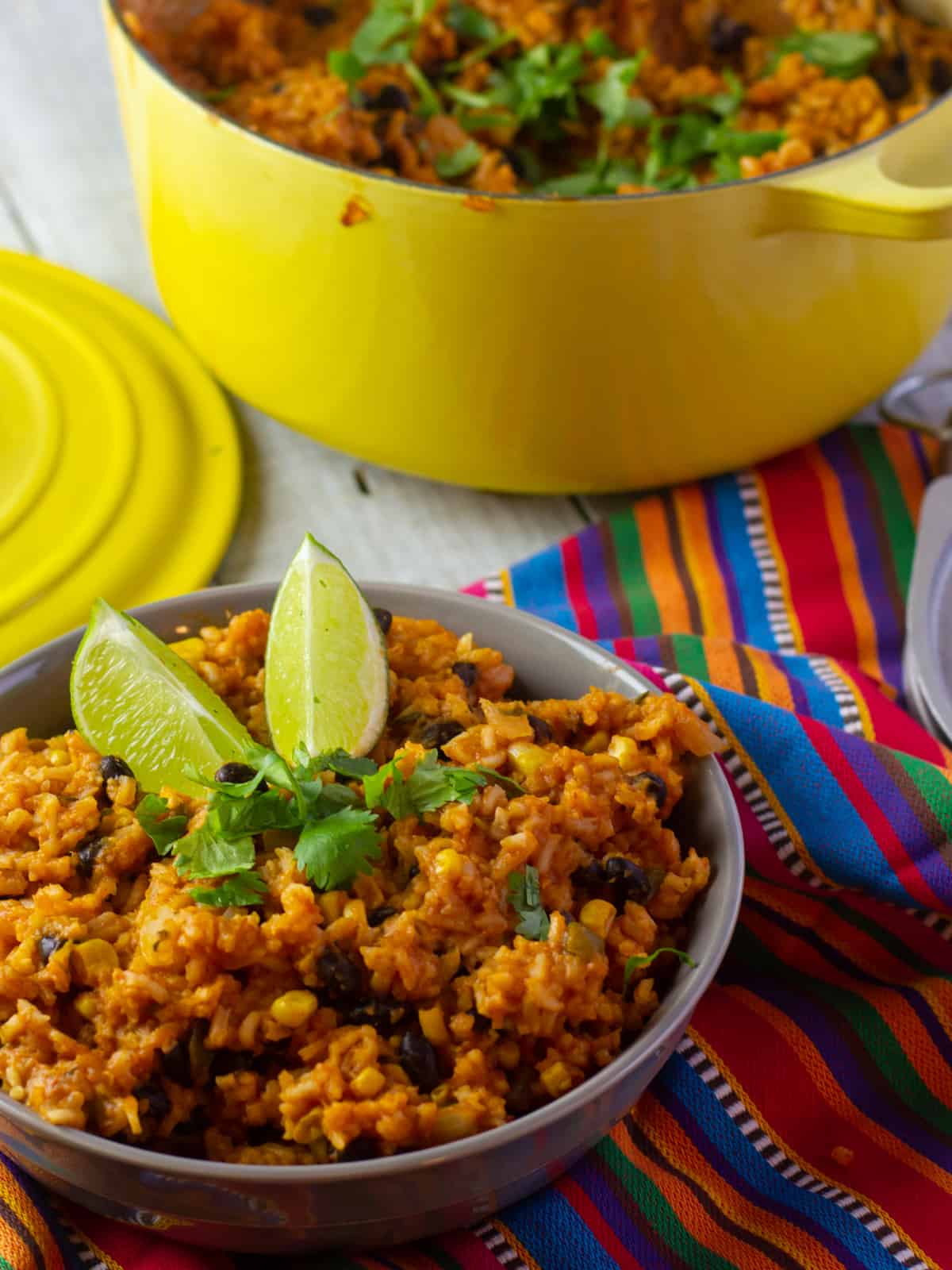 This Mexican rice has so much flavour. Normally, I just cook rice in the rice cooker with water. After making this, I am amazed at how so much flavour is infused right into the rice. It reminds me of jambalaya or paella but just with different seasonings.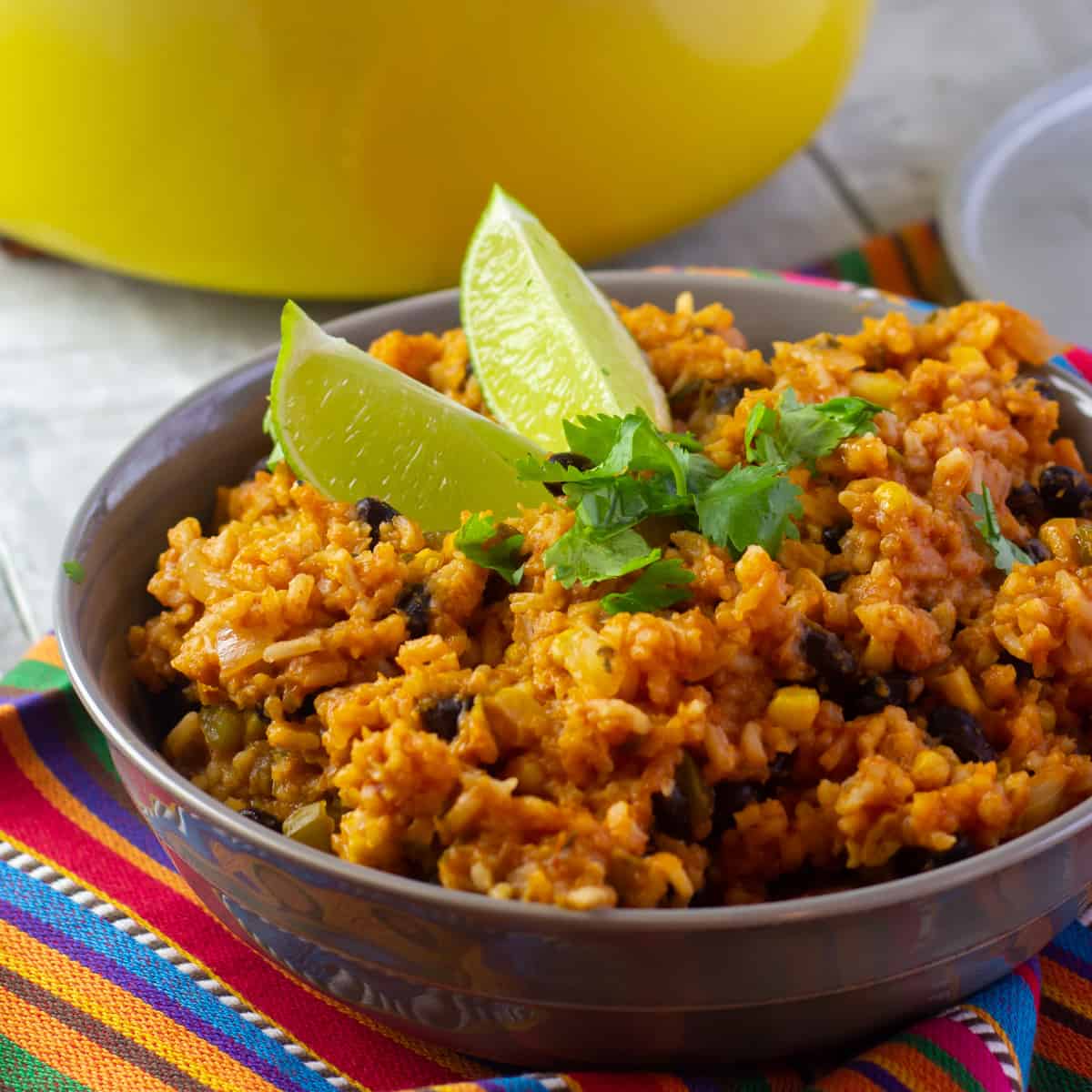 There is so much stuff in this rice that it is almost a meal in itself. But, it is also incredible as part of a Mexican themed dinner.
Ideas to Serve with Mexican Rice
Serve it alongside any of these dishes and you will have one awesome Mexican feast!
Mexican Rice Recipe with Black Beans and Corn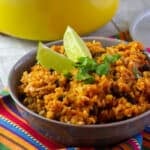 Print
How to make Mexican rice with this authentic and easy recipe. Simple stovetop recipe that is great with tacos, fajitas, enchiladas and more!
Servings: 8 people
Ingredients
3 tbsp oil
3 cups long grain rice
1 large onion , diced
2 jalapeno pepper , cored and minced
3 cloves garlic , minced
2 tbsp chili powder
1 tsp Mexican oregano
1 tsp salt
1/2 tsp cumin
2 cups crushed tomatoes
1 can black beans , rinsed and drained
1 can corn (or 1 cup frozen corn) , drained
5 cups vegetable broth (or more if needed)
1/4 cup fresh cilantro , minced
Instructions
Pour oil in a dutch oven and dump in the rice. Turn on heat to medium and stir to toast the rice for about 3 minutes.

Add in the onion, jalapeño pepper and garlic. Continue to stir and cook for another 5 minutes.

Stir in the remaining ingredients.

Bring to a boil and then lower heat to a low simmer. Cover with lid and cook until the liquid is absorbed and the rice is tender.

If all the broth gets absorbed but the rice is still crunchy, add a little more broth or water and continue to cook until the rice is soft.
Nutrition
Per serving:
Calories: 432kcalCarbohydrates: 83gProtein: 11gFat: 7gSaturated Fat: 1gSodium: 996mgFiber: 7gSugar: 7g