Crock Pot Chicken Carnitas
Carnitas are the Mexican equivalent to pulled pork. Traditional carnitas are made by using a well marbled piece of pork, like a boston butt or picnic roast. The 'true' way to cook the meat is to braise it in lard over a low heat, until the meat is tender. Once the pork is well cooked, the heat is turned up to crisp the edges of the meat. It is then removed from the lard, allowed to cool and shredded, just like pulled pork. Served on a taco or burrito shell with various toppings, like pico de gallo, cilantro, cheese, guacamole and more, carnitas are moist, tender and incredibly delicious.
I have been giving my new Crock Pot a spin over this past week and I wanted to try a chicken version of the classic carnita. It is far healthier than the pork variety as it is quite low in fat. Do not think that I say this because I do not eat the pork carnita version – oh yeah – I sure do. But, if you are looking for a healthy version of the carnita, then this is it! The Crock Pot is the perfect way to cook meat slowly. Once made, it can also keep the carnita meat warm. I am thinking that chicken carnitas may just make it on the menu for this years Super Bowl.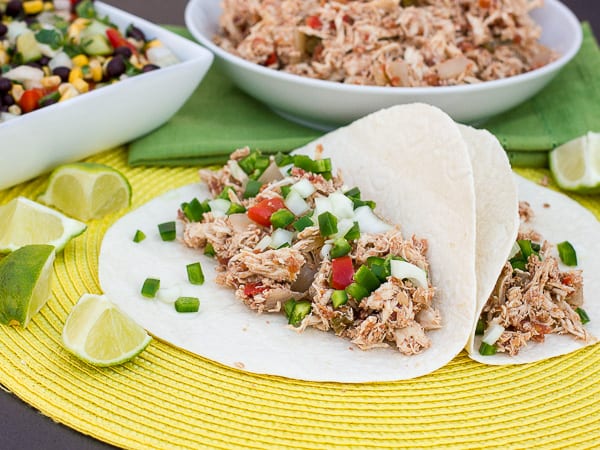 Typically, the pork roast is slow cooked in lard, but I decided to cook the chicken breasts in diced tomatoes, onions and peppers. The flavour was amazing and the chicken was tender and moist.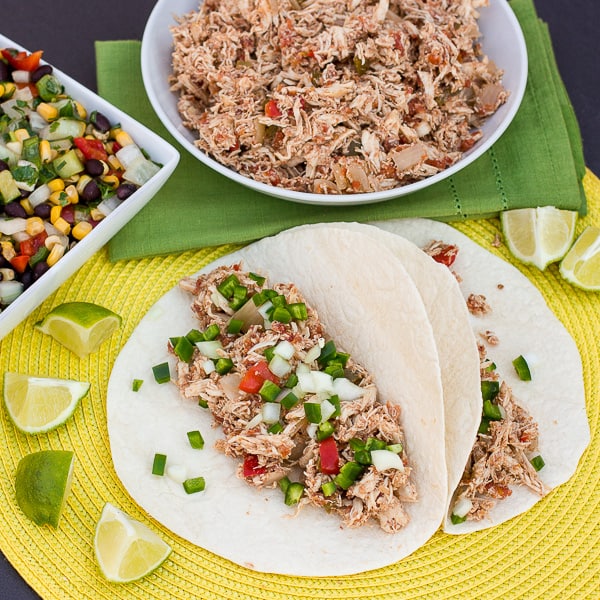 Chicken Carnitas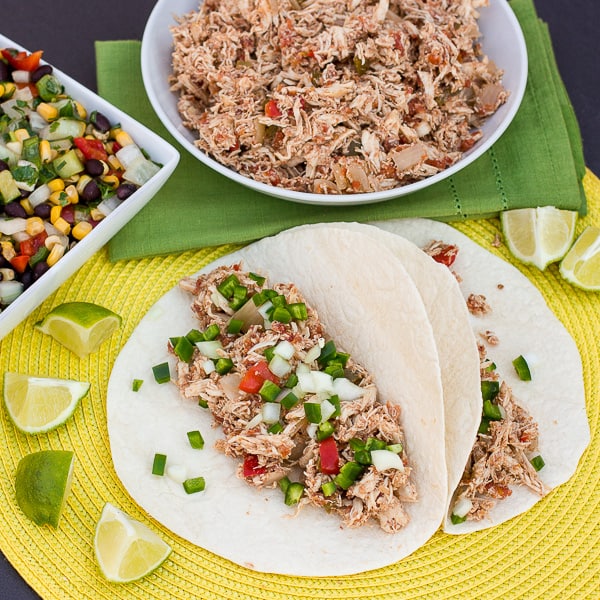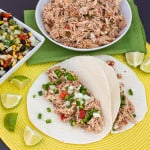 Print
Slow cooked chicken breasts or thighs in a crock pot with tomatoes, onions, peppers and spices. Similar to pork carnitas. Serve on corn or flour taco shells.
Servings: 4 people
Ingredients
5 boneless and skinless chicken breasts
1 (28oz) can diced tomatoes
1 onion , diced
1 red pepper , diced
2 jalapeno peppers , minced (seeds removed)
1/2 tbsp cumin
1/2 tbsp paprika
1 tsp coriander
1 tsp cinnamon
1 tsp cayenne pepper
1 tsp salt
Instructions
Place all the ingredients in a crock pot and cook on low for 8 hours.

Once the cooking time is done, take the chicken out of the crock pot dish and shred with two forks.

Strain the juice out of the crock pot into a bowl to reserve. Leave the cooked tomatoes, onions and peppers in the crock pot. Mix in the shredded chicken. If the mixture seems too dry, add a bit of the reserved liquid.

Serve the mixture on taco shells with desired toppings like: cheese, salsa, guacamole, sour cream, chopped jalapenos or fresh cilantro. Squeeze some fresh lime juice on as well!

This mixture is also great on salad or even nacho chips.