These enchiladas are simple to make and perfect for a Mexican meal. They are filled with shredded chicken, cheese and topped with red chipotle enchilada sauce.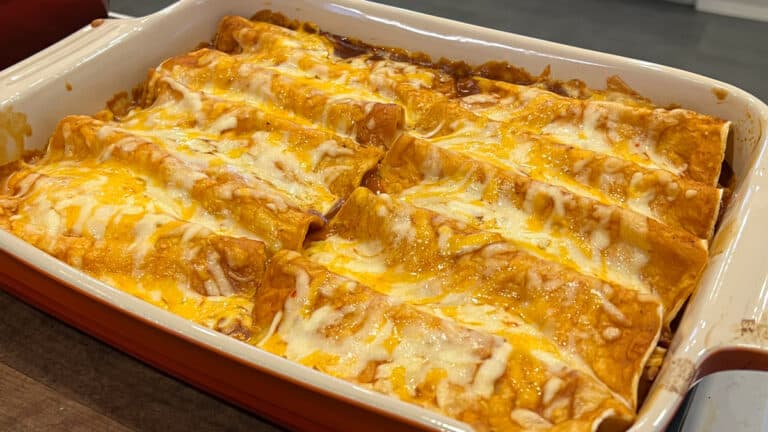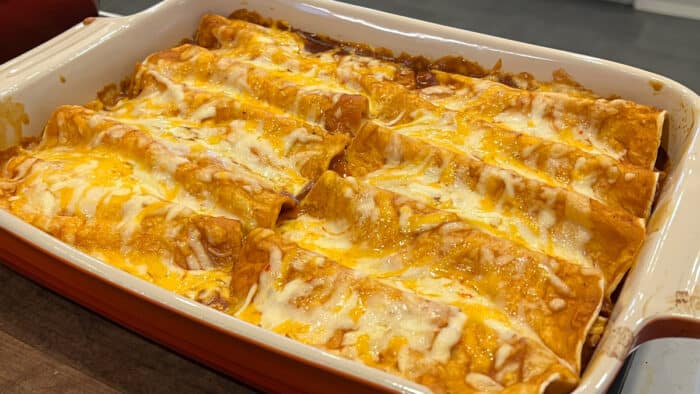 This chicken enchilada recipe is like a Mexican version of manicotti. Baked Mexican goodness, enchiladas are fresh corn tortillas filled with a mixture of ingredients like: meat, cheese, beans and vegetables. They are covered in enchilada sauce and cheese then baked until the cheese is bubbly.
Enchilada sauce is sold in jars and there are a few different kinds like red, green and white sauces. This recipe uses red sauce, which is a tomato based sauce, similar to marinara sauce but with Mexican spices.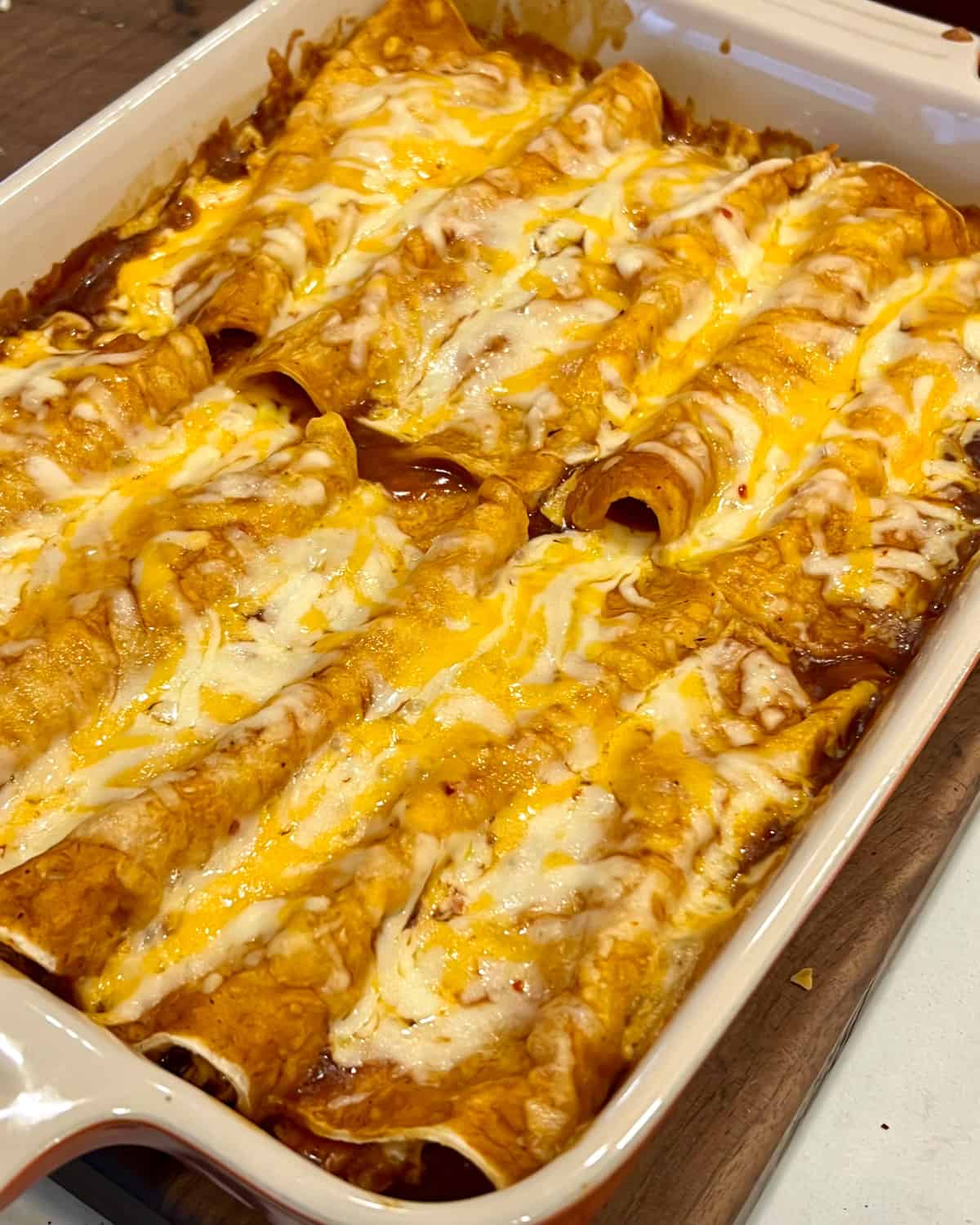 Ingredients You Need For Chicken Enchiladas
chicken
enchilada sauce
onion
pepper
garlic
corn tortilla
cheese (cheddar and Monterey jack)
spices
Expert Tip! This chicken enchilada recipe is easy to make variations. Use beef instead of chicken or try green enchilada sauce instead of red. You could also add beans or veggies to the enchiladas. There are so many possibilities.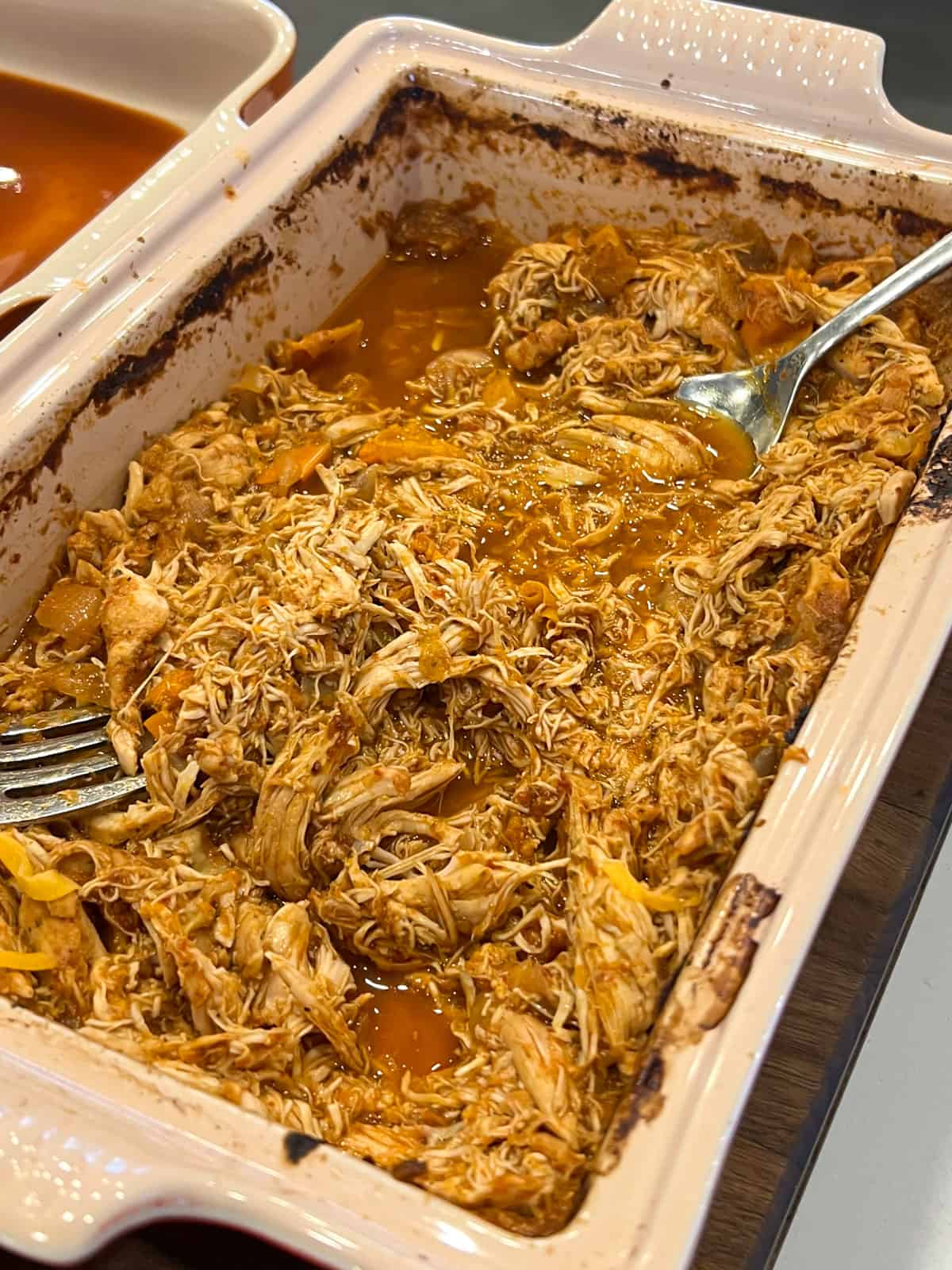 How To Cook The Chicken
The meat for the chicken enchiladas is cooked ahead and then shredded prior to adding it to the filling of the corn tortillas.
I use boneless skinless chicken breasts and add them to a baking dish (make sure it is one that has a lid).
Add the chopped onion, peppers, garlic, spices and enchilada sauce. Mix so everything is coated in the sauce. Evenly lay out the chicken in the dish.
Cover with the lid and bake in a 350F oven for about 2 hours, or until the chicken is fully cooked and can be shredded with a fork.
Take the dish out of the oven and let the chicken cool slightly.
Shred the chicken using a fork so that it is in small chunks and strips of meat.
Expert Tip! While you can use a can of store bought, red enchilada sauce, homemade sauce is delicious and adds a lot to this dish. Here is a recipe for homemade red enchilada sauce.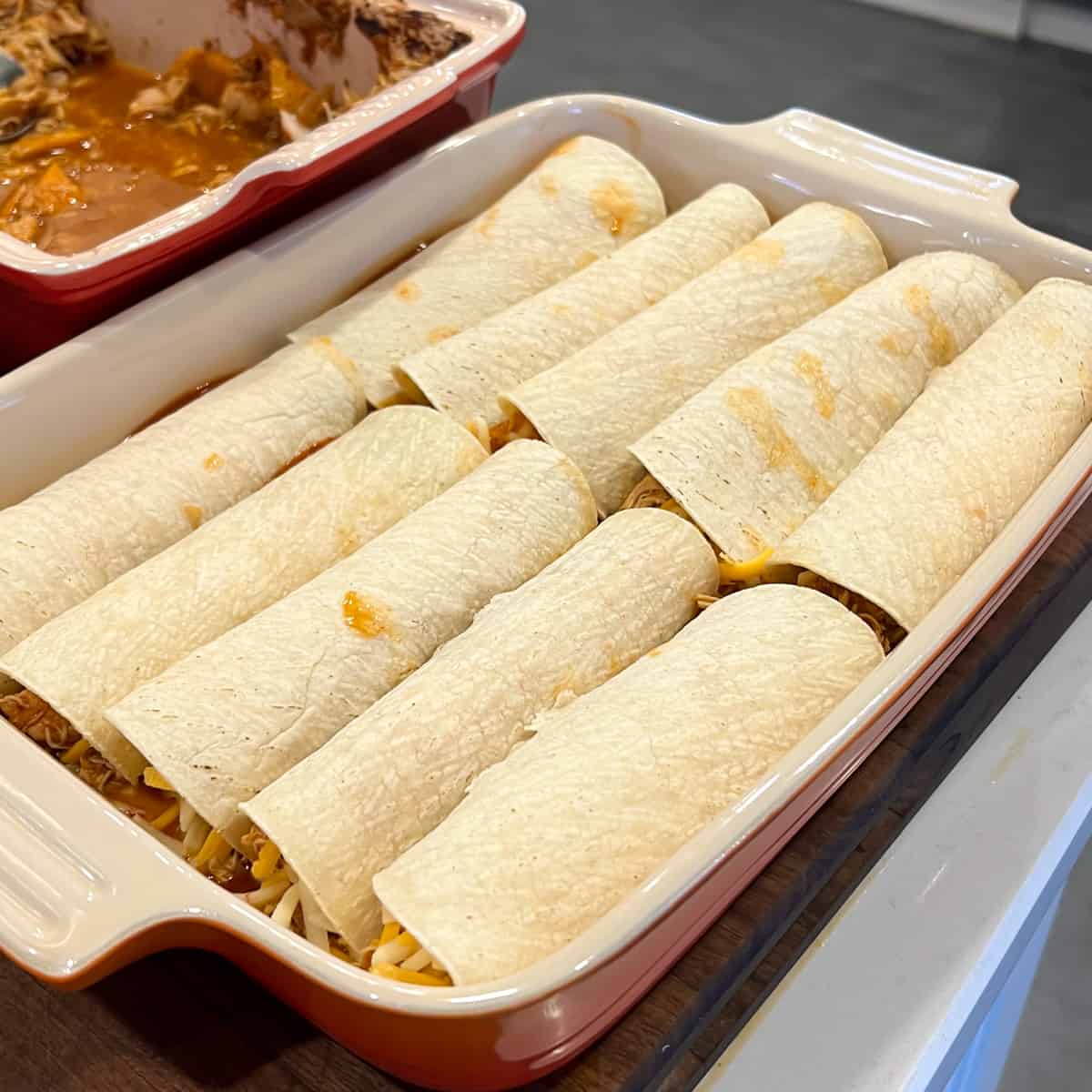 How To Make Enchiladas
Make sure that you spread a little bit of enchilada sauce on the bottom of the baking dish. This allows for easy removing of the chicken enchiladas. Take one of the corn tortillas in your hand and add some shredded chicken and grated cheese. Fold the ends over each other to roll them into a tube shape.
Place the rolled enchiladas, fold side down, in the baking dish. This prevents them from unrolling. Try and keep them tight together, as this keeps them rolled tight. My 13×9 dish holds 10 enchiladas perfectly.
Expert Tip! Corn tortillas can be a little stiff causing them to break and split when they are rolled. You can easily soften them by wrapping some in a tea towel and heat them in the microwave for 30-45 seconds. This will warm them allowing them to be much more flexible.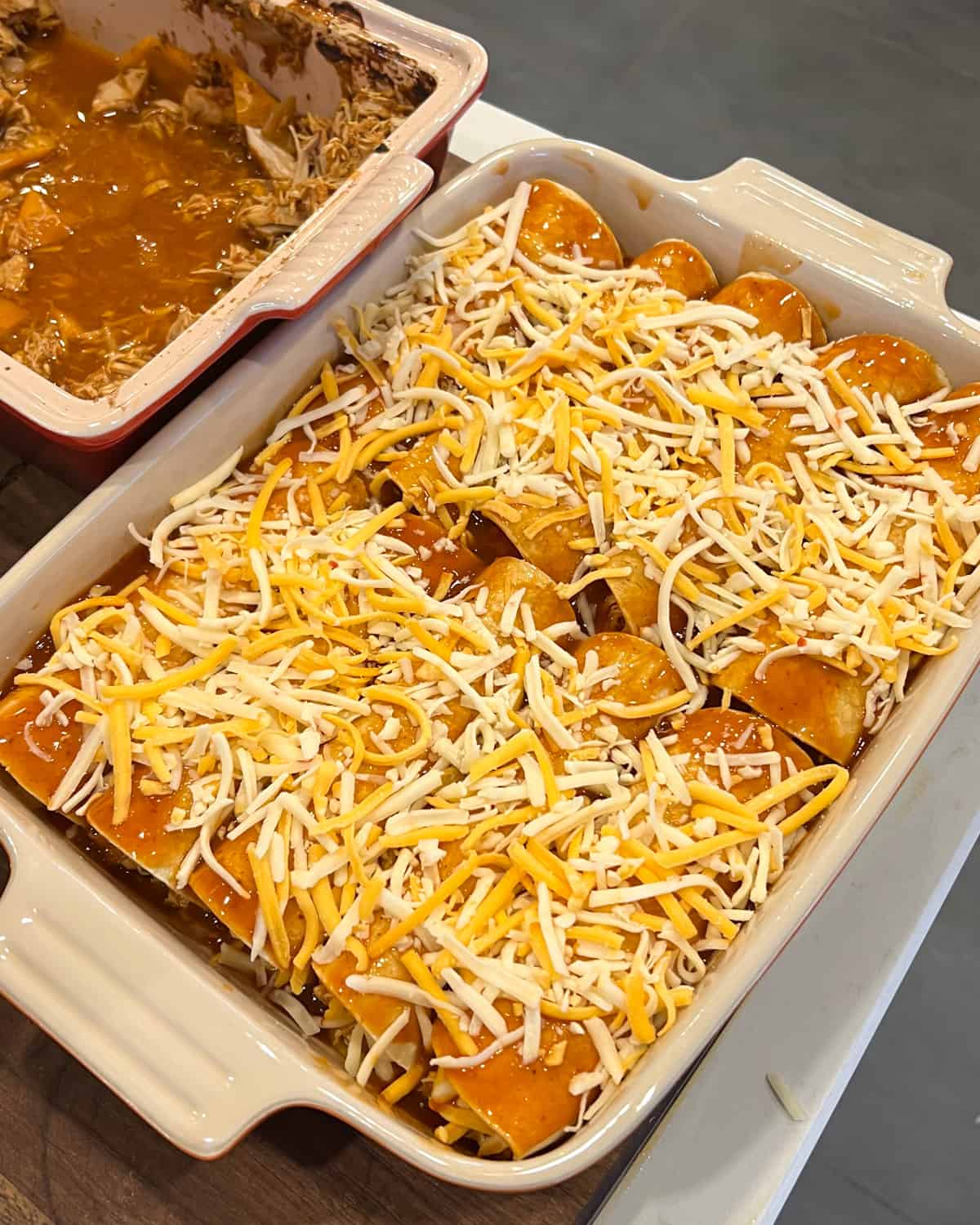 After you have assembled all the enchiladas and placed them in the baking dish, spread some more enchilada sauce all all over the tortilla shells. Sprinkle the remaining cheese on top.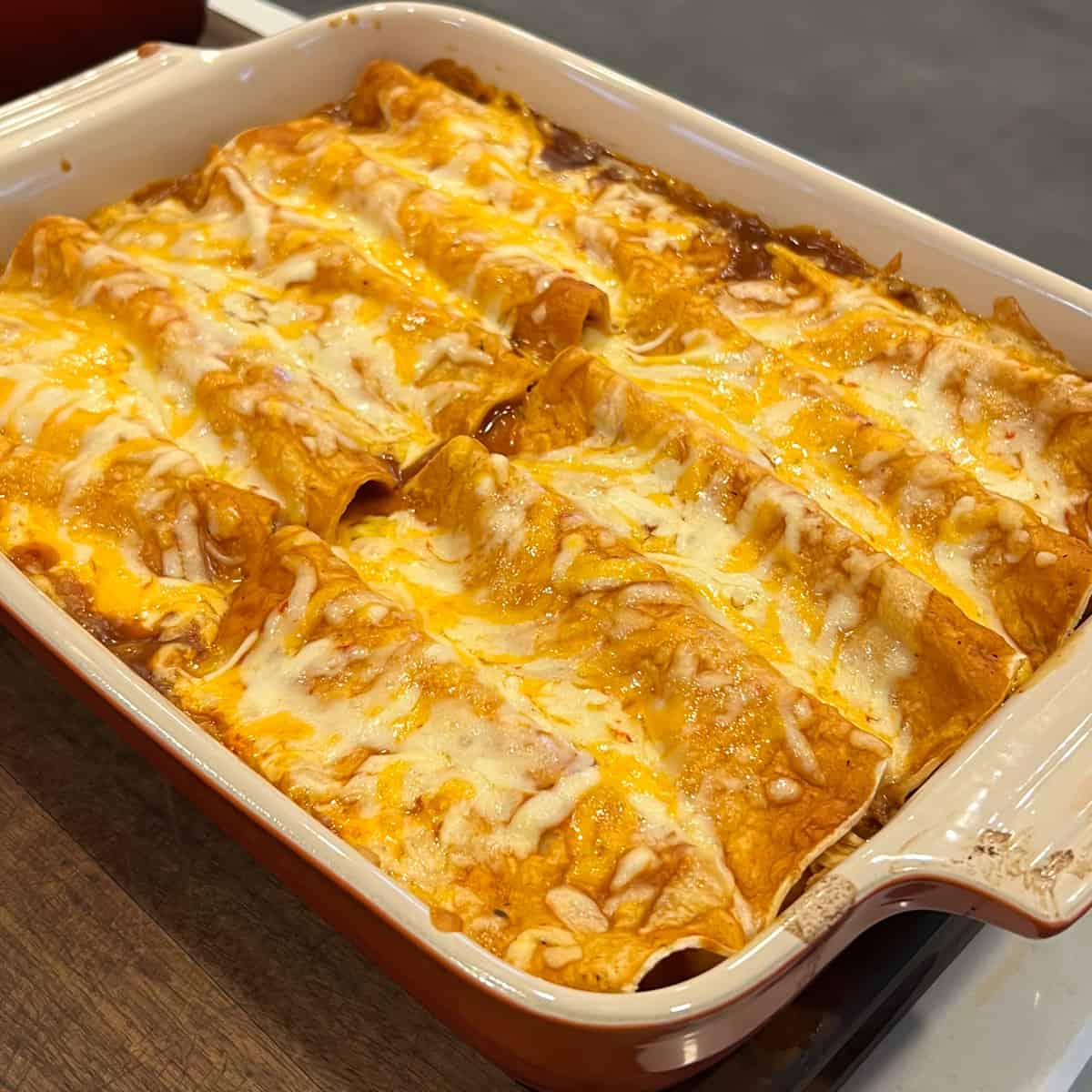 How Long To Bake Enchiladas
Cooking the enchiladas does not take long since the chicken has already been cooked. Bake them in a 350F oven for 20-30 minutes. The cheese should be melted and starting to bubble around the edges.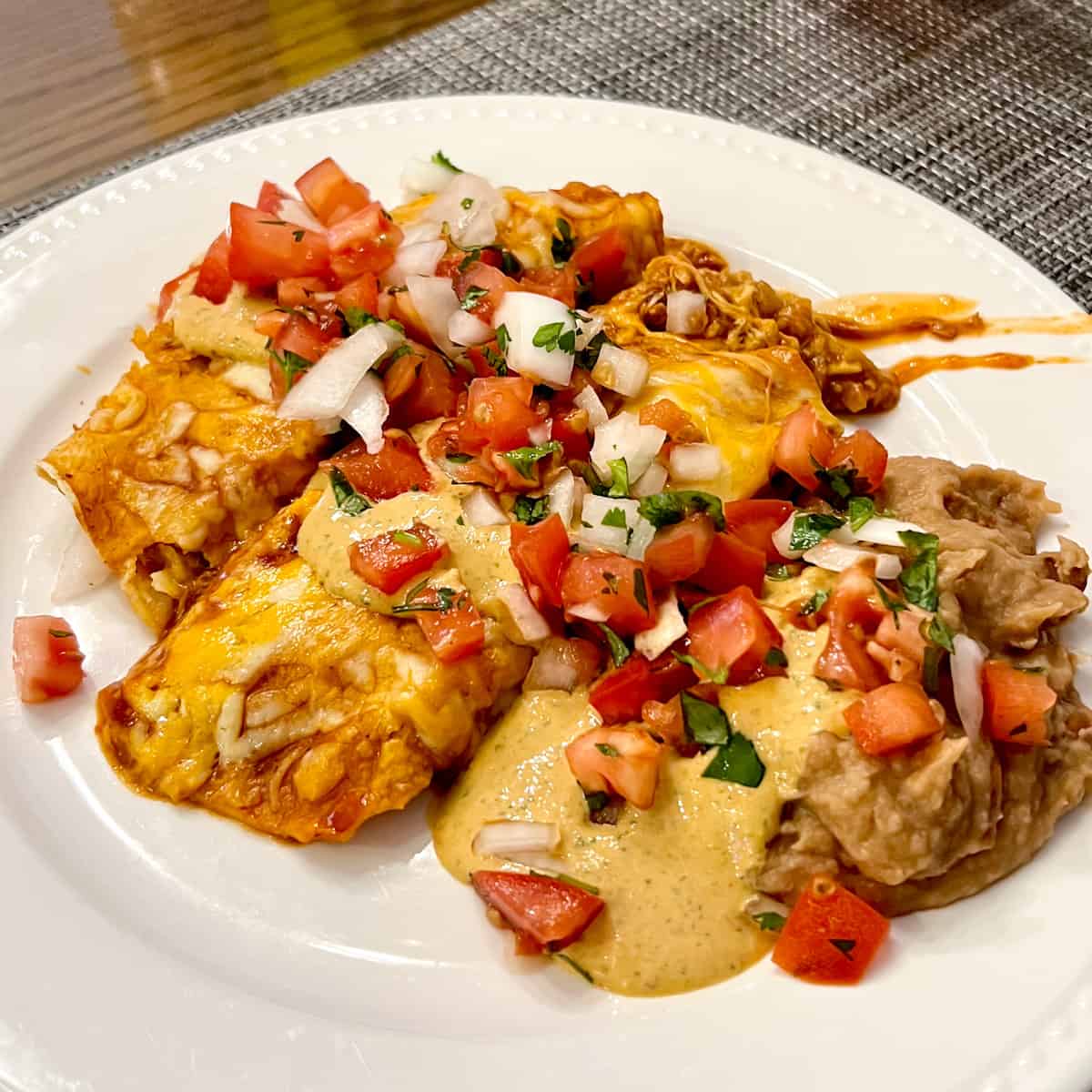 Recipes That Go Great With Chicken Enchiladas
Chicken Enchiladas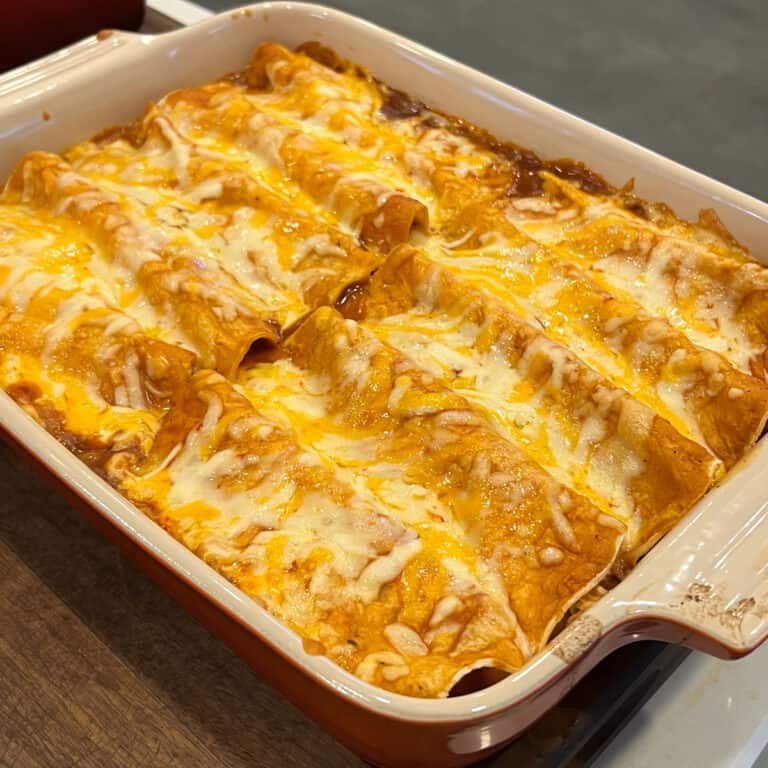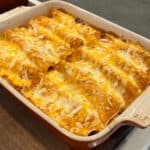 Print
Baked Mexican chicken enchiladas with fresh corn tortillas, cheddar and monterey jack cheese and homemade enchilada sauce.
Servings: 10 enchiladas
Ingredients
4 boneless skinless chicken breasts cooked
3 1/2 cups red enchilada sauce , recipe here
1 medium onion , diced
1 bell pepper , cored and diced
2 tbsp chili powder
1 tbsp salt
3 garlic cloves , minced
10 corn tortillas (use flour tortillas if fresh corn tortillas are unavailable)
1 1/2 cups cheddar cheese grated
1 1/2 cups monterey jack cheese grated
Instructions
Preheat oven to 350F

Place chicken breasts in a baking dish with diced onion and pepper. Mix in 1 1/2 cups enchilada sauce, garlic and spices. Make sure the chicken is evenly spread in the dish. Cover with a lid and bake for about 2 hours, or until the chicken can be shredded.

Take the chicken out of the oven and let it cool slightly. Use a fork to shred the chicken breasts.

Spread a few tablespoons of enchilada sauce on the bottom of a 13×9 baking dish or lasagna pan.

Place a small handful of shredded chicken and both kinds of cheese into a soft tortilla shell. Roll it up and place it, fold side down, in the baking dish. Do this with the remaining corn tortilla, lining them up in the baking dish. Pour the remaining enchilada sauce on top of the tortillas. Sprinkle remaining cheese on top of the sauce.

Bake in a 350F oven for about 20-30 minutes or until the cheese is melted and bubbly.
Nutrition
Per serving:
Calories: 288kcalCarbohydrates: 22gProtein: 21gFat: 13gSaturated Fat: 7gCholesterol: 61mgSodium: 1730mgFiber: 4gSugar: 7g