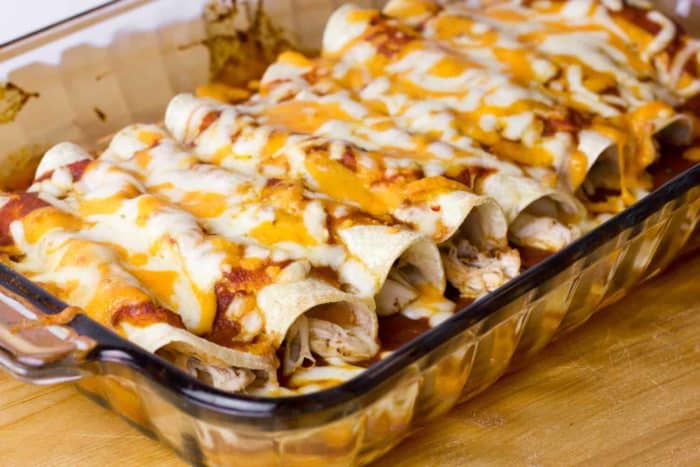 This chicken enchilada recipe is like a Mexican version of manicotti. Baked Mexican goodness, enchiladas are fresh corn tortillas filled with a mixture of ingredients like: meat, cheese, beans and vegetables. They are covered in enchilada sauce and cheese then baked until the cheese is bubbly.
Enchilada sauce is sold in jars and there are a few different kinds like red, green and white sauces. This recipe uses red sauce, which is a tomato based sauce, similar to marinara sauce but with Mexican spices.
A recipe for homemade red enchilada sauce can be found here.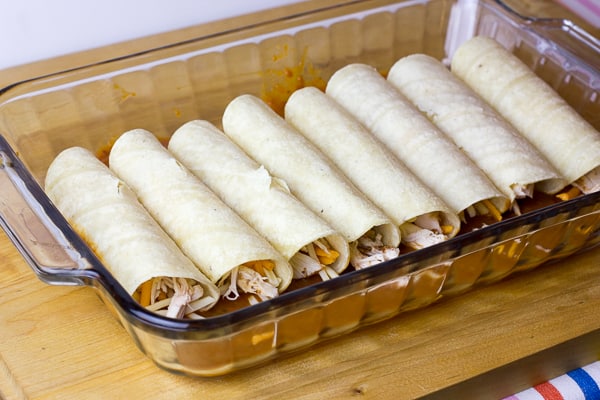 Make sure that you spread a little bit of enchilada sauce on the bottom of the baking dish. This allows for easy removing of the chicken enchiladas. Also, place the rolled enchiladas, fold side down. This prevents them from unrolling.
Try and keep them tight together, as this keeps them rolled tight. My 13×9 dish holds 8 enchiladas perfectly.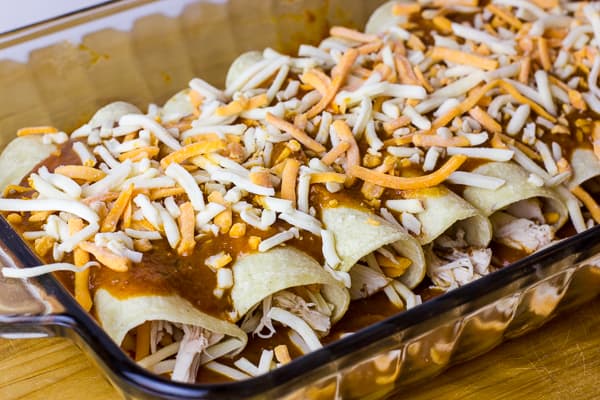 Pour enchilada sauce on top of the tortillas and sprinkle with grated cheese. Bake in a 350F oven for 20-30 minutes.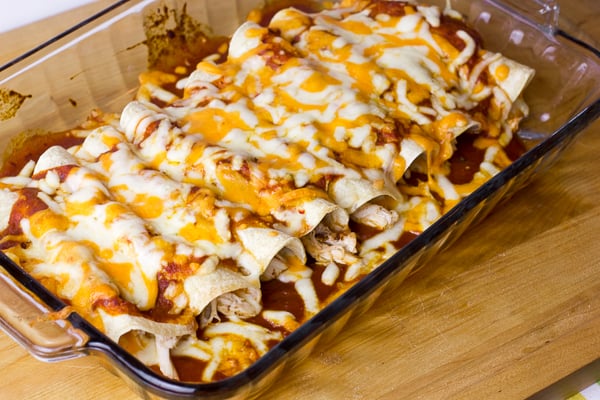 Chicken Enchiladas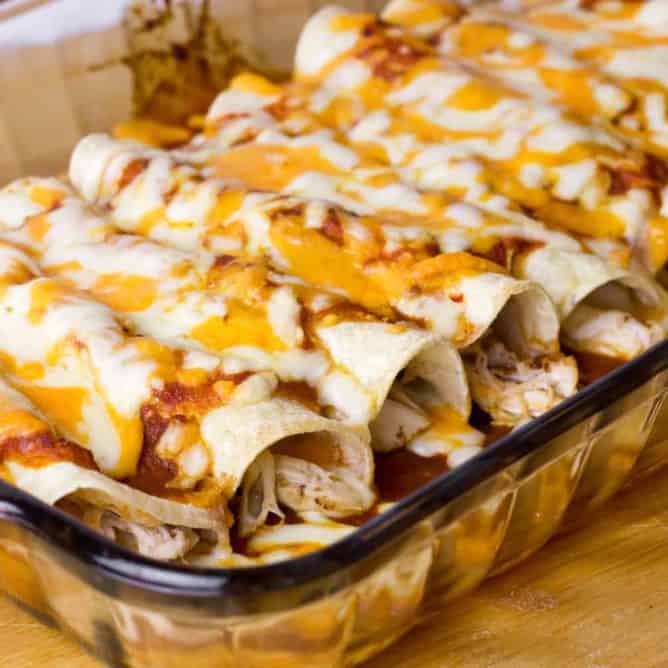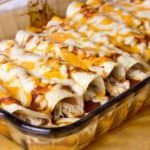 Print
Baked Mexican chicken enchiladas with fresh corn tortillas, cheddar and monterey jack cheese and homemade enchilada sauce.
Servings: 8 enchiladas
Ingredients
2 boneless skinless chicken breasts cooked
1 1/2 cups cheddar cheese grated
1 1/2 cups monterey jack cheese grated
8 fresh corn tortillas (use flour tortillas if fresh corn tortillas are unavailable)
2 cups red enchilada sauce , recipe here
Instructions
Preheat oven to 350F

Use a fork to shred the chicken breasts.

Mix the cheeses together.

Spread a few tablespoons of enchilada sauce on the bottom of a 13x9 baking dish or lasagna pan.

Place a small handful of shredded chicken and cheese into a soft tortilla shell. Roll it up and place it, fold side down, in the baking dish.

Do this with the remaining corn tortilla, lining them up in the baking dish.

Pour the remaining enchilada sauce on top of the tortillas. Sprinkle remaining cheese on top of the sauce.

Bake in the oven for about 20-30 minutes or until the cheese is melted and bubbly.