Perfect for breakfast, lunch or dinner, huevos rancheros is a hearty dish and a classic from rural Mexico. The rancheros sauce is nice and spicy and delicious spooned over the egg, chorizo and other toppings!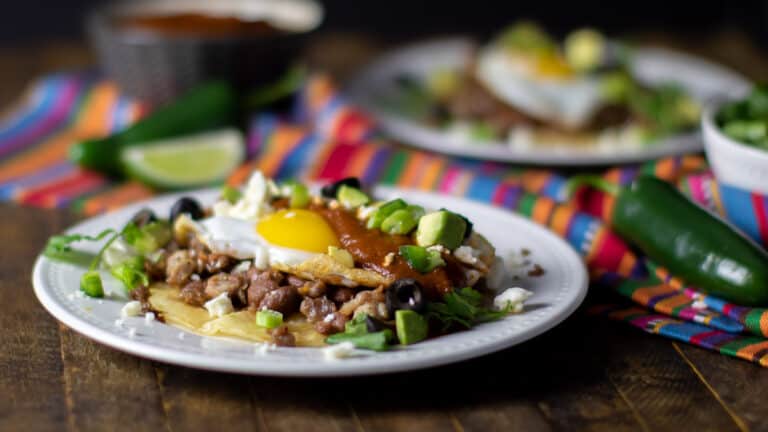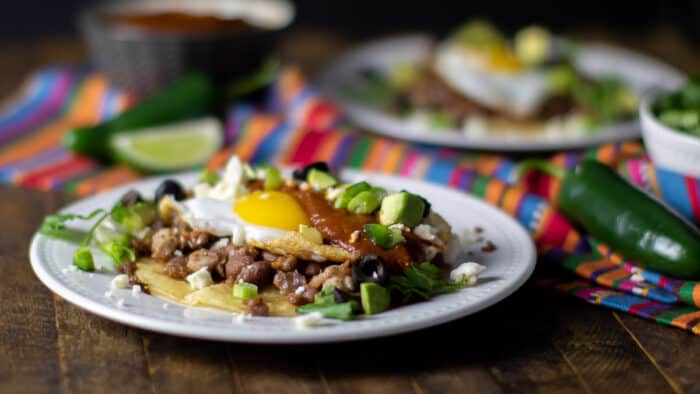 We love breakfast so much that it can be served any hour of the day. Many times we will have 'breakfast for dinner', with eggs, bacon and hash browns. These huevos rancheros are a Mexican dish that has a breakfast feel to it with an authentic Mexican flare.
It is said that Mexican huevos rancheros came from rural farms and ranches. Served mid to late morning, these breakfast style tacos, are hearty and filling enough for even the hungriest ranchers.
If you like Mexican food and enjoy breakfast, then this dish is for you. Making homemade huevos rancheros is very easy and allows for lots of variations.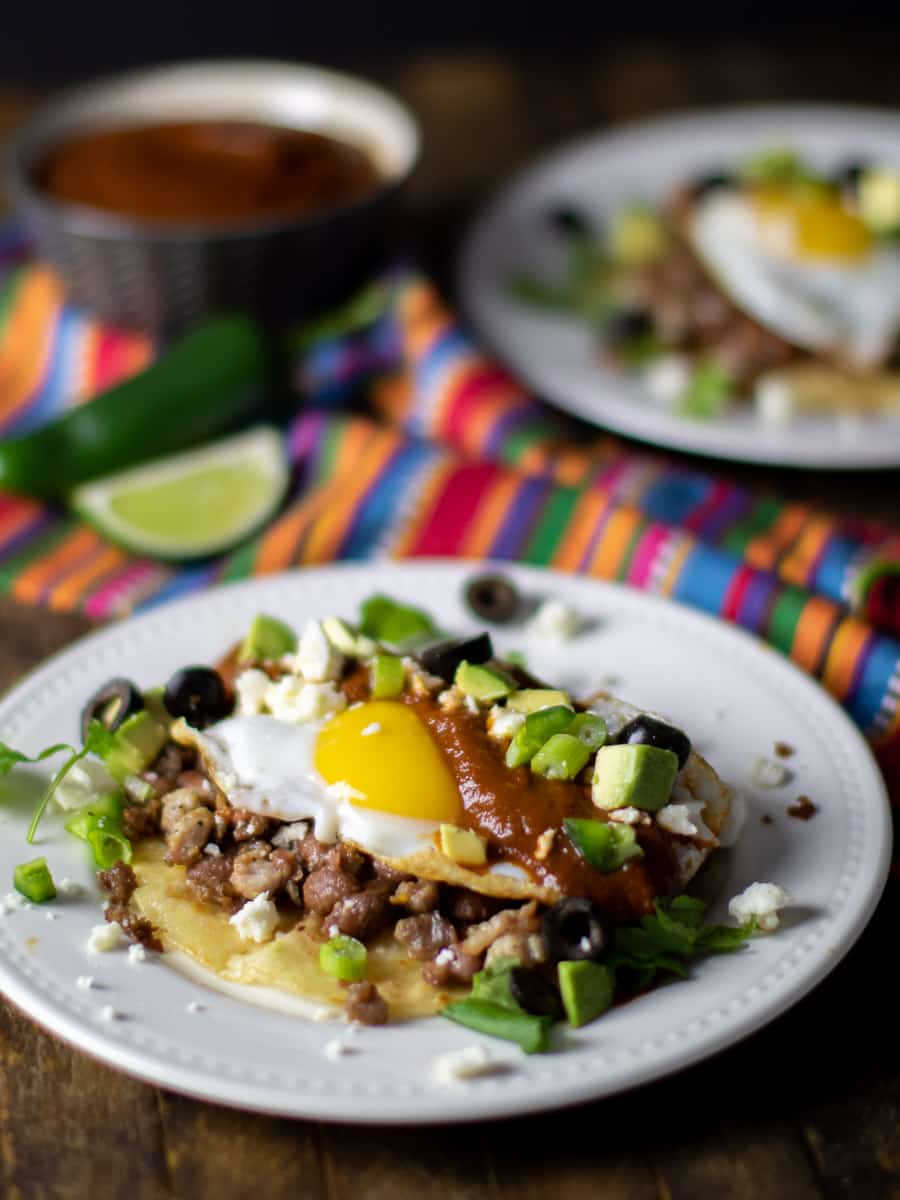 The best huevos rancheros have lots of goodies piled high. Aside from the corn tortilla, eggs and rancheros sauce there are so many other topping possibilities. While I used pinto beans, brown chorizo meat, avocado, green onions, cilantro, diced jalapeno and queso fresco, there are so many other options.
Meat – chorizo, ground beef, chicken and steak will all work very well.
Beans – pinto, black, kidney beans and black eyed peas can all add some nice protein and flavour.
Cheese – while I used authentic queso fresco, you could also sprinkle with grated cheddar cheese, Monterey jack as well.
Other toppings – aside from the toppings I used, there are so many possibilities including pico de gallo, guacamole, and more!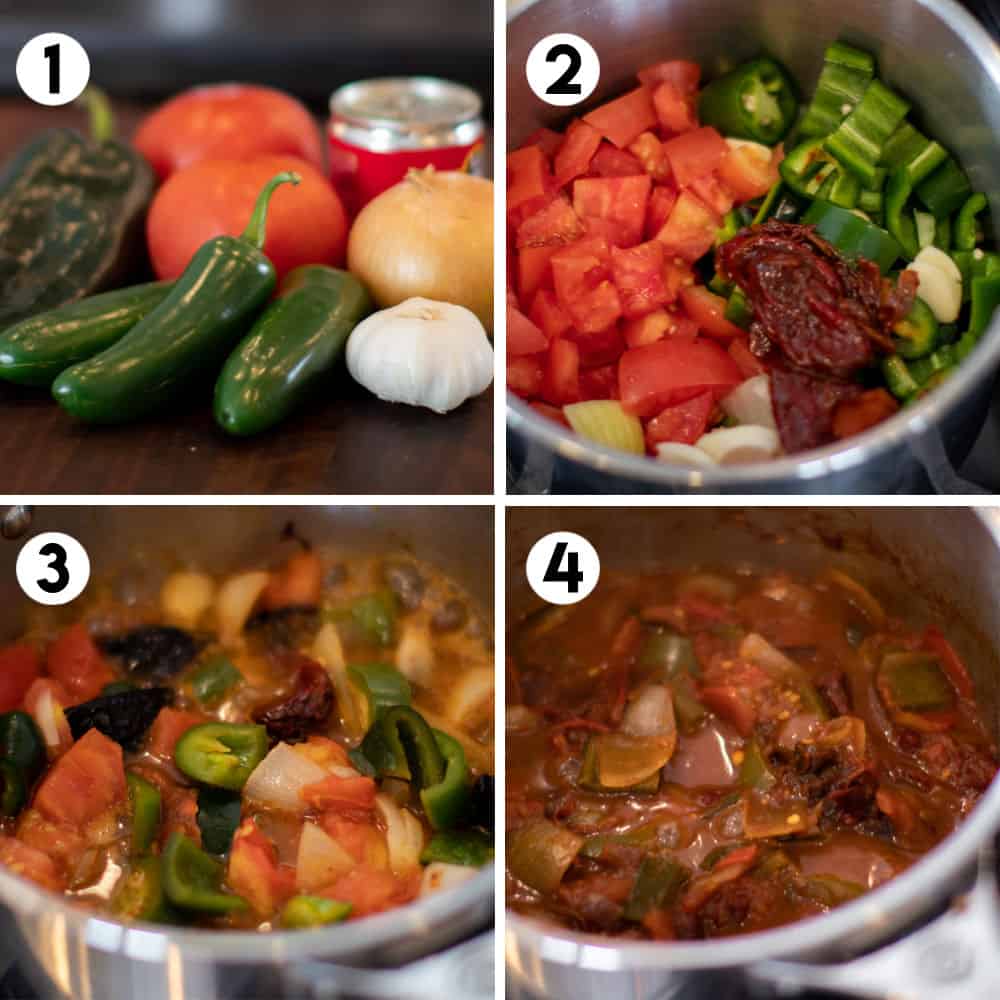 How to make rancheros sauce
The key element for huevos rancheros is the sauce that is spooned over the fried egg. Similar to my enchilada sauce, this is full of deep smokey flavours with some significant heat.
This sauce is made with fresh tomatoes, onion, garlic, poblano and jalapeño peppers. Along with these fresh ingredients, I also use canned chipotle peppers in adobo sauce and dried ancho chilies. They provide the smokey infusion that really enhances this sauce. If you prefer a milder sauce, feel free to reduce the jalapeños, and use more poblano peppers instead, since they are a much milder pepper. Also, the chipotle peppers can be substituted some extra dried ancho chilies. This will not impact the flavour, but will help to reduce the heat.
Dump everything in a saucepan and bring to a boil, over medium high heat. Once you see the water boiling, reduce the heat to medium low.
Continue to let the sauce simmer, and make sure to stir it often. The tomatoes will break down and the onions and peppers will soften significantly.
After the sauce has simmered for 45-60 minutes, the liquid will reduce by about half and thicken. The colour will deepen to a rich red. Turn off the heat and let the sauce cool down slightly before blending.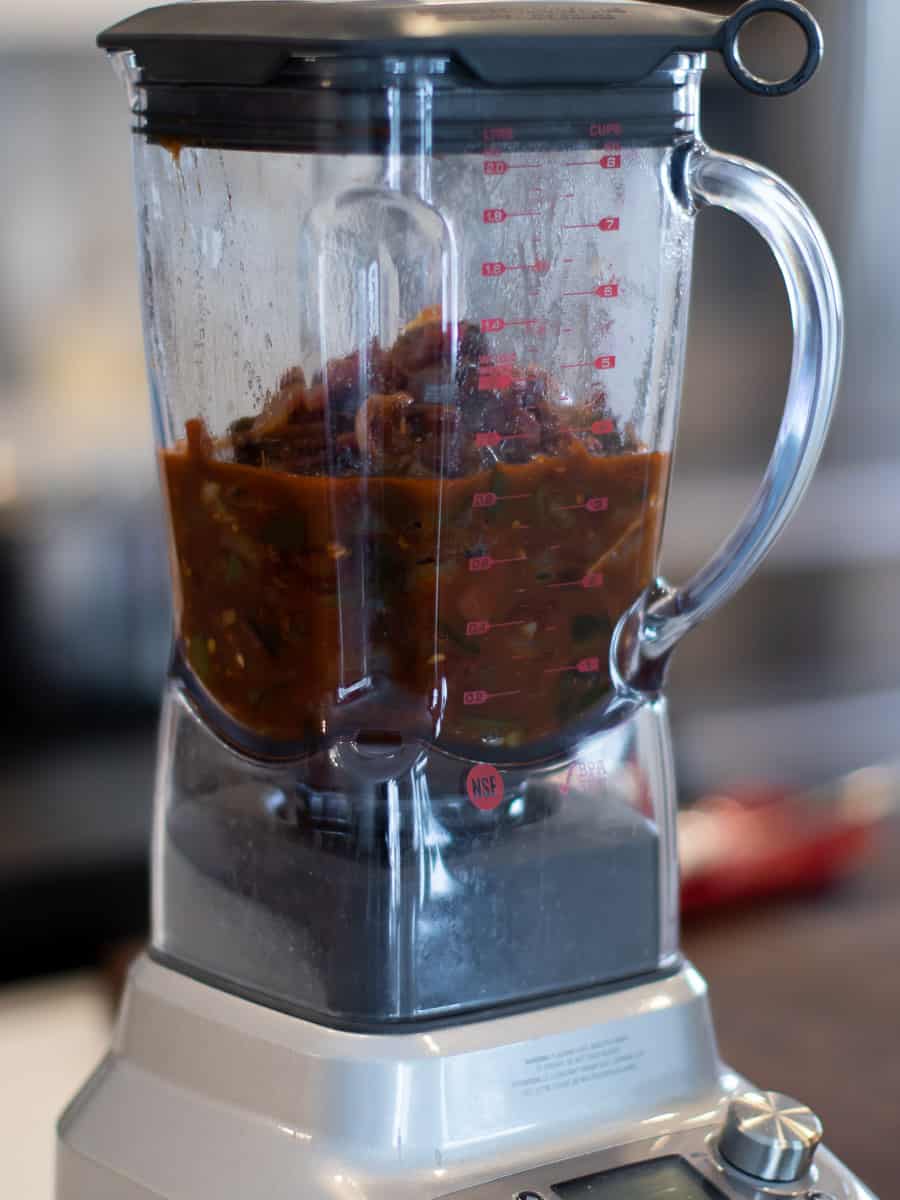 Once the sauce has cooled down, dump it into a blender jar. Process over medium high speed for about a minute, or until the sauce is smooth with no chunks. If needed, use a rubber spatula to scrape down the sides and blend some more.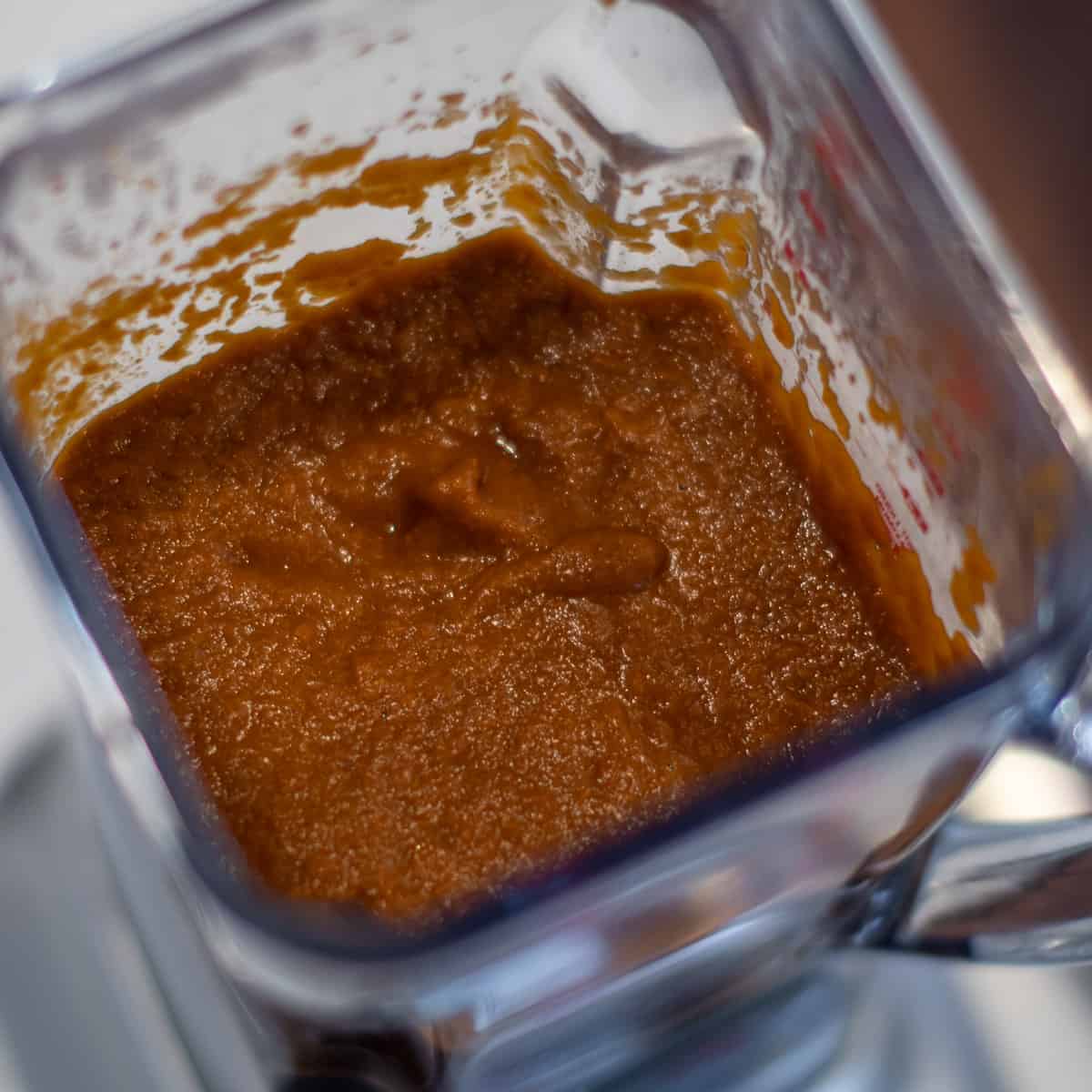 If the sauce seems too thick, it may be necessary to add a little extra water. Pour in a little bit of water and blend some more. I like the sauce to have a consistency that allows it to cycle and flow while in the blender is on medium high speed.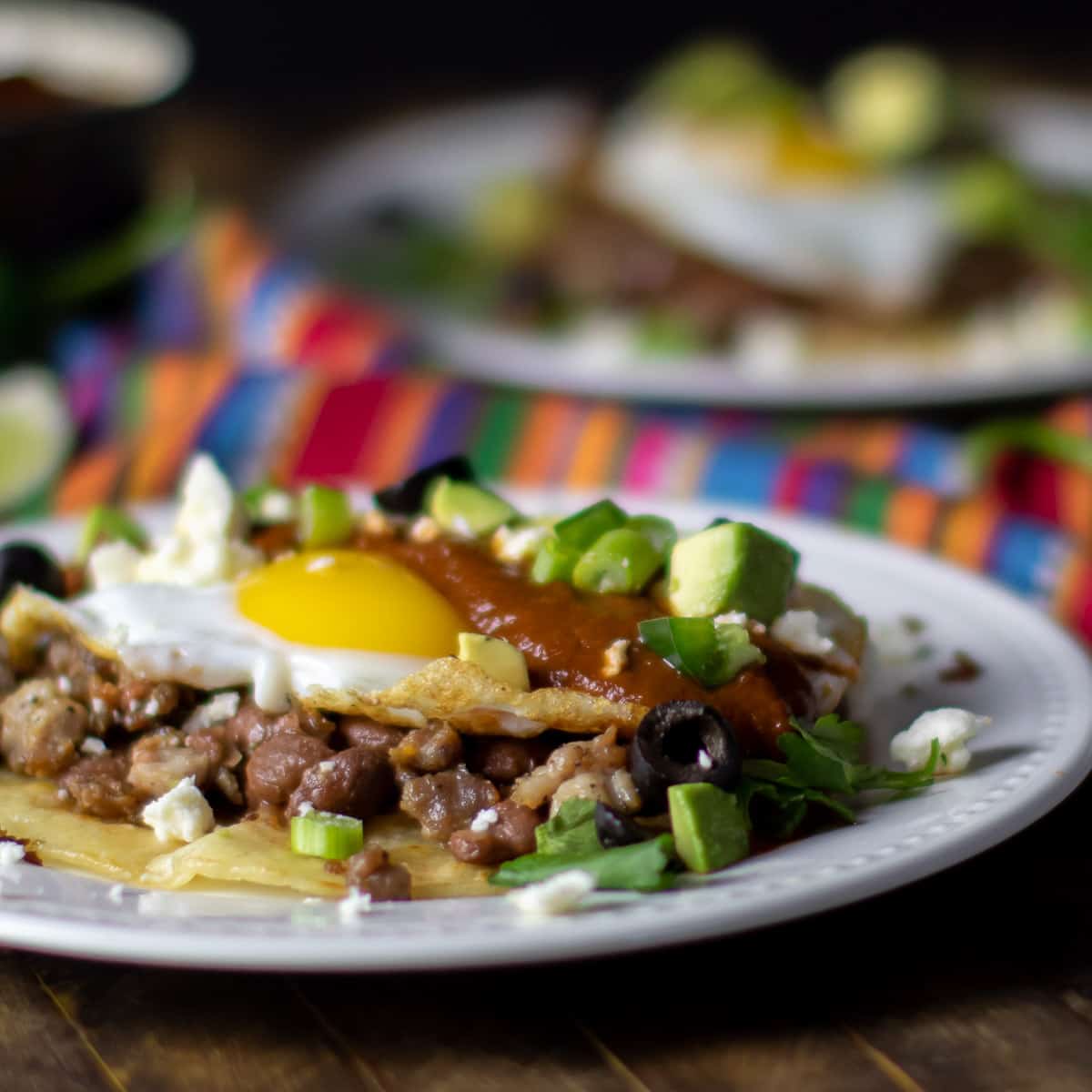 Time to assemble!
Once the sauce is made, the chorizo browned, and pinto beans heated up, it is time to warm up the tortillas. Heat some oil in a skillet over medium heat, and throw in a corn tortilla. As the tortilla warms up it will start to brown and bubble up slightly. Flip after about a minute and heat the other side. Place the toasted tortilla on a plate and cover with a towel, or use a tortilla warmer/keeper.
A tortilla keeper works very well to keep all the tortillas warm, while frying up the eggs. I like to prepare the various parts of huevos rancheros before frying the eggs. Fry an egg sunny side up and now everything is ready to put it all together!
Place a corn tortilla on a plate. Spoon some pinto beans and browned chorizo on the tortilla. Place the egg on top and ladle a little rancheros sauce over the egg. Sprinkle with all the other topping and you have one incredible breakfast!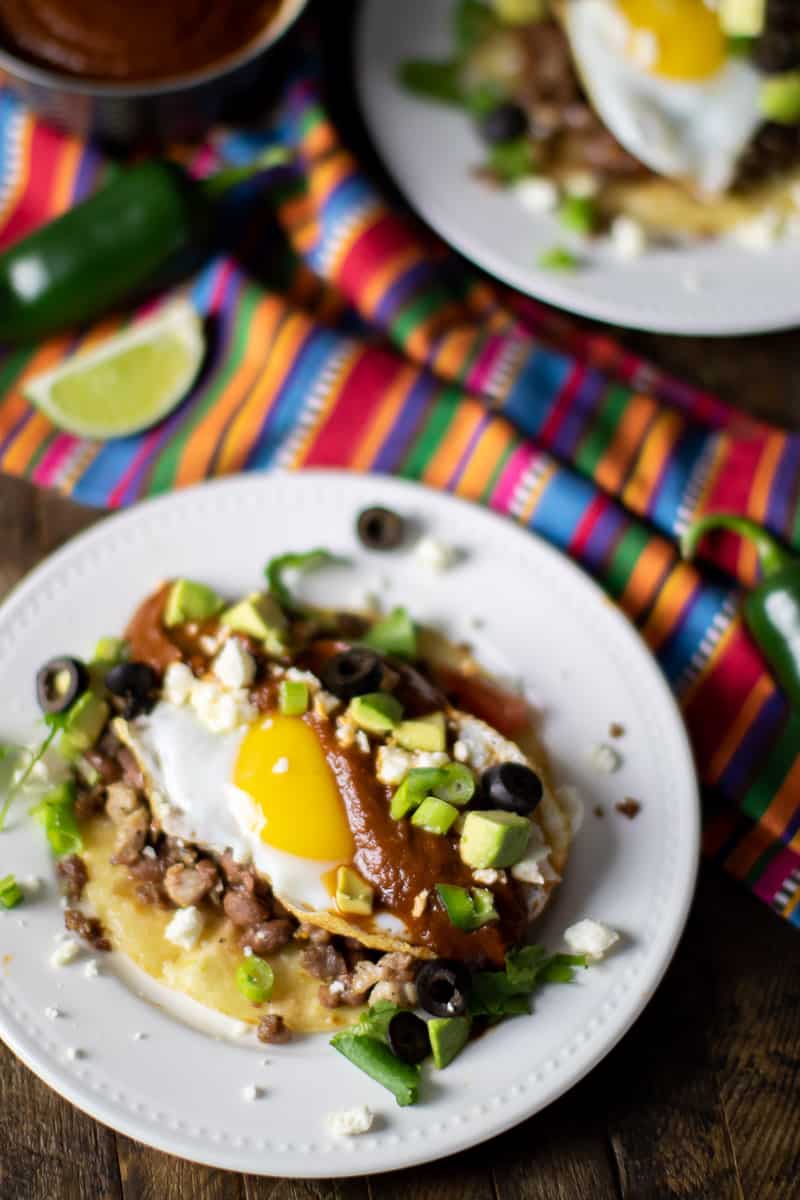 Other breakfast recipes
Here are some other great egg dishes that are perfect for your next breakfast or brunch.
Huevos Rancheros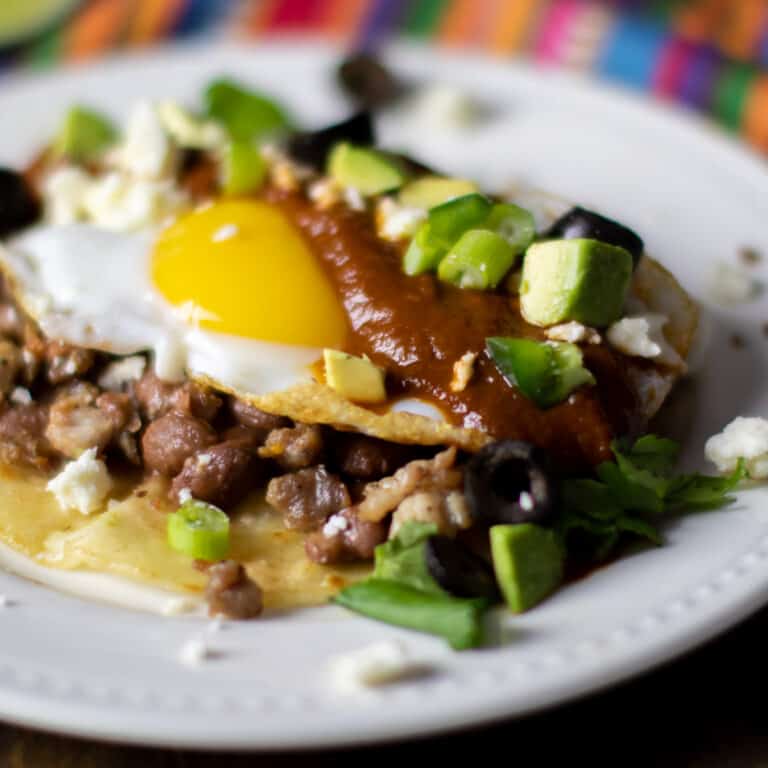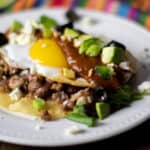 Print
Mexican Huevos Rancheros is a classic breakfast dish made with corn tortillas, pinto beans, chorizo, eggs, rancheros sauce and other toppings.
Servings: 8
Ingredients
Rancheros Sauce
3 tbsp oil
1 medium onion , diced
3 medium tomatoes , diced
1 poblano pepper , cored and diced
3 jalapeno pepper , cored and diced
3 cloves garlic
2 ancho chilies , stems and seeds removed
3 chipotle peppers in adobo sauce
2 tsp adobo sauce
1 1/2 cups water
1 tsp salt
1 tsp ground cumin
1/2 tsp black pepper
Other Ingredients
6 tbsp oil
8 soft corn tortillas
1 pound fresh Mexican chorizo , casings removed
2 cups pinto beans
8 eggs
1 cup diced avocado
1/4 cup diced fresh jalapeno
3 green onions , sliced
1/3 cup fresh cilantro
1 1/2 cups queso fresco (Mexican cheese)
1/2 cup sliced black olives
Instructions
Rancheros Sauce
Add all the ingredients for the rancheros sauce into a large sized saucepan. Bring to a boil over medium high heat. Once it comes to a boil, lower the heat to medium low. Let the sauce simmer at a low boil for about 45-60 minutes, stirring often. The liquid should reduce by about half.

Dump into a blender and process until there are no chunks and the sauce is quite smooth.

Set aside for later.
How to Make Huevos Rancheros
Brown the chorizo meat in a skillet, using a metal spatula to break into small chunks.

Heat the pinto beans in a saucepan over medium heat.

Use some of oil to fry the eggs sunny side up style.

Heat some of the oil in a skillet/griddle over medium heat. Place the corn tortillas to warm up. Flip after a minute to heat the other side.

Assemble the huevos rancheros by placing a warmed tortilla on a plate. Spoon some pinto beans and browned chorizo. Place one fried egg on top. Ladle some of the rancheros sauce and top with avocado, jalapeno, green onions, cilantro, black olives and queso fresco.
Nutrition
Per serving:
Calories: 598kcalCarbohydrates: 39gProtein: 23gFat: 40gSaturated Fat: 11gCholesterol: 219mgSodium: 1806mgFiber: 12gSugar: 8g