Baked Eggs in a Cast Iron Skillet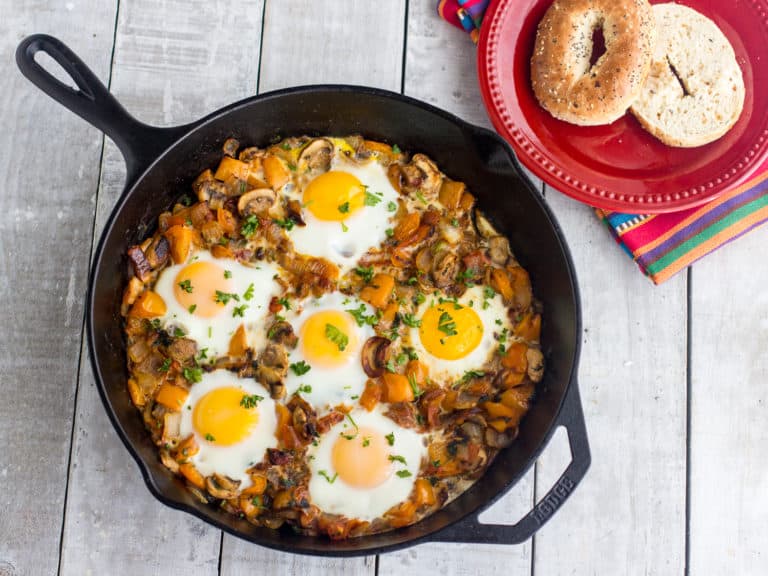 Years ago, a friend of mine made baked eggs for me. There was a layer of caramelized onions and mushrooms spread on the bottom of the pan and a bunch of eggs cracked on top. Then the pan was put in the oven and the eggs were baked. As you scooped out the eggs, you got a whole bunch of the onions and mushrooms. It was so very delicious!
That experience inspired me to make my own version of baked eggs. I use a cast iron skillet as it is perfect for sautéing the vegetables and then throwing straight in the oven with the eggs cracked on top.
While my friend just used onions and mushrooms, I like to add a sweet bell pepper and tomato as well. There is so much flavour in the base of sautéed veggies that the eggs rest on.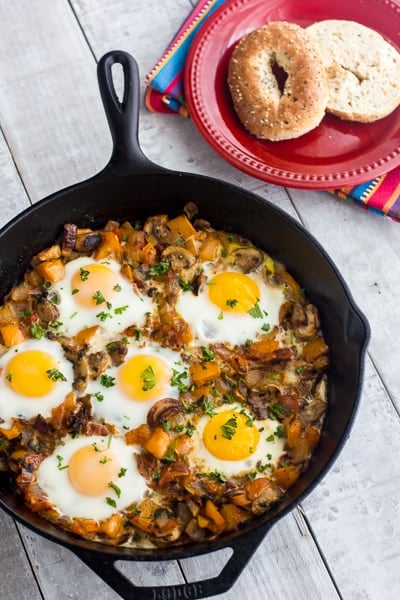 Making baked eggs is a very simple procedure and is honestly quite difficult to mess up.
First, you sauté the cut up veggies until they are cooked and tender. Remove the cast iron skillet from the heat and us a spoon to make 'wells/craters' in the sautéed vegetables for the eggs to rest in.
Then, carefully crack an egg into each crater. I find that I can comfortably fit 6 eggs in my cast iron skillet.
Place the skillet in a 375F oven for about 12 minutes. Basically, you want the whites to cook through and turn opaque, but still let the yolks be soft and runny.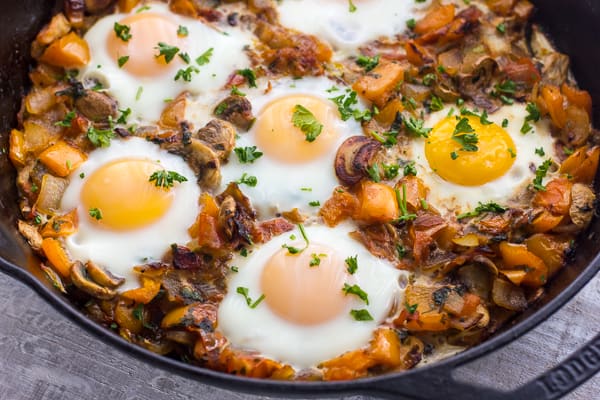 This is a recipe that can easily be modified.
Cook some chorizo with the vegetables to give this dish a nice spicy twist.
Throw in some crawfish and cajun spice to the vegetables to turn this into a dish you might find in a Louisiana restaurant.
Add some ham to the vegetables and sprinkle some grated cheddar cheese on top of the eggs before the skillet goes into the oven.
It is also possible to multiply this recipe when you are a feeding a crowd. Sometimes, over the holidays, we have lots of family over. Making 2 or 3 batches of this is a great way to make a simple breakfast that everyone loves! I spread all the sautéed vegetables on a large baking tray and crack 12-18 eggs all over. Then it can be all baked at once and everybody can be served at the same time. It works fabulous!!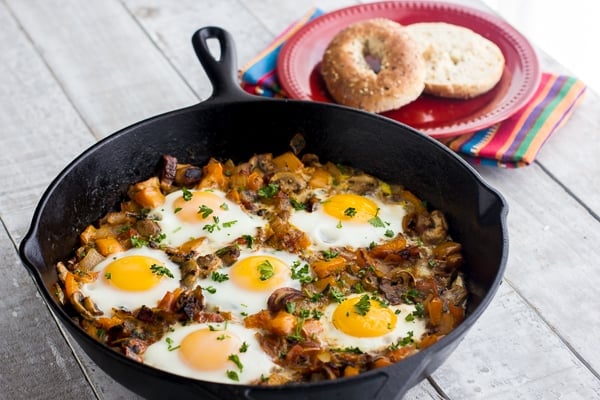 Baked Eggs Recipe in a Cast Iron Skillet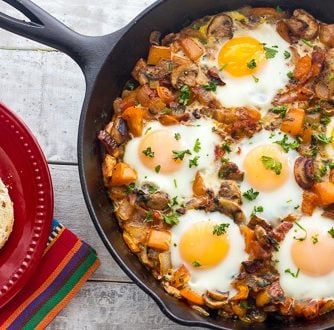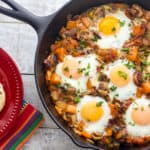 Print
Baked eggs in a cast iron skillet, resting on a bed of sautéed vegetables. A simple and delicious breakfast that is perfect for entertaining and holidays.
Servings: 6 servings
Ingredients
3 tbsp oil
1 onion diced
1 orange pepper diced
3 cups sliced mushrooms
2 tomatoes diced
3 tbsp fresh parsley minced
1/2 tsp salt
1/2 tsp pepper
6 eggs
Instructions
Preheat oven to 375F.

Heat oil in a cast iron skillet over medium heat. Add onion and pepper and sauté for 3-4 minutes, stirring often.

Add in the mushrooms and cook for a few more minutes.

Stir in the tomatoes and sauté for another 5 minutes. Remove from the heat and stir in the salt, pepper and parsley.

Use a spoon to make six shallowed out areas. Crack the raw eggs into the shallowed areas.

Place the cast iron skillet in the oven and bake for about 12 minutes or until the whites of the eggs are opaque.
Nutrition
Per serving:
Calories: 157kcalCarbohydrates: 6gProtein: 7gFat: 11gSaturated Fat: 1gCholesterol: 163mgSodium: 263mgFiber: 1gSugar: 3g